Kids are out of school and summer vacations are planned. For a lot of innkeepers – summer is your busy season and guests are starting to flock to your inn. Business is looking great! Fourth of July, wedding season, Labor Day and every weekend in-between is booked solid. You'll be busy… but that isn't an excuse to turn off your marketing efforts. You need to put your marketing on 'auto-pilot' during the busy season or you may be scrambling for guests when the season is over. So what can you do to take advantage of the momentum of the busy season and get ahead of the shoulder season without burning the candle at both ends? Here's some low-maintenance tips to keep you booked through fall.
Watch the Webinar Video
A breakdown of the webinar recommendations is below.
Recommendations from the Webinar
1) Encourage Reviews Through Post-Stay Emails
Set yourself up for better rankings and more guests next fall with more 5-star reviews in Google & TripAdvisor. Since your have more guests during your high-season, you should tune-up your post-stay email to get more reviews in Google and TripAdvisor. Quantity, quality, and velocity (increased frequency) of reviews drive your placement in both Google and TripAdvisor. Using this busy season to accumulate reviews will put you in a better position by the time fall rolls around. How? Start now by reviewing your post-stay email and using the most direct links for Google and TripAdvisor reviews in your post stay email. Here's our tips:
Offer discount codes to your return guests. It doesn't have to be some massive percentage, 10% will still raise an eyebrow and get the wheels turning in your guest's head about their next stay.
Link directly to your leave a review page. Don't just link to your Google Account or your TripAdvisor page. Make it as easy as possible for your guests to leave a review. If you're unsure where to get the review link, follow this step-by-step tutorial.
Design your email so your users can easily navigate it. Use bullet points, headers, bolded areas and links to make the most important points stand out.
Read our example email for our made-up hotel located below. Notice the links imbedded in the email so they can easily navigate back to your website, email you, or leave a review.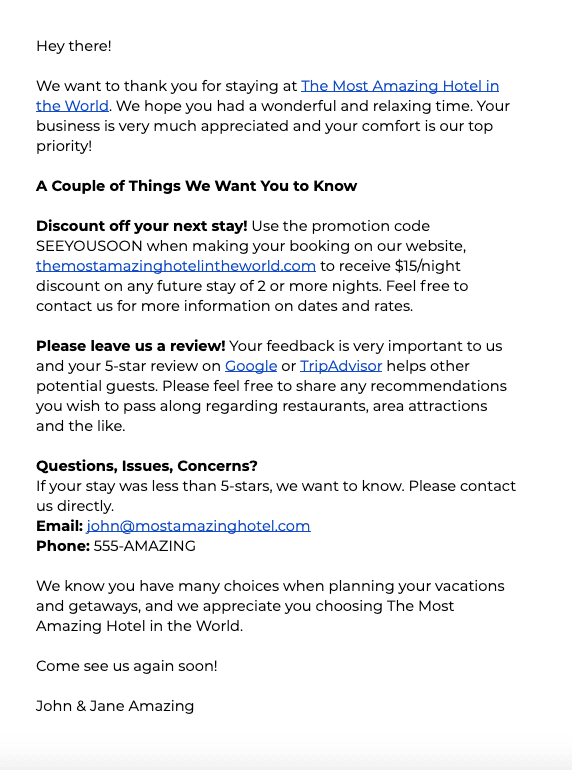 2) Easy(ish) Content Ideas
Re-use Old Blog Posts
Is your website already packed with blog posts filled with great fall-themed content? Re-vitalize them and re-promote them. You have new followers that may not have seen it the first time and others that may have read it but would like a refresher.
Step 1: Search through your old posts: Find a post relevant to the fall season. Something like "5 Reasons to Visit Louisiana this Fall" or 'Great Autumn Hikes in Asheville' and any fall event or festival from a previous year.
Step 2: Update the content: You don't have to re-write the whole post, just update the dates, some of the pictures, and add any new information. Trim outdated links, add new links to relevant posts.
Step 3: Promote your new "old" post! Talk about your content in your monthly newsletter, post it to your facebook and instagram.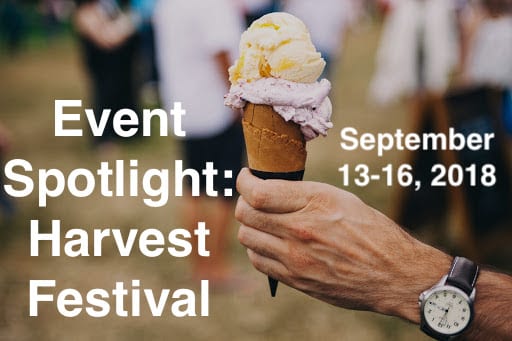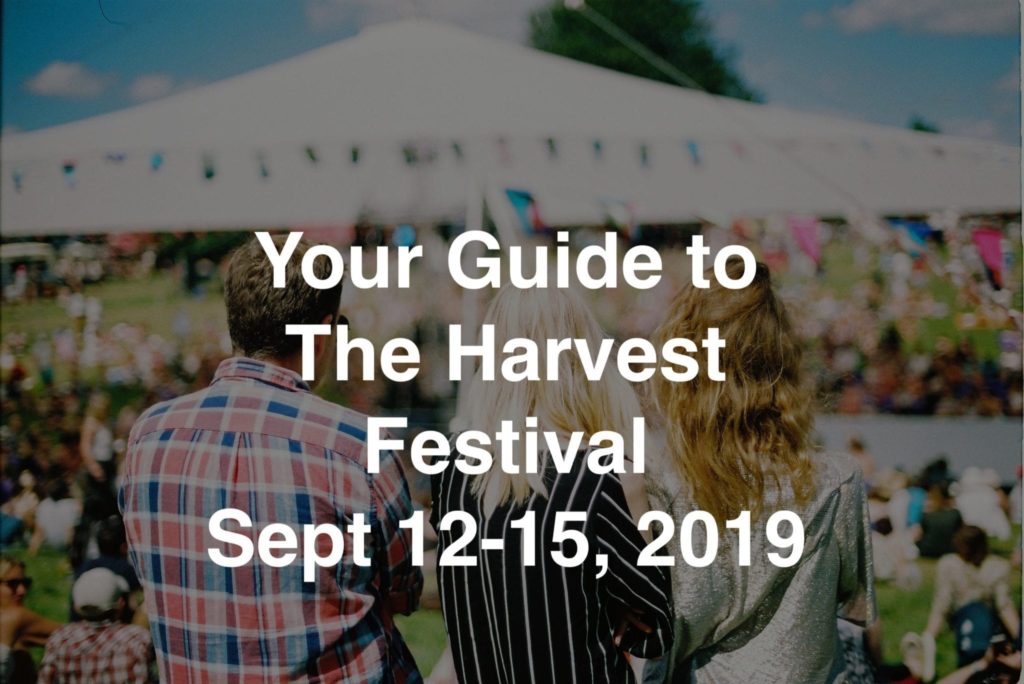 Add Fall Posts During the Summer
Creating seasonal content a little early gives Google enough time to find and rank your posts. Need topics? Focus on 'guides' to upcoming fall events, best things to do in the fall (hikes, wine tasting, cider, etc), or even off-season tourism guides. Check out our guide on
How to Write a Quality Blog Post in Under an Hour
.
What Tools to Use to Check Your Work
Time Management Tips
Need Ideas? Check out our list of 35 blog post ideas
With just a couple quick steps and an hour of your time, you'll have an engaging article that will lead guests to your site and keep your inn booked through the fall.
3) Start Promoting Fall Discounts via Email & Social Media During the Busy Season
Don't wait until your reservations start to drop to begin advertising off-season discounts. Off-season travelers often like to travel during this time because they can avoid the crowds and save money. Often, these guests start booking and planning trips far in advance. Incentivize them to book with you!
Mention your seasonal promotion in your monthly newsletters. Add a section in your newsletters with a special return-guest discount when they book during your off season. Check out our template below!
Add a section to your promotions & specials website page for off-season specials.
Schedule posts to your social media accounts to promote your deal throughout the season.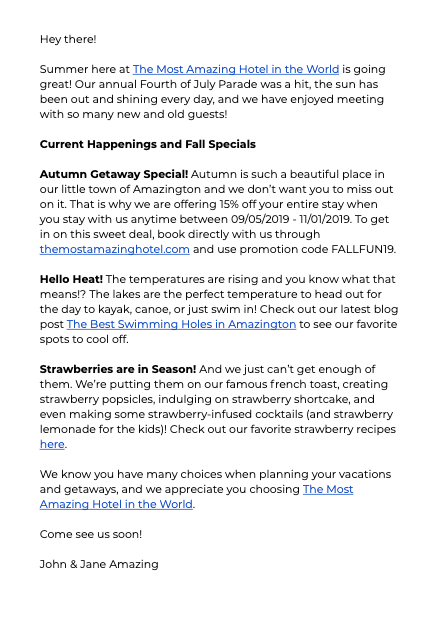 PRO TIP: This email example is really bland on purpose. There's no pictures and no personality. Spice your newsletters up with pictures of your hotel, a particularly nice looking breakfast you recently made, or snapshots from an event. Guests also love to see you, the innkeepers, so down at the bottom by your name, feel free to add a nice photo of you! With that big, hospitality smile of course!

4) Work With Local Businesses, Organizations & Events to Host Their Guests
Work with the local college to see if they have guest professors who need a place to stay while in town (which is usually mid-week!) and try to get on their "Where to Stay" page for visiting parents and students. Google for 'Where to Stay near [your local university]' and you might find accommodation suggestion pages like
this one
. If you'll notice, some boast a discount code for college guests. Autumn is the busiest time of year for college campuses. Parents are visiting for homecoming football games or parent's weekends and prospective students are touring schools with their families all fall long. Look at other businesses in your area that bring in visitors during your off season. Talk to local corporations and see if they want to host a training event at your property. I know this one isn't necessarily low-maintenance, but efforts like this can be highly beneficial to your inn all year round.
5) Revisit Your OTA Strategy.
Use OTAs to fill rooms you can't fill yourself. As the busy season reaches its crescendo you'll want to have your OTA availability & rate strategy for the shoulder/off-season already set. Our recent post
Game of OTAs
outlines why you should have different strategies during different peak and non-peak times to optimize your income and bookings. Bonus tip: As your shoulder / offseason approaches, if you struggle with occupancy and are OK with last minute bookings, take a look at
www.hotelstonight.com
. I've heard anecdotally through a few customers that this program works quite well for them. Want to sign up? Here's the
link for their hotel-partners.

6) Start an Instagram Account (If You Haven't Already)
Start taking great pictures during your busy season, and 'liking' posts from your guests while you're busy and have lots of things going on locally. Build up your following while you can. Then, during the fall when you're less busy you can start turning those photos into posts and re-sharing guest photos as well. Setup instagram to auto-post those photos to facebook as well. Two for the price of one! Need some instagram tips? Listen to our
podcast
with Instagram Influencer Kourtney Barish for tips on how to quickly manage your account and get a lot out of Instagram with little input.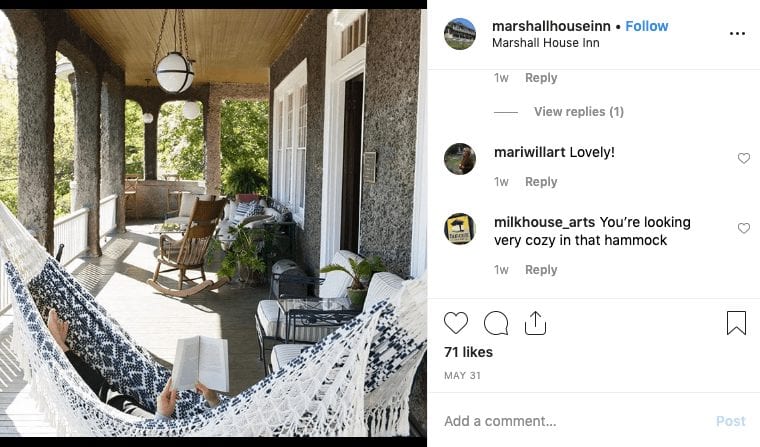 Implement these tips in the summer to see a boost in your fall bookings. If fall comes around and you find yourself with some small pockets of free-time, check out our comprehensive list of fall marketing ideas. From updating the photos on your website to reflect the leaves changing to promoting a holiday-themed social media campaign, this list will give you more than enough ideas to spice up your shoulder season.