Is it worthwhile to use AdWords or Bing Ads to bid on and advertise for my own brand name? That is a common question we get here at Odysys. Many people think it is unnecessary to advertise for your own brand name when you rank in the organic search results for free. We understand, free is a pretty good deal. But advertising on your own brand name in search engines is a cost-effective and beneficial way to beat out your competitors, increase the number of clicks on your site, and attract more bookings at your property.
Branded Search Campaigns: The Basics
Creating a branded search campaign in Adwords is specifically designed to target High Intent searchers. High Intent searchers are potential guests who are already searching for your property's name on Google and are therefore highly interested in booking a stay. They are already at the stage in their trip planning where they are searching for a specific property name, such as the "Pine Ridge Inn," rather than "Hotels in Bend, Oregon." These are the people that should be easiest to convert to guests. (see "branded searches" in the diagram below)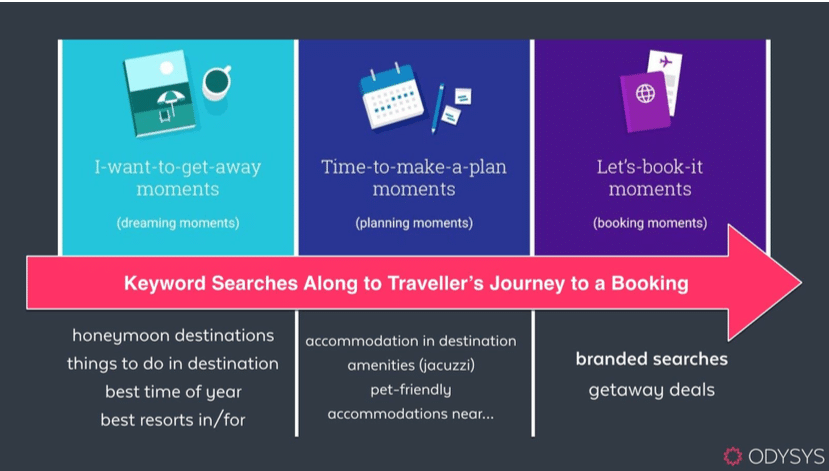 This goes without saying: You want your brand to show up at the top of the SERP, or Search Engine Results Page. You simply can't do that without investing in Adwords. It is ideal for your property's website to appear "Above the Fold," SEO-speak for the search results that are visible on the screen without scrolling. Unless you invest in a branded ad campaign, the top of the SERP will almost always be dominated by competitors or Online Travel Agencies who have paid to show up first.
Searchers assume that the results at the top of the SERP are the best and most reliable results on the web. They don't always understand that businesses pay to get these highly coveted top spots. A 2013 study showed that 40% of users are not actually aware that Google AdWords are paid advertisements. They just think they are encountering raw, organic search results.
The reality is that it is very difficult (perhaps even impossible) to beat out Google's paid ads. Google strategically places paid ads above the free organic results. Additionally, their Hotel Price Ads take up almost the entire right side of the SERP. Without AdWords, you might have one, or, if you're lucky, maybe two opportunities to show for free above the fold in a Google search result for your property name.
In this example, we have highlighted the free organic search results in GREEN. Paid ads are highlighted in RED.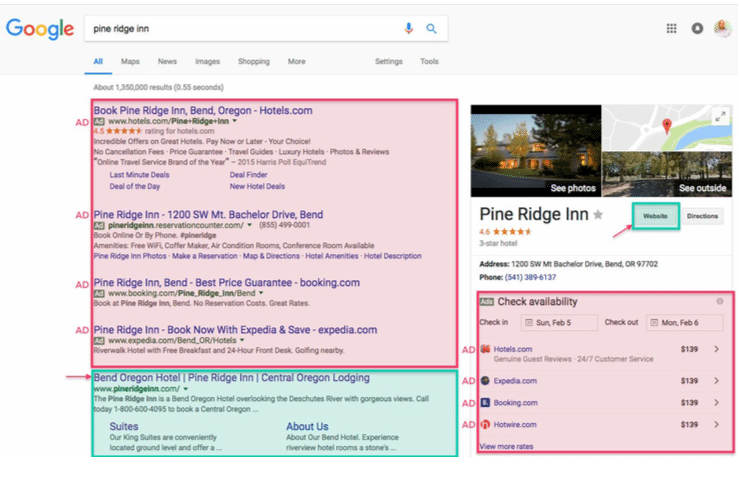 As you can see, the red paid ads dominate the screen. The green organic search results are relegated to tiny, easily-missed locations at the bottom or corner of the screen. This is the way viewers will encounter your brand if you don't invest in AdWords. See: 4 Ways to Make Your Property's Brand Search Results Superb
The Benefits for Mobile
See…your situation without paying for AdWords is already looking dismal. Now, you may ask, what about mobile devices? Well, it gets even worse. The limited screen size means you have even LESS room to appear in a Google search result above the fold. Back in 2016, Search Engine Watch reported that mobile internet traffic surpassed desktop traffic for the first time in history. This means that you absolutely must be showing in Google for mobile searches.
Take a look at this mobile search result: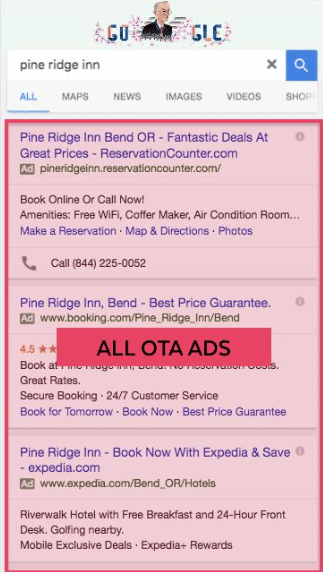 You'll see that 3 paid ads take up all the space above the fold. Free, organic search results are not visible at all. The worst part? They are ALL Online Travel Agency ads! The property website we searched for–the Pine Ridge Inn–doesn't show up at all.
Beat Out Online Travel Agencies for Your Own Brand Name
As you are probably well aware, you need to work hard to find the right balance between cooperation and competition with Online Travel Agencies, or OTAs. OTAs can be a great benefit to your property because the more areas potential guests can book, the better. However, as you also already know, OTAs charge a commission for each online booking they send to you. Because OTAs often appear at the very top of the SERP, you are likely paying them a commission that you could save by investing in AdWords.
With Google AdWords, you only pay for the ad click. Brand clicks are typically the cheapest, usually under $0.50 per click. You want to get the most bookings for the least amount of money to maximize your return on investment, and using AdWords for branded search is one of the most fool-proof ways to do that.
The bottom line: you want your own property website to appear before the OTA page for your property. The best way to do that is branded ad campaigns.
But what if I'm not using an OTA?
Good question. This is where things get tricky.
If you do not use any OTAs, they may still bid on your property name to get potential guests to THEIR own websites. Then, once that potential guest sees that you don't have any rooms available on that OTA, the OTA will "recommend" similar properties in your area. In other words, they give your potential guest to one of your competitors. The worst part is that the potential guest was actually searching for YOU and they ended up on a competitor's OTA page instead.
Sound a little shady? It is.
So what can I do?
Create a Google AdWords account and set up your branded search campaign. Sounds pretty easy right? It can be, but to really get it right there are a number of things that must be included:
Choosing the right keywords

Carefully written ad copy with a compelling call-to-action

Creating ad extensions such as sitelinks (links to other pages on your website), callouts (value-added statements about your property), locations (imported from your linked Google My Business page), amenities list (built using a Structured Snippet extension), phone number, and more.

And you also have to make sure you can track that your campaign is actually increasing your bookings. We typically use Google Analytics for this, but AdWords has it's own tracking system too. So it takes a lot of work to really get it right.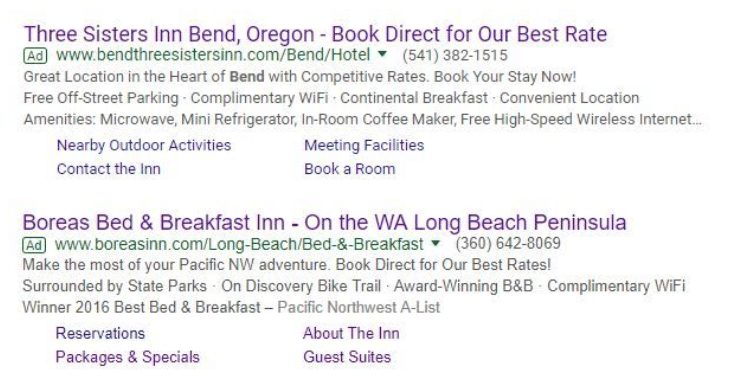 Or you can have someone to do it all for you.
There are a number of companies that offer Google Adwords / PPC Campaign Management services. At Odysys, we offer AdWords management as an add-on service to our customers. When crafting our strategy for customers, we focus on OTA Defense and Brand Introduction. If you hire a 3rd party to manage campaigns for you – their strategy should include a similar approach.
OTA Defense will get your brand to show above the OTA ads in the Google search results when someone searches for your property name. This will ensure that you get the click to YOUR website when someone is searching for your property.
Brand Introduction is a way to target guests who are still in the planning stages of their trip.

These campaigns are designed to bring in potential guests who are looking for a place to stay in a specific city, area, or near a specific attraction or event (see the diagram above). The potential guest usually isn't aware of your property, so the goal is to make them aware by getting them to your website and then showing them why they should be booking their stay with you. This is called Brand Introduction because it introduces potential guests to your property for (usually) the first time. While they may not book a stay immediately, they usually come back (on a branded search) and do so later.
To learn more about Odysys' AdWords Management program for our customers, click here.
There are lots of moving parts to your online marketing strategy, but bidding on your brand name on AdWords will pay off. It is the only guaranteed way to dominate the SERP, best the OTAs and other competitors, and drive the most traffic to your site.
RELATED POST: 4 Ways to Make Your Property's Brand Search Results Superb