Search engine optimization, or SEO, is one of the most important and misunderstood topics in the hospitality industry. Bed and breakfast owners, innkeepers, and hotel marketers often lack a solid understanding of SEO basics. In this post, we clear up common misconceptions and provide insight into something that is the very foundation of SEO: Keyword selection
What is SEO?
SEM vs SEO
Not to be confused with search engine marketing (SEM), SEO is the practice of growing visibility through non-paid or "organic" search engine results. SEM is a form of marketing that involves the promotion of websites through paid advertising. It's an important distinction so please, please, please make a note of the difference!
The rest of this post will be focused on keyword selection for SEO. However, the same tactics can be applied to SEM activities such as Adwords.
Keywords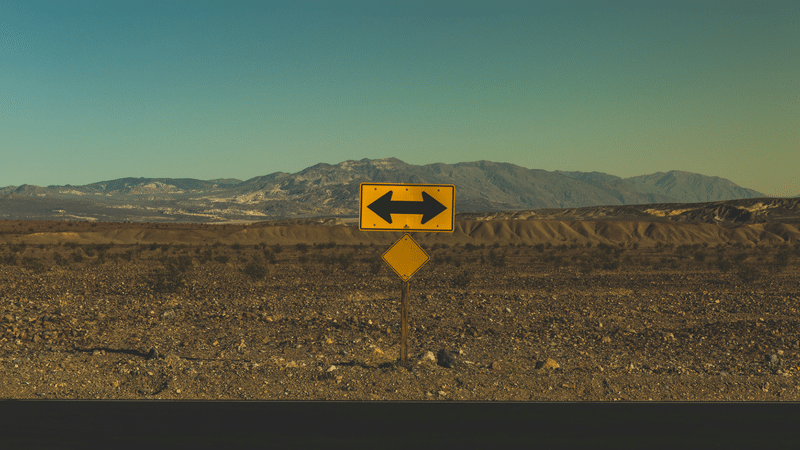 Simply put, keywords are search queries used by people on Google, Bing, or other search engines. They are the words people type into a search engine that will (hopefully) bring them to your page. Selecting the correct keywords to target for your website is critical to SEO success. We often work with innkeepers who agonize over keyword selection. Luckily for you the reality is that keyword selection for inns, bed and breakfasts, and small hotels is actually pretty simple.
Keyword Selection: How to Choose Keywords
There are two types of search queries to focus on: Location Based and Long Tail Keywords.
Location Based Keywords
These are your bread and butter keywords. Location based keywords should include your location and the type of property you have. Let's say you own a bed and breakfast in Palm Springs. Your primary location based keywords are going to be "Palm Springs Bed & Breakfast" or maybe "Palm Springs Inn." Pretty simple, right?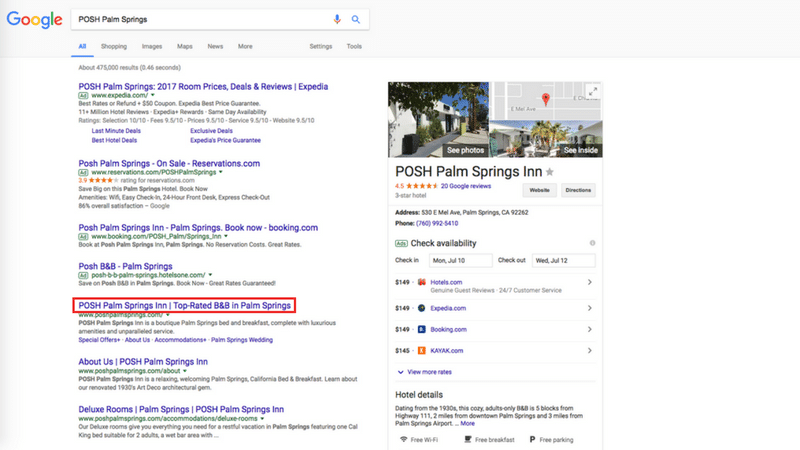 POSH Palm Springs used correct keyword selection and SEO to rank within Google.
Long Tail Keywords
These keywords are much more specific. They can be used to promote content that is related to seasonal events, activities, or any other topic that generates awareness of your property. For example, Franklin Victorian Bed & Breakfast is targeting a very specific type of visitor: Self guided bridge tours. Their keyword selection therefore includes a both an activity and a location: "Self Guided Bridge Tours in Sparta".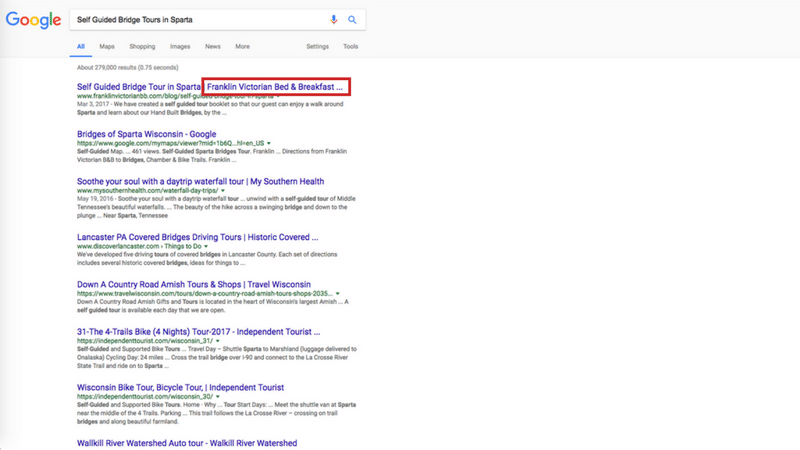 Franklin Victorian leveraged long tail search terms to target used very specific potential guests.
How to Apply Keywords
Once you have selected the keywords you would like to rank for, it's time to implement them on your site. Here are a few examples of how to do that:
Title Tags
Title tags are HTML elements that the search engines use as the link within a Search Engine Results Page, or SERP. Keep in mind that your title tags should be short and unique to each page of your website. Choose simple but powerful title tags to make your property stand out on the SERP. Creating perfect title tags is a fine art and may take some time to master. Click here to learn more about effective title-tagging.
Remember this formula for crafting effective Title Tags:
Page Topic + Your Brand + Property Type + Location
That's the formula to use 99% of the time.
Here's an example of a strong Accommodations Page Title Tag:
Accommodations | Heceta Head Lighthouse | Bed and Breakfast | Yachats OR.
Note that in this title tag we have stated the Page Topic (Accommodations), Brand (Heceta Head Lighthouse), Property Type (B&B), and Location (Yachats OR).
Meta Descriptions
Meta descriptions do not impact organic search rankings, but they can improve click through rates. Make sure that your descriptions are short and unique to each page. Feel free to use calls to action or marketing related copy to entice searchers to click on your organic listing.
Here is an example of an effective Meta Description for an Accommodations Page:
Stay in a real, working lighthouse on the Oregon Coast. Trip Advisor's top rated B&B in Yachats. Choose from our 6 unique rooms. Book direct online!
This meta description has pointed out what makes the property unique, mentioned its Trip Advisor rankings, and described the rooms. It even includes a call to action.
Headings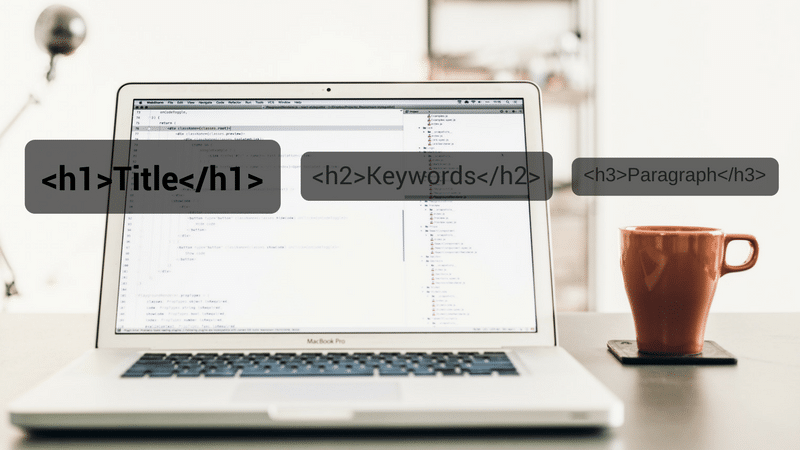 Headings, such as H1, H2, H3, etc. are an ideal opportunity to include keywords. Heading tags are part of the HTML coding for a Web page and are important because they help provide categorization within the search engine.
Alt Tags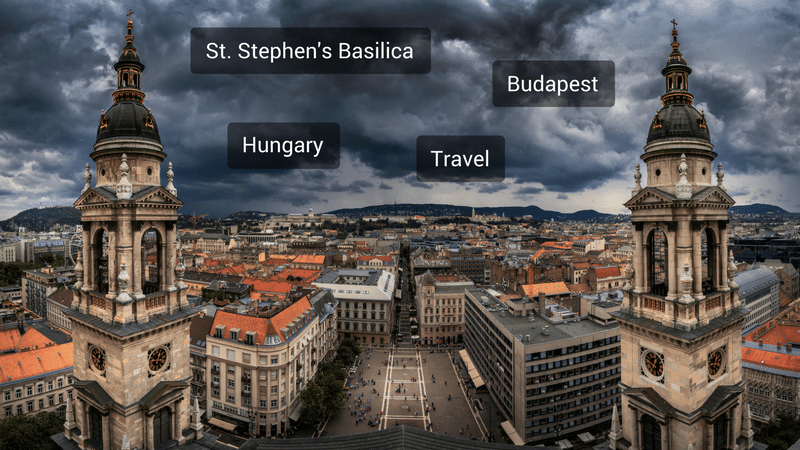 Your images are another opportunity to utilize keywords. "Alt tags" describe the image and its function on the page. Add "alt" text to your images and include target keywords within them.
Keyword Selection is the Foundation of SEO
We cannot stress this enough: Keyword Selection is the foundation of SEO. You invested in a website because you wanted to give potential guests clear and easy access to the information they need in order to book a room with you. Identifying your keywords, and implementing them correctly, can mean the difference between more direct bookings and not being found at all.