The truth is that you might not need a blog for your hotel. If you're not in a competitive market and you have an unlimited advertising budget and you've got all the search engine traffic you need, then you can stop reading here. However, if that doesn't describe your situation, then keep reading.
If you truly want to succeed in search engine rankings and traffic over the long term, one way to do it is to consistently add fresh, interesting, useful, shareable and linkable content to your website. One of the best ways to do this is to start a blog. Companies that blog regularly receive 97% more links to their website and get more of their pages indexed by Google than the ones that don't. By consistently adding original and authoritative content to your blog, you can drive traffic to your site and dramatically increase your conversions. But before your start blogging your heart out, there are a couple things to keep in mind.
This is the first post in a series about using blogging to improve your SEO. Download the full guide here.
Starting a blog is simple. Creating a successful blog? That's a different story. In this series, we will tell you everything you need to know about starting, maintaining, and marketing a successful blog, beginning with the simple question: Why Blog?
Why Your Hotel Shouldn't Have a Blog.
Blogging is NOT a short-term SEO strategy or a way to start driving bookings right away. Blogging is a long-term investment in your website's equity and ability to compete in search rankings, on social, and beyond. But it does take time. If that's not for you – you can always pay for your search engine traffic with AdWords or Bing Ads and be done with it. Paid search ads can and does yield great results – but the benefits stop as soon as the money does, and your reach is limited by your budget. A great blogging effort can continue to pay dividends for years.
Blogging Improves Your SEO… If You Do it Well.
Think about your website in real estate terms. You likely put a lot of effort into maintaining and improving the physical property of your bed & breakfast or hotel. You make sure the grounds are clean and well-maintained. You fix things when they break and make improvements when they are necessary. You train your staff to be friendly, helpful, and informed about the area. You add updates like USB charges and WiFi to keep up with the times. Basically, you do everything you need to do to ensure that your property is clean, up-to-date, and welcoming to all guests. This is how you build value and equity in your property.
You can build equity in your online real-estate as well. Just as maintaining your hotel improves the desirability of your property, maintaining your website improves the authority of your site and builds equity in your domain. Blogging builds equity in your website. To understand why blogging is such an important tool for SEO, you have to understand two general principles:
Blogging adds depth and breadth of content about your area, which increases its relevance and authority. (ie: equity).
Blogging generates the all-important "signals" that Google values: fresh content, links, social shares, citations, and more. This also increases your website's relevance and authority. (ie: equity)
Blogging is an easy and effective way to build your site's authority. When you blog regularly, Google see your site as fresh, active and more relevant, which helps with your rankings. Blogging also helps you rank for new keywords without resorting to keyword overstuffing
Blogging is the Perfect Platform for Hotels and Bed & Breakfasts
Blogging is an important digital marketing strategy for all businesses, but it especially important for hotels and bed & breakfasts. According to this chart, travel is one of the top ten blogging themes on the web. Before you've even started, you know you are blogging on an in-demand topic. Take advantage of this to make a fresh and useful blog that will help out tourists and attract more of them to your property.
See your blog as a virtual concierge. When guests are coming to a new area, they are looking for information and guidance about things to do, what to see, where to eat, how to get around, and more. You can do all of this on your blog. You are likely an expert on your area, so use your blog to share your knowledge and make recommendations to guests or potential guests.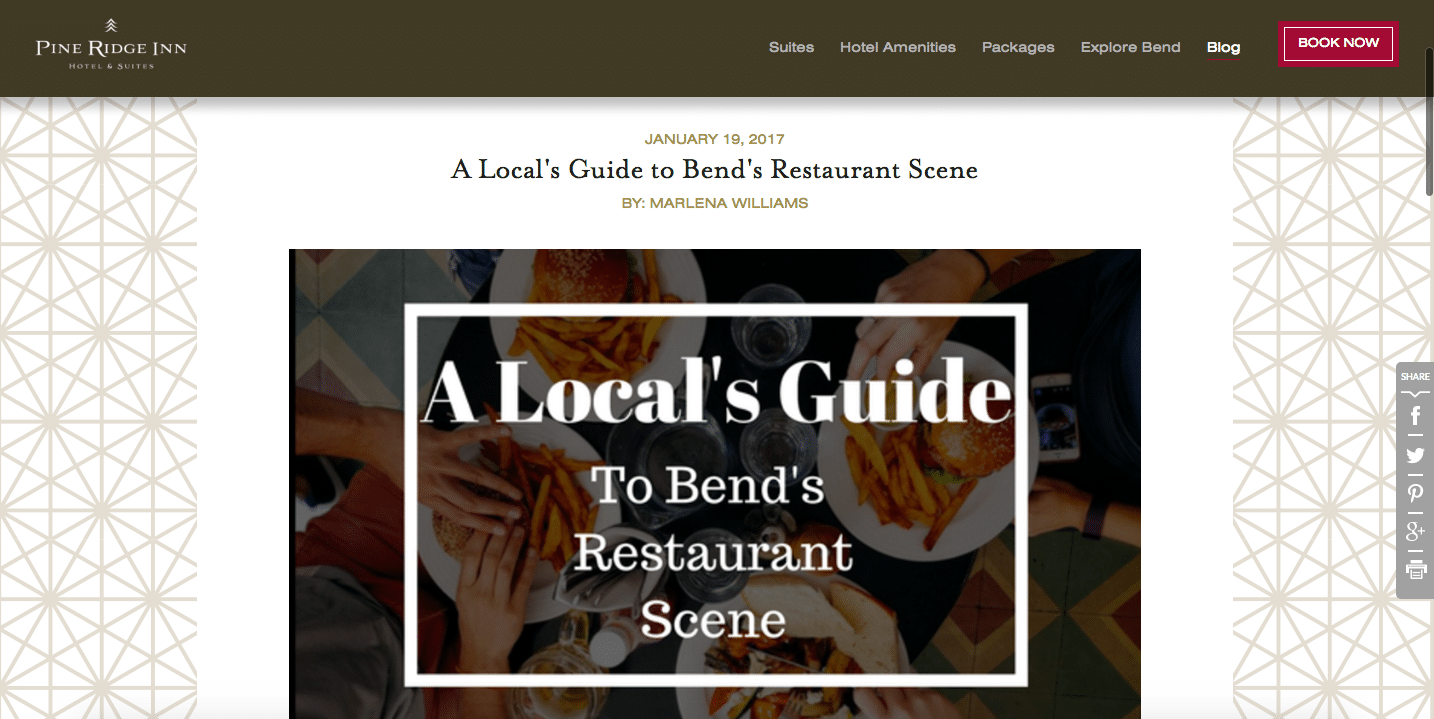 Here is an example of Odysys customer The Pine Ridge Inn's blog. In this post, they have provided an informative guide to local restaurants.
Blogging is a great way to tell your property's "story" and promote your brand. If you are a popular spot for outdoor adventures, write about your favorite hikes in the area. Is your hotel or bed & breakfast pet friendly? Write a series of posts about the best things to do with your pet in the area. Does your property have a unique history or a particularly interesting story behind it? Use your blog to tell it! You can also use your blog promote local events or seasonal activities and to support local businesses. For other blogging ideas, check out our master list of 35 Bed & Breakfast Blog Post Ideas.
Regularly updating your blog with fresh and informative content not only helps out the guests who have already booked a stay at your property. It can also attract potential guests by showcasing your property and area and presenting yourself as friendly, engaged, and informed.
Learn How to Blog the Right Way
Blogging is a perfect example of the democratic principle of the internet. "Anyone can blog," they say. Yes, that is true. But not everyone can blog well. Blogging can be easy and it should be fun. However, successful blogging takes a lot of thought and had work. That doesn't mean you shouldn't do it. It just means there are many things to take into account before you get started. First, make sure you are prepared to:
Blog consistently. Once a month is a good target but more or less frequently can be fine as long as the quality is high
Create fresh, interesting content that is helpful and relevant to your guests.
Do the necessary research on your selected blog topics to make sure your posts are accurate and informed
Craft and edit well-written content (or hire someone to do it for you.) Use a tool like hemingwayapp to write and edit your post for grammar and readability.
Generate topic ideas and create a schedule based on seasonality, events, and things like that. Download our editorial calendar here.
Showcase your original voice and share your unique story through your blog.
Include a call to action on every post
Market your content on social media and beyond – we will cover this topic at length later on in this series
If you think you can do all of those things, then you are ready to start your blog. We'll be back next week with a more in-depth guide to getting started with your blog. We'll cover things like post length, frequency, and more. For now, here are a few tips to get you started:
Your blog should be on YOUR domain, not a separate site (ie. www.yourwebsite.com/blog). Less beneficial is having your blog hosted on a subdomain (ie. blog.website.com). Hosting your blog on an entirely different website like Blogger, or using Facebook as your blogging platform by writing really long posts there, brings your website no SEO value.
Make sure your website is fast & mobile friendly
Always include social sharing on your blog pages
While not all properties may need a blog, blogging is a proven method to improve your SEO, showcase your property, and attract more guests to your hotel or B&B. We hope this blog post has convinced you to start one of your own as well.
Related Posts
Part 1: Why Does My Hotel Need a Blog?
Part 2: 8 Tips for Starting a Successful Blog
Part 3: How to Pick Blog Post Topics That Stand Out
Part 4: Everything You Need to Know to Write Exceptional Blog Posts
Part 5: Marketing Your Blog Posts Part 1: Social Media Promotion
Part 6: Marketing Your Blog Posts Part 2: Advanced Promotion
Part 7: The Long Game: Measuring and Improving Your Blog Posts
---
Odysys offers a Blog Post Writing & Social Distribution service to our customers. Learn more here.