Is your website bringing in as many direct bookings as it should be? There's more to it than your website. Your online presence & digital marketing need to be working in sync to bring in those potential guests that can turn into direct bookings.
Get a FREE customized marketing report and consultation from Odysys ($199 value)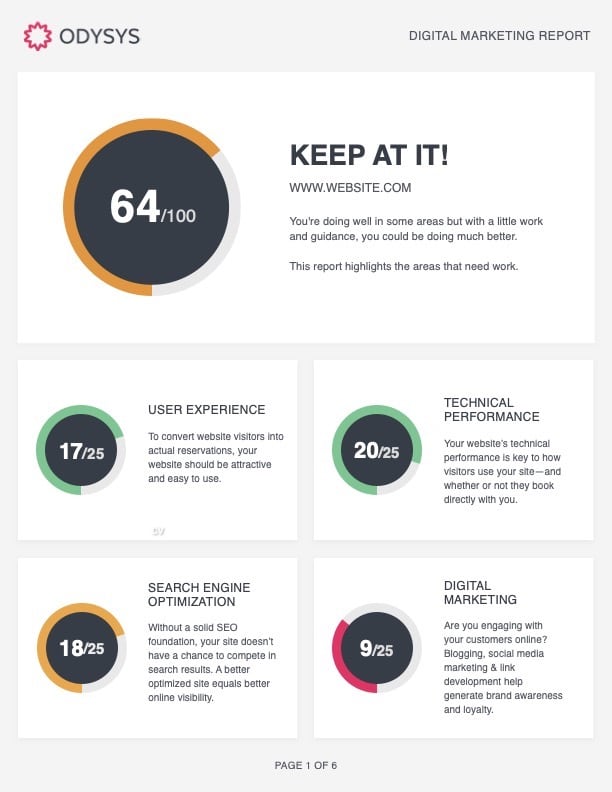 What Do You Get?
Our team has very deep experience in websites, online marketing & direct bookings for independent hotels, inns, b&b's and destination resorts. The report includes a review of over fifty (50!) known, proven and very specific strategies, tactics & techniques that work together to drive direct bookings.
The goal of the report & consultation is to identify how to increase direct bookings. We will provide a written report complete with easy to understand scores, and recommendations for your current site and marketing efforts along with a 30-minute phone call to review and answer questions.
Complete the Form Below to Start the Process!
We need some specific information in order to create your customized report and consultation.


What Happens Next?
Fill out the form with some information we'll need to start your report
After you submit the form, one of our team will reach out to you to confirm a few additional details and schedule your review
Our team goes to work preparing your report and outlining their findings and recommendations
We'll have a virtual 1-on-1 meeting with you to go over our report, findings and recommendations and answer any questions about your marketing and direct bookings
This is all Free! No obligation to buy, no strings attached. This is our offer to you in exchange for being a part of the Odysys community and a fan of our content.