At Odysys, we think blogging is so important we wrote an entire innkeeper guide to blogging. Blogging is time-consuming, but it can pay off in the long run. One simple blog post per month has the power to improve your rankings, drive more traffic to your site, boost your conversions, and dramatically increase guest satisfaction. However, you have to make sure you are writing about the right thing. Your blog posts should be fresh, well-written, and authoritative. Most importantly, they should cover the topics your guests most want to read.
As a copywriter on the Odysys professional services team, it is my job to create content for customers that showcases their destinations and attracts potential guests to their site. But the job is about more than just writing. It is also about coming up with strong content ideas. Here are my 12 favorite go-to post ideas that just about any property can write. Write one of these posts per month and you've got a year's worth of blogging covered.
1. The Dining Post
What is one of the questions you get asked most as an innkeeper? We have a strong guess its something like, "Where is a good place to eat nearby?" Food and travel will forever be linked. When people travel, they want to enjoy the local culinary scene and they turn to you for suggestions. Use this post to recommend you favorite restaurants or give visitors tips on the restaurants locals love.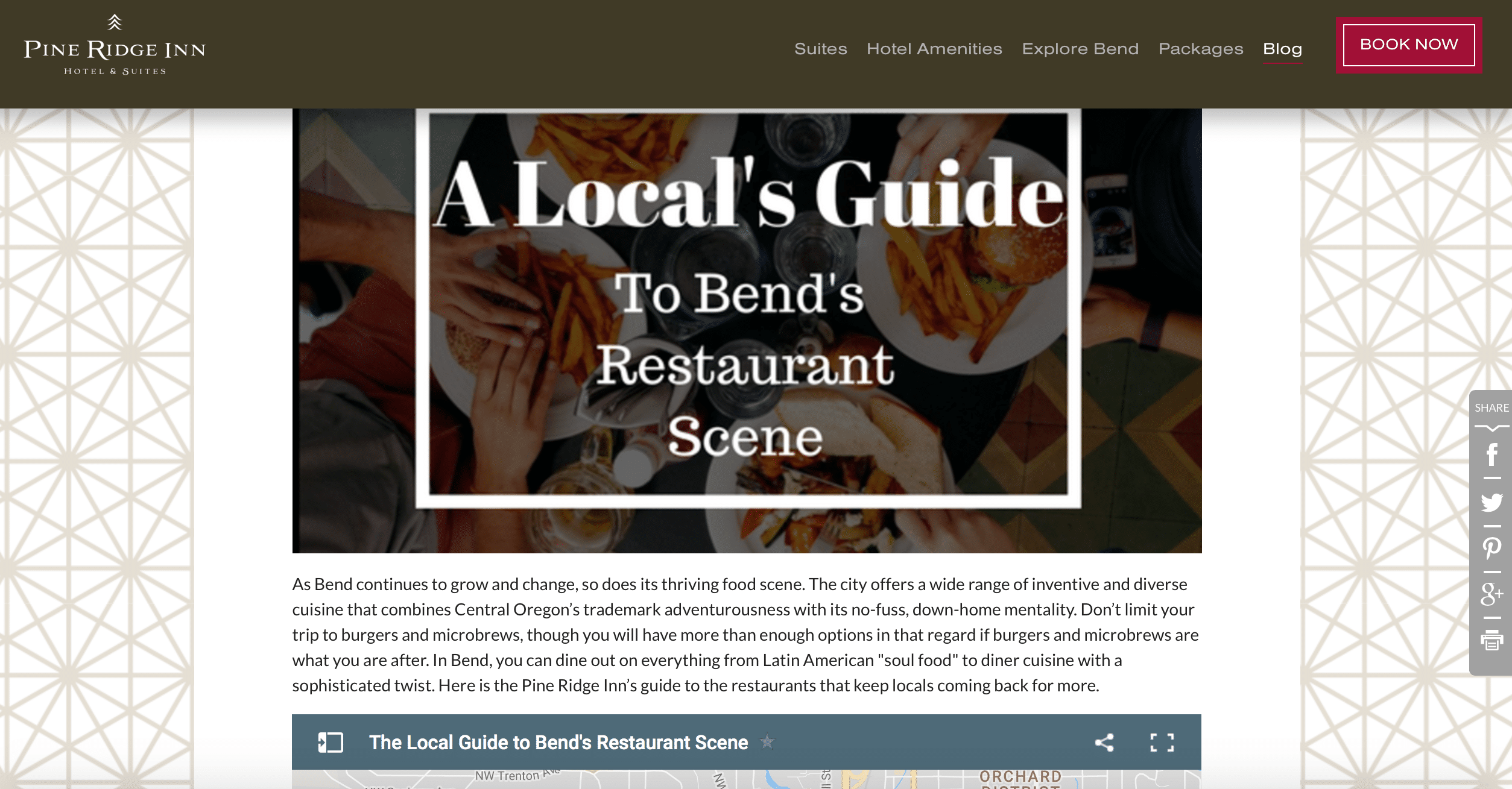 Take a cue from Odysys customer, Pine Ridge Inn. They have written a post called "A Local's Guide to Bend's Restaurant Scene" in which they include restaurant recommendations, short descriptions, links to websites and facebook pages, and a detailed map to help their guests plan.
2. The Outdoor Post
As much as people love to eat when they travel, they also like to get outside. Whether your destination is located near mountains, lakes, rivers, deserts, or simply a few beautiful parks, use this post to write about them. Compile a list of the best day hikes or cycling trails in your region, write a helpful guide to exploring a nearby national park, or tell your guests that best outdoorsy things to do during their stay.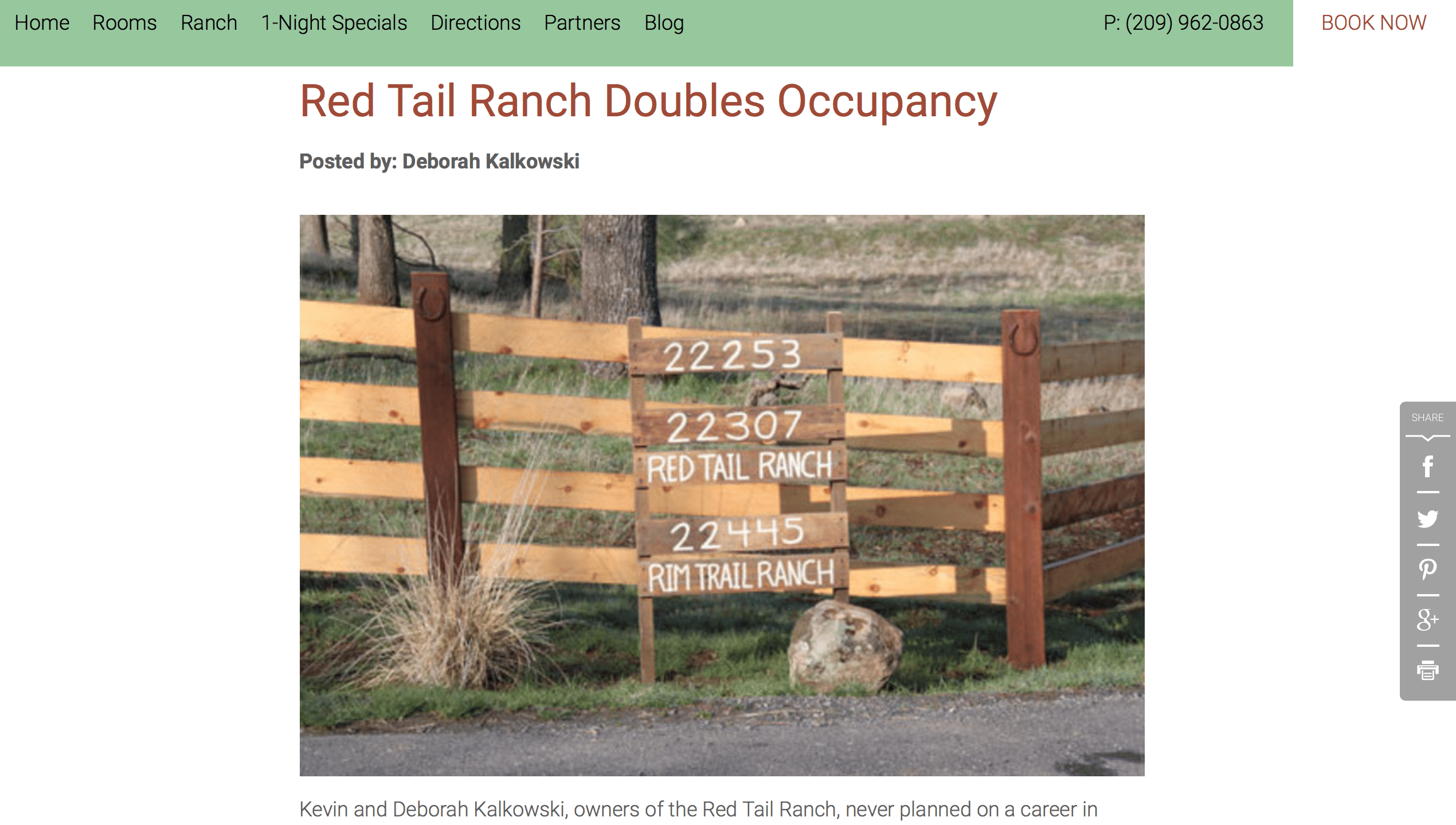 The Red Tail Ranch, located near Yosemite National Park, wrote a blog post listing the "Top 5 Day Hikes in Yosemite." They included short descriptions of each hike, information about length and difficulty, and a few beautiful pictures.
3. The Festivals Post
Use this blog post to market your destination as a place where "something is always happening." Make a list of some of the best festivals & events that happen year round and then write short descriptions of each. Make sure to include a CTA reminding guests why your property is the perfect choice for such-and-such festival.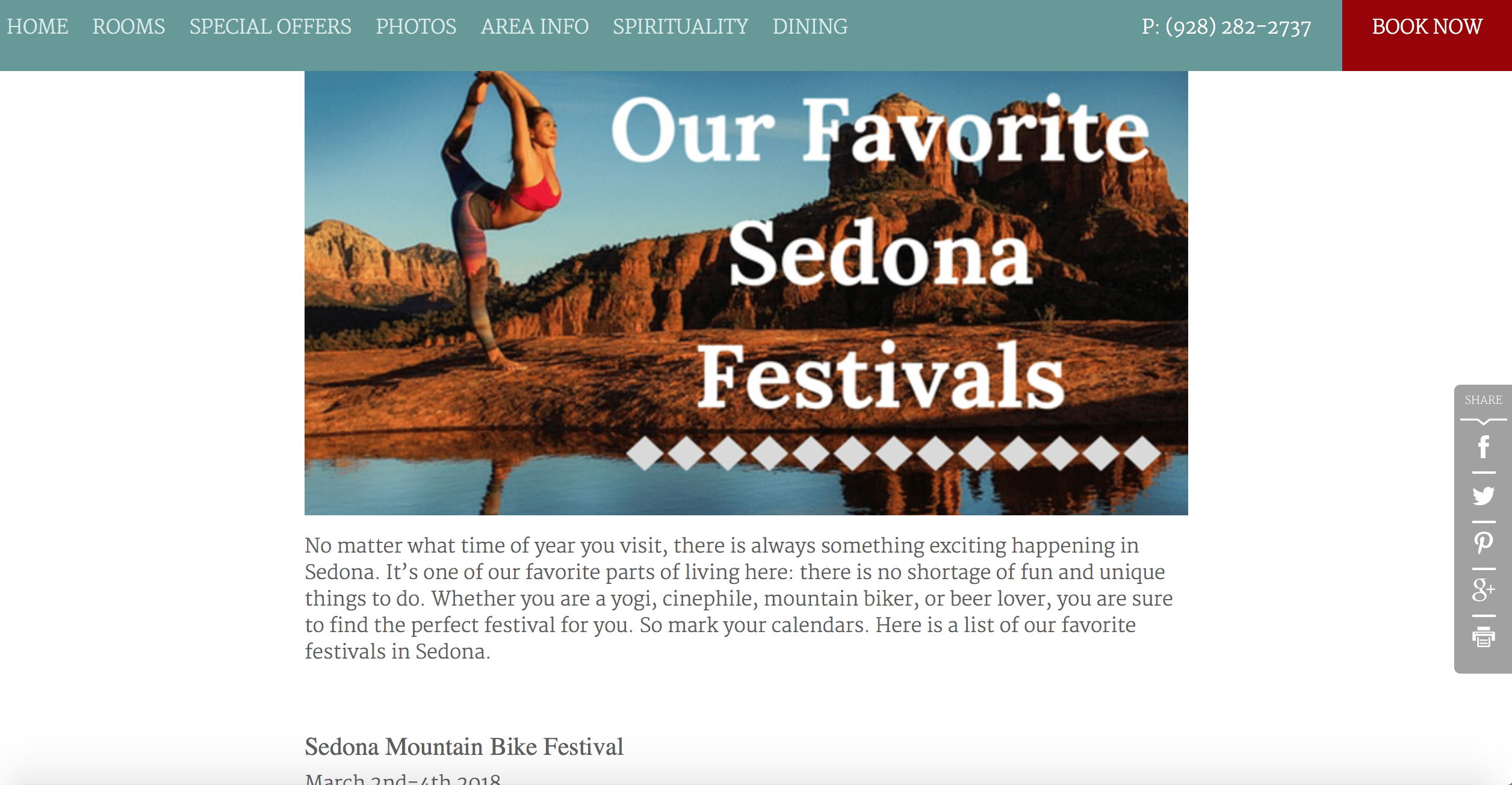 The Alma de Sedona Inn compiled a list of their favorite annual festivals along with descriptions, dates, and information on where to buy tickets.
4. The Events Post
This post is similar, but different. Pick a specific event or festival in your area that draws in a large number of visitors every year and then write a specific guide to that event.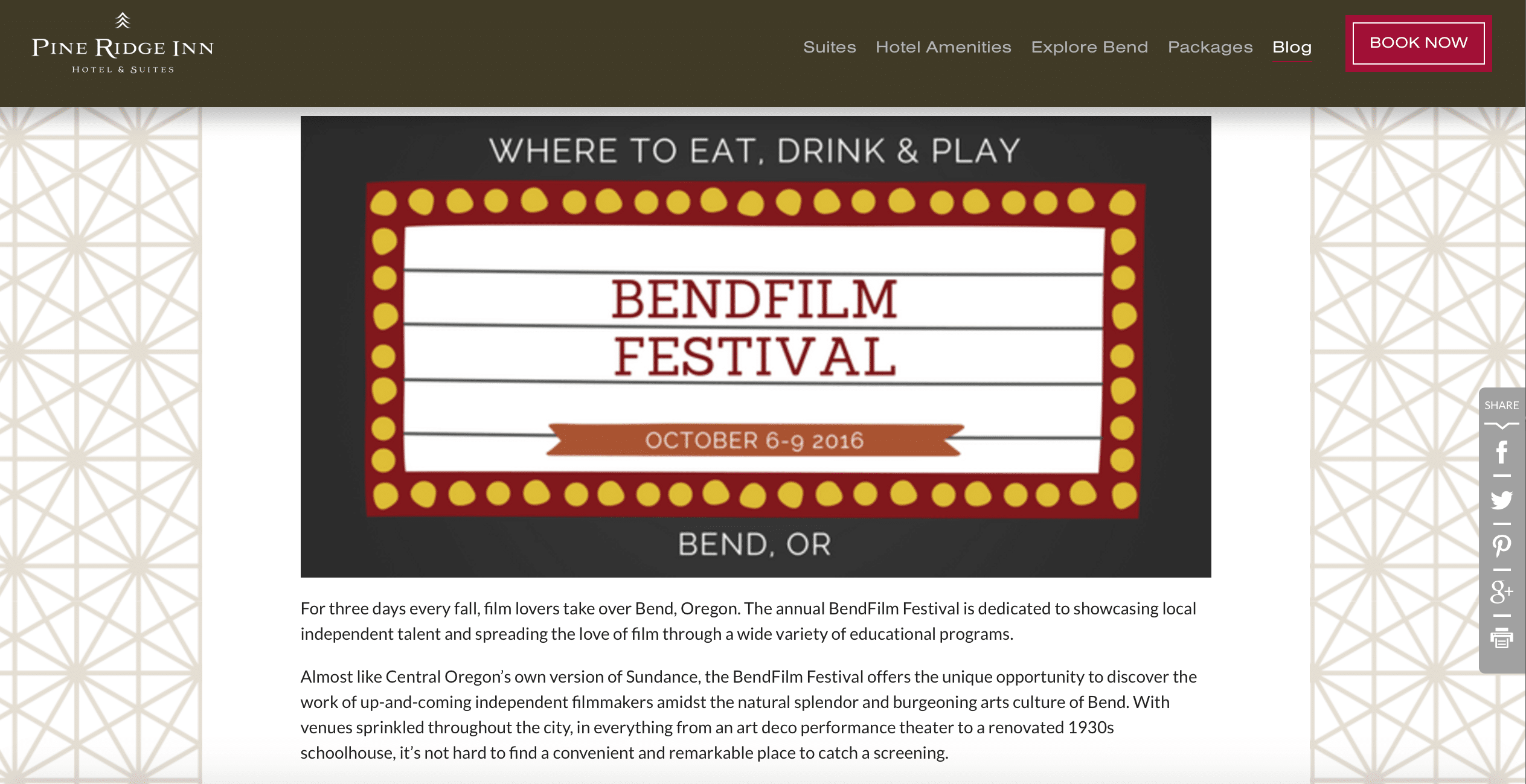 In preparation for the very popular BendFilm Festival, the Pine Ridge Inn wrote a post called Where to Eat, Drink, & Play During the Bend Film Festival. In the post, they provided tips on restaurants, bars, and activities for guests to explore when they aren't watching films at the festival. The best part about this post? You can share it every year when the event comes around.
5. The Recipe Post
If you are a bed & breakfast, cooking daily meals for you guests is just part of the job. Think about the meals that your guests rave about. Do you ever get asked for the recipe of a particular item or dish, such as your famous blueberry scones or homemade hollandaise sauce? Now is your time to share that recipe with your guests. If you can, include pictures in the post of the cooking/baking process and the final product.
6. The Update Post
Use the Update Post to fill your guests in on any updates, changes, or renovations you have made to your property. This is a great place to showcase new amenities and remind your guests that you are constantly improving and modernizing your property to ensure that they have the best experience possible.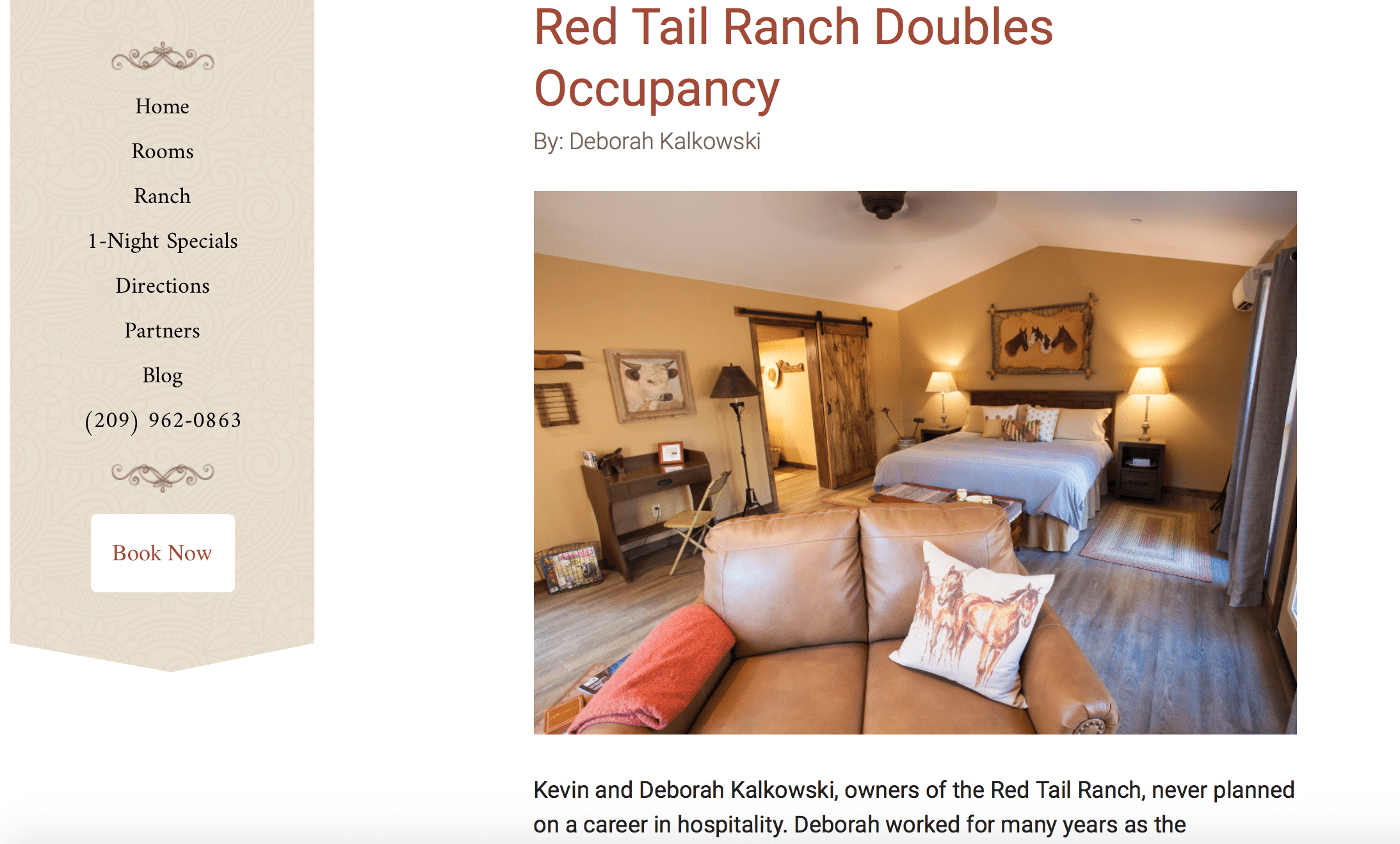 When the Red Tail Ranch added two new rooms to their property, they wrote an entire post about it. In the post, they told the story of their decision to double the occupancy at Red Tail Ranch and then described the new rooms, including photographs.
7. The "Meet the Innkeepers" Post
Guests choose independent hotels and small bed & breakfasts because they want an intimate, personalized experience they can't get anywhere else. In this post, focus on yourself: your personal history, why you became an innkeeper, and what you love most about running a small hotel or B&B. This is chance to tell your story and give guests a taste of your personality.
8. The Seasonal Post
Whether it is summer, fall, winter, or spring, you want to be bringing in guests. Pick a season, any season, and write about it. It could be your favorite season, or a low season when you might want a little boost to your occupancy. Write about all the reasons you love the season and then make a list of all the things to do. If you are really ambitious, you could even do a post for every season.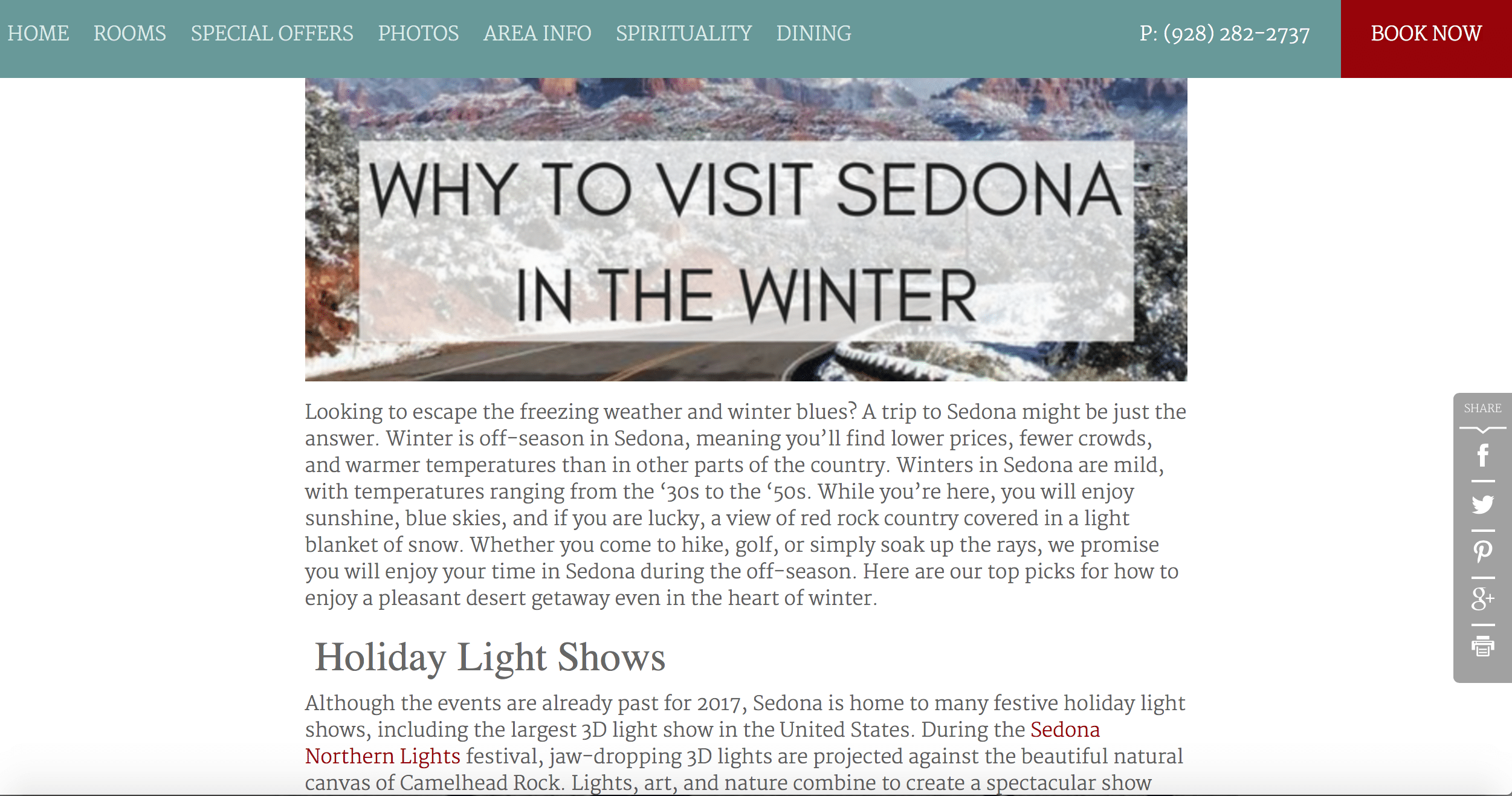 Alma de Sedona wrote a post called Why to Visit Sedona in the Winter where they described all the best things about Sedona in the winter, from cooler temperatures to spectacular holiday light shows.
9. The Family-Friendly Post
Traveling with kids is hard. Write a post providing guests with all the information they need to know for a fun & family-friendly vacation in your destination. This might not be relevant for all properties (such as those that don't allow children), but if your property is popular with families, definitely take the time to write up this post. The parents will thank you for it.
Tip: Another version could be "The Pet-Friendly" Post. If you are a hotel that accepts pets, you could try writing a post such as "A Dog Lover's Guide to Portland" or "How to Explore Portland with Your Dog."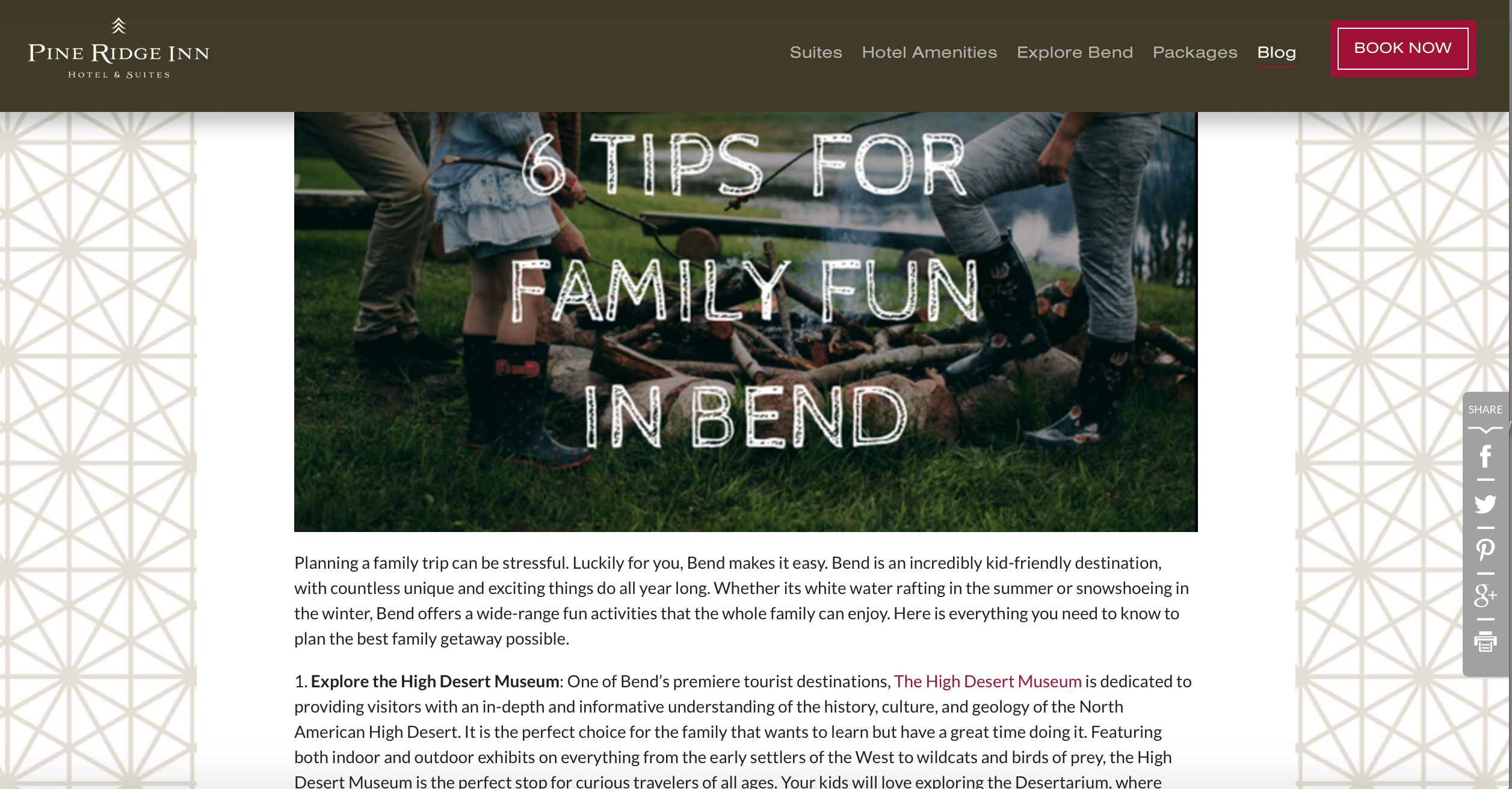 Check out the Pine Ridge Inn's post 6 Tips for Family Fun in Bend.
10. The Guest Photos Post
Potential guests love seeing what past guests have done while staying at your property. Reach out to past guests and ask them to share a photo or two (or search for photos past guests have shared/tagged you in on Facebook or posted on TripAdvisor and ask for permission to use them). You can call it something like "50 Photos from Guests All Around the World" or "Our 10 Favorite Guest Photographs." This post shows that guests have an amazing time at your destination and that you have built relationships with your guests.
11. The Reviews Post
You work hard for those positive reviews. If you get them, don't be afraid to show them off! To make sure this post doesn't sound too much like bragging, position it as a thank you. Potential titles: "Thank You Guests For Amazing TripAdvisor Award" or "Thanks to Our Guests for These Amazing 5-Star Reviews". This kills two birds with one stone: it shows that you are well-reviewed and grateful to your guests.
12. The Thank You Post
Save this post for the end of the year. Call it "Thank You Guests & Friends For Helping Make 2017 Amazing." In this post, extend a heartfelt thank you to all the guests who stayed at your property the past year and all the friends, family members, employees, and business associates who helped make it a success. Use this post as an opportunity to recap the year and preview what is in store for the year ahead.
---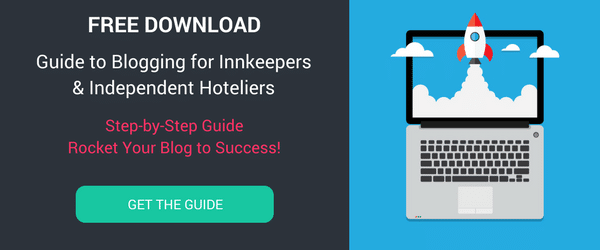 Interested in signing up for our blog writing service? You'll find information about cost, benefits, and more here.