Things are weird. That's the new normal: Weird. I'm from Portland, Oregon though – and our city's unofficial motto is "Keep Portland Weird" so I guess I should be used to it?
Here's how weird it is. Even as I write this, I have some customers who are at 99% occupancy for the next 30 days, and others who are still not allowed to host guests and don't know when they'll be able to.
Most of you are somewhere in the middle. One thing is consistent – the questions that your potential guests will have. You may even be answering these over and over again yourself on phone calls etc. So, depending on the situation you are in at your property, if your property is in a mode where you can host guests, the following exchange is going to sound familiar.
The 3 Questions Your Potential Guests Have Right Now
From our friend & customer Stephen at Domaine Madeleine in Port Angeles Washington – here's how he describes the calls he gets (along with his responses):
"Literally the [booking inquiry] phone calls that come in go like this:

Q1: are you open?
(Yes)

Q2: how has your cleaning changed/what are you doing to disinfect?
(Disinfecting fogger, CDC protocols, Contactless experience)

Q3: can we cancel if things change again suddenly?
(Yes, 48 hours notice for reschedule with full credit w/ option to upgrade at no additional charge, 7 days notice for refund)

Ok, I'll book."
These are the three questions every potential guest is going to have. My challenge to you is this: can you objectively look at your website, your social posts, your email newsletter etc and answer these questions in 30 seconds or less?
Are you open?
How are you addressing the Coronavirus/keeping me safe?
What happens if I need to cancel? And/or highlight your adjusted rates/policies/promotions.
Obviously for some properties the answer to the first question is no. But that doesn't mean you can't be prepared to answer these questions as soon as you're allowed to host guests.
If you are unable to take guests right now, or if you aren't able to operate at full capacity, you may be able to offer other things:
Gift cards/vouchers. I've seen a lot of things like discounted vouchers like $90 buys you $100 gift
card
If you sell products like linens/pillows/robes/etc you could feature something like "Get the XYZ Inn
Experience at Home" and link to your products
Our customer Diane at Pinecrest Bed & Breakfast in Asheville has been selling her famous Pecan Bars
online (featured on her home page)
Get the Word Out – Communication Strategy
If someone is thinking of visiting your property, they're probably going to check out your website. So the recommendation I have for you is to answer these questions more or less explicitly right on your home page (or have a prominent link to your responses) for the foreseeable future… but you'll probably still get phone calls just like Stephen does. There's no single way to execute this messaging. But it is up to YOU to make sure you're providing potential guests with the information they need.
Your messaging doesn't stop with your website though. The communication strategy should include also your email list, your social channels, and if you're engaged in some form of awareness advertising; your message should be loud and clear there as well. Don't be afraid to push your message out via email communications and social multiple times over many weeks/months as this thing goes on.
Here's a few examples I've come across recently.
Website Examples
There's any number of ways to answer the 3 questions on your website. Obviously having bookable dates available in your booking engine can answer whether or not you're open/have availability. But the other way is to expressly highlight your Covid/Coronavirus updates on your home page.
Whether you put the content on your home page like this example from Wicker Park Inn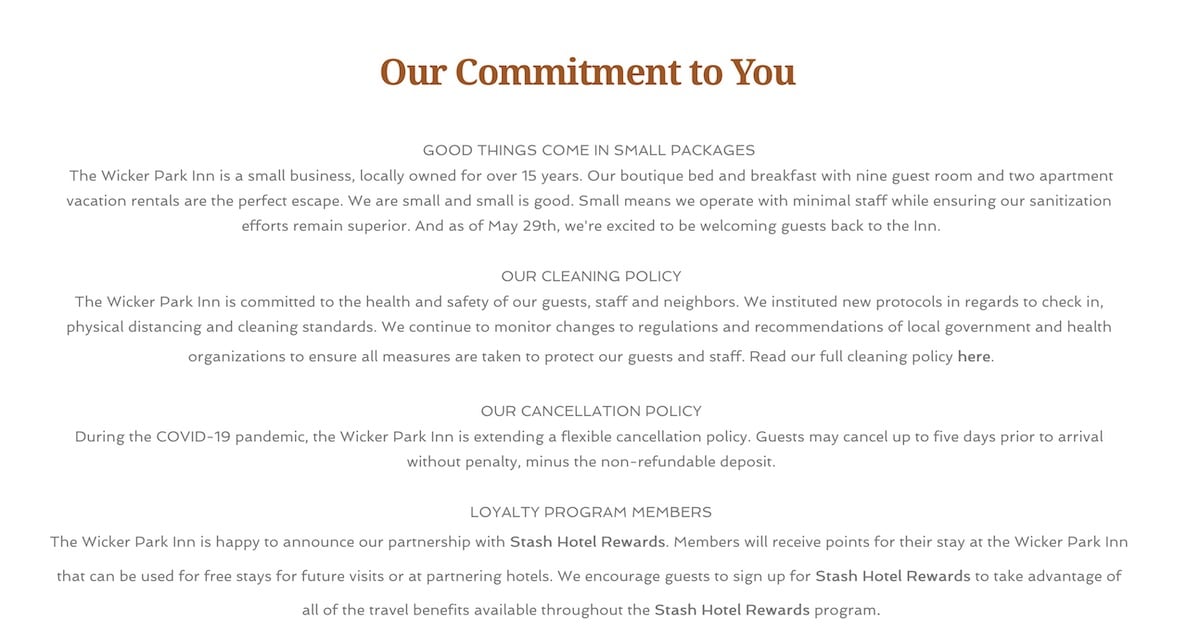 Or you can post the Covid/Coronavirus content elsewhere on your site and prominently link to it from your home page, or even use a 'ribbon' alert on your home page like this example from The Vineyard B&B at Lost Creek Ranch
Social Media Post Examples
Let your followers know that you're open to bookings and what you're doing to keep their safety in mind. Take this example from Bay Point Landing's Instagram, they've used this 'special' in many posts over the last several weeks to reinforce the message that they're open for business and to encourage stays.
Sometimes it's helpful to see how the big brands are responding
Email Examples
If you've heard any of my presentations on marketing, you'll know why I'm such a proponent of email newsletters for independent lodging properties just like yours. This is arguably your most important 1-to-many marketing channel and your secret ingredient for direct bookings.
Email works hand-in-hand with social media. Let your email subscribers know that you're open for business, how you're keeping them safe, and any special rates/flexibility you may have.
Here's a couple examples of some of the more recent emails I've seen and I've linked to a few others below. You can see that everyone is handling differently.
A few links to others:
Pine Ridge Inn – Open date in the near future, I like how they also promote the destination with a link to "other businesses open in Bend, OR"
Hilton Honors – I think it is valuable to see how the big guys are handling this
Advertising, Messaging & Promotion
I recently attended a webinar from Sojern, a technology company in the travel marketing space. They gave some great examples of lessons they've learned while testing ad copy & images. Here are takeaways from the ad testing may inform your communications on your website, in emails, social posts or ads:
Use a softer call to action in outgoing communications (ie – your emails/social posts/ads):
"Book Now, Stay Later" is more effective than something like "Book Now" currently
Use copy that taps into the desire to travel even though it may not be the right time for some:
"Discover" "Explore" "Start Planning" "Staycation" (people are more likely to road trip than fly)
Show flexibility: "Free cancellation" etc
Images: Avoid images with people gathering in large groups
What's Next?
There's definitely pent up demand for travel. We're optimistic about the future though there are definitely going to be speed bumps along the way.
Data shows that bookings are on the rise almost universally especially for non-urban destinations. While not back up to pre-Covid levels yet, the trends are encouraging.Other countries that have already started coming out of Coronavirus in Asia etc have seen travel bouncing back. I'll cover some of this in a blog post next week. Until then – hang in there!
Download the Guide