When it comes to managing your social media accounts, prioritization is key. It can be difficult to know what will help engage your followers and what is just clogging up their feed. That's why we've outlined the five essential social media strategies that you should be focusing your attention on now. Add these to your repertoire and you will likely see your audience grow, your engagement increase, and your rooms fill.
1. Engage Directly With Your Followers
Though it can seem like a full-time job, posting regularly is not enough to keep your followers engaged. Social media is an incredible way to build and maintain relationships with your past and future guests. That means you have to engage with them directly in the form of comments, likes, or re-shares. If a guest posts about their stay and tags you, then you should like the post and comment on it. You might even consider re-sharing it on your own page (more on that in #2.) If your guests comment on your post or something you've shared, return the favor with a like or a short response. Even a simple "Thanks! Hope to see you again soon!" goes a long way to keeping your property in their minds after they have checked out.
2. Capitalize on User-Generated Content
User-generated content refers to anything a guest posts on social media about your property. That can be a photograph, a link to a blog, or even a positive post about their stay at your destination. If you see a guest posting about your property or if they tag you in a piece of content, re-share it on your page. User-generated content can take some of the burden off of you while also helping you to stay connected with your guests.
Don't be afraid to ask for this type of engagement. Suggest guests share photos from their stay, post about their breakfast, or tell a story about the most memorable moments from their trip. As the success of sites like Yelp and TripAdvisor show, people trust what they hear from other people more than they trust overt marketing. User-generated content is a smart way to promote your property without being to "salesey" about it.
3. Go Beyond Self Promotion
On a similar note, you want to find useful and unique ways to promote your property without going into full-on advertising mode. Remember, marketing is about more than just bragging. To keep your followers engaged, you need to post fresh, relevant content that they will find helpful or interesting. Consider the 80/20 rule. Though there is no secret formula to social media success, it is safe to keep about 20% of your social media posts self-promotional or brand-based and the other 80% content that interests your audience and engages them in conversation. That can include posts about upcoming festivals, new restaurants, great seasonal activities, sales at local shops or galleries, and any other information you think travelers should or would like to know. This is also where sharing your blog posts can come in handy.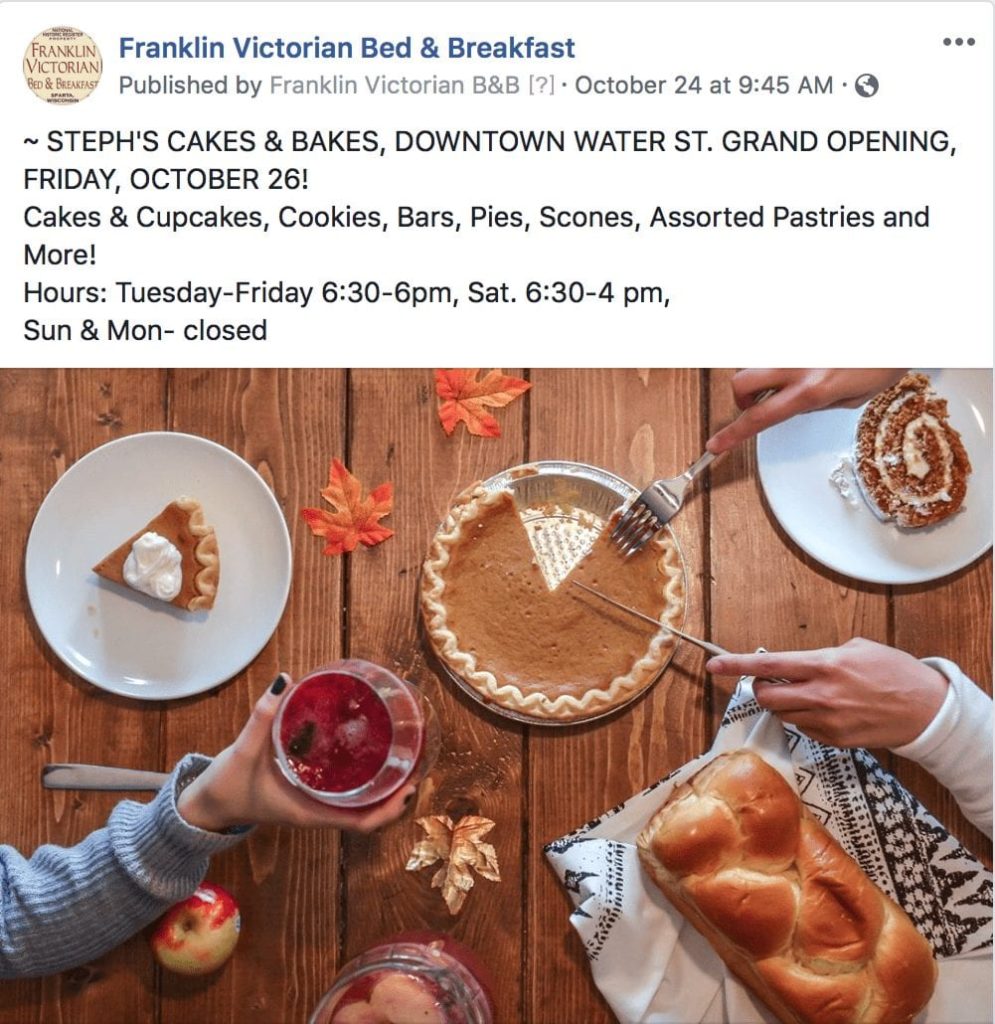 4. Connect to Other Pages and Businesses
Your social media accounts do not exist in isolation. It is essential to connect with other businesses related to yours. Make an effort to connect with bed & breakfast associations and local restaurants, tour operators, magazines, newspapers, shops, wineries, spas, and anything else relevant to your brand. You can do this by adding them as friends and re-sharing any relevant content they may post on their own pages. Again, this is a great way to add content to your page without doing too much work. They might even return the favor and mention you or re-share some of your content later on. More free marketing! If you mention these other businesses on your page, use the "@" symbol to tag or link to them.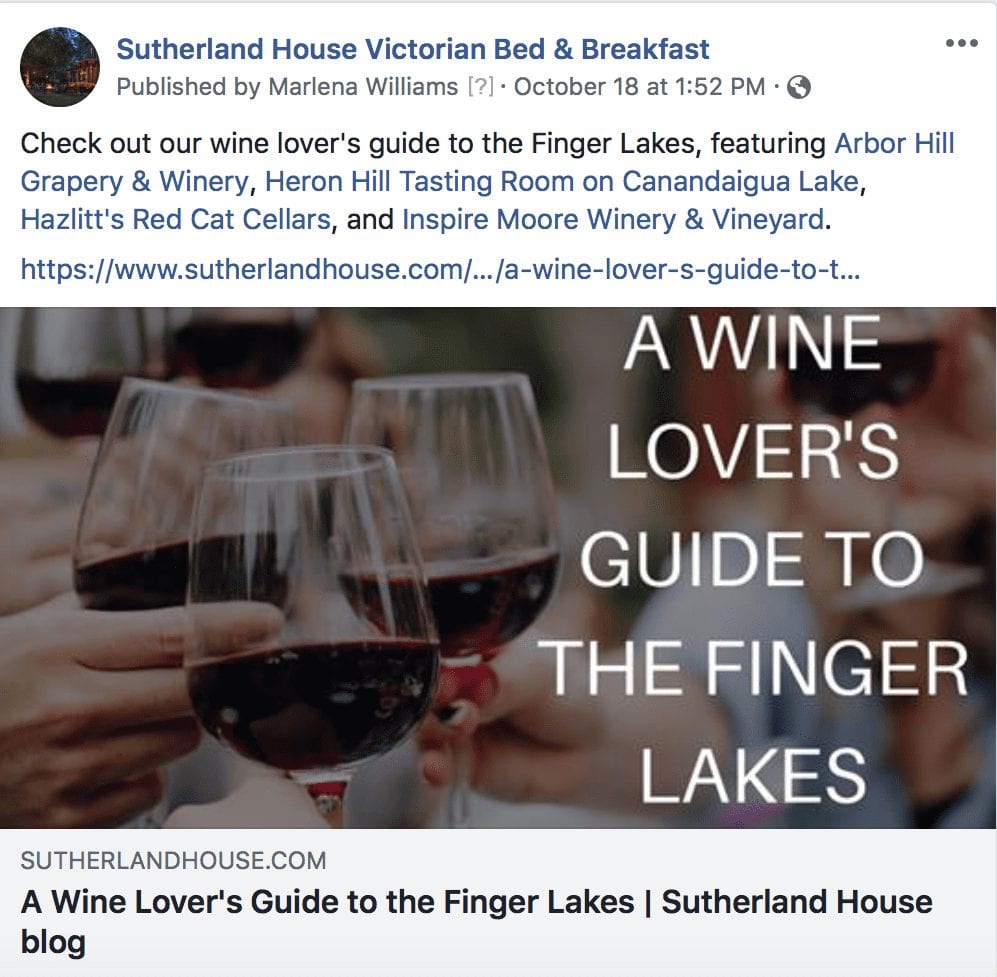 5. Post Photographs and Other Visuals
85% of visitors consider photographs and video key factors when deciding whether or not to make a booking. Photographs are the most powerful way you can grab your followers' attention and attract them to both your property and your destination. Hubspot has found that Facebook photos generate 53% more likes than an average text post. Always be ready to capture a moment through photograph or video and share it with your guests. Post pictures of your rooms, amenities, common spaces, and exterior. Add pictures that are seasonal, such as your property covered in a blanket of snow or the first spring flowers that bloom in your garden. And always share photographs that showcase your destination, whether that is a dinner at an amazing new restaurant or a particularly beautiful hike. For more information, we've also written about how important image & video are to your website on our blog.