Now that we covered the first two signposts on the No B.S Marketing Roadmap for Innkeepers–setting clear goals and defining your ideal guest-it is time to tackle the granddaddy of the bunch: Marketing & Advertising.
This is the part on the roadmap that tends to confuse and intimidate innkeepers the most. Marketing & Advertising is a huge, complex, multi-pronged beast encompassing many different things. We've broken it up into four major sections that we'll tackle in a series of posts:
Website: Creating a visually stunning design that is mobile-response, secure, and fully optimized.
Advertising and Content Marketing: Involves things like social media marketing, Google Adwords, Facebook Ads, Association websites, industry directories, and more.
Email Marketing: Though some may consider email campaigns old school, it is still one of the best marketing strategies out there, dollar for dollar.
Distribution: OTAs and Meta-Search sites like TripAdvisor & Trivago.
Today, we are going to focus on creating a visually pleasing, mobile responsive, and fully secure website.
Make It Mobile Responsive
We've said it before and we'll say it again: you need a mobile responsive website & booking engine. So many innkeepers invest loads of money in building beautiful websites but forget the importance of mobile.
When we say "mobile responsive," all we mean is a website and booking engine that work on any screen size or device, including desktops, mobile phones, and tablets. 40% of US travel website visits come from mobile devices and we only expect that number to go up. Experts even suspect mobile will surpass desktop browsing in the coming years.
Furthermore. 45% of website visitors will leave if it takes too many steps to make booking or find desired information. This is especially important when it comes to booking engines. Old, clunky booking engines can be a huge deterrent to potential customers. If it is too difficult or time-consuming to make a booking, they might just give up and look elsewhere.
46% of visitors make a decision on a mobile device but then make the actual booking on the desktop. Why is that? We guess this has something to do with slow or out-of-date booking engines.
Wondering if your website is mobile friendly? Head here to find out.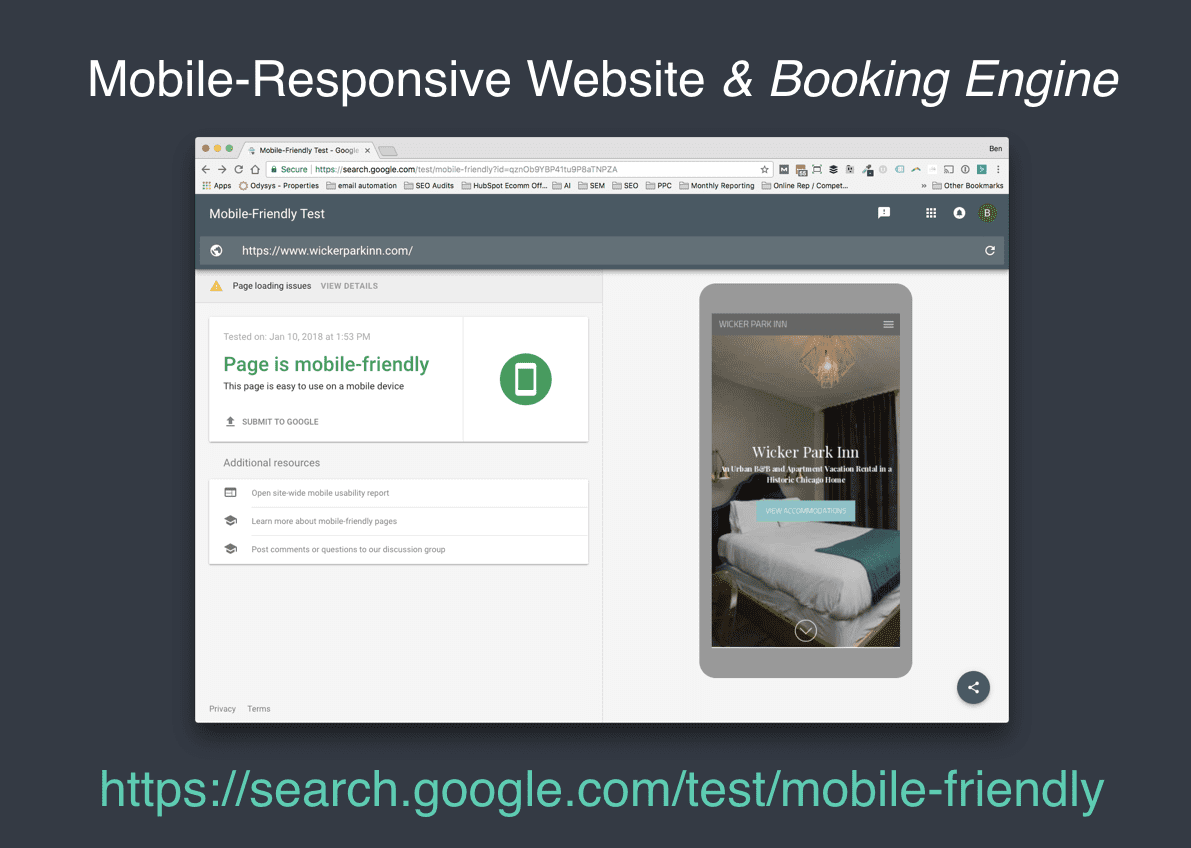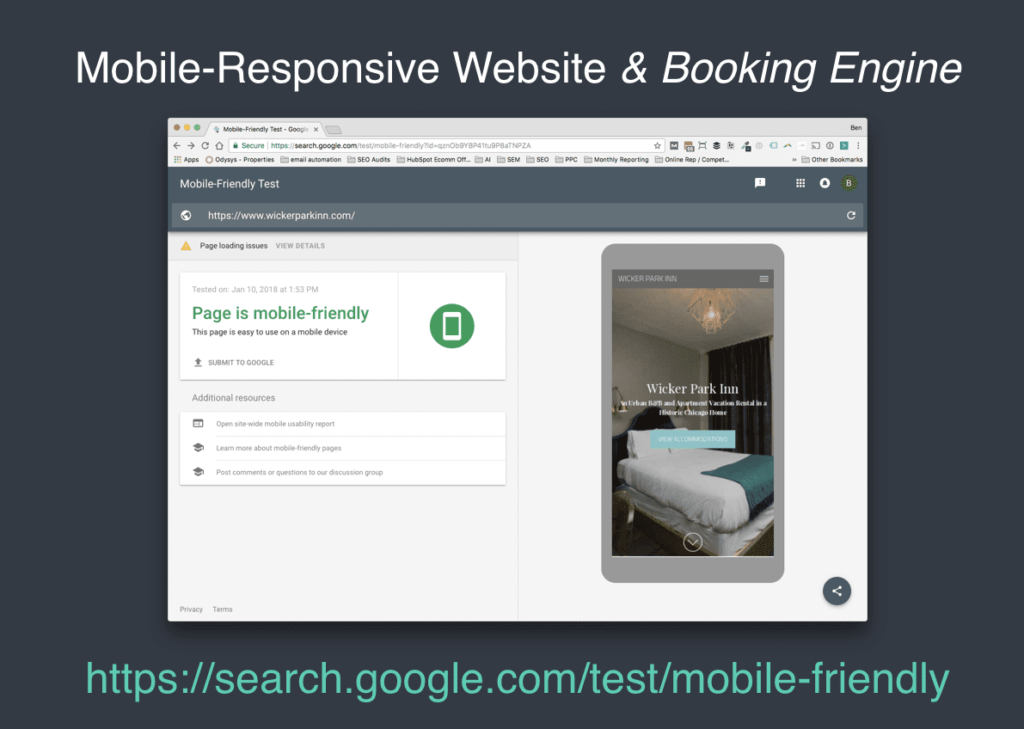 Ensure that Your Website is Secure
Only 30% of websites have a secure website license. However, in this age of heightened paranoia about online privacy and data safety, having a secure website is more important than ever. To tell if your website is secure, go to your website and take a look at your browser address bar. If your website is secure, you will see this: https://www.yourdomainname.com.
If your website is secure, you will see this: https://www.yourdomainname.com. If you do not have the s there, your website is not secure. Websites with that "s" also tend to be a little faster, which as we stated before, is very important to most visitors.
In reality, you are transacting on your booking engine, not your website, but website security still matters to your customers and to Google. If you do not have a secure website by July, Google will start showing visitors an alert when they arrive at your website. Whether or not it is in actual security issue, this will make your potential customers worry.
Put yourselves in their shows: Would you purchase something from a website if you saw a security warning? Even if you aren't purchasing something, would you still linger on the website anyway? Case in point: Make your website secure by July!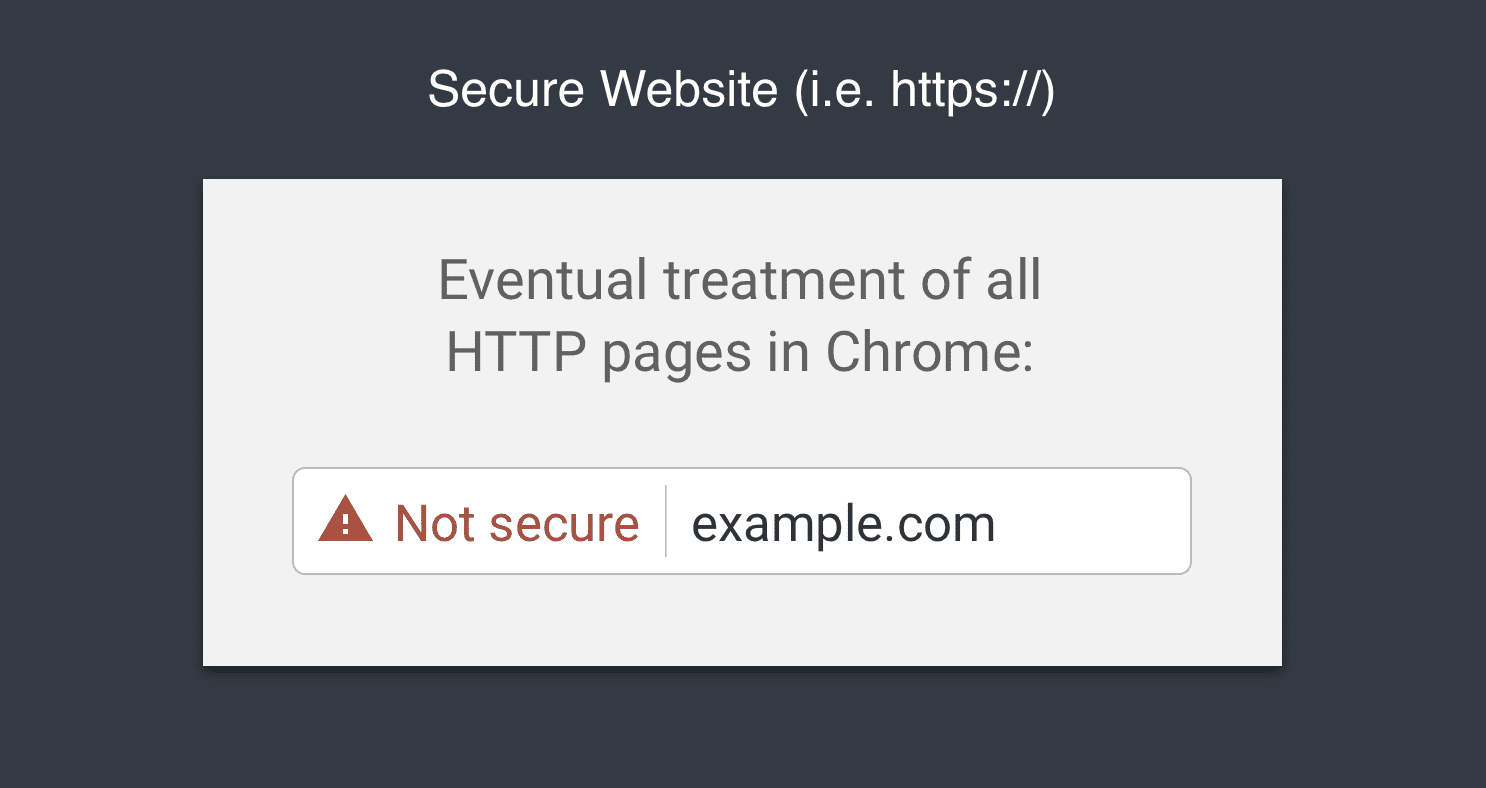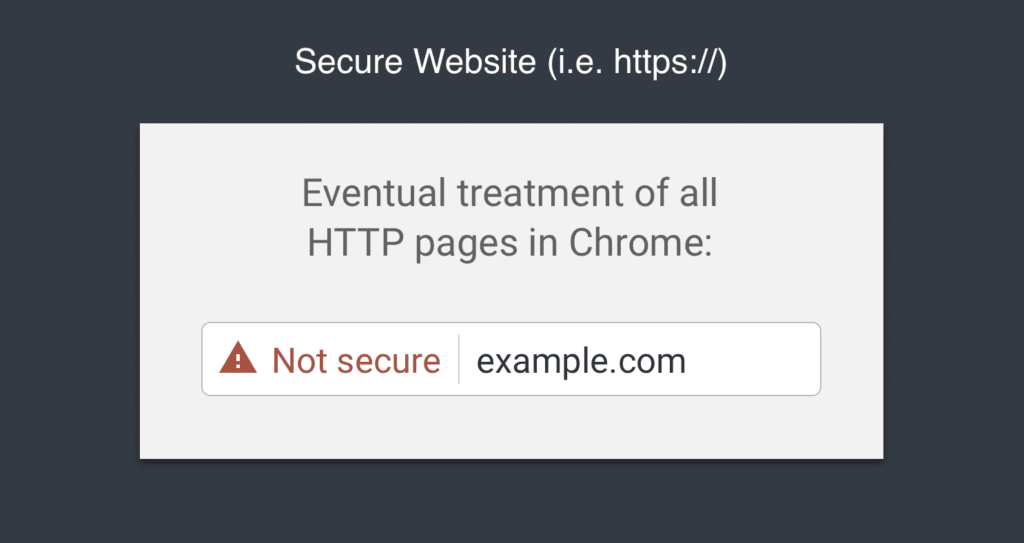 Tell Your Story Through Photos & Video
Before visitors read a single word of text on your website, they are going to look at the images you have displayed. Your website, especially your homepage, should showcase fresh, high-quality photos of your property and your destination.
Properties with at least 20 high-quality room qualities have a 5% higher conversion rate than those who don't. 85% of visitors consider photographs deciding factors when considering making a booking. It is also important to update the photos on your OTAs listings, TripAdvisor profile, and B&B.com.
When selecting photos, we recommend keeping it inspirational and aspirational. That's just a fancy way of saying that your photography should inspire the visitor to stay with you. Be strategic about it. Select photos that immediately convey to the visitor the experience they will have if they stay with you. Don't settle for one lousy photo of the front door of your property. Showcase the destination and the experience.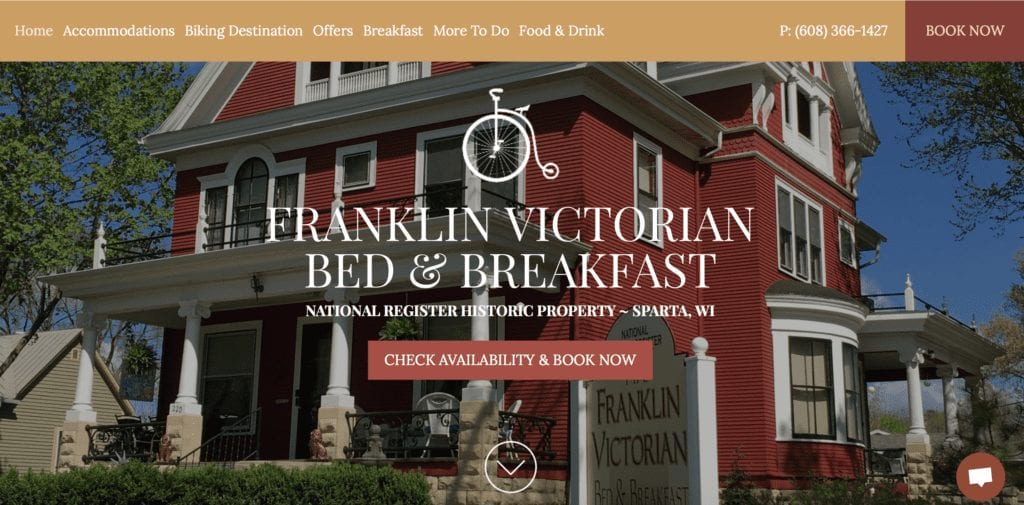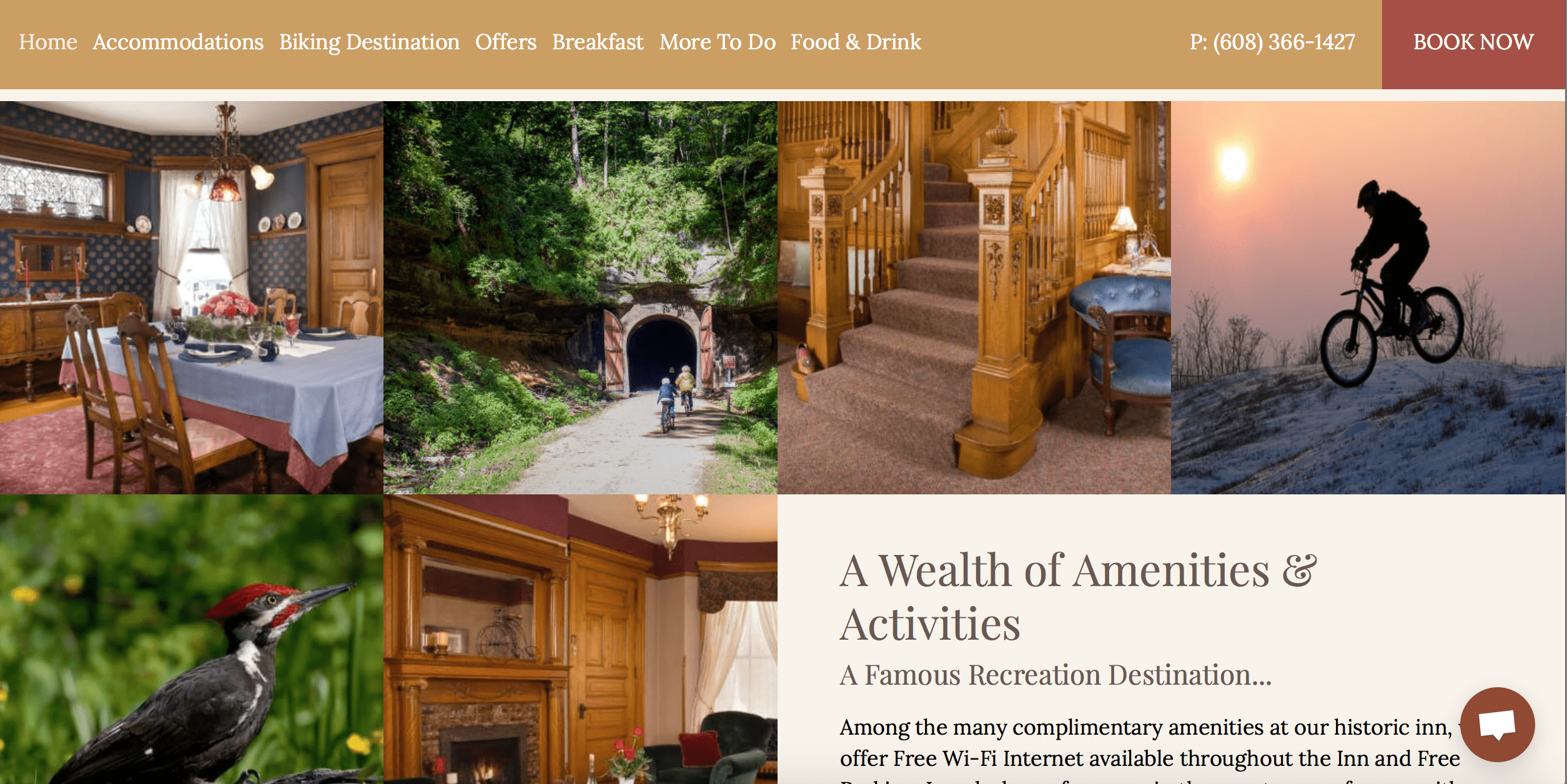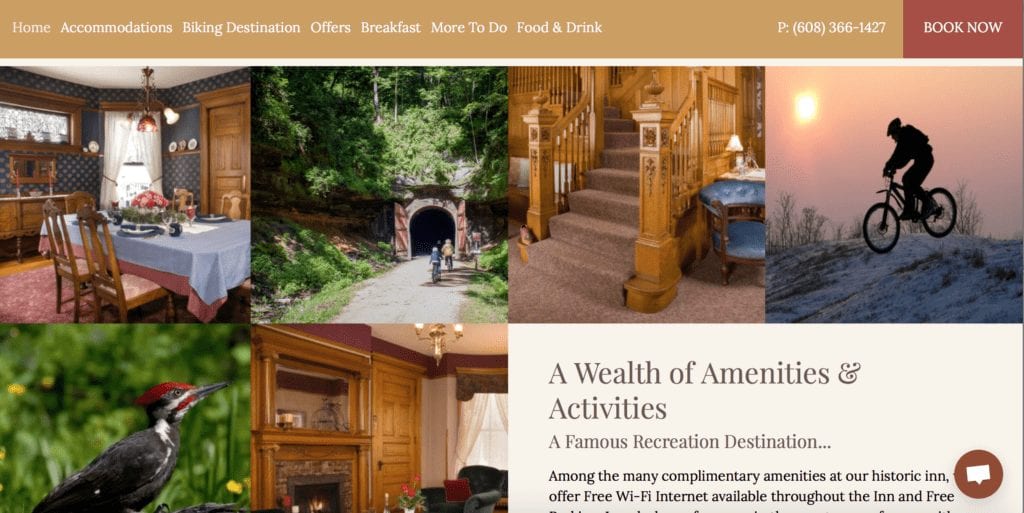 Odysys customer Franklin Victorian Bed & Breakfast in Wisconsin uses high-quality images to showcase their property and their destination.
If you don't have the resources to pay for a professional photographer to come in and photograph your site, don't worry. Our guide to Photography for Innkeepers will teach you all the tips & tricks you need to take great photographs that will entice guests to make a booking. It covers things like framing, lighting, editing, and knowing what to shoot. Trust us, you'll be amazed by all the things you can do on an iPhone or Android.
Video is also an important marketing tool. Embed a video on your home page or a "Video" page of your site. Remember: it shouldn't just be a slideshow set to music. These types of videos offer very little engagement. If you chose to include a video, it should be closer to a commercial than a basic slideshow. An effective video would be 30 seconds long.
Sell Your Destination
Your website needs to showcase both your property and your destination. People come to your location for a reason, whether that is bike trails, breweries, vineyards, hiking, skiing, ect. Market your destination first, your property second. Make sure your photography includes beautiful photographs of your destination as well as of your property.
You should also spend some time sprucing up your Things to Do page. Think of your Things to Do page like a local guide or virtual concierge, a corner of your site dedicated entirely to helping guests understand and explore your destination. It is your way to share your local knowledge and expertise about your area with your guests.
Fill this page with recommendations on where to eat & drink, what to see & do, how to get around, and any other essential information you think your guests should know.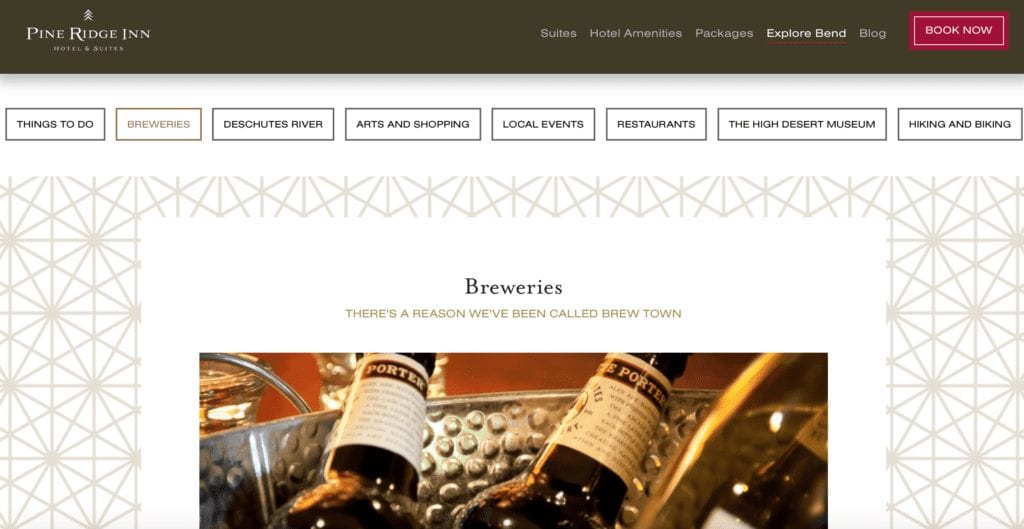 Odysys customer Pine Ridge Inn has filled their Things to Do page with information about breweries, arts & shopping, museums, outdoor activities, and more.
Website Checklist
Your main focus when it comes to website design is providing your visitors with all the information they need as quickly and efficiently as possible so you can funnel them down that conversion pathway towards a direct booking. Use this checklist to make sure your website design is streamlined & effective:
Consistent Navigation: Your navigation bar is the roadmap visitors need to properly explore your site, so it should be consistent throughout every page of your site
Call to Actions (CTAs) to "Check Availability" or "Book Now:" The primary call to action on your website should be a button located in-line with the main navigation on every single page of your website in exactly the same place. User studies show that the most effective places for this button are the top right hand corner of your website or the left hand side, if that's where your website's primary navigation is located. Also embed contextual calls to action, like "view rooms" or "specials & packages," throughout your site.
Provide Incentive to Book Direct: Include a short section or paragraph detailing the perks that come when guests make a direct booking, such as early check-in, complimentary baked goods, or cocktails upon arrival
Create a Perfectly Optimized Home Page: Your home page is the like the welcome mat to your website that will entice visitors to explore further. Use this infographic & guide to ensure that you're website is perfectly optimized for search engines and conversion.
Headlines and Bullet Points: Headlines and bullet points keep your website clear & easy to read. They help you provide your guests with must-know information without requiring too much time or concentration. Avoid text overload whenever possible.
Reviews: 76% of customers are willing to pay more for a hotel or bed & breakfast that has received positive reviews. Visitors put a lot of trust in what past guests have to say about your property, so showcasing positive reviews is almost as important as the text you write yourself. Link to trusted sources like Google or TripAdvisor.
Industry Badges & Social Proof: Social proof means providing concrete evidence that your business is trustworthy and respected. That could be a TripAdvisor Certificate of Excellence, a badge showing your membership in the chamber or industry association, or even a BBB or AAA rating.
Subscribe Buttons: Having a signup form for your email newsletter gives you an opportunity to stay in touch with potential (or past) guests and drive a direct booking later on.
Contact Information: Always provide your phone number, email, and physical address and make sure it is clear and easy to access. A map doesn't hurt either. Your phone should be click-to-call and email should be clickable as well.
We'll be back next with part two of Website Marketing for Innkeepers: Search Engine Optimization.