The next stop on our No B.S Marketing Roadmap for Innkeepers focuses on advertising and promotion for your website. In this post, we will tell you about three easy & cost effective strategies you can use to dramatically broaden your reach and keep your brand name in the forefront of people's minds. They are also great methods for bringing more quality traffic to your site and encouraging visitors to book direct with you, not those pesky OTAs.
Google Adwords
We strongly encourage all of our customers to bid on your brand name to protect it from the prominence of OTAs on the Search Engine Results Page. Google Adwords is a paid service offered by Google that allows you to buy ad space at the top, or very near the top, of the Google results page based on your chosen keywords. Google AdWords will ensure that you rank high, beat out the OTAs, and entice potential guests to click.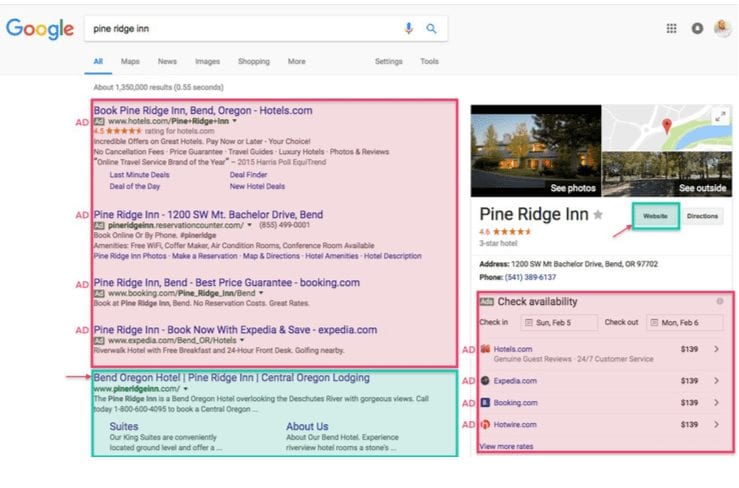 Above, you see the paid ads highlighted in RED. They appear above the organic search results in the SERP. As you can see, many of the results that appear at the top of the page are from OTAs like Hotels.com, Booking.com, and Expedia. Why would you want to send potential customers to an OTA and loose 15 cents of every dollar of that reservations when you could send them straight to you? Using Google Adwords can help you get closer to the top and make your brand name appear more prominently on the SERP. Though you are paying for Google Adwords, remember that you are saving commission fees, usually about 15%.
Retargeting
Retargeting is another key digital marketing tactic. Retargeting, or Reservation Recapture as well call it at Odysys, shows ads for your property to visitors who looked at your website but did not book a stay. Retargeting ads encourage these potential guests to make a direct booking on your site once they have left it.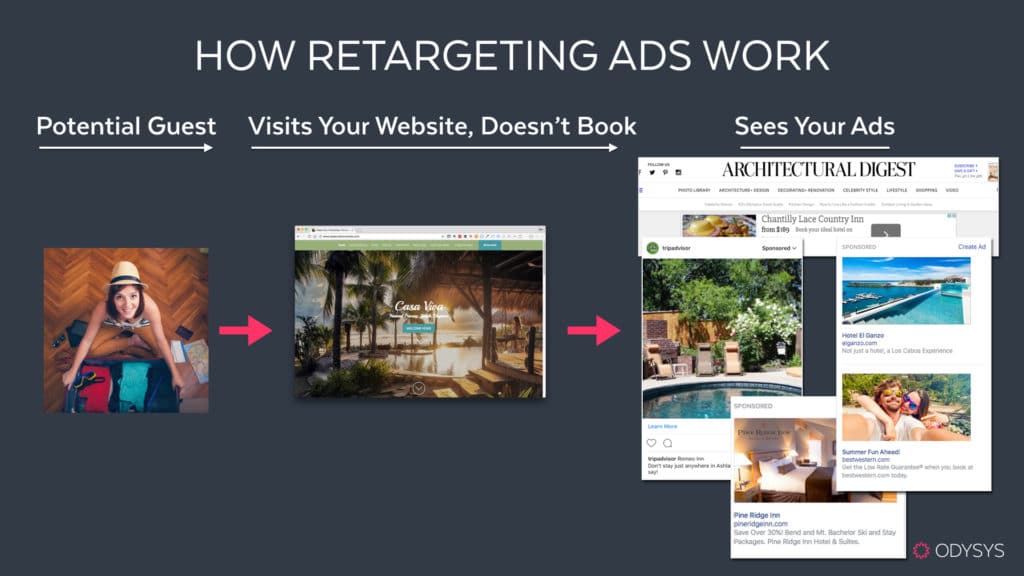 Think about it like this. Someone visits your site but leaves without making a booking. Maybe they wanted to explore some other lodging options, maybe they got distracted and clicked back onto Facebook and dashed off to do some grocery shopping. But remember: all is not lost. If you invest in retargeting, that same person will see an ad for your property later on, when they are browsing online using their computer, phone or tablet, they see your ad. Your ad will follow your potential guests across the web and "recapture" their interest, perhaps even inspiring them to return to your site and book a stay. These ads remind them that your availability and rates and get them back in the conversion tunnel. Retargeting ads are a tremendous way to capitalize on the traffic you are already bringing to your site and reconnect with travelers who showed initial interest in your property but maybe abandoned it the first time around. Click here to learn how you can use Retargeting and Adwords together to drive even more direct bookings.
Associations & Directories
You should also make an effort to get your property listed on industry-focused associations, directories, trade organizations, or blogs. Much like link building, these listings will help you get found by potential guests, drive more direct bookings, and improve your overall ranking on Google. Here are some examples of associations and directories your website can (and should) be listed on:
These 3 building blocks serve as the foundation for advertising and promotion for your website. See what else you can be doing to drive more bookings. Get our checklist for more bookings!