In recent weeks, we have seen more and more notifications from the Google Search Console for our customer B&B websites saying, "Mobile-First Indexing is Enabled for [your website.]" This has been a long time coming. We've known Google has had mobile-first indexing in the works for a while. In fact, the first notifications started trickling in all the way back in March. But now is the time to seriously start preparing for the new Mobile-First Indexing reality. Being ready for Mobile-First Indexing is a core component of the direct bookings roadmap for your property we've been talking about so much in recent weeks.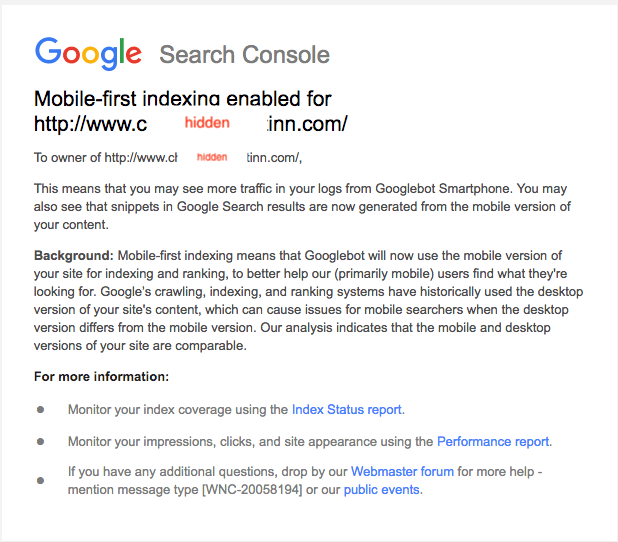 If you've received this message, a few frenzied questions might be running through your mind. What does "Mobile-First Indexing" mean? Why is Google sending out notices about it? How do I find out if my website is ready for this so-called "Mobile-First Indexing"? And what do I do if my website isn't ready for "Mobile-First Indexing"? We are here to answer your questions, ease your mind, and hopefully give you some tips & advice that will you proceed from here on out.
___
First things first, allow me to say this: Odysys Website customers, you can stop reading here. All Odysys websites are ready for mobile-first indexing straight out of the box. No further action is required. Note: The only exception to this rule is that extensive customization of your Odysys site or the addition of 3rd party widgets may 'break' the mobile-friendliness of specific pages.
What Does Mobile-First Indexing Mean?
In the past when Google analyzed your website, it began doing so from the perspective of your desktop, and checked through the mobile perspective afterwards. You could say that rankings were more based off desktop performance rather than mobile.
"Mobile-First Indexing" means that Google prefers to use the mobile version of your website as the starting point for crawling your website and as the baseline for determining rankings for your content. This is primarily a change in focus and flow.
"Mobile-First" Does Not Mean "Mobile-Only"… Yet.
But it does mean things have changed and are changing quickly. Phone's are becoming faster, more functional, and even more a part of our daily lives. Mobile-First Indexing represents a major shift in Google's philosophy. So many people are using Google on mobile devices that it is counter-productive to serve up totally different search results for people using Google on a desktop or a mobile device. Instead, they prefer to be able to count on the mobile version of your website's content and pages.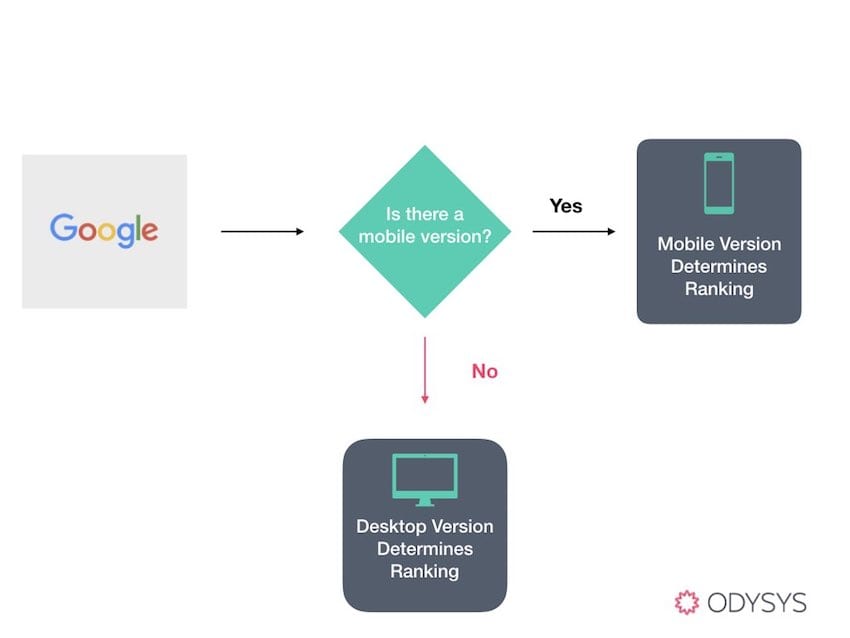 If Mobile-First Indexing is Enabled for My Site Does it Mean I'll Rank Higher?
Yes and no. Being ready for mobile-first indexing CAN definitely be a competitive advantage for you, especially if your competition is behind the times and doesn't have a mobile friendly site. Google will probably start to value your site more as opposed to your competition and thus higher rankings may result.
But remember: rankings are not the only thing to focus on. Being ready for mobile-first indexing means that your site is already mobile friendly. As a result, mobile users of your site will have a better experience and your site will be effective at converting visitors into guests.
Why is Google Sending Out These Notices About Mobile-First Indexing Being Enabled?
If you receive an email, it is really just a heads-up from Google that your site is meeting the requirements for Mobile-First indexing and that they are using it for their ranking signals. If you've received this message, by and large, it is a good thing.
What If I Haven't Received a Notice from Google?
Google has been rolling out the notices in waves. We've been getting notices for customer sites since March, but more notices are coming in all the time.
Again – this is just a courtesy notice from Google. If you don't get an email or message it doesn't mean that mobile-first indexing hasn't been enabled for your site, and it doesn't mean they won't enable mobile-first indexing for your site.
If you haven't received a message yet:
You don't have a Google Search Console account for your website or you aren't getting email notices from your Google Search Console account. Note to Odysys customers: We actually create one for every single customer and monitor it for issues on your behalf. If you would like access to the Search Console, just let us know what email address you'd like us to use for your account (must be a google account) and we will send the information your way.
Your website is ready for mobile-first indexing, but Google hasn't gotten around to your site yet. Just be patient. They do these things on their own timeline. (For context, in June 2017, Google stated it could be several years before the index is entirely mobile-first.)
You have a Google Search Console account and your website is NOT ready for mobile-first indexing because your pages don't pass the google mobile-friendliness test. If that is you, keeping reading.
How Do You Find Out if Your Website is Ready for Mobile-First Indexing?
The easiest ways to find out are to run your pages through Google's Mobile-Friendliness test by clicking here.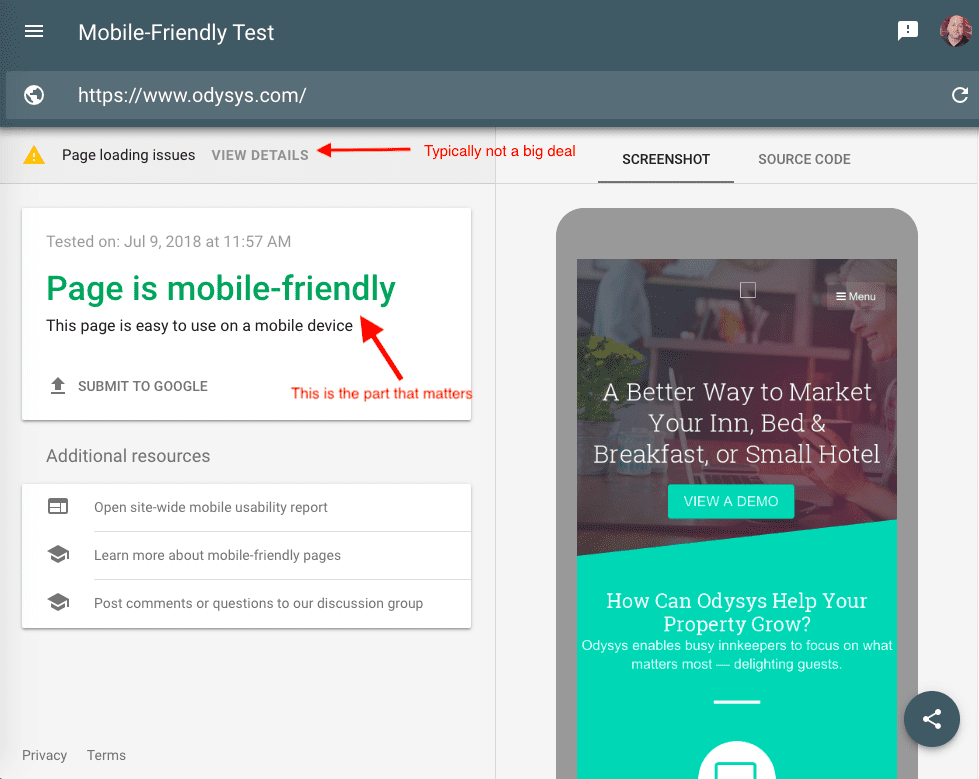 Clicking on the "View Site-Wide Usability Report" will open Google Search Console. Learn more.
What are Best Practices for Mobile-First Indexing?
From our post "2018 Online Marketing Trends You Need to Know:"
"…Your website and booking engine absolutely have to meet Google's mobile-friendliness criteria if you want to compete."
Some implications for innkeepers & hoteliers:
Your website's pages must pass Google's mobile friendliness test
Mobile website parity. In other words – your mobile website's content and functionality should all work on mobile devices. It is best if your website design is "responsive" to devices. Having separate URLs for mobile devices or having entirely separate content for your mobile site is not ideal. If you have a separate mobile website, you will need to take several extra steps to make sure that site is ready for mobile indexing. More information: https://webmasters.googleblog.com/2016/11/mobile-first-indexing.html
NOTE: All Odysys Websites are mobile-responsive
Your booking engine should be mobile-friendly as well, and easy to use on mobile devices. Otherwise you are absolutely losing out on direct bookings.
Both your website and booking engine should be "secure" using https/ssl security. In other words, your URL should be https:// by default instead of just http://. It also should have a little "secure" message in the address bar like this:
For more info, see "Why We Upgraded All Odysys Customer Websites to HTTPS Today"

What's Next?
Having a mobile-friendly website & booking engine is just one stop on the marketing roadmap for innkeepers and hoteliers. Download our checklist below to get started on driving more direct bookings for your property today.