At Odysys, we get this question a lot. Most innkeepers know that asking guests to write online reviews is an essential part of attracting new guests and keeping their brand name strong. Just look at the results of our past Odysys survey: well over half of innkeepers actively solicit reviews for their property. However, many innkeepers are also unsure of which online review platform is the most important to their business. Though TripAdvisor is the big name in the industry when it comes to reviews, Google reviews may provide the best opportunity for direct bookings. Here's why.
Reviews are SO Important to Bookings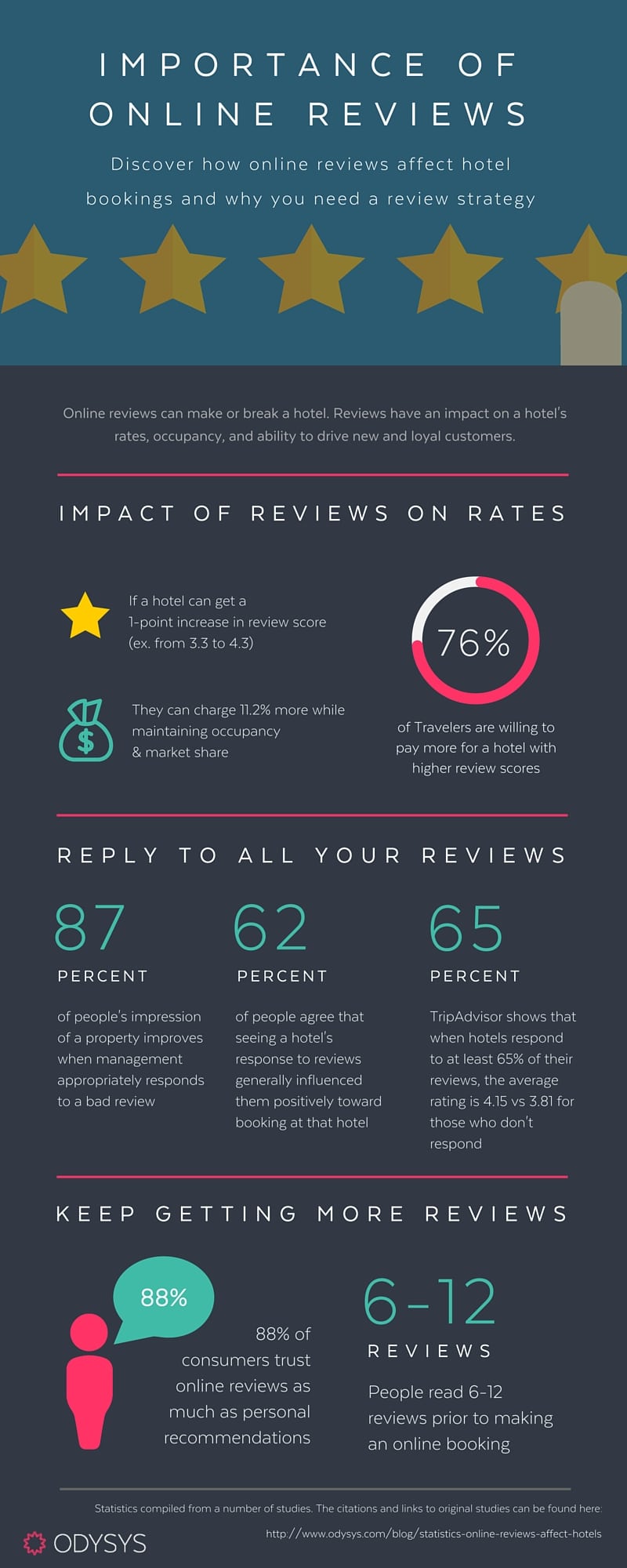 Online reviews have the power to make or break your property. Travelers trust online reviews just as much as they trust reviews made by people they know. 76% of travelers are willing to pay more for a hotel or bed & breakfast with positive online reviews. A simple 1-point increase in your review score can allow you to charge more for rooms while also attracting more guests to your property. If these stats don't convince of the importance of online reviews, nothing will.
Not All Reviews Are Created Equal
However, not all online reviews are created equal. You are likely getting online reviews across a wide variety of platforms: TripAdvisor, Google, Expedia, Yelp, Booking.com, even Facebook. While these are all important, your main focus should be on receiving a large number of positive reviews on your Google Business Listing.
Why?
The simple fact is that Google highly values the reviews made ON Google for your business. These reviews subsequently influence your ranking in the Google map more than those made on other websites. Positive reviews on Google will help you rank higher on the results page. Sure, reviews from Expedia, Booking.com, TripAdvisor, ect. factor into the map rankings on Google. They just don't matter nearly as much as the reviews made directly on Google.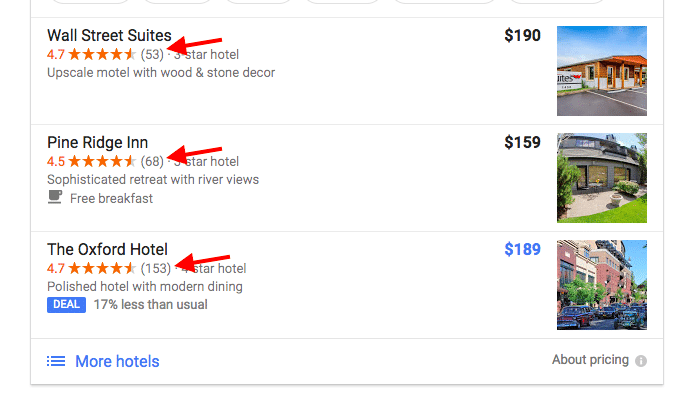 How It Works
Google has an built-in system for vetting the reviewer. When someone leaves a review on Google, Google already knows all about the reviewer. Reviewers have to be logged into Google to leave a review. Therefore, Google knows if they've left other reviews, if they've searched for your property before, and so on. Google trusts this "first party data" more than it trusts "3rd party data" coming in from the Booking.coms of the world.
According to Moz's study of local search ranking factors, "quantity of Native Google reviews" is a huge factor. Keep in mind they also value:
Velocity of reviews (ie- how frequently reviews are coming in over time)
The sentiment of reviews (ie-positive, negative, etc.)
Keywords in reviews
The actual rating (of course)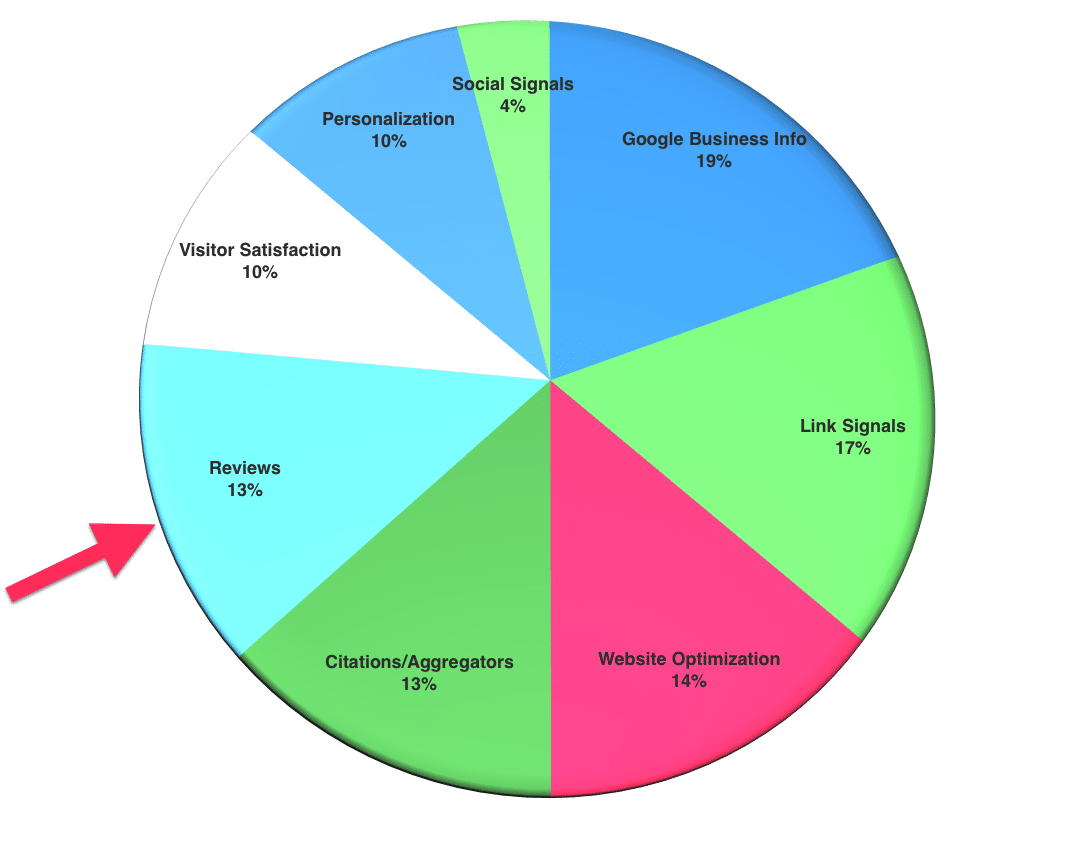 How to Get Reviews on Google
So what do you do with all this information? Simply make a point of asking your guests for online reviews, especially for Google reviews. There are many ways you can go about this. You can ask them in person upon check-out, in a "post-stay" email or text, or through a card or note left in the guest room. The most important part is that you are doing it.
Our advice is to always give your guests a choice, such as "Please review us on TripAdvisor or Google." The truth is that people are more familiar with TripAdvisor reviews and may be more comfortable with leaving a review there, but nudging them towards Google as well is worth the effort. The people who already leave frequent Google reviews will be more than happy to do it and those that don't know how may even ask.
TIP: If you want guests to leave a review on Google, you'll need the URL. Click here for a step-by-step guide to getting the URL to send to your guests.
Lastly, do not copy and paste reviews from one review site to another (or do not ask your guests to copy them from one review site to another). Google is capable of identifying this and can use it as a negative ranking factor. You want the reviews on each site to be individual and unique.
Receiving and managing your online reviews can be a stressful and time-consuming process. Sometimes, it can feel like a full-time job. You have to ask your guests for the reviews, monitor the content and quality of your reviews, and take the time to respond to your reviews, both good and bad. Reviews involve a lot of work but it is work that will pay off in the long run. Always make sure you are asking for your reviews and do your best to steer your guests to Google whenever possible. By focusing on positive Google reviews, you can attract new guests to your property, improve the image of your brand, and help your property rank higher on the search results page.
---