This is the 5th post in an 8-part series about blogging to improve your SEO. Click here to get the full guide.
The 80/20 Rule of Blogging
You've written a fresh, original, and authoritative blog post. Your work doesn't end there. Your blog post won't reach it's maximum potential unless you spend some time marketing it. As a rule, spend 20% of your time writing the content and 80% of your time marketing it. The first and perhaps most obvious place to start your blog post marketing effort is to promote it on social media. Sharing your post on your social media platforms will help reach a wide audience and generate awareness and traffic. It is also a great way to generate more shares and expand the reach of your post to people who might not already be following you. However, simply posting a link on your Facebook page just won't get the job done. Here is everything you need to know about promoting your blog posts on social media the right way.
Tip #1: Share Your Blog Post Multiple Times on Social Media
Don't make the mistake of only sharing your blog post on social media once. While you might think that sharing a post on social media multiple times is "spammy," that actually isn't the case. Think about your own habits on Facebook or Twitter. When people are on Facebook, users usually just scroll through their home feed. They likely aren't checking your facebook page everyday for updates, they experience your content as it goes by in their feed. The more times you share your post on social media, the better chance you have of reaching more users on social media. Creating a social sharing schedule for each post can easily double your traffic/likes/shares/comments etc.
Share Your Content on Social Media Multiple Times for Better Results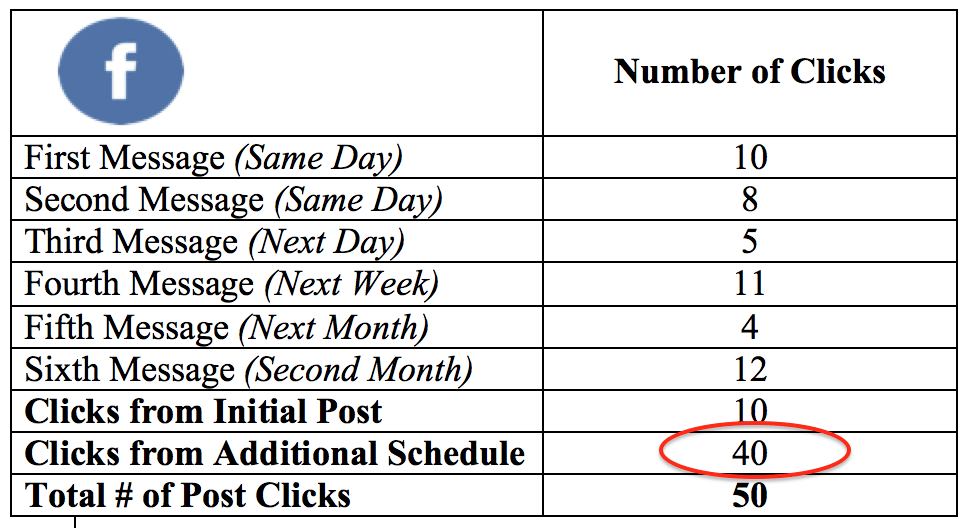 To avoid crossing the line into spamming your content to your followers, create a firm social sharing schedule and stick with it. You can use a tool like BufferApp to schedule your posts in advance. You can also use the scheduling tool of Facebook or the social media scheduling tool built into Odysys to schedule out your posts in advance. There are times when you might not want to follow a rigid schedule. For example, if you write a post about an upcoming event, you will want to share that post many times in the weeks or days leading up to the event. If the event is an annual event, you will want to keep that post in your archives to share around the time of the event every year.
A General Timeline for Sharing Your Social Media Posts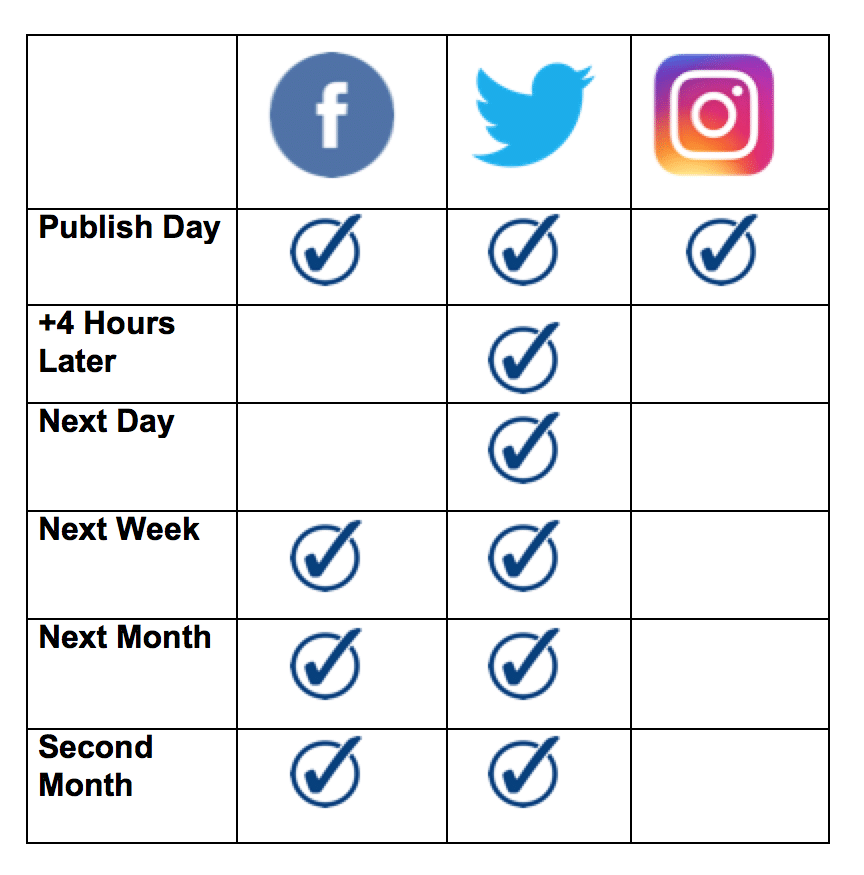 Keep in mind that these aren't hard and fast rules that you must follow every single time. You should always alter and adjust the promotion based on what makes sense for each individual post. Experiment and find out what method works best for you and your Page. We're simply trying to get across how important it is to share your posts multiple times across different social media platforms.
How to Share Your Post Multiple Times
Vary Your Posts
Don't use the same message twice. Each time you share something on social media, come up with a new message to go along with it. This is your chance to get creative. Including a unique and intriguing message each time you share your blog post will not only distinguish you from spammers. It will also attract more people to your post and perhaps even prompt them to share it on their own pages. It might even help your post to "go viral."
Post One should always be a simple announcement that something new is up on the blog. Include the post title and a link to the post. However, there are many other ways you can add flavor and variety to your later posts. You can:
Ask a question

Share an interesting fact

Pull a quote from your blog

Try an "Ego Bait" ie.) Tag any people, businesses, places, or products you mention in your post.

Add some intrigue
Here is an example of how Odysys customer Pine Ridge Inn added character and variety to a series of Facebook posts promoting their blog post about breweries in Bend, Oregon.
Post 1: Announcement.
For their first post on June 13, they simply shared a link to the blog post and included a short announcement phrase.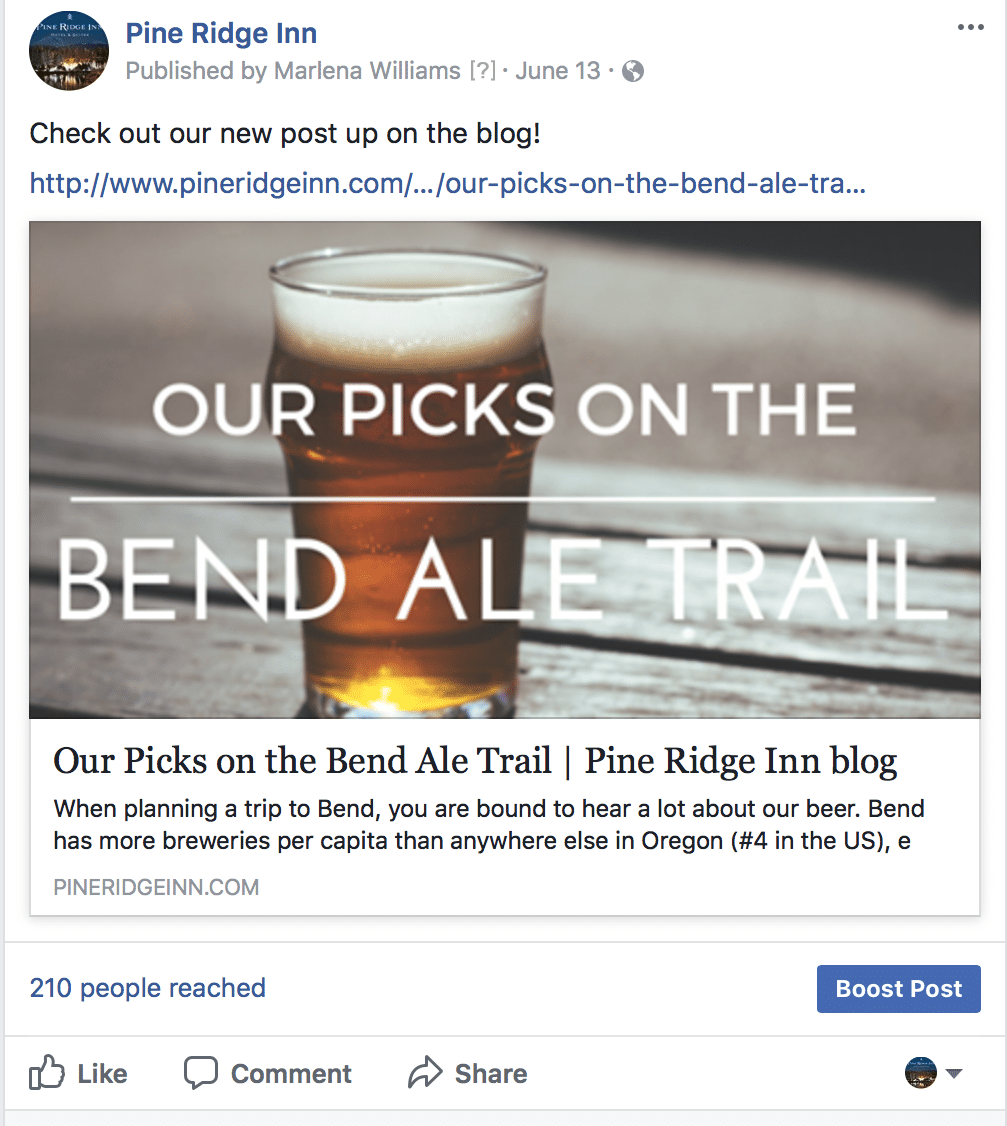 Post 2: Ego Bait
For their second post on June 14, they tagged all of the breweries they mentioned in the post. This is a successful method because you mention will get notified and then be more likely to share/like/comment, helping to generating more awareness of your post.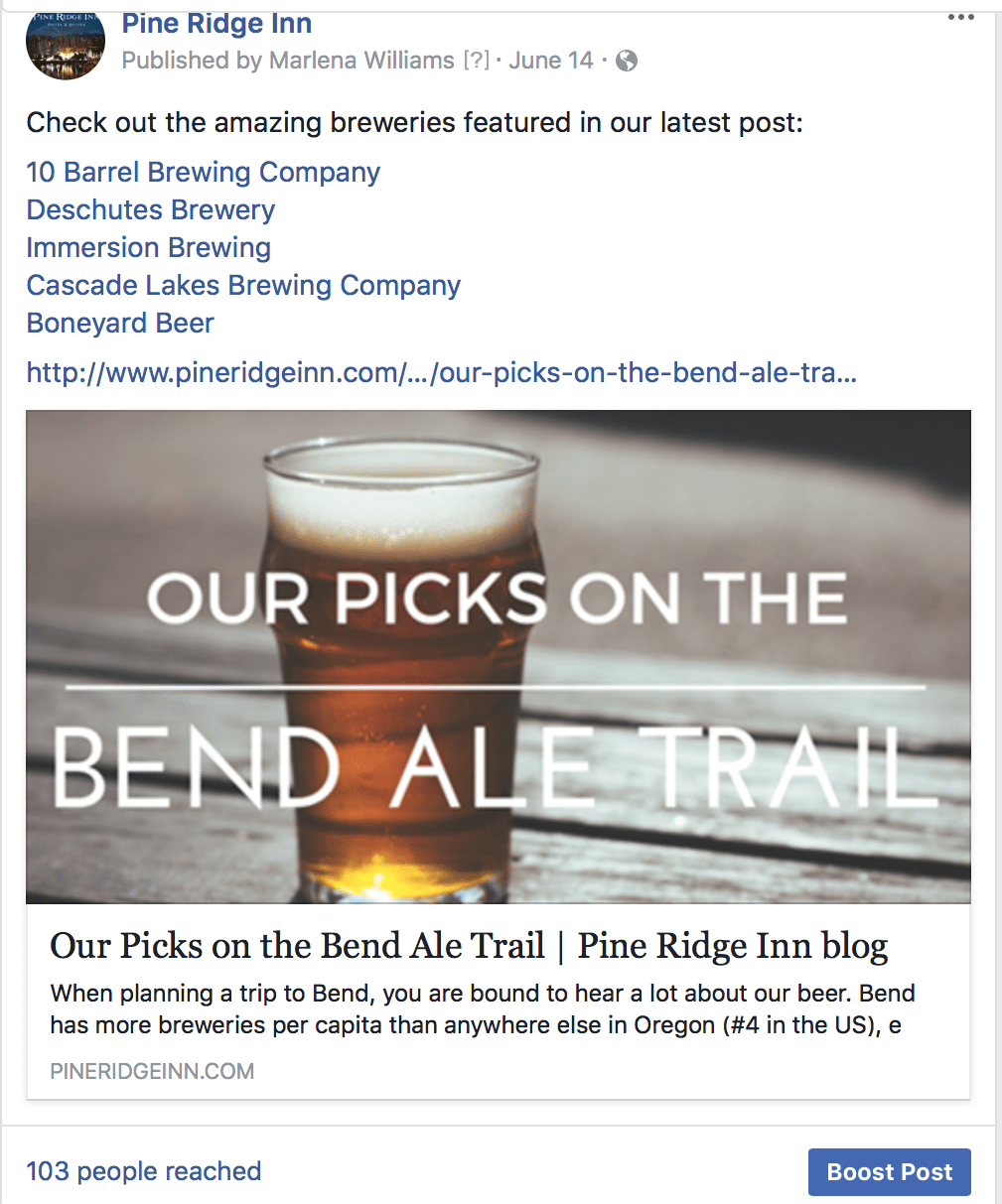 Pro Tip: Before you @mention these other pages, be sure to like them as your page. Click here to learn how to like a page as your own page.
Post 3: Share a Fact
For their next post, posted a week later, they included Bend's many beer-related nicknames.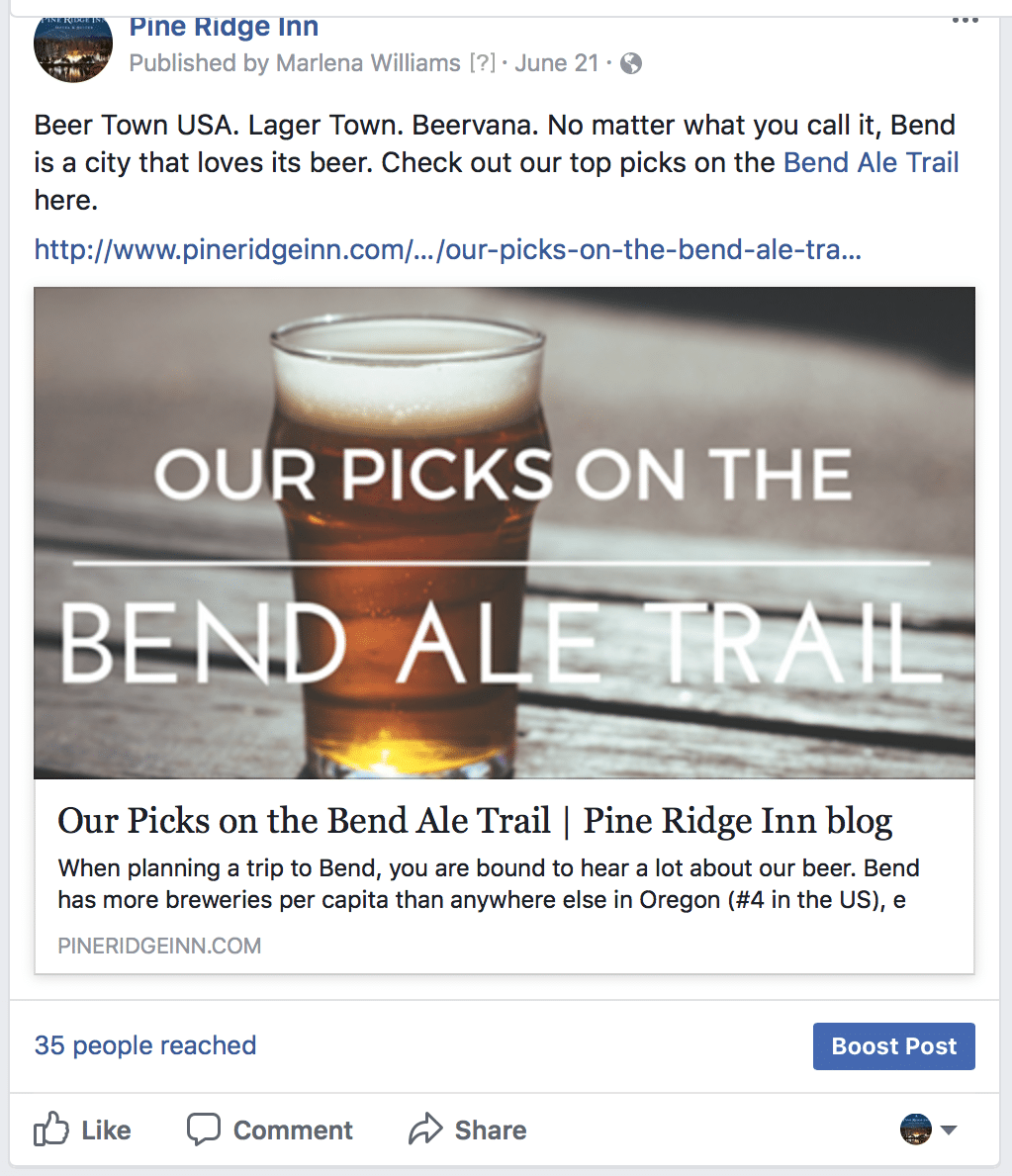 Post 4: Ask a Question
A month later, they shared their blog post and asked an informational, intriguing question.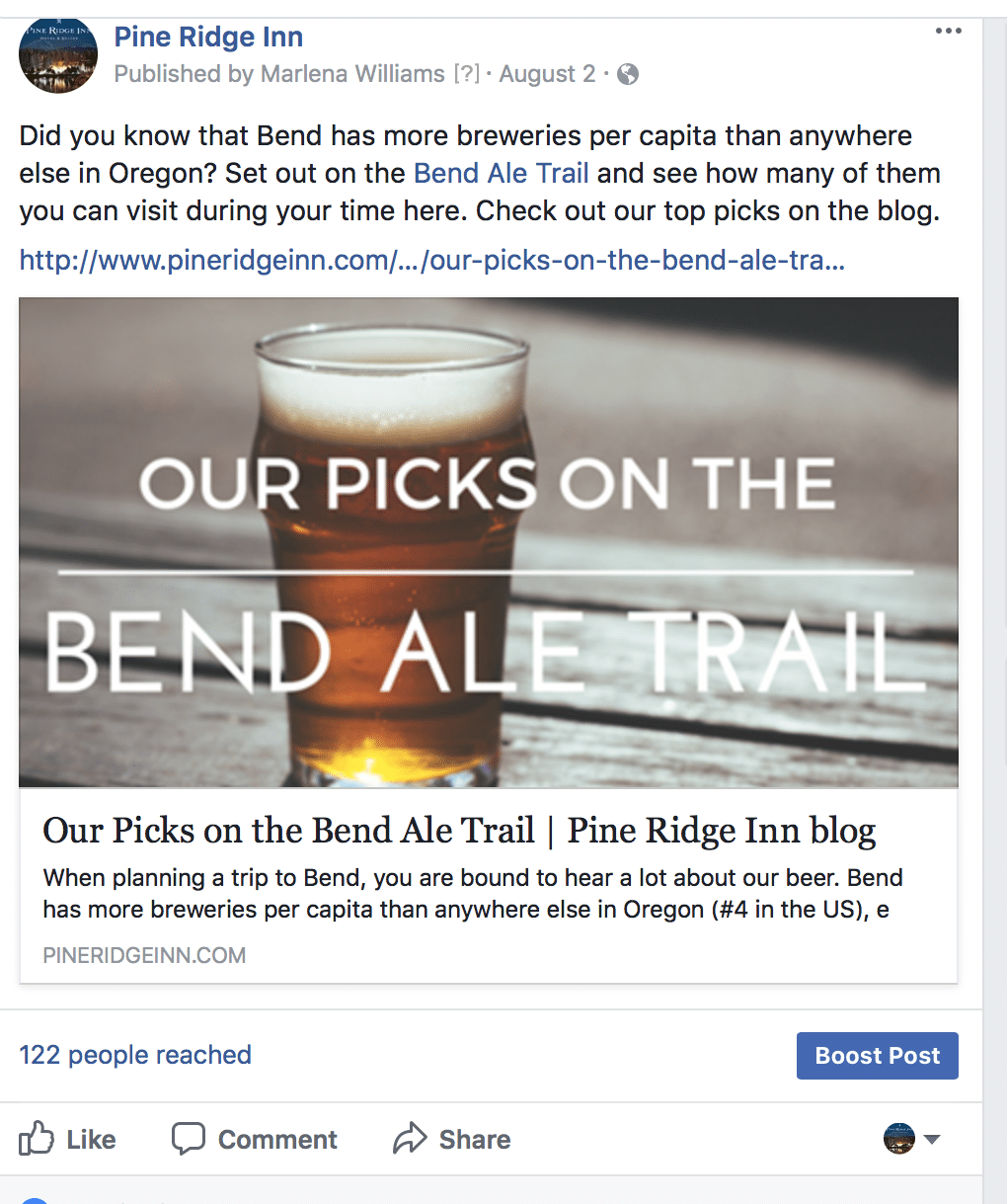 This is just one example of setting a schedule of diverse and creative social media sharing posts. You can also see how the variety and frequency of the posts have boosted the number of people the post reached over time.
Scheduling Your Posts
If you're an Odysys customer – there's a social media scheduling tool built right into Odysys.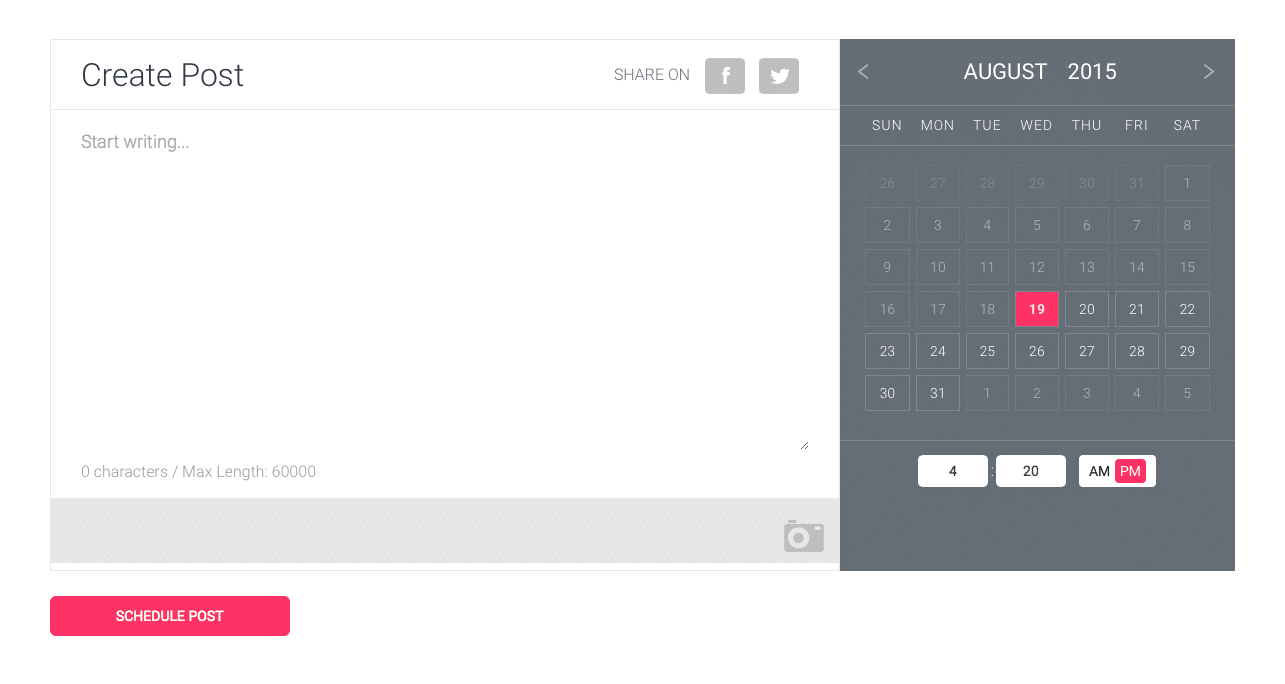 You already know how to share things on Facebook. But do you know how to schedule them in advance? That is also simple. When you write a post on Facebook, instead of immediately clicking "Publish," instead click the small drop-down arrow and select "Schedule."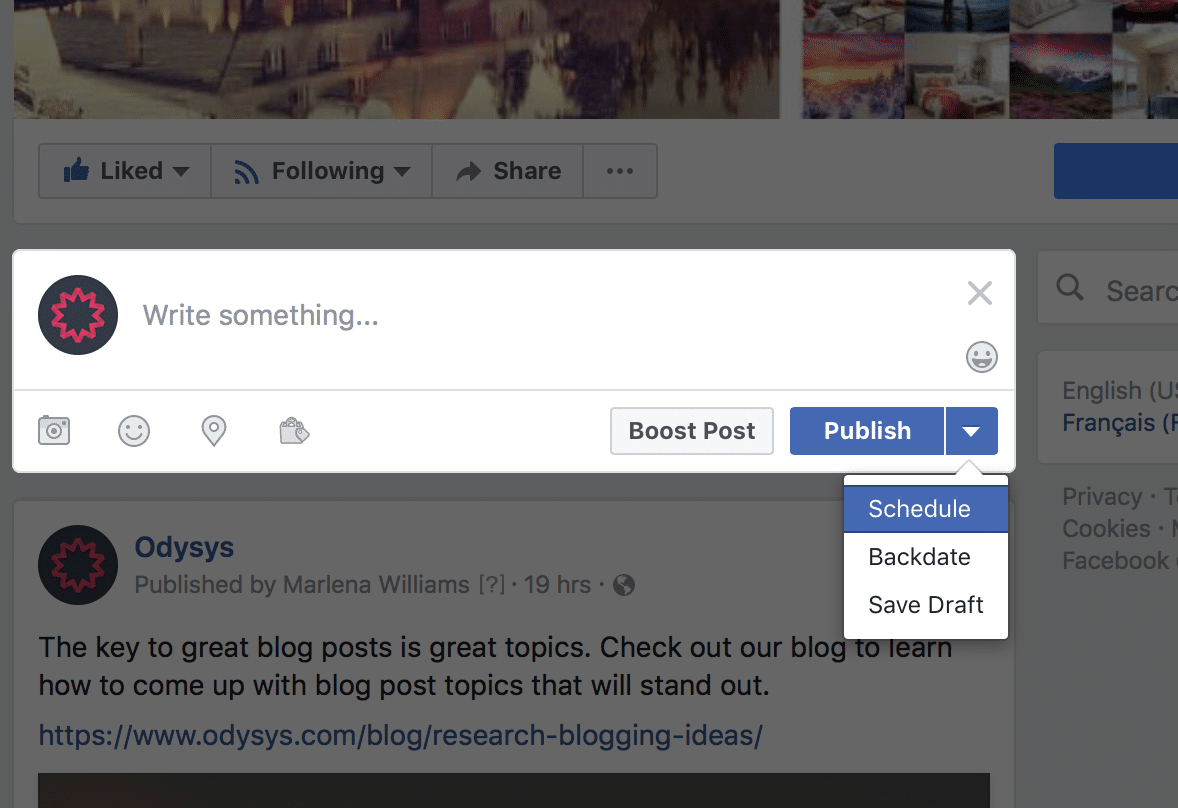 You can then schedule out your blog posts days, weeks, and even months in advance. This tool also lets you choose the exact time you would like the post to go live.
If you would like to be slightly more organized across all your platforms, there are all kinds of tools out there from Buffer, CoSchedule, HootSuite and more. These tools allow you to create social media sharing schedules for a variety of platforms, including Facebook, Twitter, Linked In, Pinterest, Google +, and Instagram. You can schedule out posts in advance or simply add them to your queue, where they will then post automatically.
More Tips for Promoting Your Blog Posts on Social Media
Include Images
We always recommend that you include images with each post, especially on Facebook and Twitter, and of course – Instagram. These go a long way to improving the visuals of your post and encouraging people to click. Adding images will make your post stand out on the feed and prompt people to give your nice, beautiful post a share. Try your best to commit these idea image sizes to memory, or at least keep them handy so you can consult them whenever necessary:
Facebook: 1200 x 630
Twitter: 1024 x 512
Using the free online tool Canva, you can craft well-designed, visually stunning header images for Facebook, Twitter, and Blog Posts. Click here for the Odysys guide to using Canva.
Consider the Platform You're Using
You will need to edit your posts slightly depending on what social media platform you are using. Take into account things like word count, image size, and use of hashtags. This will ensure that your posts are optimized for your chosen platform. As you've seen above, you will share posts more or less frequently on one platform than you do another. As a general rule, you will share something more on Twitter than you do on Facebook. While creating your social media sharing posts, consider the platform you are using and craft those posts accordingly.
A Word About Hashtags on Instagram and Twitter
Always make use of hashtags when posting on your Instagram and Twitter accounts. This will allow you to reach people on Instagram and Twitter who are not your followers.
When you post on #twitter, integrate that #hashtags into the actual #text of your message, as we've done here.
On Instagram, simply add them to the body of your post after your text, as done below.
Pro Trip: You can use a tool like Canva.com to add text to the image like Belizean Dreams Resorts has done above.
What Time of Day Should I Post to Social?
You should post based on when your followers are online and/or when your content has a chance to get seen. That means different times for everyone. There are plenty of studies out there and schools of thought about timing, but really – you have to find what works for you. It might be weekday afternoons or weekend mornings etc. There's probably not one ideal time – and it will vary by platform.
Here's a Technique for Determining When Your Facebook Followers are Online
To find what times your followers are online, take advantage of Facebook Insights tool. To use this:
Navigate to the Insights tab on the top of your Page.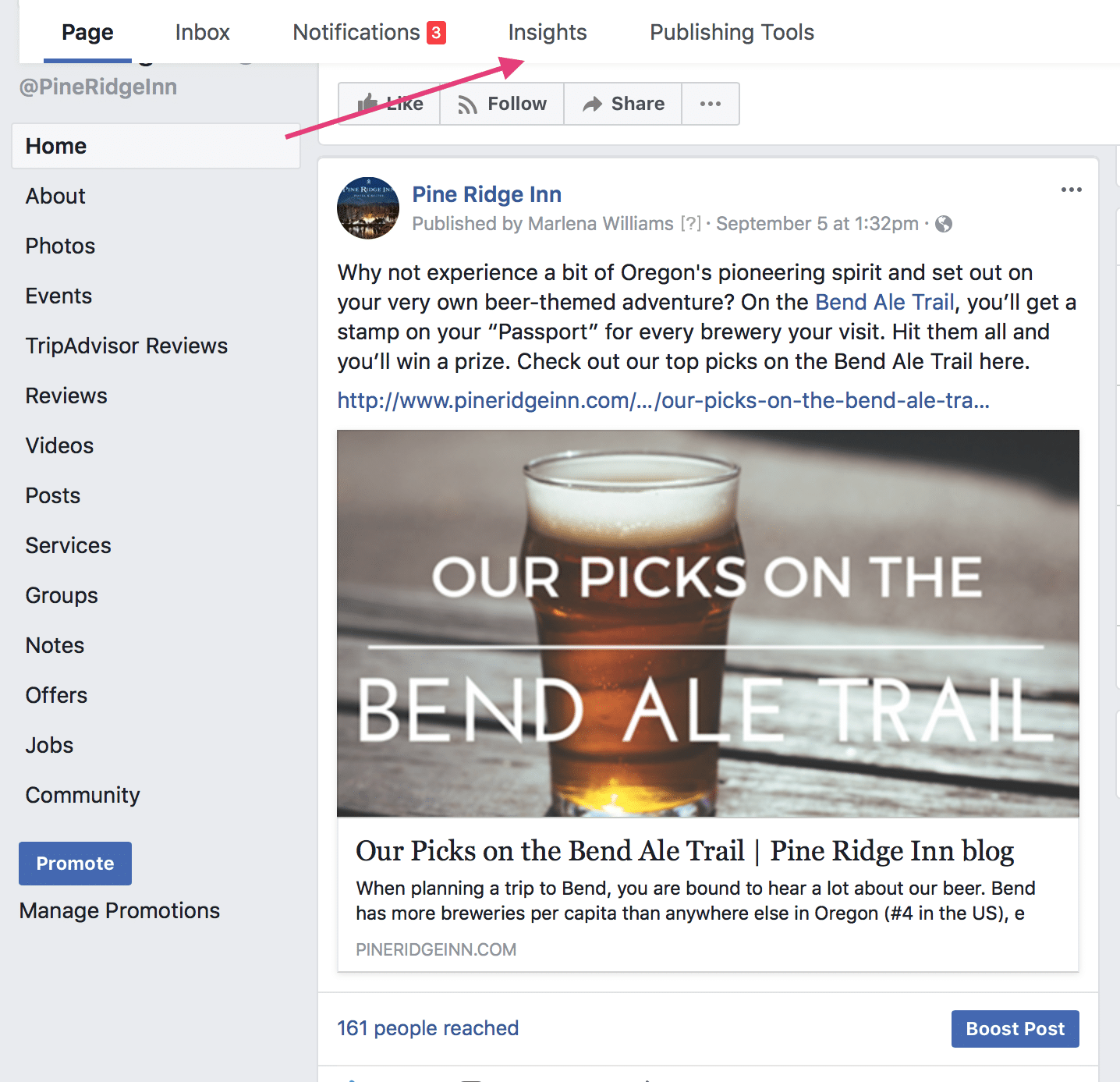 2. The Insights tab will then open. Click on Posts in the sidebar.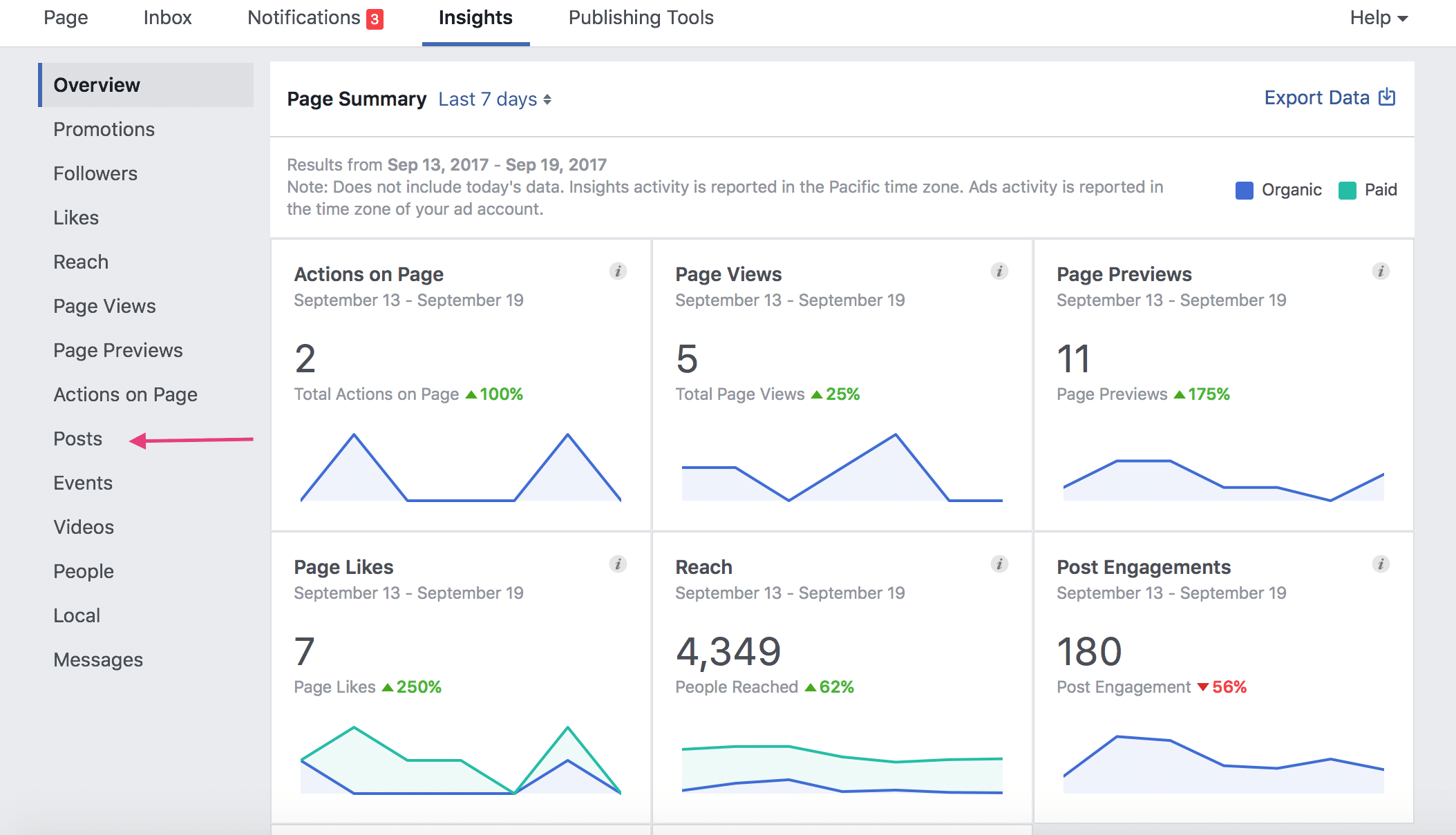 3. The Posts Insights page will open. You will then be able to track engagement with posts based on day of the week and time of the day. This will give you a good idea of when you should post on Facebook to reach the most followers.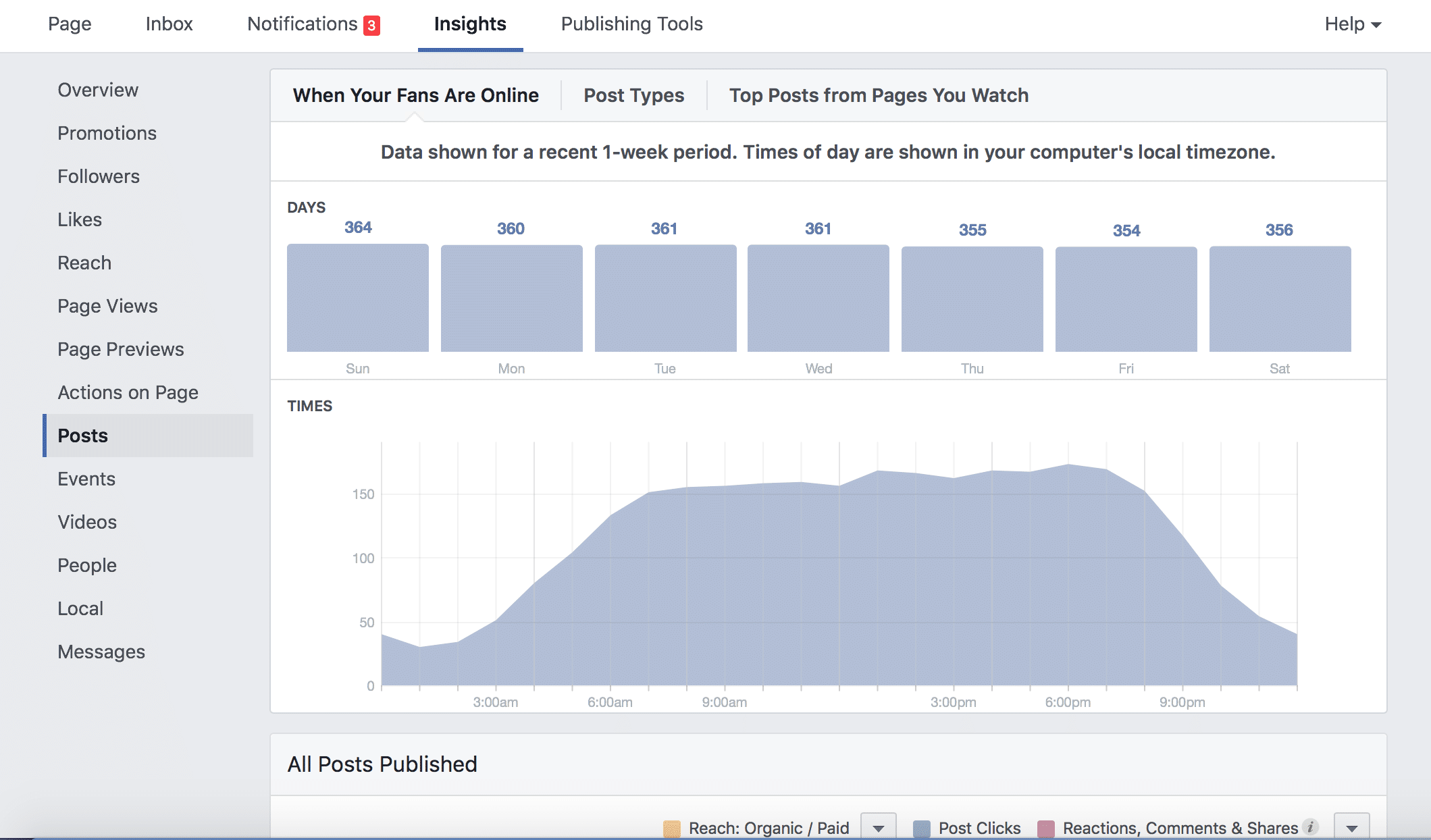 If you remember anything from this article, remember this: After you have written a strong post, 80% of your work lies in promoting it right. Follow the 80/20 rule and you will see a dramatic increase in total clicks to your blog and overall traffic to your site. Next week, we'll be back with other ways you can promote your blog posts outside of social media.
Related Posts: Guide to Blogging for Your Hotel
Part 1: Why Does My Hotel Need a Blog?
Part 2: 8 Tips for Starting a Successful Blog
Part 3: How to Pick Blog Post Topics That Stand Out
Part 4: Everything You Need to Know to Write Exceptional Blog Posts
Part 5: Marketing Your Blog Posts Part 1: Social Media Promotion
Part 6: Marketing Your Blog Posts Part 2: Advanced Promotion
Part 7: Measuring and Improving Your Blog Posts
---
Odysys offers a Blog Post Writing & Social Marketing service to our customers. Learn more here.