We all know that the recent pandemic has wreaked havoc on the travel and hospitality industry, you don't need us to tell you that. There are new articles coming out daily about local regulations, new testing techniques, and impacts on the economy. But there is pent-up demand for travel and trends have emerged since the industry bottomed-out in March 2020 that are cause for optimism. This is a round-up of our findings. For more detailed findings and recommendations – check our latest guide: "Covid Reality Check: 3 Challenges Your Hotel Website Must Overcome."
The Worst is Behind Us
Many of our customers have reported that guests are starting to come back and the days of zero occupancy weekends are over. The team at Sojern has come to the same conclusion. While year over year trends show a major drop in demand, it seems like the industry is firing back up since it bottomed out in March-April of 2020. Their study cross-examines airline bookings, hotel searches, and the impact of different levels of restrictions on domestic travel. All three are following the same general trend of steady growth and we expect that growth to continue.
Folks Are Still Traveling
A recent study by BNBfinder showed that an astonishing 85% of travelers have either already traveled since COVID or are likely to travel. On top of that, this has been trending up 9% since May 2020 and we expect this to continue to increase. People are getting restless and looking to plan their next getaway. By alleviating guest concerns about cleanliness, sanitization, and social distancing, you can encourage travelers to take that first step safely.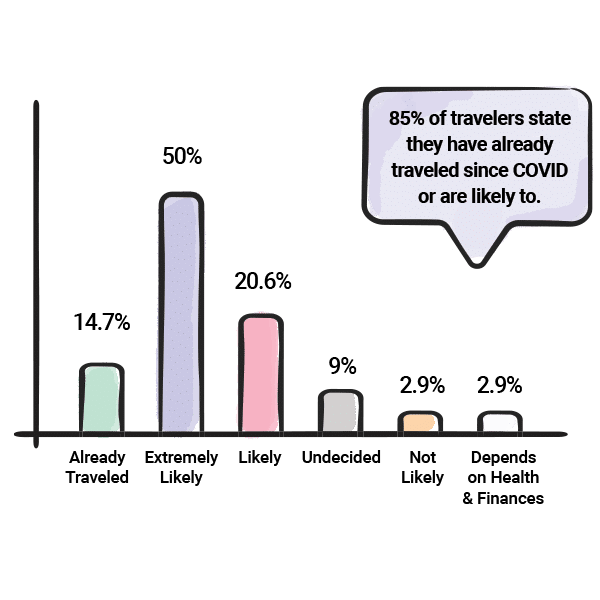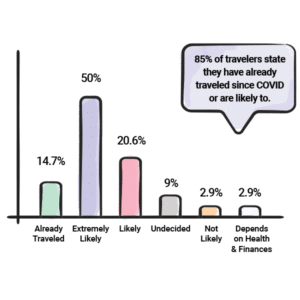 Drive-In Destinations Are Trending
While the TSA has reported that daily airline screenings topped 1 million for the first time since mid-March, overall screenings are down 65% from a year ago. This means that while it is a promising sign, airline travel is out of the question for many travelers and many are looking to explore locally. Guests prefer the idea of hopping in the car and driving for a couple of hours to their destination. Most of the best-performing properties have 70% of their guests traveling from within 150 miles (i.e.: one tank of gas). If you have a major metropolitan area within 3 hours of your destination, you can tweak your marketing plan to target a regional demographic and try to capture more regional bookings.
Booking Windows Are Down
Uncertainty with changes in local regulations, closing of restaurants and attractions, and health has caused guests to stop planning a month or two in advance. Instead, the booking window has shortened substantially with many travelers booking a week out or the night of. Anedotally, we've been hearing from a lot of customers that their guests are mostly booking within days of arrival. The group over at Simpleview has reported that the average booking window is down 34% (30 days) year over year. Airbnb has found that 29% of guests were booking their vacations less than a week before check-in. So don't worry if your property management system looks empty next month, with some smart marketing you can count on and even encourage last minute bookings.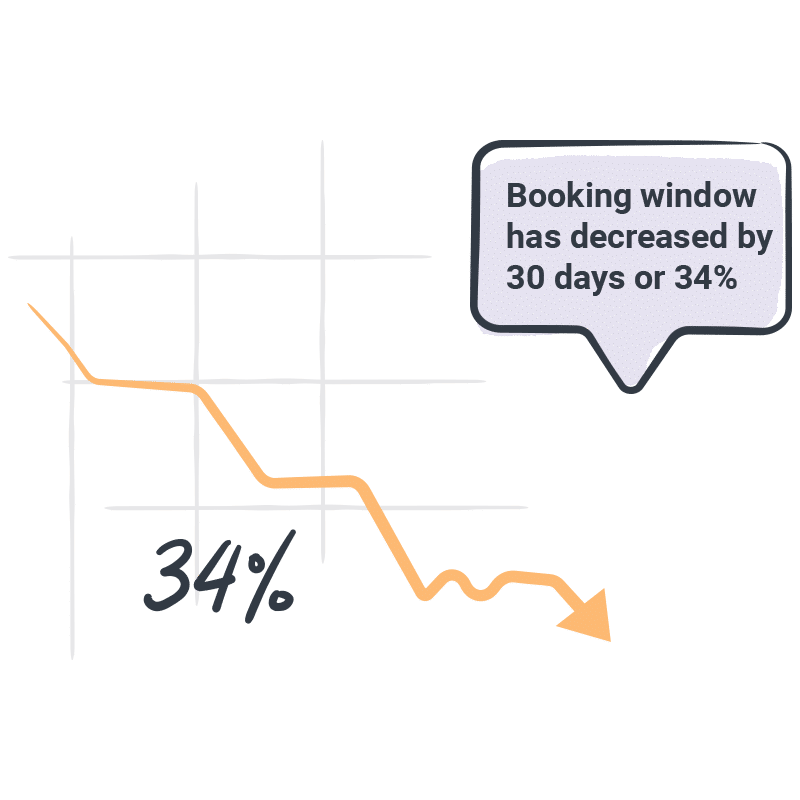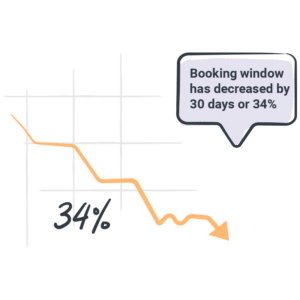 Guests Are Looking For Longer Stays
Much of the workforce has been told to stay home and work remotely. But staying home for months on end can seriously drain productivity (and sanity), so many are looking to take longer 'working vacations' for a change of scenery. Airbnb reported that searches for longer stays were up more than 50% compared to last year. These guests are looking for places with WiFi and a workspace within the room. If you have the right set up, you can start marketing your property as a work-from-home vacation destination. Offer a special promotion for those staying for a whole week and capture those long-term bookings!
Whole House Bookings Are Trending
People are increasingly looking for private spaces for a number of reasons. Some want a private space so they don't have to worry about social distancing while others are looking to travel with a group. Airbnb has reported that group travel is up and with the upcoming holiday season, some people are looking to go away with the whole family. If your property has a private carriage house or individual units, you should be promoting that aspect. You can also put together a special promotion for whole property rentals.
Looking Ahead
The only thing that's certain about the hospitality industry's road to pandemic recovery is that it will be rocky. However, Odysys is here with you every step of the way to make sure that we all get through this together. Download our latest guide 'Covid Reality Check: 3 Challenges Your Hotel Website Must Overcome' where we lay out the three most important challenges currently facing the hospitality industry and how you can overcome them.