Don't Just Sell Your Accommodations, Sell Your Destination
Part of your job as an innkeeper or bed & breakfast owner is helping your guests to make the absolute most of their time in your destination. That means providing helpful advice on things like what to do, where to eat, and how to get around. Many tourists might turn to outside websites or travel guides for answers to these questions, but you are the true expert in the field.
As an innkeeper, you are already an authority on your area. You are already overflowing with up-to-date facts and information on the best restaurants, tour operators, outdoor adventures, museums, and more! Use this knowledge to your advantage and consider creating, or improving upon, the Things to Do page on your website. Remember, you aren't just selling your accommodations. You are selling your destination. Including a local guide on the Things to Do page of your website will attract potential guests to your location and to your property.
Think of Your Things to Do Page as a Local Guide
A local guide is a page of your website, most likely your Things to Do page, dedicated to helping guests understand and explore your destination. It is almost like an ultra-condensed Lonely Planet summary, a place where you can recommend all of the best things to do, see, eat, drink, and buy in your destination.
Think of your Things to Do page like a virtual concierge. When guests are staying at your physical property, they use you as resource and turn to you for answers to their most pressing tourist-related inquiries. Where should I go for dinner tonight? What is the fastest way to get from Point A to Point B? Do you have any recommendations for cheap, budget-friendly tour operators? These are just a few of the many questions guests ask you in person, and they can all be answered on your website as well.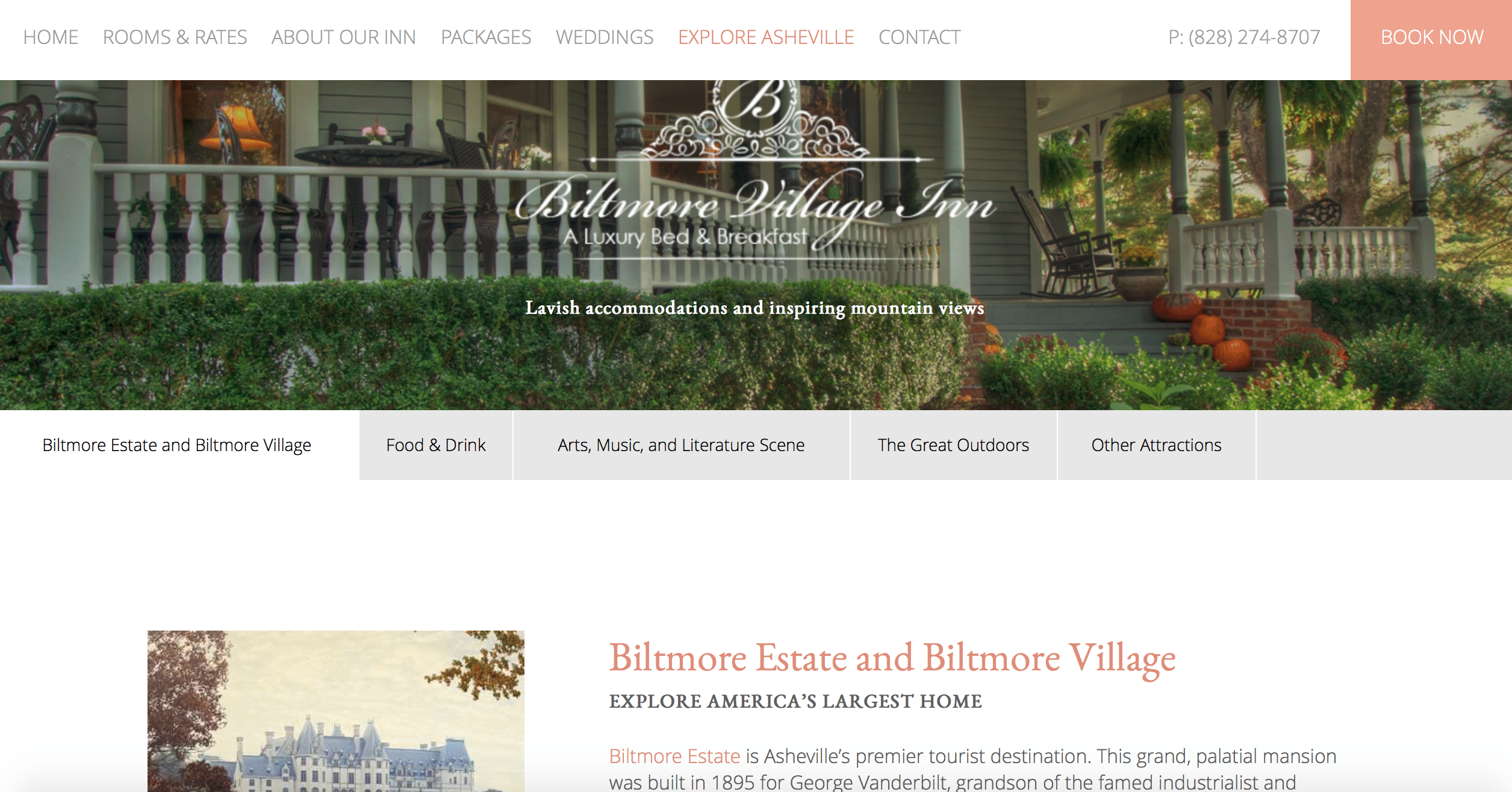 Here is the "Explore Asheville" page for Odysys customer The Biltmore Village Inn in Asheville, North Carolina. They have created a concise and informative page where tourists can go for help planning their trip.
A solid Things to Do page is important for many reasons. It is a way to:
Establish you as an authority on you area
Provide your guests with valuable pre-stay customer service
Help your guests plan their trip and discover local secrets
Bring visitors to your website
Encourage visitors to make a direct booking
Improve your bounce-rate and SEO
Help you brainstorm future content for your blog
Since providing helpful information to tourists is something you likely do every day, creating a Things to Do page for your website shouldn't be too hard. You already have all the knowledge and information. Now you just need to do the work of translating it to an online format. The key lies in understanding what draws people to your area, anticipating their questions and needs, and distilling all your knowledge into a helpful, easy-to-read format. Remember, if you have a blog, all of this can then be expanded into blog posts later on.
Define Your Target Audience
No one knows your guests better than you. Start by defining exactly who your average guest is, why they come to your area, and what they need while they are there. By articulating your target audience, you will be better equipped to provide helpful and relevant information that they can then use to plan their trip. Define their general:
Age Range
Location
Interests
Travel Needs
If you are having trouble doing this on your own, you can download our Guest Persona Template to help you get a firmer understanding of who your guests are and what they may want out of your specific location.
Think Like a Tourist
Tourists in a new place can sometimes feel like fish out of water. It is your job to help them get their bearings as soon as possible and then set them free to experience and explore. Use your Things to Do page as a space to provide basic information on things like getting around and visiting the area's top tourist attractions. If you think it is necessary, you can even give them advice on what to wear or what to bring. Imagine you were a tourist visiting your area for the first time. What are the things you would want to know?
You can also try writing down the questions your guests ask you the most often and use this page as a space to answer them. Or you can even do a Google search for "things to do in [your town]" for ideas on what people want to know when they are browsing online.

These could be categories for your things to do page, or blog posts that you write first and then link back to your Things to Do page.
And Think Like a Local
Now that you have thought about your guests, it is time to think about you. What do you love about your destination? What makes it unique or special? Why is this the place you are glad to call home? Pour all your local pride into creating an original and information Things to Do page.
Your Things to Do page is a place where you can share all the tips and recommendations guests won't get from reading a guide book or scrolling through TripAdvisor. Many travelers don't just want the generic tourist experience of your area. They want to experience it like a local. They want to delve deep into a place and go to the restaurants, bars, and shops that will make their trip memorable and unique.
Ask yourself: What are the places and things that I really love about my town? If you know a hole-in-the wall restaurant that locals love or an off-the-map hike where you can escape the crowds, share them with your guests here. Trust us. They will thank you for it later.
Pick Your Categories
The actual categories or topics of your page will change depending on your location. However, we recommend that you cover:
Restaurants and Nightlife
Top Tourist Attractions
Hikes or Outdoor Activities
Family Fun
Shopping
Annual Events
You don't have to stick to these categories, but they are a good jumping off point. If you are a small hotel located in a popular ski and snowboarding destination, include a section on winter sports. If you are a romantic couples getaway, you can include sections on candlelight dining or spas that offer couples packages. Again, it all comes down to understanding why people come to your area and providing them with all the information they will need to make the most of their stay there.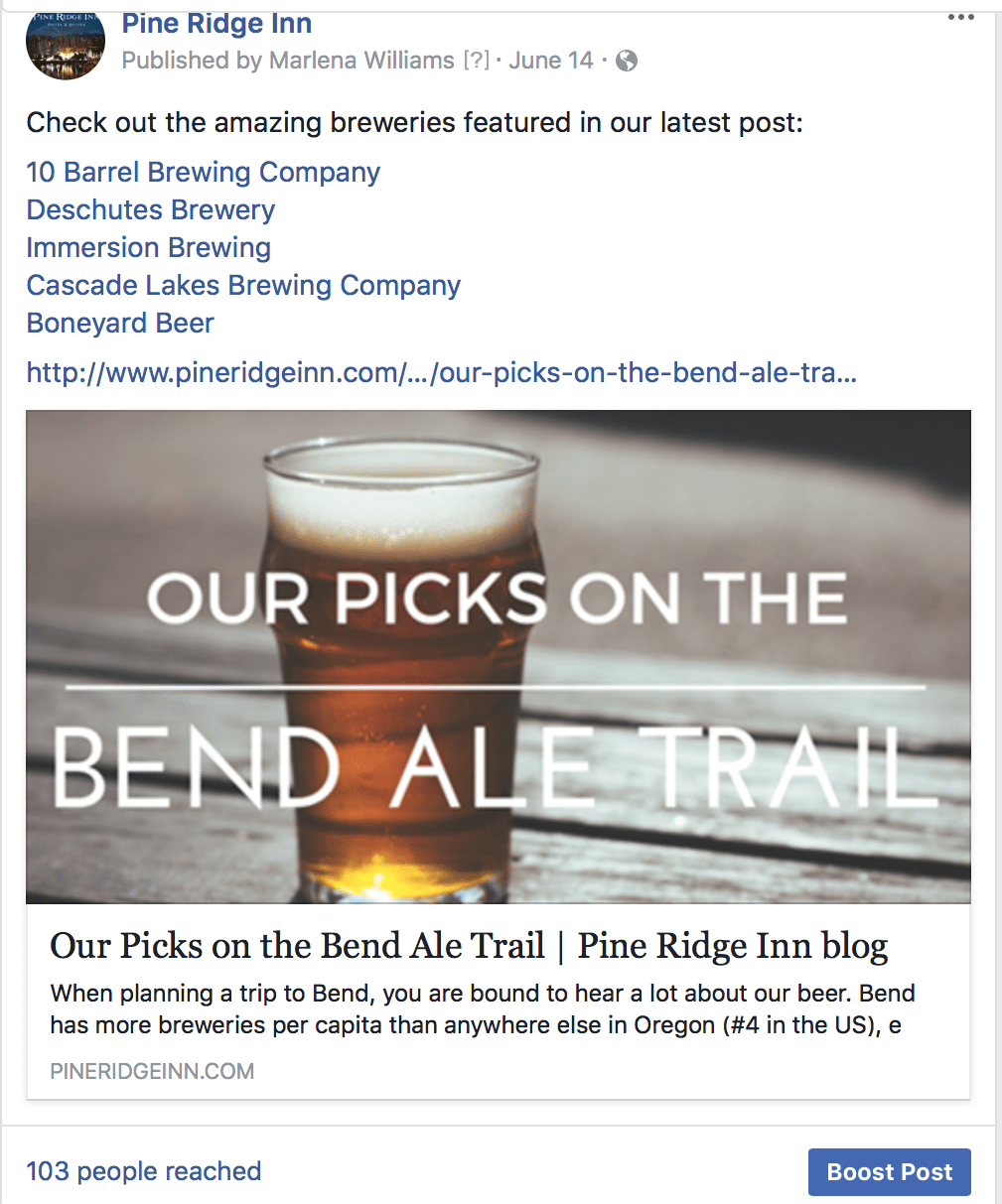 For example, Odysys customer Pine Ridge Inn in Bend, Oregon knows that many tourists flock to their town to experience its famous beer scene. So, they have created an entire section of their website dedicated to breweries and then provided a short summary of the beer scene in Bend, along with recommendations on how to explore it, including tours and their favorite brewery spots.
Another thing to consider: Do you have any special connections or partnerships you can offer your guests? Does a local spa or tour operator offer discounts to guests at your property? This is information you can include on your Packages page, but it is also worthwhile to mention it again here. That way, guests can keep this information in mind when planning their trip.
Tips on Arranging the Page
You want your guide to be clear, concise, and informative. Remember: guests aren't necessarily looking for a detailed history of your town or a passionate and poetic tribute to your city. They just want facts, information, and recommendations. Keep things short and organize it in a way that is well-formatted and easy to understand. Include:
Bullet Points
Images
Links to outside websites (that way guests can click on the link and be immediately directed to the site you are mentioning)
Short summaries, 2-3 sentences max
Maps: A map can help your guests visualize the layout of your recommendations, just like the Wicker Park Inn has done below. Click here to learn how to create a local attractions map and here to learn how to upload it to your site.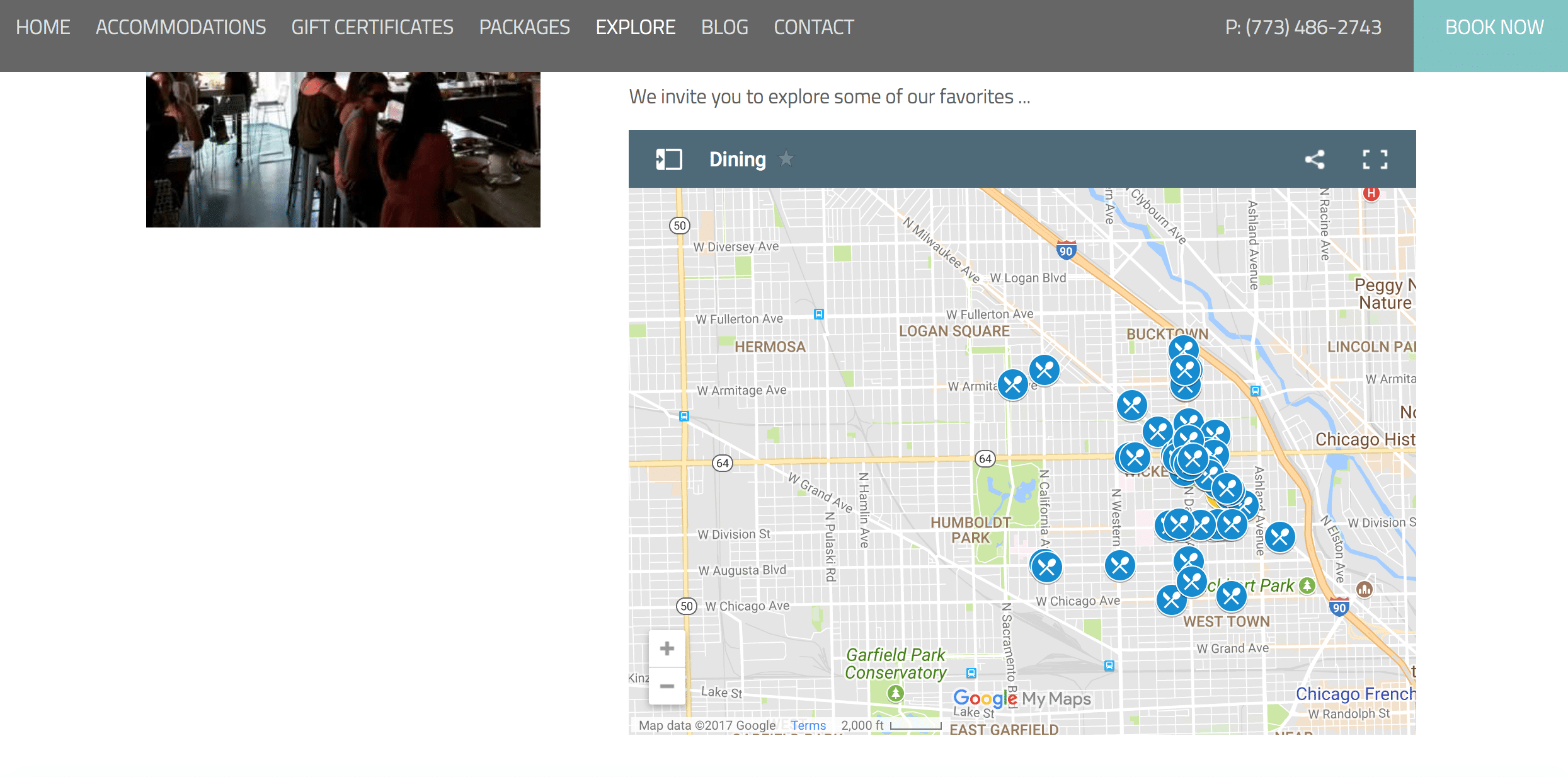 As you can see, the Biltmore Village Inn has organized their Food & Drink section with an introductory paragraph, bullet points, and the names of their recommended establishments along with links and short summaries of each.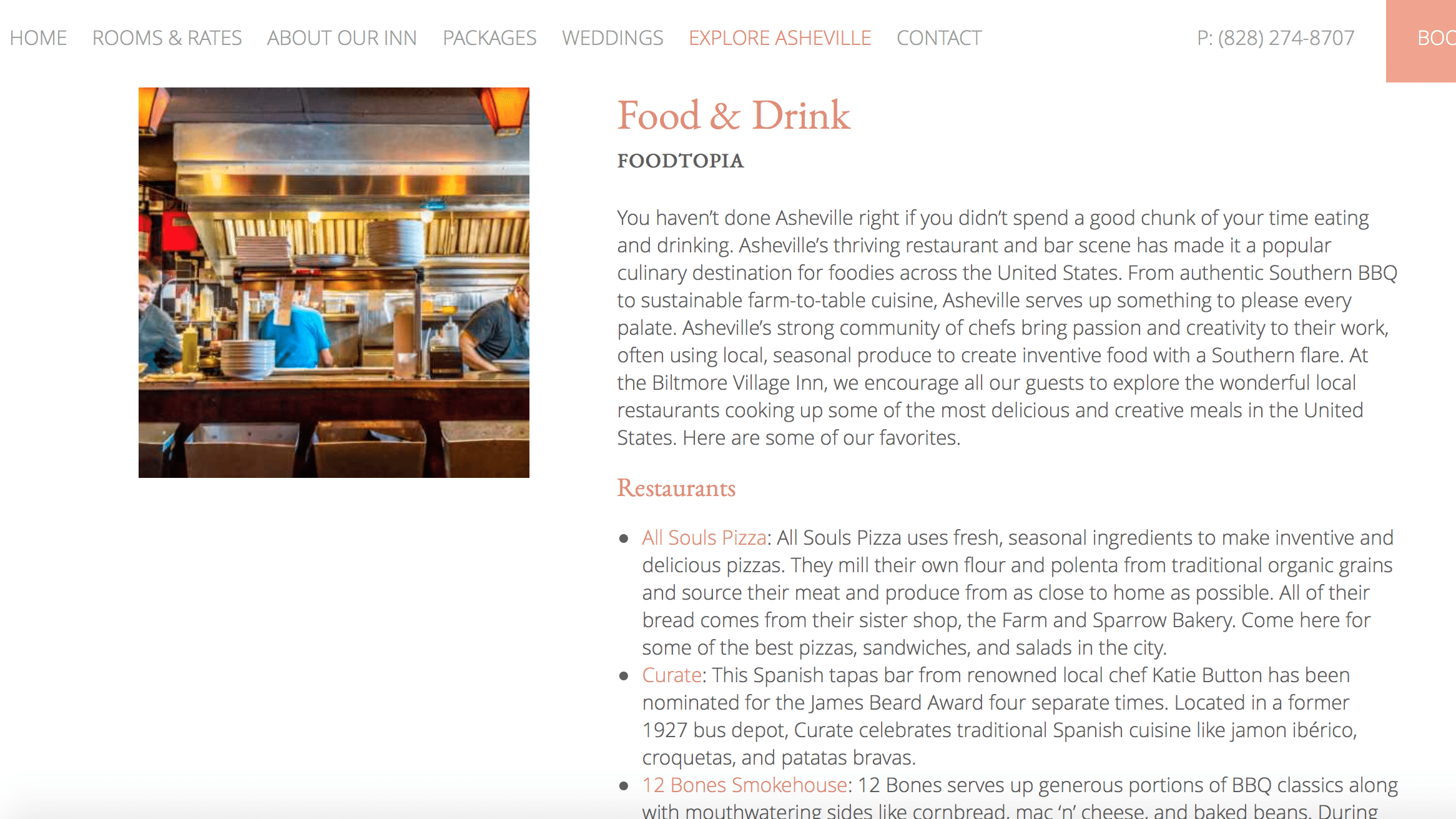 Use Your Guide for Future Blog Posts
If your property's website has a blog, you can use your Local Guide page as a jumping off point for generating future blog post ideas. For example, you can expand your Food & Drink section into an entire blog post called "A Local's Guide to Dining in [Your Town.]" If you have written a section on shopping, you can then write a blog post called "Our Favorite Shops in [Your Town]." If you compiled a list of all your favorite local events, dedicate a blog post to each one when they come around. Get it?
It works vice versa too. Sea Cliff Gardens in Washington State has compiled multiple blog posts into a single detailed and informative page that outlines how to spend 5 days on the Olympic Peninsula.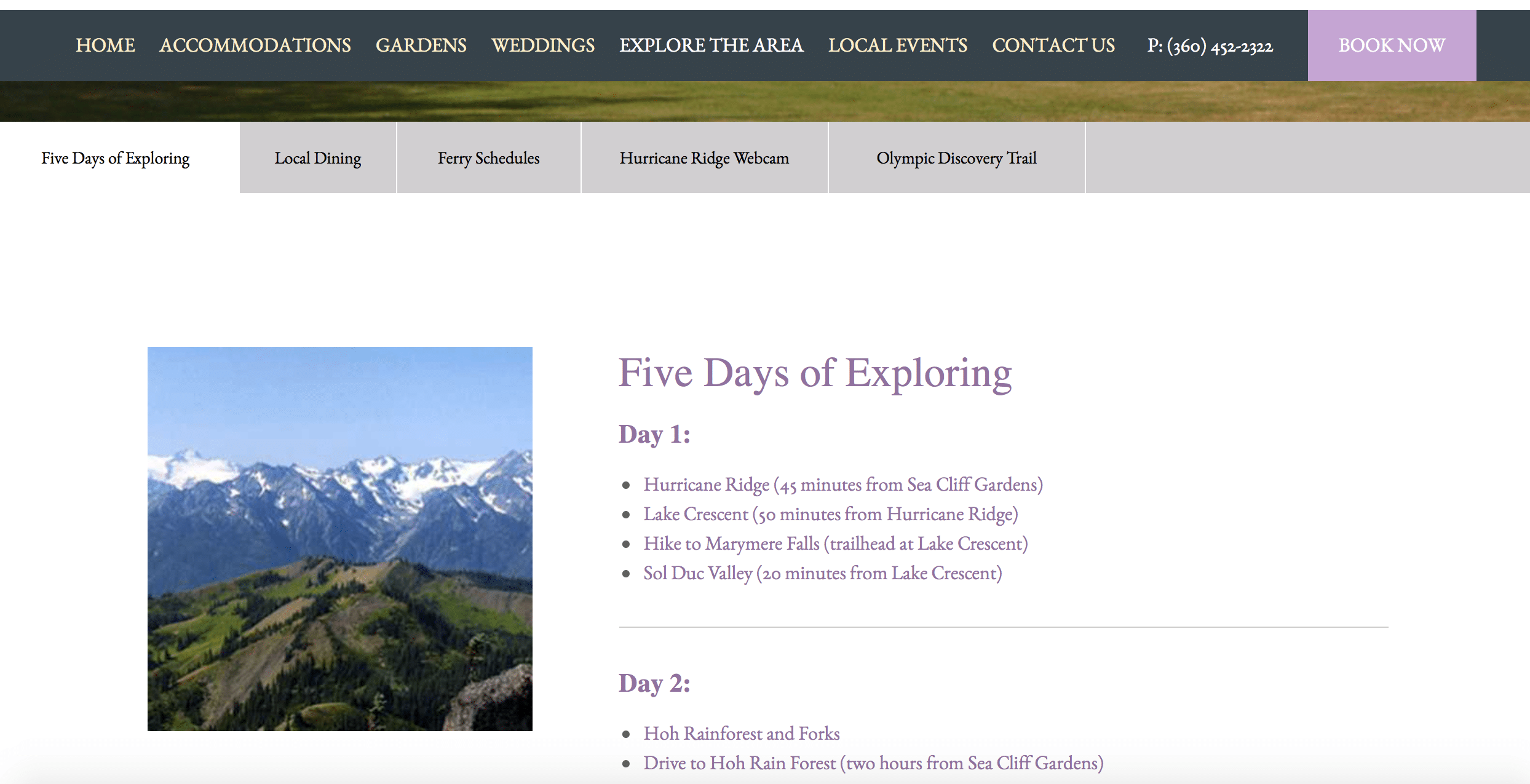 Investing the time in creating a solid Things to Do page will pay off in the future, especially when it comes to blog writing. Download our blogging guide for more in-depth information on creating and maintaining a successful blog.
Your website should showcase both your property and your destination. One of your jobs as an innkeeper is to help your guests experience and explore your area. Creating a great Things to Do page is an easy and effective way to help out your guests and give your site an added SEO boost while doing it. By creating a clear and informative guide, you can provide exceptional customer service online before your guests have even arrived at your property. Use your expertise to your advantage and create a helpful guide chock full of the advice, recommendations, and know-how that your guests will thank you for later.
---