With more than 400 million users and growing, Instagram is quickly becoming one of the most powerful social media tools on the Internet. But does your hotel or bed & breakfast really need one? If you're doing things right, you are likely already running a successful website, blog, and Facebook page in addition to running a busy bed & breakfast. Though adding an entirely new platform to the list might sound like a lot, now is the time to create an Instagram account for your property. Instagram is an easy and effective to maintain relationships with past guests and attract new potential guests to your property, young and old alike.
Why Instagram is Effective
A 2014 study from Forrester Research found that Instagram delivers 58 times more engagement per follower than Facebook, and 120 more than Twitter. Instagram is a powerful way to improve brand visibility and maintain relationships with past guests. Even better, it is streamlined, easy to maintain, and free. All you have to do is download the app, choose an account name (ideally your property name), add a short description to your profile, and start posting.
Connect With Younger Travelers
Instagram is a great way to connect with audiences you might otherwise struggle to reach. For example, Instagram is incredibly popular with millenials, even more so than Facebook and Twitter. Instagram is also popular with travelers. 76% of travelers post about their trips, which basically translates to free marketing for you.
Build Relationships With Your Guests
What's more, Instagram is a powerful community builder and can help you maintain relationships with past guests, potential guests, and other member of the hospitality industry. Instagram allows for quick and easy communication with your followers or people posting from your property. Even if its a simple "like," it means you are staying in contact and keeping your brand visible in people's minds. Remember that you can see what guests are posting from your property. This is a great way to monitor guest experience and promote what they are sharing in real time.
Instagram can also be a good way to see what other hotels or bed & breakfasts are up too. Check up on these hotel or bed & breakfast's Instagrams to see what they are posting, what gets the most likes, and any new styles or trends you could incorporate into your account or property as well.
How to Do It Right
In theory, Instagram is super easy. All you have to do is post a pretty photo, slap a cool filter on it, and click "share." However, there are some best practices that can help make your Instagram presence relevant and effective.
Take Followers Behind-the-Scenes
Instagram is all about telling the story of a moment. Because Instagram is a visually driven medium, you have to make sure the photos are beautifully shot and attention grabbing. Use Instagram to take your followers behind-the-scenes of your property and capture the stories or moments they won't get on your website or blog. If there is ever a moment when you feel "I wish my guests could see this," take a picture with your iPhone and share it on your Instagram. Here are some other ideas:
Photos of your breakfasts or other treats you serve your guests
Any updates or renovations you make to property
Beautiful moments that evoke the season (ie. the changing colors on trees, a snow covered porch, blooming spring flowers, ect.)
Have a dog or pet? Post pictures of it hanging out around your property for all to see.
Pictures of your guests enjoying your property (if you get their permission)
Photos of your staff and employees (you can even get employees involved with your Instagram if you feel to swamped to manage it full-time yourself)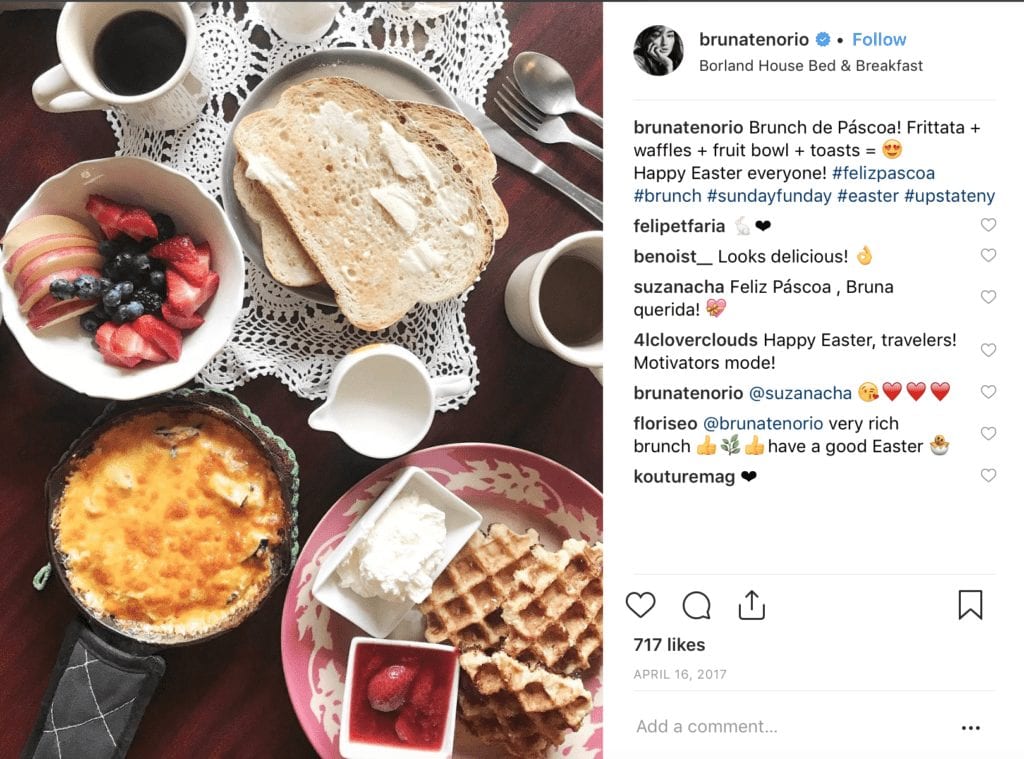 Showcase the Local Area
Your Instagram account is also an excellent way to promote your local area. As we've said before, your marketing needs to showcase your destination as much as your property. This is where your local experience can really come in handy. If you enjoy a meal at a great local restaurant, post about about it. If you take a particularly lovely hike or find a new shop you completely love, post about it. A good Instagram user is always looking for the perfect moment and ready to post about it when it happens.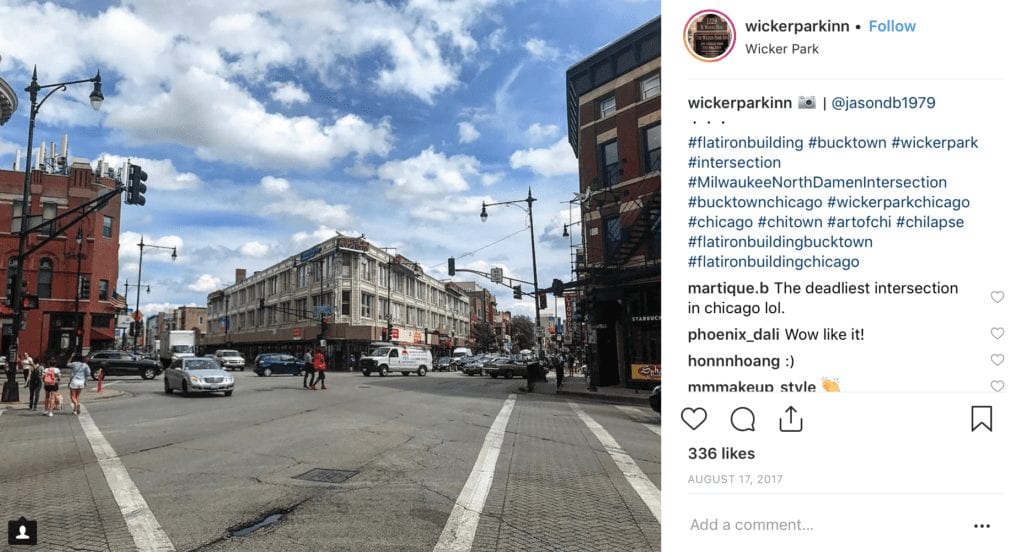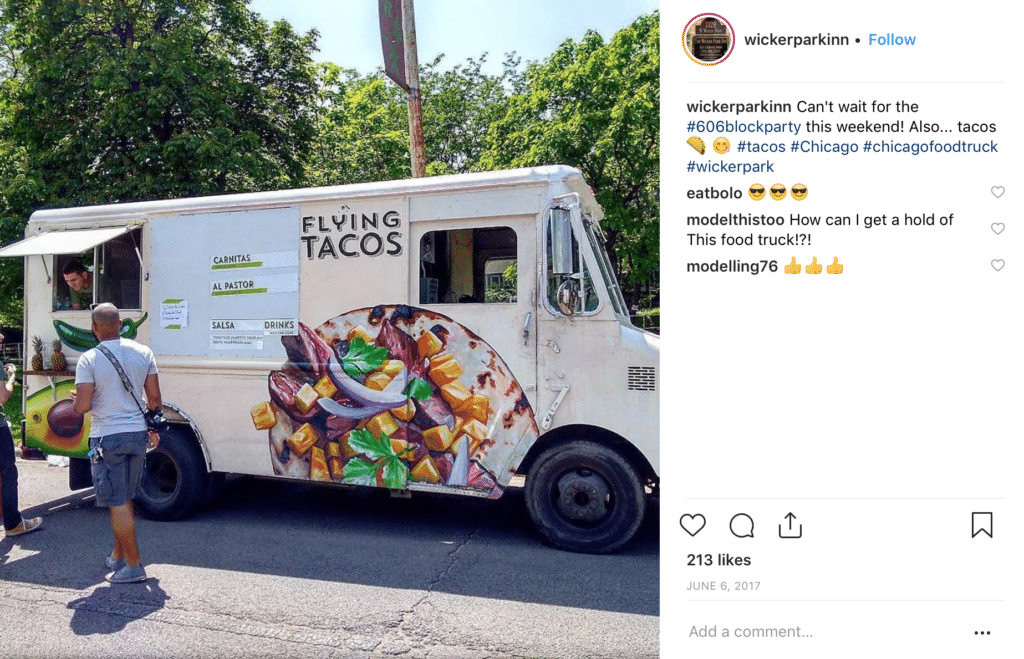 Use Hashtags, Tags, and Reposting
Hashtags are a necessary feature of Instagram. They are what allow people who aren't your followers to find your post. Always include multiple hashtags on your posts related to travel, your destination, and your property. You should even consider making a hashtag just for your property. That way you can use it on your post and encourage your guests to do so too.
You should also encourage your guests to tag you and your location in any posts they share about their stay. That way, their followers can find you and can attract new followers by proxy. You should tag people as well. Tag that restaurant you loved so much or the artisan who makes your rugs or dinnerware you use at your property. Instagram is an incredible tool for connecting with both guests and businesses, and by giving businesses like shops, restaurants, and makers a boost, they might do the same for you later on.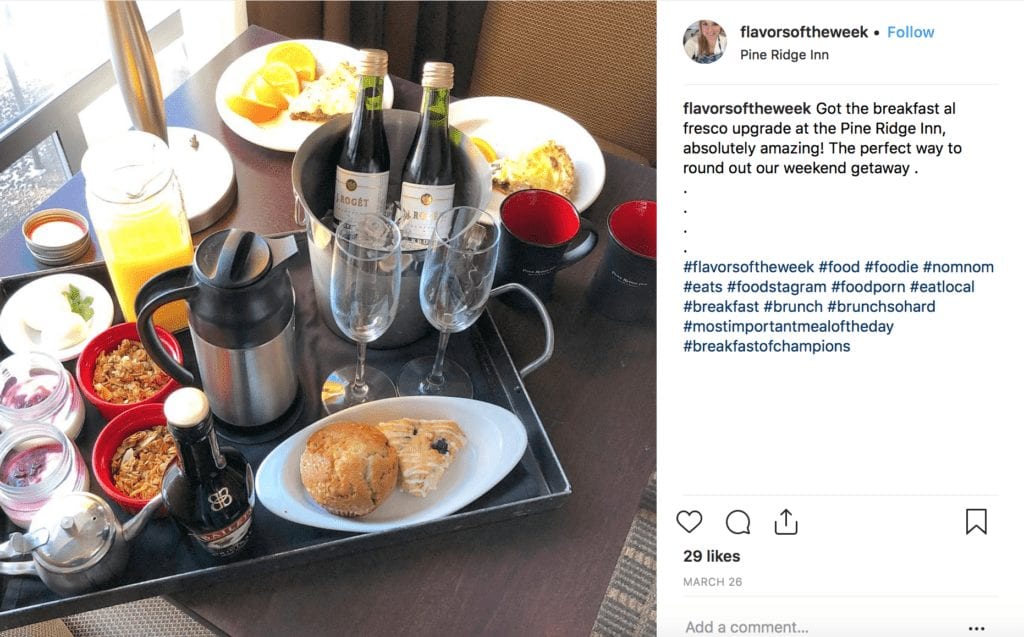 If a media outlet or past guest posts about your property, we encourage you to use the Repost App, which allows you to share Instagram photos posted by other people. Include a short caption saying something like, "Thank for staying with us! See you again soon!" This is another great way to connect with followers and build community.
Take Advantage of Instagram's Unique Features
Instagram is photo heavy, but there are also a variety of other ways to engage with your followers. For example, you can post a short video or an Instagram story. Instagram also allows for messaging, so you can respond to guest messages, answer questions, and encourage direct bookings this way. You can even download the Boomerang app to add cool, moving effects to your photos. This is especially good for food or beverage-related posts.
How Often Should I Post?
There is no real recipe for how often to post. You will have to find the right balance that works for you. You want to avoid getting too "post happy" without posting so rarely that your followers forget about you. Whether you post every day or every week, make sure you stay consistent and provide high-quality, eye-grabbing, and relevant content whenever you do.
What to Avoid
Like we said, Instagram is pretty easy, but there are still practices that aren't successful or that can actually harm your marketing efforts. Avoid:
Posting anything too personal. Though Instagram can feel like an intimate medium, it is important to remember that your Instagram represents your business, not yourself. You can share photos of yourself and tell people about your life, but always keep it professional.
Posting unclear, boring, or repetitive photos.
Using too many different filters. You want your brand's image to be clear and consistent. If you choose to use a filter, it is typically best to decide on one or two and use these across all your posts.
Ignoring comments. Always respond to comments if you can, even if it is just a simple "thank you."
Flooding your followers' feeds with photos. Never post more than one or two photos at a time. That is a sure-fire way to annoy your followers and get a quick unfollow. Plus, with the new feature that allows you to upload multiple photos in a single post, you don't have any excuse for posting, say, seven photographs at once.
Being inconsistent. Pick a schedule and stick with it, for the most part. It is totally okay if you are struck by sudden inspiration and decide to post in the moment, but for the most part, it is essential to maintain a set schedule. If posting regularly is too much for you, consider getting your staff involved.
Instagram is a growing social media platform that will help you maintain customer relationships and improve the visibility of your property. Once you start sharing snapshots from your life as a hotelier with your guests, you might even find that it is also pretty fun. By following these guidelines, you can build a successful Instagram presence and connect with a growing community of past and future guests.