Search Engine Optimization is one of the most misunderstood marketing strategies out there. It is by its very nature complex and ever-changing, so if a wave of dread washes over you after hearing the term, we don't blame you. But we're also here to tell you that SEO doesn't have to be that daunting. Though some parts of SEO might require a little outside help (such as through a web developer or company like Odysys), there are many simple SEO hacks you can do on your own, right now. There can be a lot of misleading or just plain bad information out there, so one of the goals of our No B.S Marketing for Innkeepers series (click here, here, and here to read out past posts) is to simplify the process for our customers and peel away the layers to make it into something anyone can understand. One way is to download our SEO Myths Guide to stop wasting your time with ineffective SEO strategies and master the ones that matter.
It is helpful to think of SEO like a three legged stool, with each leg supporting your business in a different way.
Technology and user experience: How clean your code is, whether or not search engines can crawl for the pages you want them to, and if your site is fast, secure, and easy to use.
Content and On-page Optimization: The actual content of your website-text, images, video-as well as how well you are optimizing that content. This involves things like keywords, title-tags, meta descriptions, internal linking, alt-text, and more.
Domain and Page Authority: Links to your website and the quality of those links. This may also include "citations" or mentions of your business online from reputable sources, the "interestingness" of your pages (ie: well-structured content, images, bullets, headlines, etc that lead to a low bounce rate), and even social media activity surrounding your brand.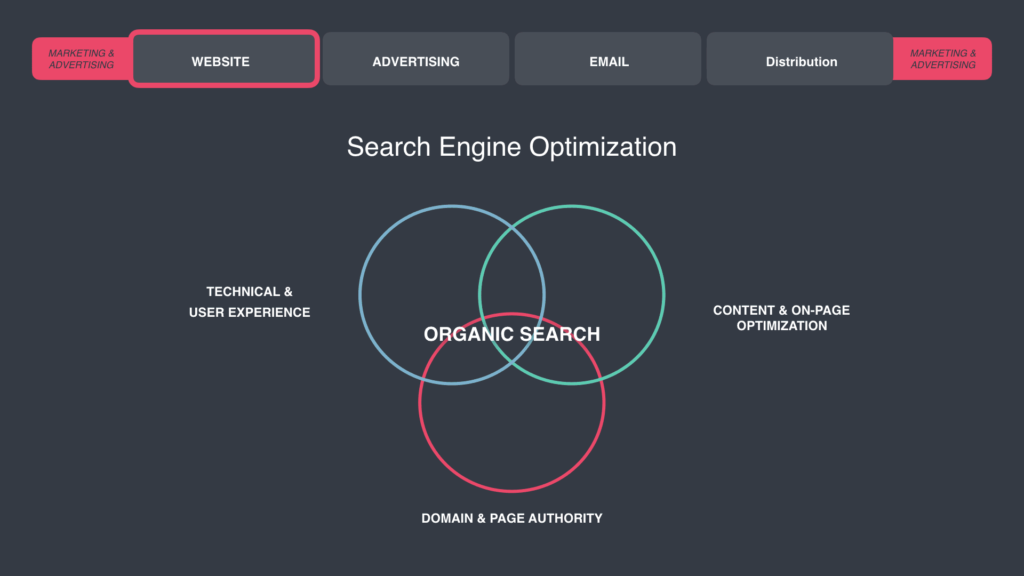 Today, we are going to focus on that second leg: Content and On-Page Optimization. This is the easiest part of SEO and one you can tackle on your own. By the end of this post, you will have things you can implement right away that will dramatically improve your SEO. Our downloadable On-Page SEO Template is also a useful source when revamping this part of your site.
Provide Fresh, High-Quality Content
Google values fresh, high-quality content. If you truly want to succeed in search engine rankings and traffic over the long term, you need to consistently add content to your site that is interesting, useful, shareable and linkable. As we've said before, one of the best ways to do this is to start a blog. Companies that blog regularly receive 97% more links to their website and get more of their pages indexed by Google than the ones that don't. By consistently adding original and authoritative content to your blog, you can drive traffic to your site and dramatically increase your conversions. Click here to download our massive Odysys guide to blogging. This step-by-step guide will help you learn everything you need to know about starting, maintaining, and marketing a successful blog.
But it's not all about the blog. The content on the rest of your site needs to be well-written, well-organized, original, and free of any grammatical errors. If you don't have a Things To Do page on your website, we strongly recommend adding one. Think of your Things to Do page like a local guide or an ultra-condensed Lonely Planet summary. It's a place where you can recommend all of the best things to do, see, eat, drink, and buy in your destination. This type of content will bring more visitors to your site and shows Google (as well as potential guests) that you are an authority on your destination. A Things to Do page is a great and easy way to add the type of fresh & original content to your site that can really boost your SEO.
Rank For the Right Keywords
Keywords are an essential element of On-Page SEO. Put simply, keywords are the words or phrases that internet users type into search engines. You need to carefully select the type of keywords that will bring visitors to your site and help you rank higher on the Search Engine Results Page. Luckily for innkeepers, selecting the right keywords actually pretty easy. You just need:
Brand Name: The name of your property
Category: Is your property a bed & breakfast, motel, boutique hotel, lodge, cabin, vacation rental guest house? Think about what your guests will be searching that will bring them to you.
Special Offerings: Incorporate special offerings, like if you are a wedding or event venue or if you have a restaurant or spa on-site
Persona Level Keywords: Think back to the second phase of our roadmap: knowing your ideal guest. Think about why your guests are visiting your destination, such as the vineyards, bike trails, restaurant scene, craft beer, art galleries, or ski slopes. Incorporate these keywords into your site and make sure you have content for it as well.
Location: Your name, address, and phone number should be on every page of your site. Putting it in your header or footer will help you with local search.
When it comes to keywords, it is best to keep it simple. Because Google is so good at figuring out relationships between keywords, it does a lot of the work for you. Making things too complex could actually work against you here.
But what if your property fit into multiple search categories? For example, you may offer suites and vacation rentals. The Google Adwords Keyword Tool will help you pick the right ones. Simply drop in some of your potential keywords-such as Bend Oregon Luxury Accomodations or Bend Oregon Ski Lodge-and it will report the search volume and trends based on your entries. This will help you decide which keywords are better to target.
Perfect Your Title Tags and Meta-Descriptions
Title Tags are a major component of a perfectly optimized webpage. Title tags are the words that appear in search engine results and at the top of a user's web browser when they are on a certain page. Both search engines and internet users look at title tags to see what your page is about. Each title tag should include:
Brand name
Type of property
Location
Most content management systems, Odysys included, give you the option to modify title tags and meta-descriptions. Title tags should only be about 70 pixels. It is worth taking the time to wordsmith your title tags to make them as clear and effective as possible. Meta Descriptions do not affect rankings but they do have an affect on your click-through rate. A Meta Description is a short & informative description (about 150-160 words) of the webpage's content. It is displayed below the page title on the Search Engine Results Page. In the Meta Description, you have a little more space to describe your property and its offerings. If you can, always include a Call to Action (such as Book direct now!) in your meta description.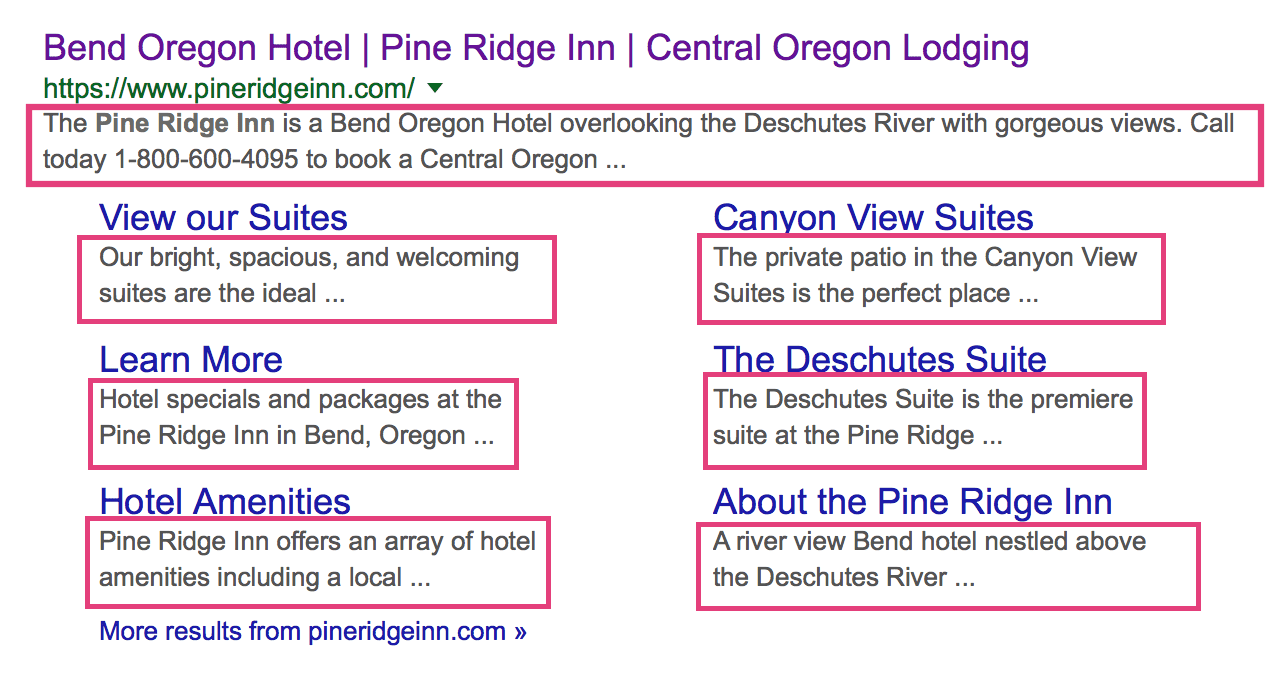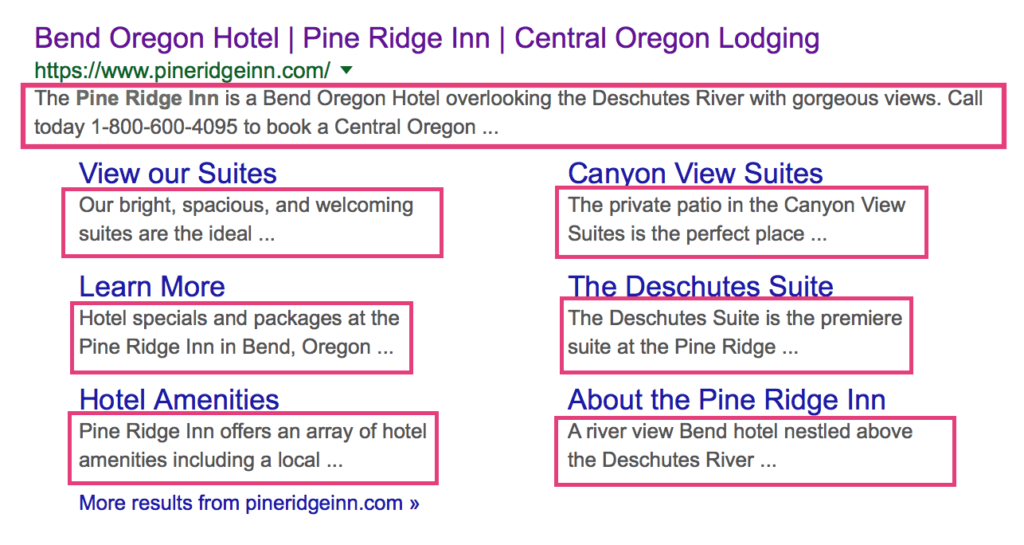 Other On-Page Optimization Elements
Make sure these other elements of on-page optimization are perfected throughout your site:
URL Structure: Your URL structure should accommodate your desired keywords, such as www.odysys.com/innkeeper-resources
Headlines and Subheadlines: The large, introductory text that describes the subject or title of a certain section of your website. They make your site more readable and better organized but they are also a great place to incorporate keywords.
Body Copy: Make sure your body copy is fresh, well-written, and sprinkled with all the right keywords
Images & Alt-Text: Descriptions of the images in your site's HTML. Because search engines read only the alt text/alt tags and not the actual images, it is important to include them for in-line (ie – not background) images whenever possible to increase the authority of your site.
NAP: Put your NAP, or name, address, and phone number, on every page of your site. Typically in the footer. Also have a dedicated contact page on your website with the name, address and phone number clearly indicated and structured. The NAP in your citations and local search listings is used by search engines to help with rankings. Ensure that your NAP is consistent across all sites and directories to make it easier for search engines to rank your business well.