At Odysys, we talk a lot about pre-stay hospitality. That means ensuring that your guests have an equally good experience of your property before their stay as they do during their stay. The major way you can improve your pre-stay hospitality is by making sure your website is informative, well-designed, and clear. Guests judge a property by its website. No matter how great your actual property may be, they won't book a stay at a property with a bad website.
Don't Neglect These Four Pages on Your Site
We recommend you include these four pages on your site, or at least begin to look at them in a different way: About Your Stay, Policies, Things to Do, and Specials & Getaway Deals. These pages do a lot at once and are instrumental in converting your visitors into guests. They provide guests with clear and practical facts about their stay while also enticing them to your property with information about what you can offer, what makes your property special, and what they can do at your destination while they are there. By mastering these four pages, you will help provide your guests with excellent service before they have even walked through your door. Here is some more information about these four essential pages and why you should include them.
About Your Stay
Turn that stale "About Us" page into a guest-centered "About Your Stay" page
Many properties do not make full use of their "About Us" page, but we consider it one of the most important pages on your site. Turn your "About Us" page into an "About Your Stay" page that sells the potential guest on just how great it is to stay with you at your property. Don't just talk about yourself on this page. Use it as an opportunity to sell the experience of staying with you at your property. Make this page about what you can offer your guests. This is a space to set yourself apart and describe what makes your property unique.
Use the "About Your Stay" page to paint a picture of the experience your potential guest will have if they chose to stay with you. One of the reasons guest choose an inn or bed & breakfast over a larger, big-box hotel is because they want an intimate, personal, and unique hospitality experience. Bed & breakfasts allow guests to form a relationship with the owner and stay in a memorable place with a story of its own. Use your "About Your Stay" page to showcase your property and explain what makes it special. You can include a little bit about yourself and how you came to run a bed & breakfast or independent hotel. Use this page to tell your own story and the story of your property. If it has an interesting history, tell it here. Guests love staying in a place with a bit of history or a fascinating backstory so if your property has it, use it. Your "About Us" page can also include your amenities and details on the breakfasts, meals, snacks, and drinks you provide your guests.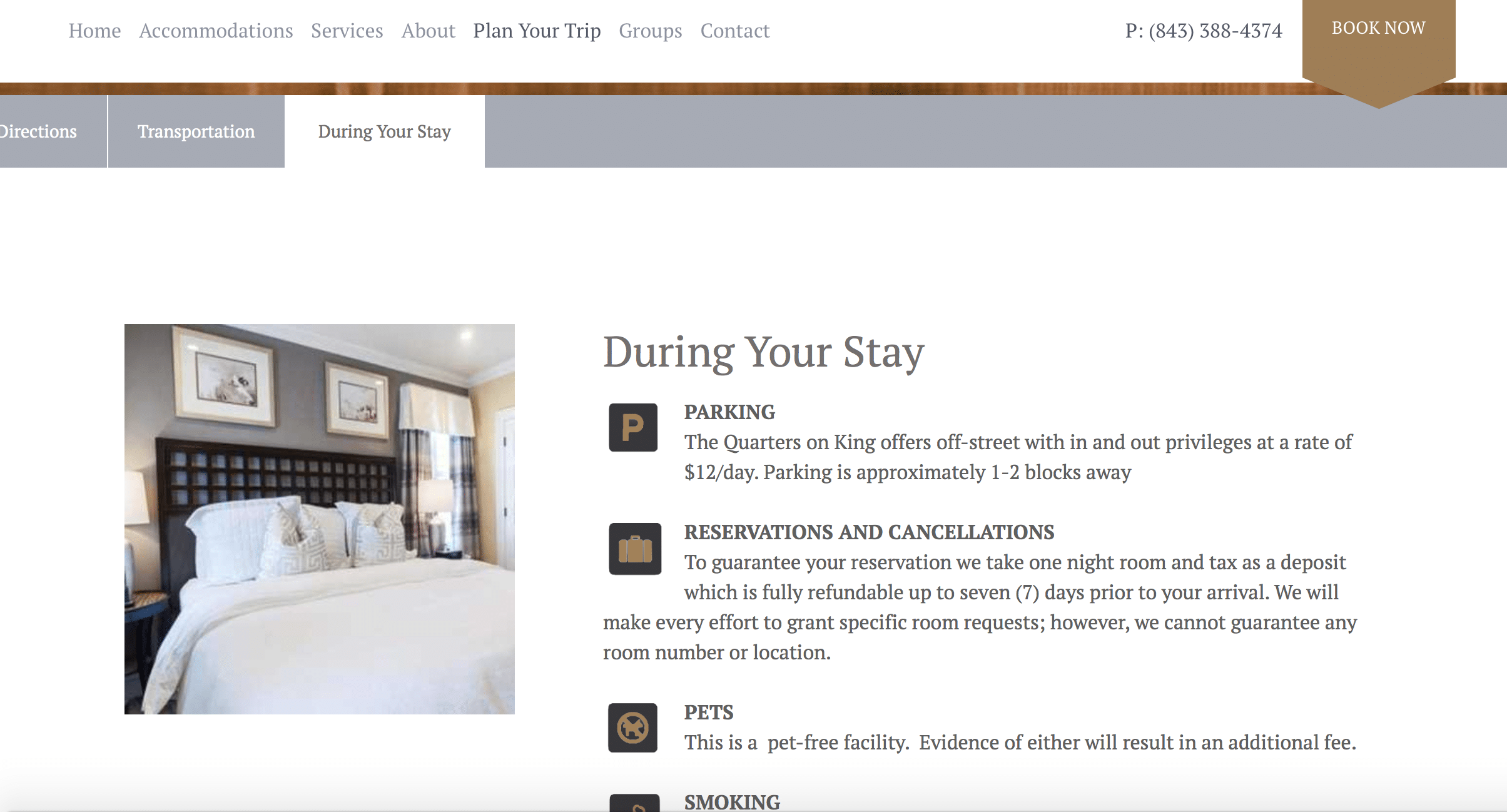 Odysys customer Quarters on King has used their "During Your Stay" page (a variation of "About Your Stay") to inform their guests about essential things like parking, reservations, cancellations, pets, smoking and more. This is also a good example of what to include in your Policies section.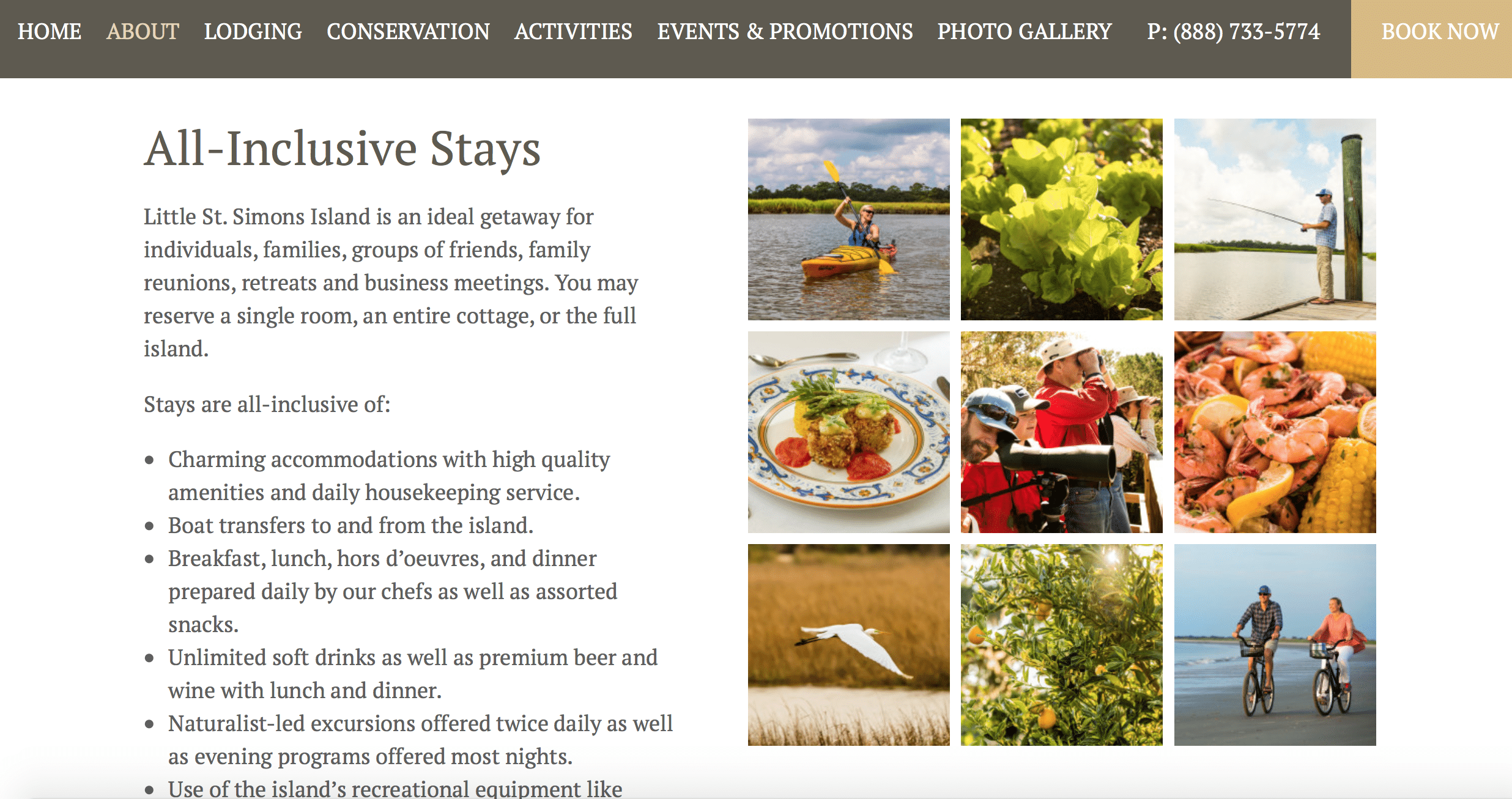 Little St. Simons Island's About page is a great example of how to showcase what makes your property unique and to entice guests to choose your property over another.
Policies
Your website should feature a standalone policies page that clearly outlines your policies regarding things like cancellation & payment, checkin/checkout, early/late arrival, pets, children, smoking, and any other information you consider relevant to your guests. Make sure the information on this page is well formatted & skimmable. Use bullet points so guests can learn and absorb the information quickly.
If you don't allow pets or children of a certain age, clearly state this. If there are fees, state them. If you have charge a cancellation fee, state it here. Make sure check-in/check-out time is clearly stated and that information regarding deposits is readily provided. Be straightforward and transparent with your guests. They will appreciate it later on.
If guests complain about certain policies upon arrival, you can also politely direct them back to this place to show that this information was clearly provided before they made a booking.
Things to Do
"Sell your destination, not just your accommodations"
When people book a stay at your property, they are also booking a stay at a certain location. Use this page to showcase your destination and provide helpful tips & information for exploring it. Your Things to Do page is your place to provide your guests with helpful information on what to do, where to eat, and how to get around. It is almost like a miniature Lonely Planet guide to your destination, curated by you. You can also call this page something like "Exploring [Your Destination]" or "A Local's Guide to [Your Destination.]" This is your chance to make recommendations to your guests, showcase your knowledge and expertise, and help your guests plan a truly unforgettable trip.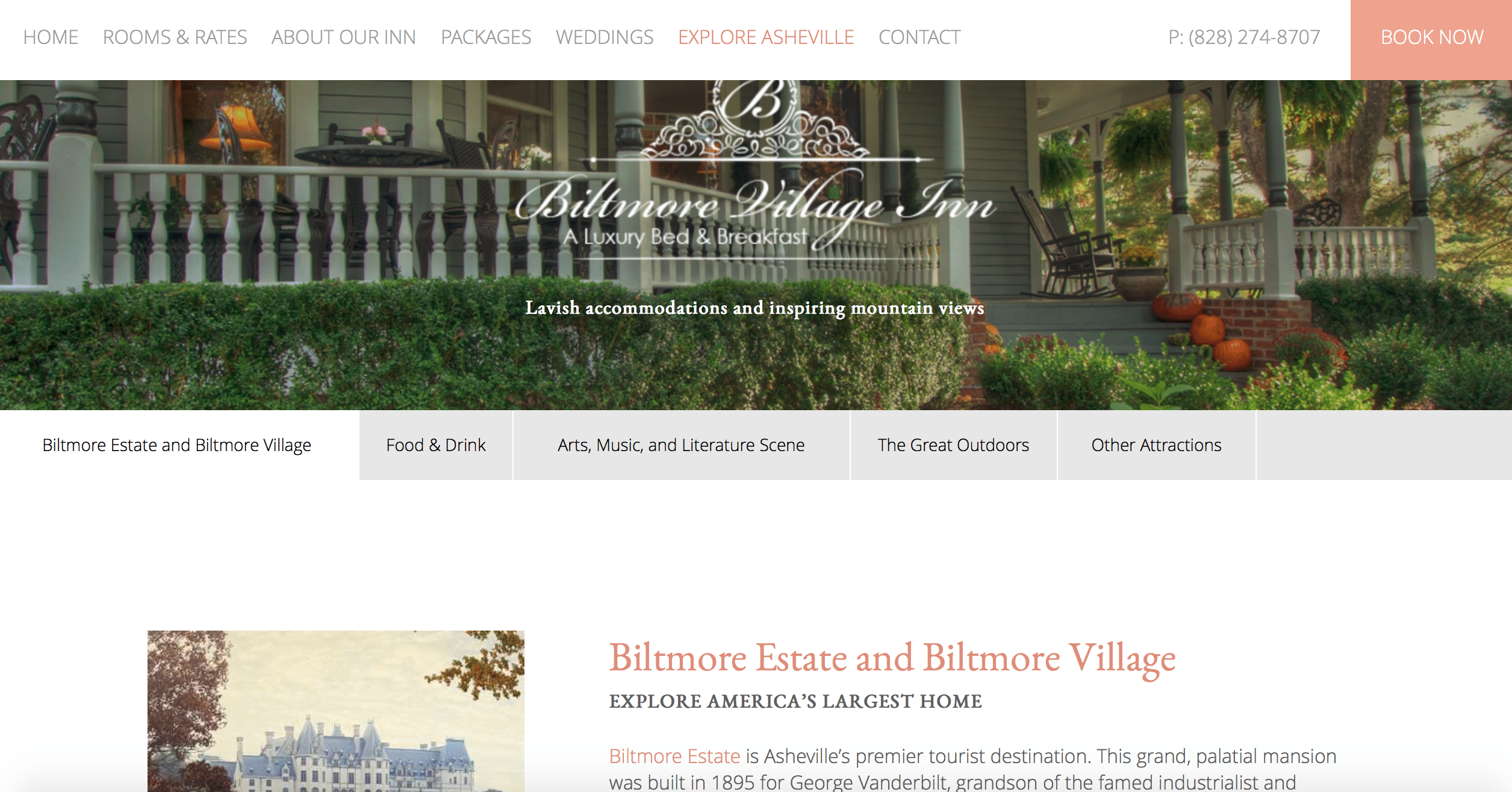 Here is the "Explore Asheville" page for Odysys customer The Biltmore Village Inn in Asheville, North Carolina. They have created a concise and informative page where tourists can go for help planning their trip. They have included sections on major tourist attractions, food & drink, arts & culture, and the great outdoors.
In this section, you can curate maps of your destination using Google MyMaps, include videos and photographs, and make lists of your restaurants, shops, tour operators, hikes, and so on. If you keep a blog, take things to the next level by linking back to more detailed blog posts on a special topic. You can also link from your blog posts about these topics back to your Things to Do page. This strengthens your SEO for the given topic. Fill this page with "shareworthy" content your guests will find both interesting and useful.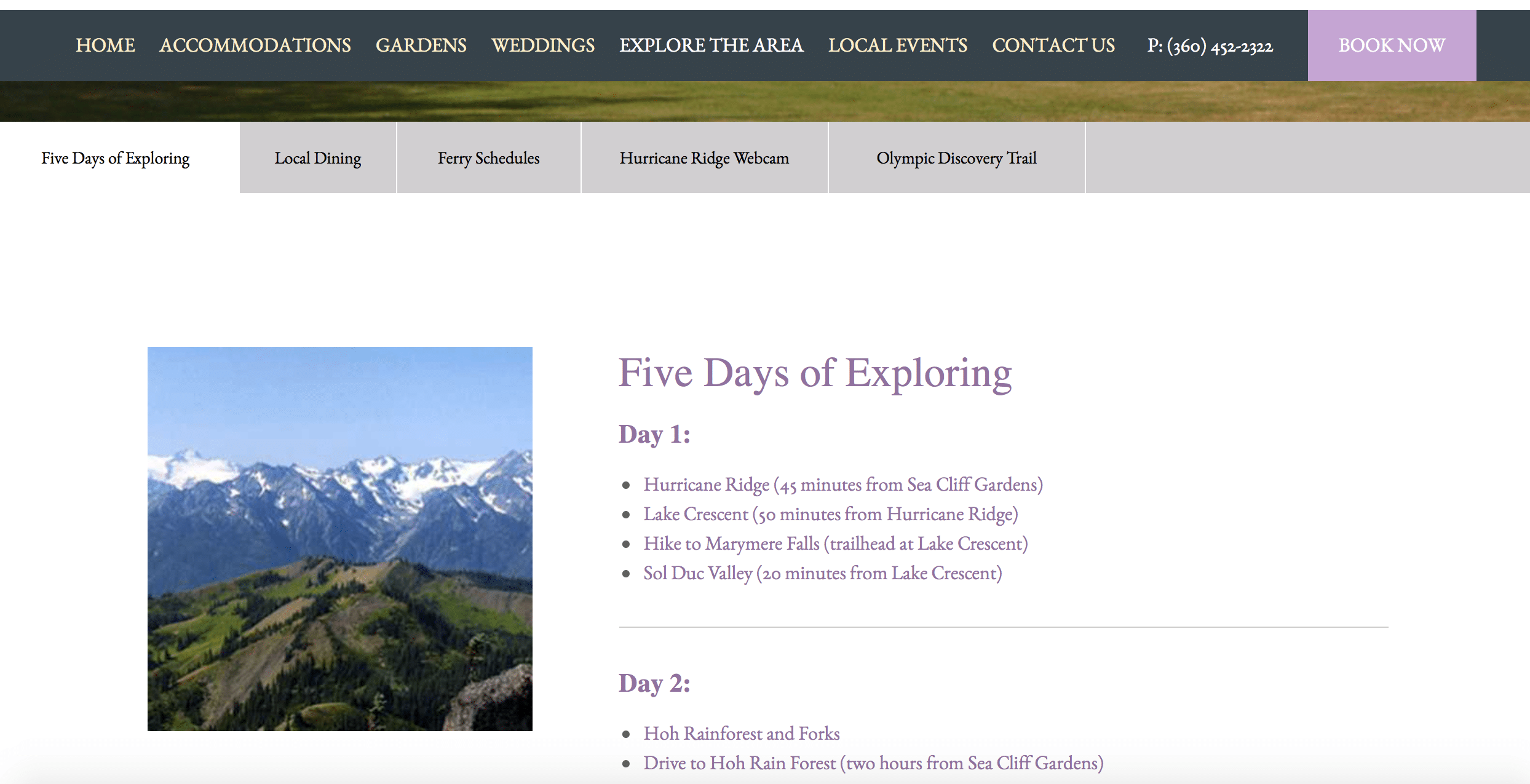 For example, Sea Cliff Gardens in Washington State has compiled multiple blog posts into a single detailed and informative page that outlines how to spend 5 days on the Olympic Peninsula.
Specials & Getaway Deals
Include a page detailing any specials, packages, and discounts you offer your guests. These deals may entice guests to make a booking or add on any amenities if they do. Use this page to showcase the specials and extras you offer your guests or to explain any discounts you can get them at restaurants, museums, spas, and tourist sites. If you offer your guests special discounts on Weekdays or Holidays, mention it here. Same for discounts on groups, advanced bookings, and more.
Pro tip: If you allow last minute/same-day bookings, optimize this page for "[destination] last minute [hotel] getaway deals" (ex: "portland last-minute hotel getaway deals"). As people tend to search for these types of keywords.
The Wicker Park Inn in Chicago has used this page to provide descriptions & photographs of the various packages they offer their guests. Your Specials & Getaway Deals page should include names and descriptions of your discounts or packages, pricing, and information about how to book it.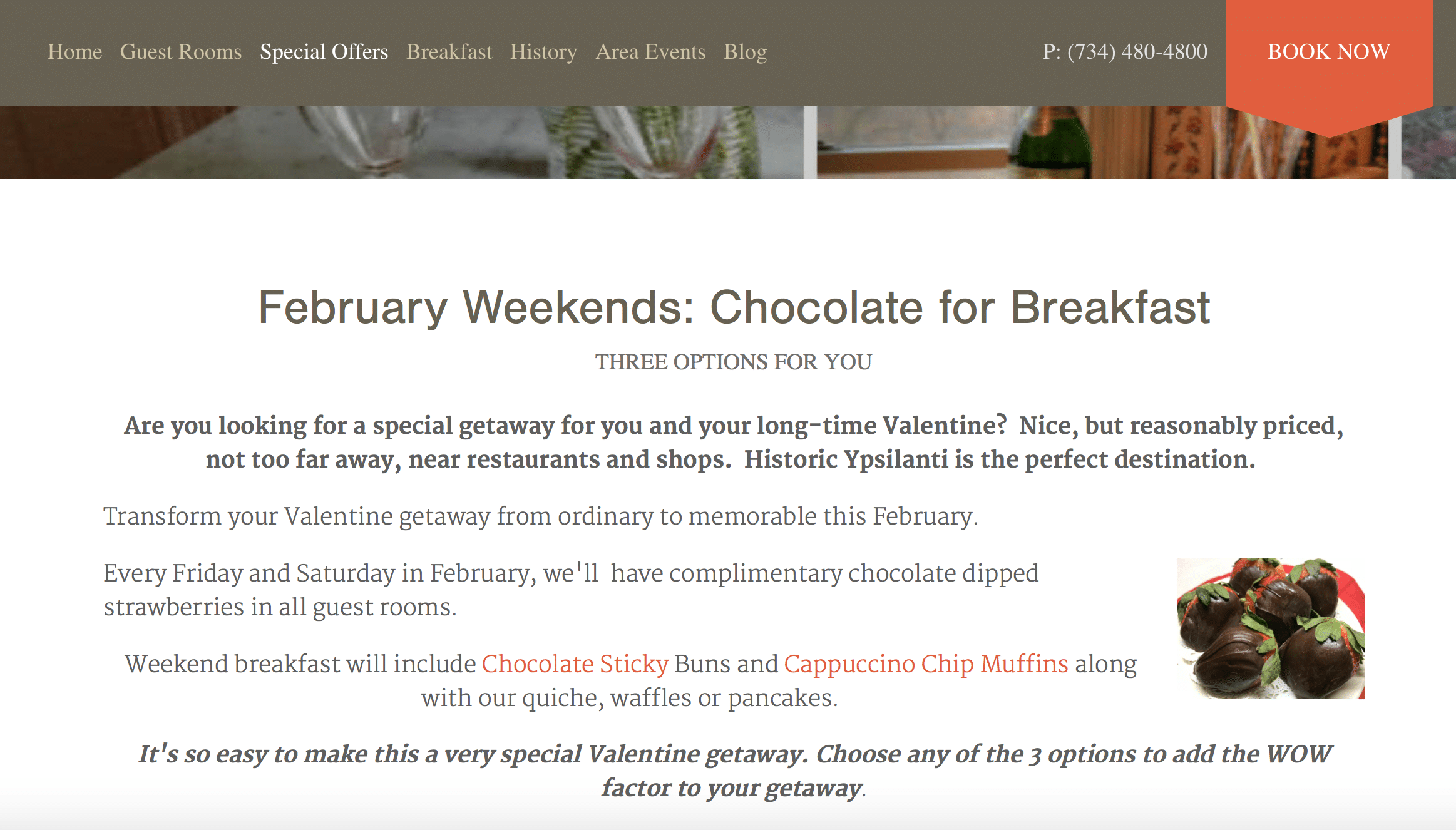 The Parish House Inn in Michigan has provided very detailed information about their Special Offers, including how to book and what the package entails.
Your entire website should be informative, well designed, and mobile-friendly. However, we highly suggest you spend a little extra time improving these four pages. These are some of the most important pages on your site. These four essential pages have the power to entice new guests to your property and to satisfy the guests who have already made a booking.
---