Did you get this email from Google My Business recently? "Check your listing's performance with a single search on Google." If so, you might be wondering how this new feature works and what it means for your SEO. In the following post, you'll learn how to take full advantage of the updates so your B&B, inn, or hotel's business listing ranks as well as possible.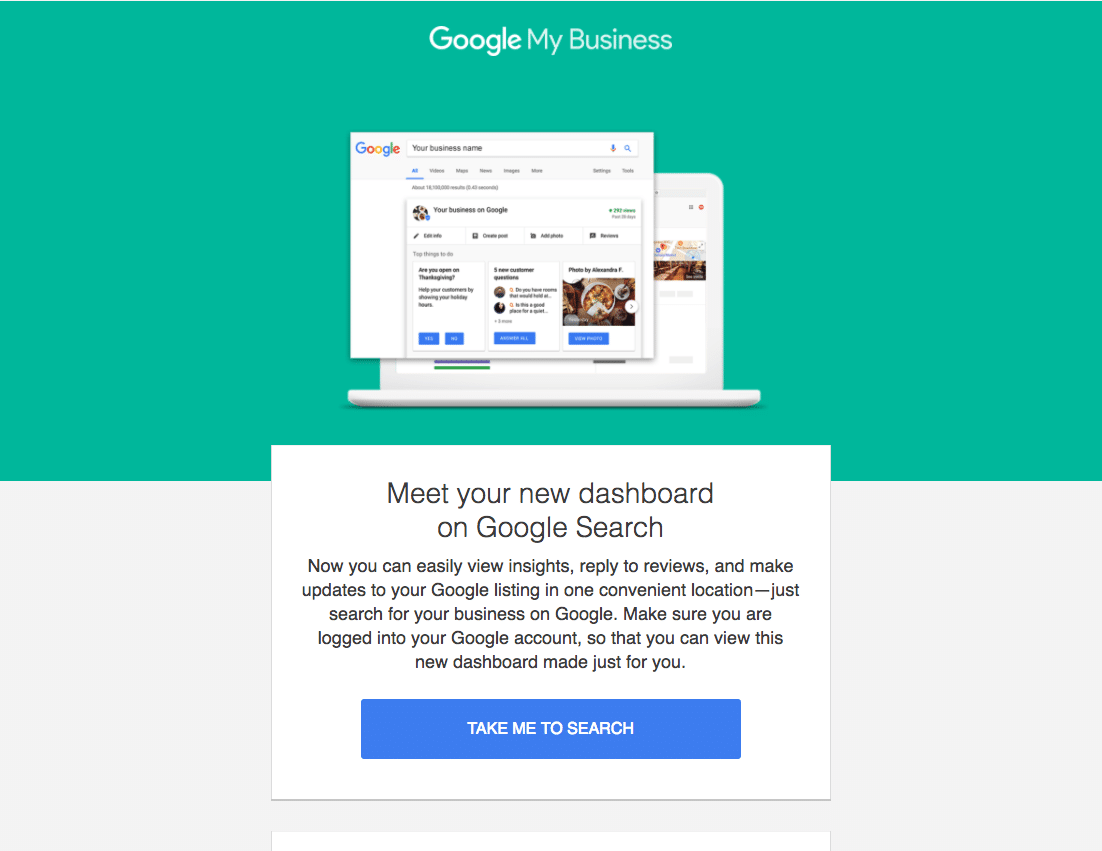 Google has been making a big effort recently to get business owners more involved with their business listing in Google. By making it easier for you to keep your business listing up to date, the quality of Google's local search results is better and more trustworthy. One of the ways they are doing this is by making it easier for you to see your business listing status and improvement tips right in the search results instead of having to login to Google My Business.
Now you can simply go to Google and search for your business name to see the dashboard.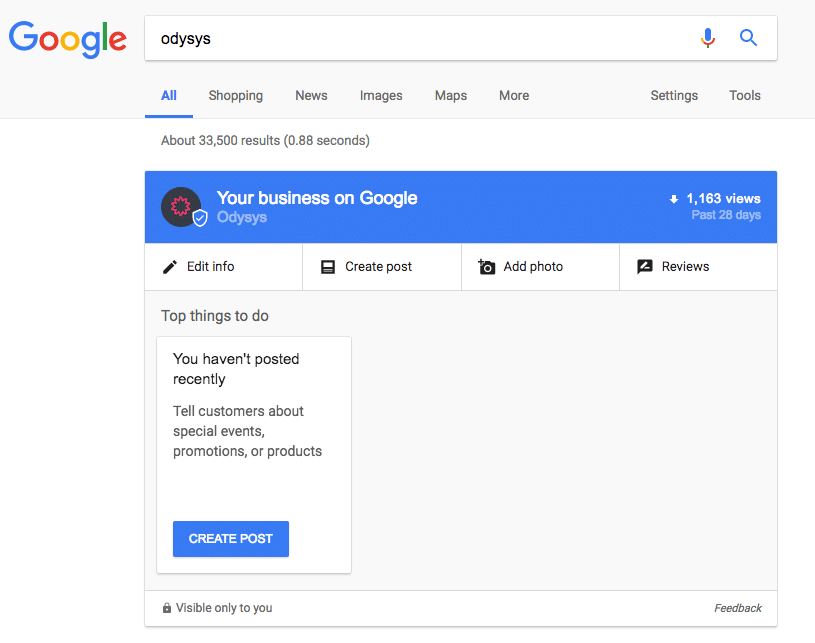 Troubleshooting: If you don't see your dashboard when you search for your business name in Google, there's a few things that could you happening: you either need to switch Google accounts to the one you used to claim your listing, never claimed your business listing in the first place, or someone else claimed it with their Google account.
Using The Google My Business Search Dashboard
The dashboard is visible only to you as an owner or manager of your Google Business listing. From this dashboard, you can:
See any recent activity on your business listing, such as new reviews or photos that people have taken of your business
Edit information about your business
Take action on any of Google's recommendations for your business listings
Add photos
Respond to reviews
A couple of notes about what you are seeing in the screen shot above:
All features are not available to all business types. For example, if your business is categorized as any type of accommodation, you will not see "Posts" as an option as of today. However, I'm hoping they roll this out for B&B's, inns and hotels soon.
The "Views" in the top right is a little confusing. Our page is not down 1,163 views. The down arrow simply indicates that our views are down in comparison to the previous 28 days. The 1,163 views refers to how many views our listing had in the past 28 days. This is an admittedly confusing design and I also hope that they roll out some sort of separator in the near future.
Optimization Tips for Your Google Business Listing
While we're on the topic of your business listing, now is the perfect time to take a minute to do a few things that won't show up on this dashboard.
Name, address & phone number: Do these match your website exactly? (Tip: your business listing should feature a local phone number instead of an 800 number)
Optimize your business categories: Most innkeepers and hoteliers don't take advantage of the categories available. This is one of the best ways to make sure your listing gets seen more often when searches are looking for accommodations.
Fill out the attributes for your property: Let Google know some important aspects of your property. The options include things like whether or not you offer free breakfast, allow dogs, have hot tubs or fireplaces, have handicap accessible rooms, etc. This helps your property get in front of just the right potential guests.
Get reviews on your Google business listing: Encourage your guests to review you on Google. Regularly getting great reviews will have a positive impact on your rankings. Here's how to get a review link for your post-stay email.
Get and/or cleanup citations of your business online: Make sure your business listing information is accurate on other websites and with data aggregators. Links to your business website and mentions of your business online will help as well. Learn more here and in our innkeeper cheat sheet.
Final Tip
Regularly review your business listing in Google and keep it up to date. This may be just the edge you need to keep ahead of the competition in search results. Download this guide for 5 simple and effective ways to achieve local research success.