This is a guest post by Chris Mason, a B&B industry veteran from Ann Arbor's Parish House Inn.
As an innkeeper, I am always looking for ways to add value to my guest experience that will increase my occupancy and my revenue. Promotions and special offers seem like a no brainer, right? Almost every website has a tab for them. To get ideas for my own site, I look at the promotions and special offers pages of other B&Bs.
Is Your Special Offer Missing Something?
During my research, I discover that many of of these pages simply consist of a list of information. Some do a great job of explaining the offer but do not bother to include compelling reason as to how it benefits the guest. Very few even had a clear call to action. It's like an unfinished sentence. You will leave potential guests wanting more, but not in the good way. In some cases, I see so many items on a single offer page that I would not even bother to look at all of them. Guests will not either. Some even required a phone call or an email. If you were a guest, would you do that?
3 Simple Questions Your Offer Should Answer
From my research, I have learned a process that helps me to create offers that guests understand and can buy in two easy clicks.
I always begin by setting a clear goal for the offer/promotion. What do I want to gain from this offer/promotion? Who is the ideal guest for this? Here are the three simple questions I ask myself when putting together a promotion.
1. What is the offer/promotion? Explain it in just a few words. For example:
Buy 2 nights get third night free
Gift card for dinner and reservations
Free tickets to local attractions (museums etc)
Room discount during an event (concerts, platys) when you book before (date)
10% off your room rate Sunday – Thursday
2. How will it make my guest's life better or transform their experience from ordinary to extraordinary? Remember that:
Free night allows them to extend their stay and gives me occupancy during the low season
Gift card frees guest from planning and gives me aconnection to a local restaurant
Free tickets saves guest from added cost and guarantees entry and give me a way to attract new guests
Room discount for event insures a room for the guest and fills my rooms early
Week day discount encourages guests to stay another day and fill rooms with business travelers, couples who work weekends and local family and friends.
3. What do I have to do to buy it? That is the CALL TO ACTION!
I use a promo code because it is the easiest way for a guest to buy. All they have to do is choose a room and enter the promo code and they are done. I avoid the email or call me option for booking purposes. In the offer text I say ….it's easy. All you have to do is choose your room and enter this promo code XXX.
To make this work, I have to go to the back end of my reservation system. I can them set the price per room and establish a promo code. It should be a simple code relevant to the offer like ROSES for adding a dozen roses.
Always use a fear of loss statement: book before date, good only in february, book now so you don't miss out, and so on.
Remember, the Odysys reservation system make is so easy to set up the promotion with a promo code.
After I answer these questions, I promote the offers on social media, linkedin, any travel sites, local groups, and event pages with the link to the page. I only do one or two offers at a time that each target different markets. I find this gives me a way to have fresh content to share while also adding value to the guest experience and increasing my occupancy. Oh, and I always encourage people to book directly through the website. Adding this tidbit at the end is essential.
Examples of Good Special Offers
Rather than show examples of bad offer pages that might belong to a few readers, let's show you a couple of examples of great offer pages instead.
Example 1: Min-Moon Package from: http://holladayhousebandb.com/romance-packages.html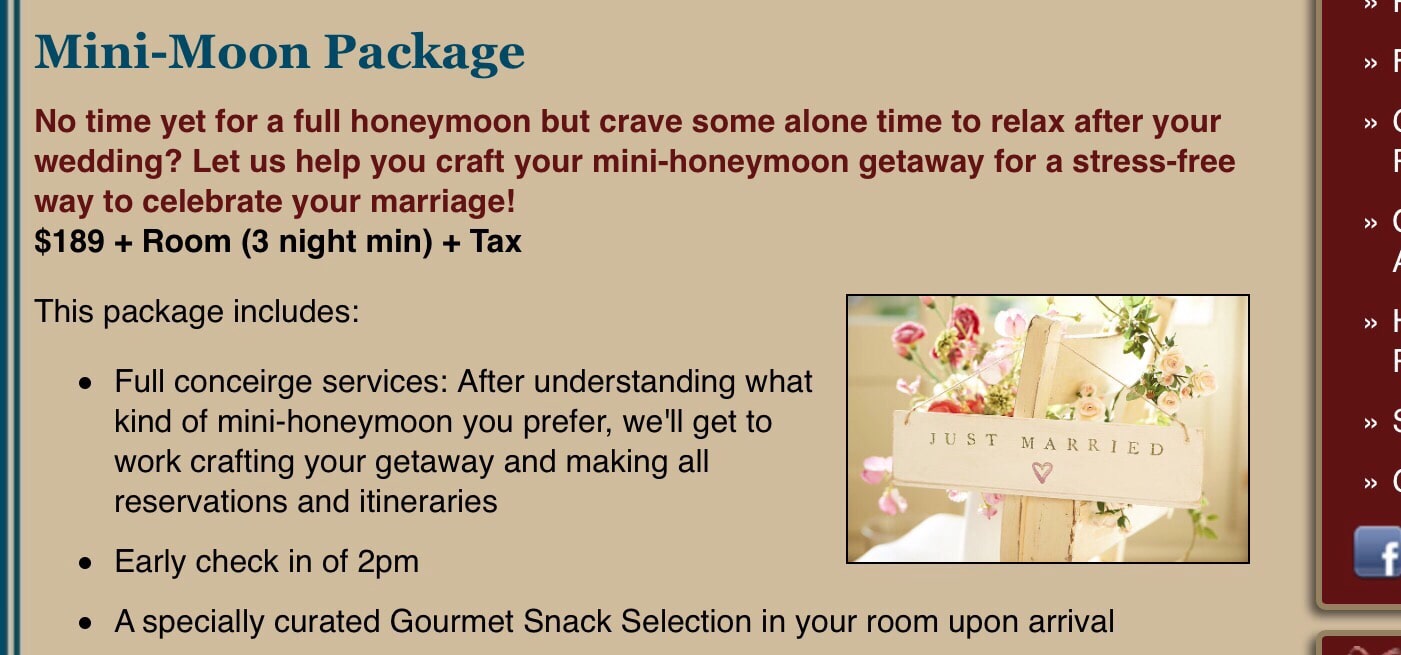 Example 2: Mayhurst Inn's Special Offers Page from: https://www.mayhurstinn.com/promotions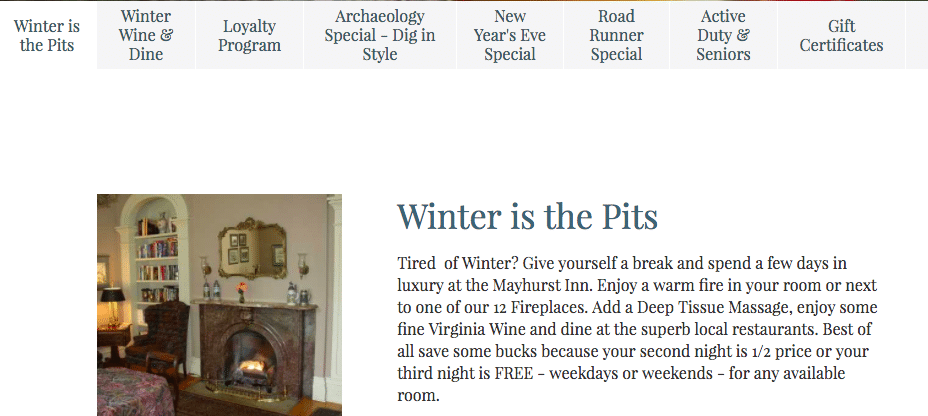 The examples above are great because the offers provide a concise but detailed description of the package along with photos and price information.
Thank you for reading and I hope you feel inspired to try out some of my ideas. Good luck fellow innkeepers!
By Chris Mason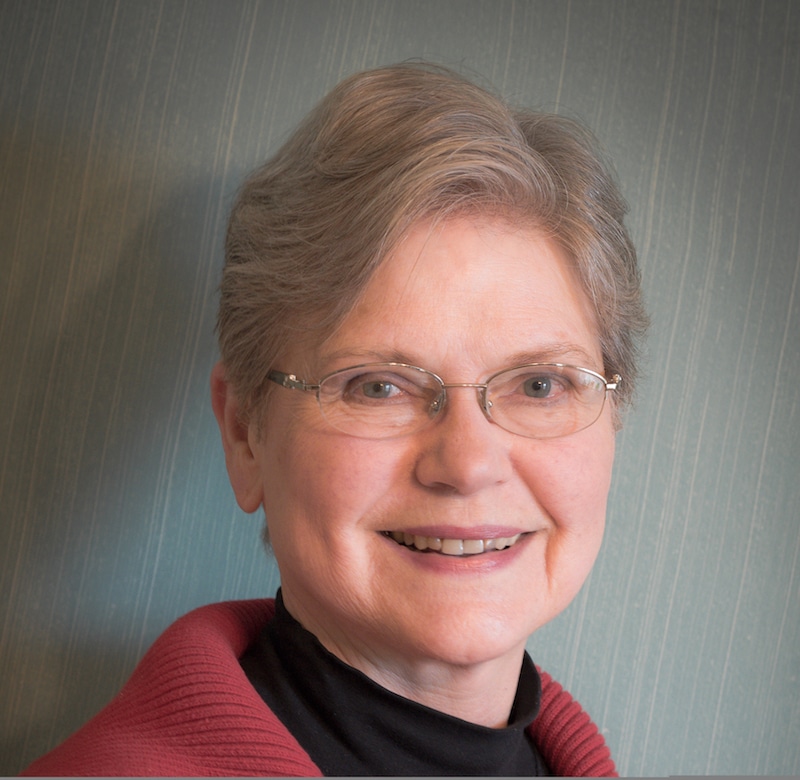 Chris Mason is the chef/innkeeper at the Parish House Inn for 24 years and author of the cookbook: "7 Recipes to get You Out of Bed For Breakfast Every Morning"
Contact information:
email: chris@parishhouseinn.com
https://www.parishhouseinn.com
telephone: 734-480-4800
Parish House Inn on Facebook
---