When couples plan their weddings, many seek out a unique and intimate setting to say their "I do's." That's why so many people choose to host their ceremonies at inns, bed & breakfasts, or boutique hotels. Doubling as a wedding venue is an incredible way to attract guests to your property, boost revenue, and improve the visibility of your brand. However, before you can start helping couples host the wedding of their dreams, you need to market yourself property. Here are tips for marketing your inn or bed & breakfast as a wedding venue.
Dedicate An Entire Page to Your Weddings
Planning a wedding can be a stressful and overwhelming experience. One of the hardest parts is finding the right venue for it. To help people find you, make sure you dedicate an entire page (or section) of your website to weddings. On this page, you can describe your venue and offerings, list prices and package options, post stunning photos, and answer any commonly asked questions. It also shows potential customers that you are experienced with hosting weddings and consider them an important and enjoyable part of your business. Having a specific Weddings page will help anxious couples find you and provide them with the most relevant information up front.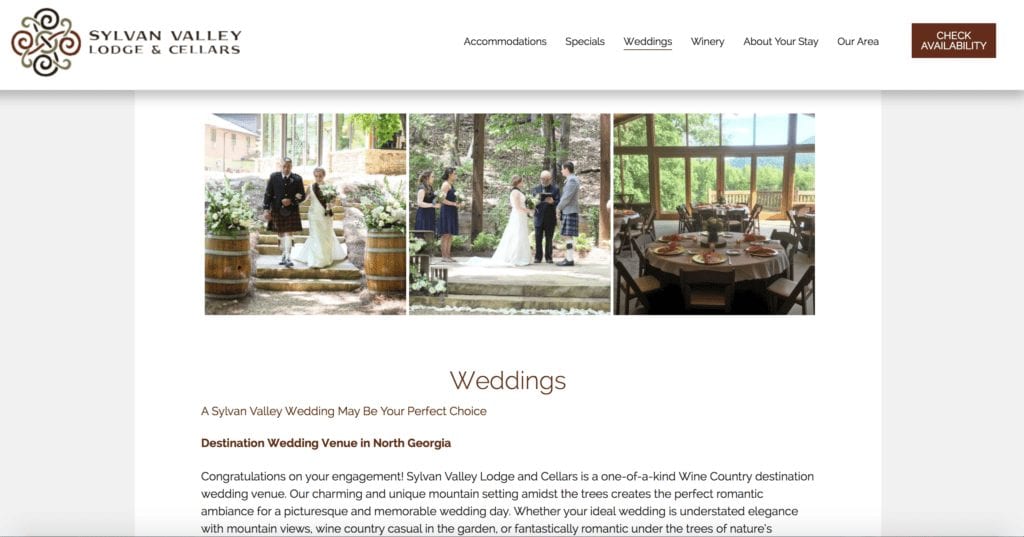 Optimize the Wedding Page & Focus on What Makes You Unique
When couples plan their special day, they want it to be exactly that: special. Take the time to highlight what makes your property unique. Whether you are a rustic mountain lodge, a historic Victorian home, or a trendy cosmopolitan hotel, there is someone out there who is dreaming of tying the knot in your location. You just need to help them find you.
Once you have defined what makes your property unique, you will need to optimize the page for just the right search. Below, you can see the results when someone types "wedding venues portland oregon." Common keywords include "small," "outdoor," "unique," "intimate," "rooftop," and "barn." Optimize for the type of keywords that fit your property best so the right searches can find you and start working with you to plan their nuptials.
To optimize, include the best phrase or keywords in your Wedding page title and meta description. On the page, try to incorporate these words naturally into headlines, subheadlines, and your copy.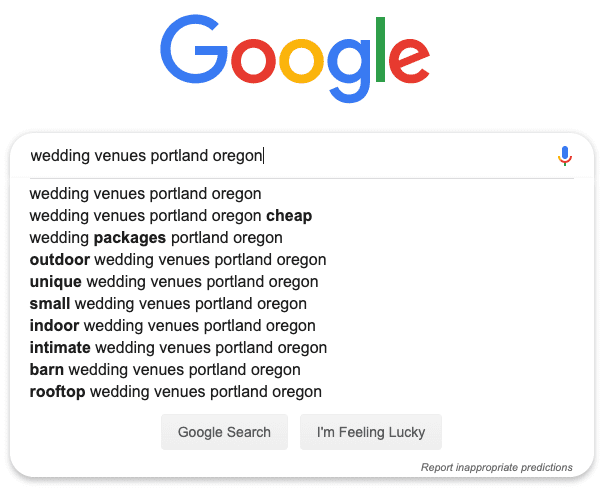 Other Tips for Optimizing Your Weddings Page
Include an enticing Call to Action and/or Next step on the page
Post a testimonial or two from satisfied customers
Link to the Wedding Page from your Home Page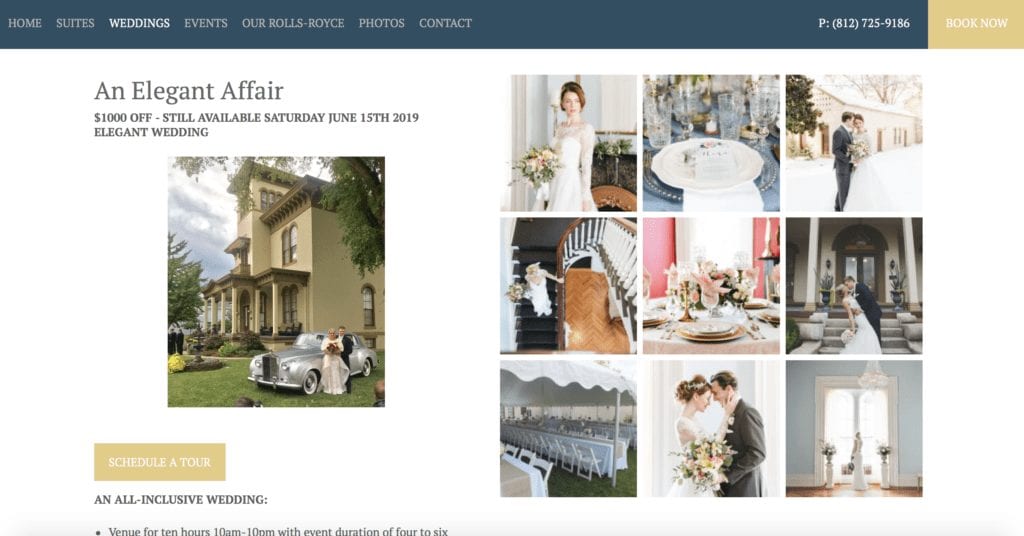 Include Beautiful Photography
As we've said before, including high-quality image and video is key to attracting guests to your property. This is even more important when it comes to weddings. With weddings, it is all about sparking inspiration. Photos and video are the best ways to do that. Great photography and video will help potential customers to picture themselves tying the knot on your property. You might also want to offer additional photo galleries dedicated to weddings on your site.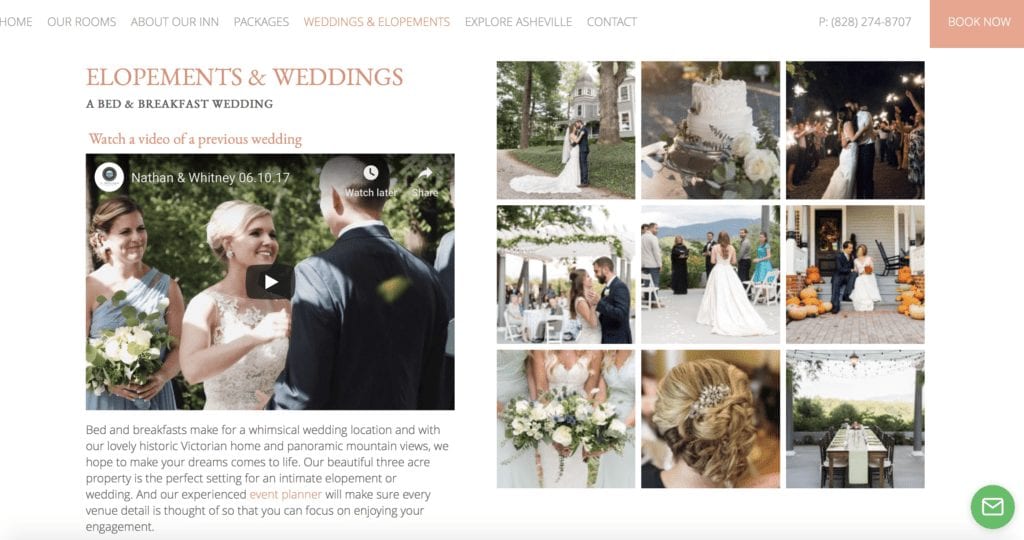 Get Listed
Potential brides & grooms do lots of research to find the perfect venue for their wedding, so they'll use Google to find lists of venues as well. In addition for optimizing your site for the right keyword, it is essential that you get your site listed on popular directories like WeddingWire, the Knot, and Wedding Spot. To find additional local directories, conduct a Google search for "wedding venues [your location]" and look at the results. You'll want to get your property listed on these sites.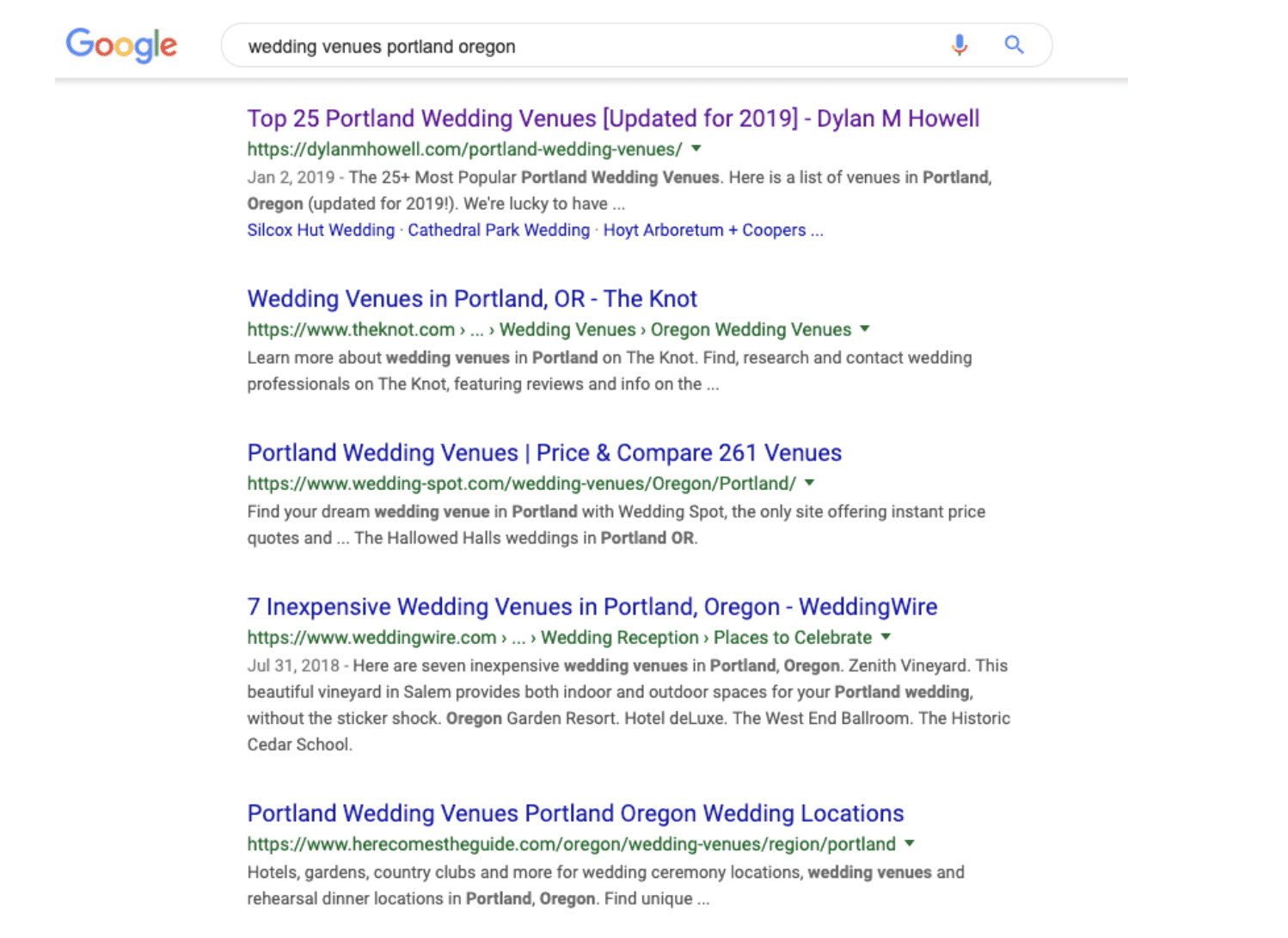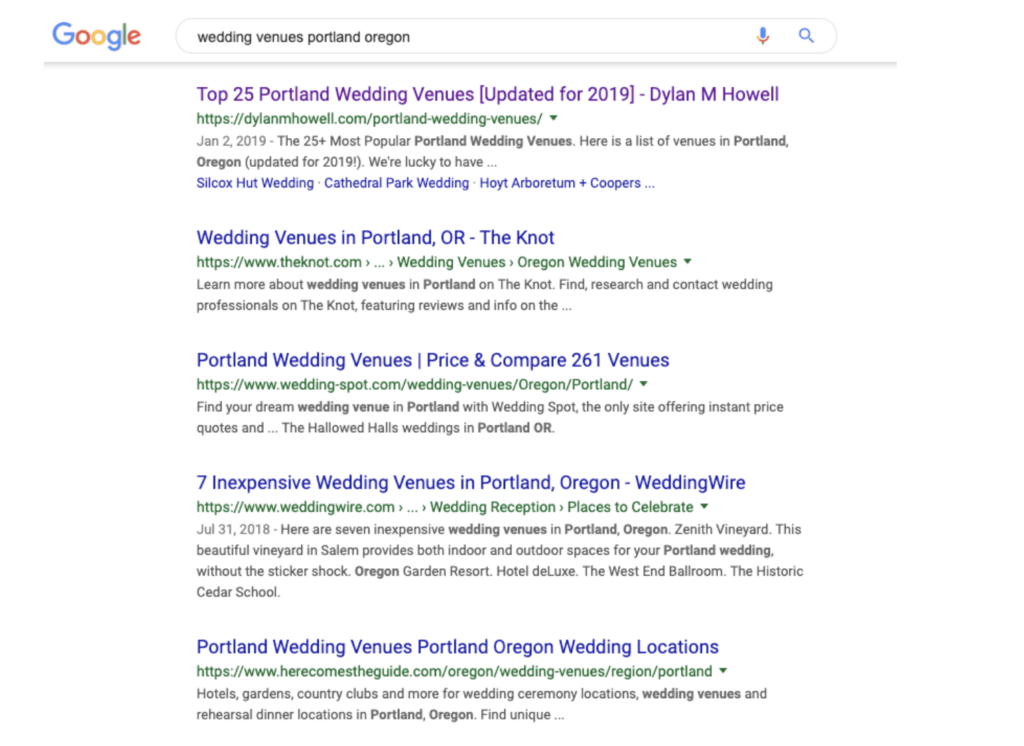 Update Your Business Listings
Highlight your status as a wedding venue across all your business listings and social media platforms. Update your Yelp, Google Business Listing, Facebook Page, and Instagram bio to include "Wedding Venue" as a category on your listing.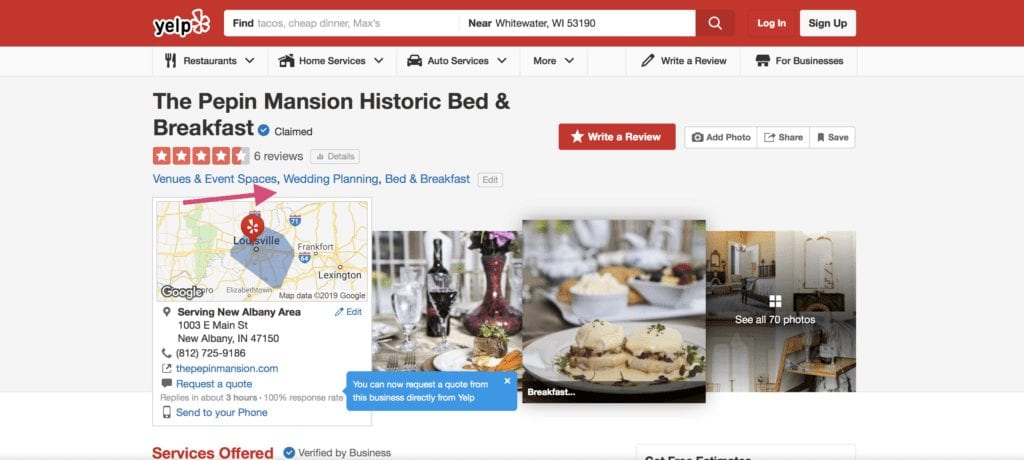 Get Links
List all the other local business that you work with. That could include photographers, caterers, florists, wedding cake shops, make-up and hair designers, and so on. Contact them and ask them to link to your property from their websites.
Sponsor or Volunteer at Area Wedding Shows & Events
This tip might feel a little old school, but it works. Try going out into the world and doing some real world marketing for your property. You might reach out to a local organization such as the Portland Bridal Show and ask to be an exhibitor or volunteer. Not only will you get listed on and linked from their website, but you'll have the opportunity to meet potential wedding customers in the process. If you don't have the budget to be a sponsor or exhibitor, then you may be able to volunteer your time. In many cases, volunteering for the event will get you a link on the event website as well.
Need more shows & events to participate in or sponsor? Do a google search for "[your area] wedding events. "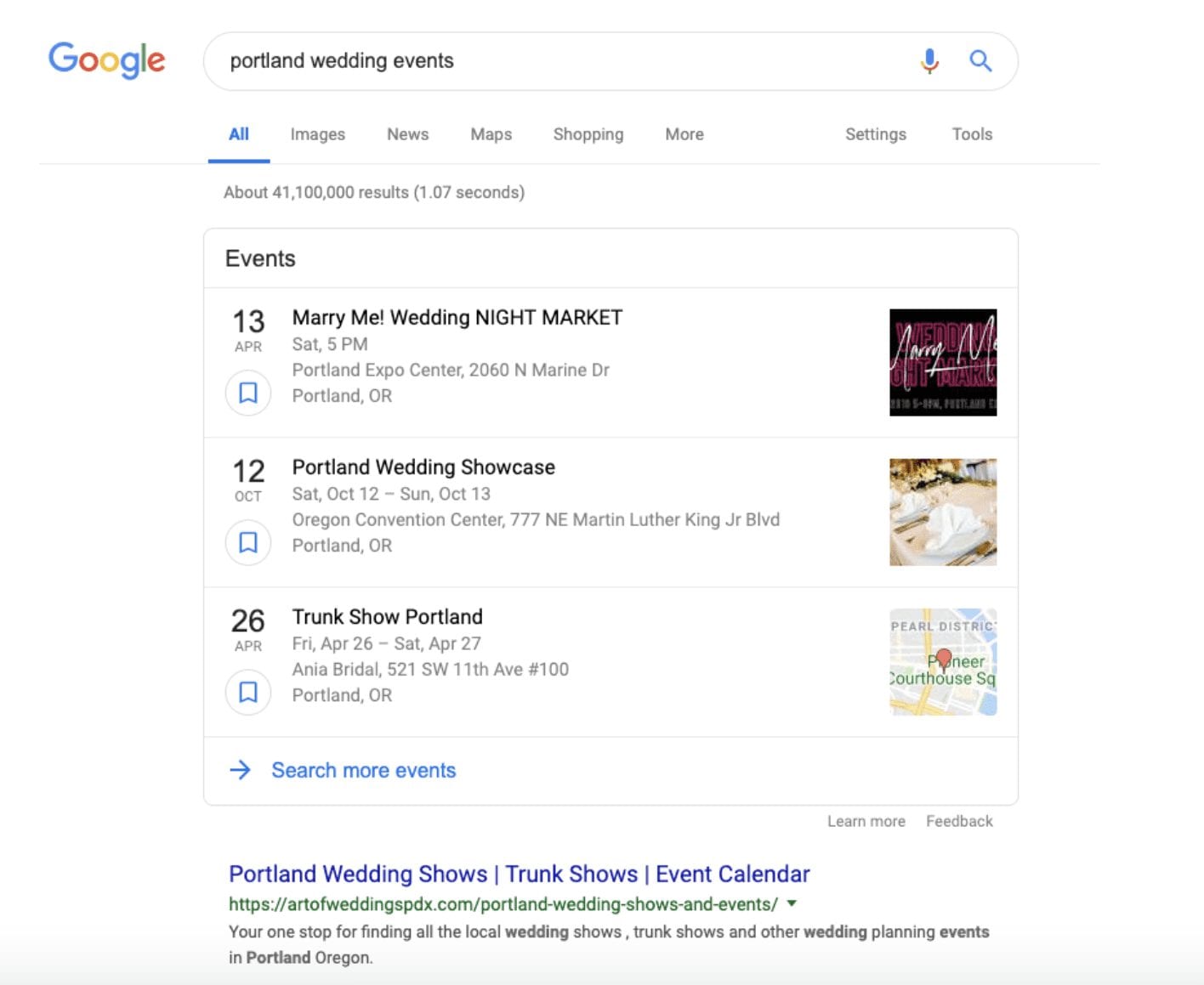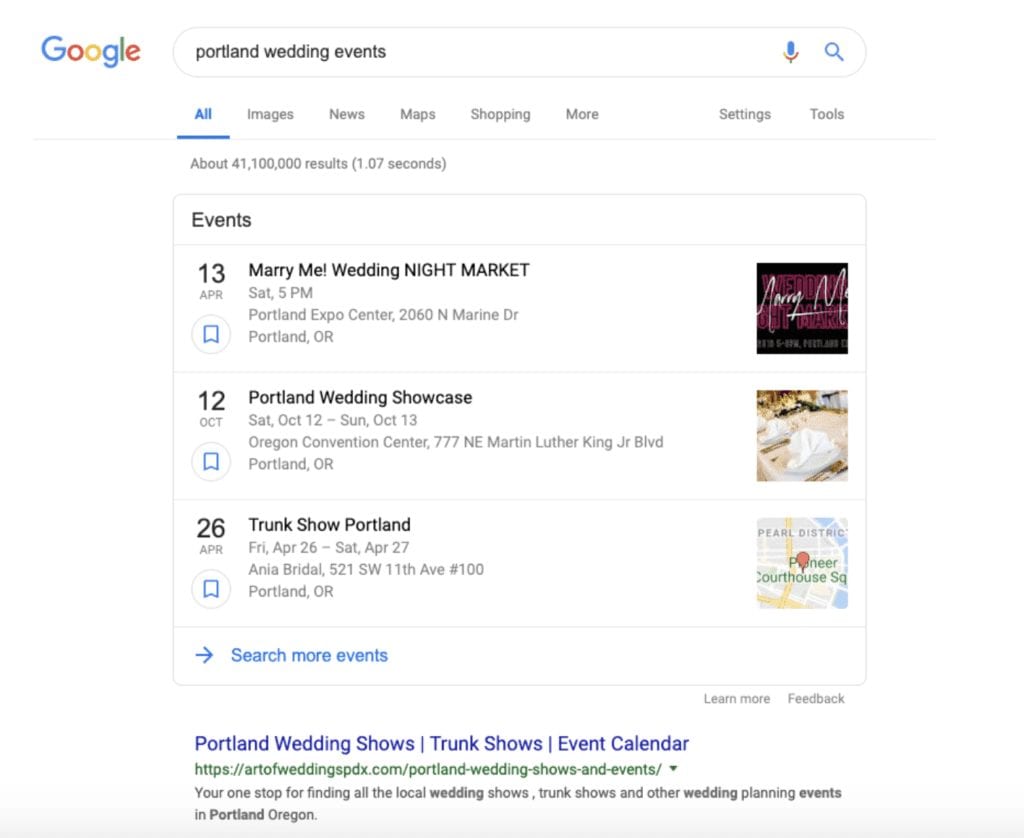 Advertise!
Google Ads can be setup to target your specific wedding venue phrases and highlight your unique offerings. Don't forget to include a "Request Info" button on your page or website so you can track the success of this campaign. In addition, retargeting campaigns can be adjusted to re-capture those visitors who may have visited your wedding-venue specific pages in the past. If prospective brides, grooms, or wedding planners have clicked onto your wedding page, they can then be targeted with wedding-specific ads promoting your venue.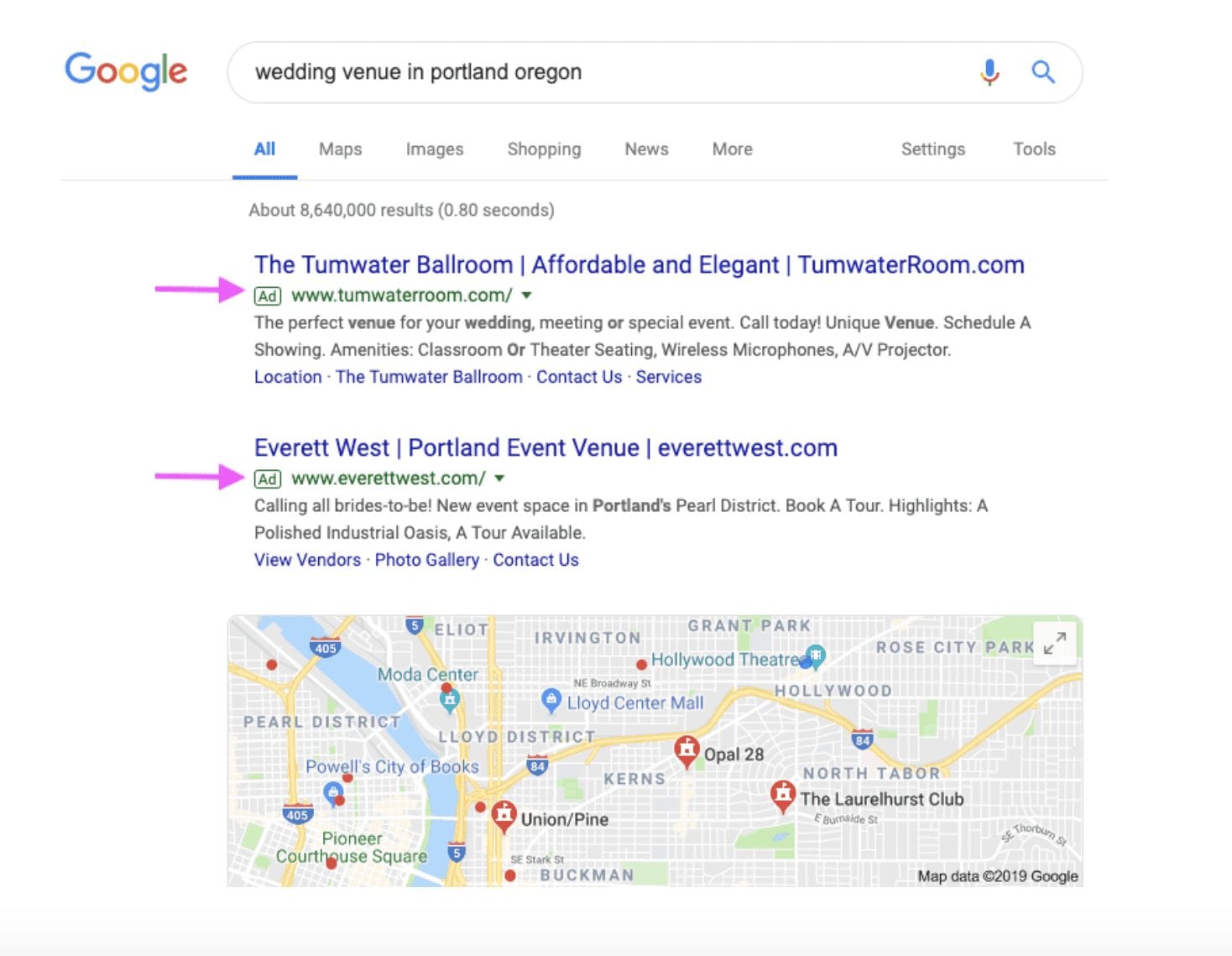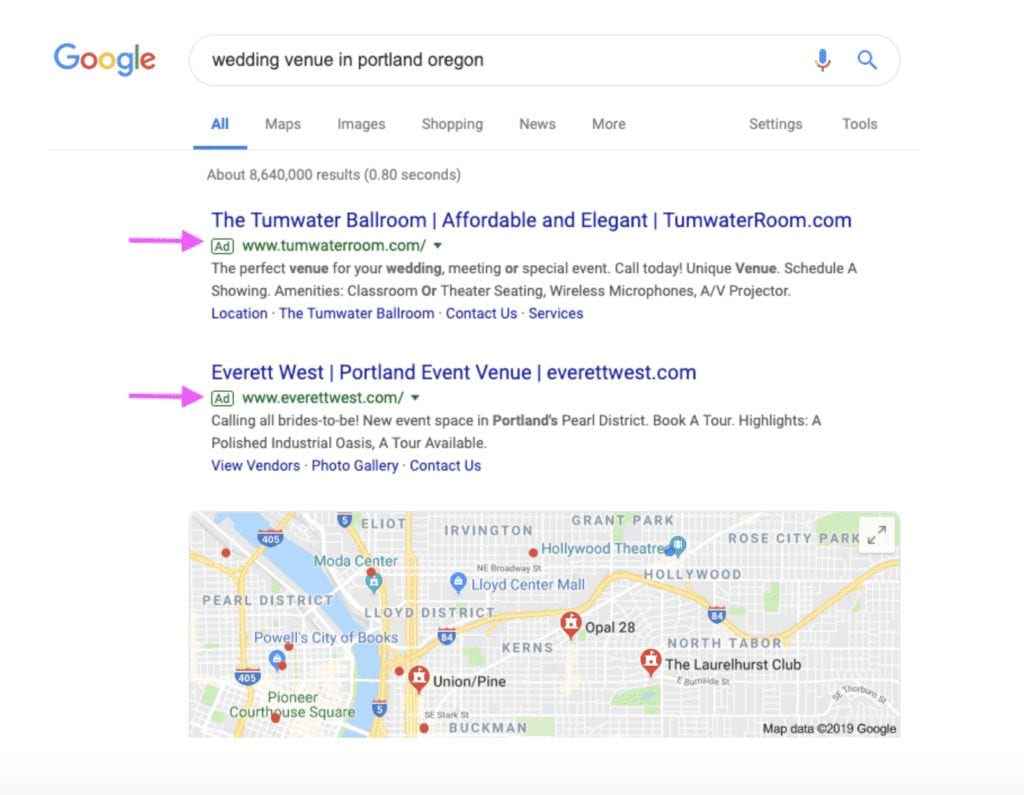 Doubling as a wedding venue is a great way to attract guests, enhance your brand, and make more money. In the process, you'll form life-long connections with brides, grooms, and their guests. Couples will always remember where they tied the knot. That means they'll recommend you to friends, talk about you on social media, and maybe even return on future anniversaries. If you market yourself right, you may be able to capitalize on more free marketing for years to come!