This is the final post in series about blogging to improve your SEO. Click here to download the full guide.
Now that you are regularly researching, writing, and promoting your blog posts, you are probably curious to see how well these efforts are working. Generally speaking, blogging is about long-term results, not immediate traffic and sales.
As I stated way back in the first post in this series, your blogging strategy is meant to help generate awareness of your property and ultimately, to improve your website's overall ability to rank well in search engines. Your measurements should not focus on immediate returns, but in long-term gains. Though it may take you a while to start seeing notable results, there are several ways to measure and re-evaluate your strategy as you go along. Here are a few metrics to keep an eye on as you continue to blog:
Views of your blog content. The number of page views is the easiest and most tangible ways to track how well your blog content is doing. Your blog posts will likely see a spike in traffic initially as you promote them on social media, via email, and so on. That being said, the long-term traffic to a good blog post will eclipse the initial spike over time. You know your blog posts are working when the number of visitors to the blog section of your website continue to grow, long after your initial round of promotion. To check the number of views each blog post gets, log in to Google Analytics and select Behavior. I prefer the "drilldown" report.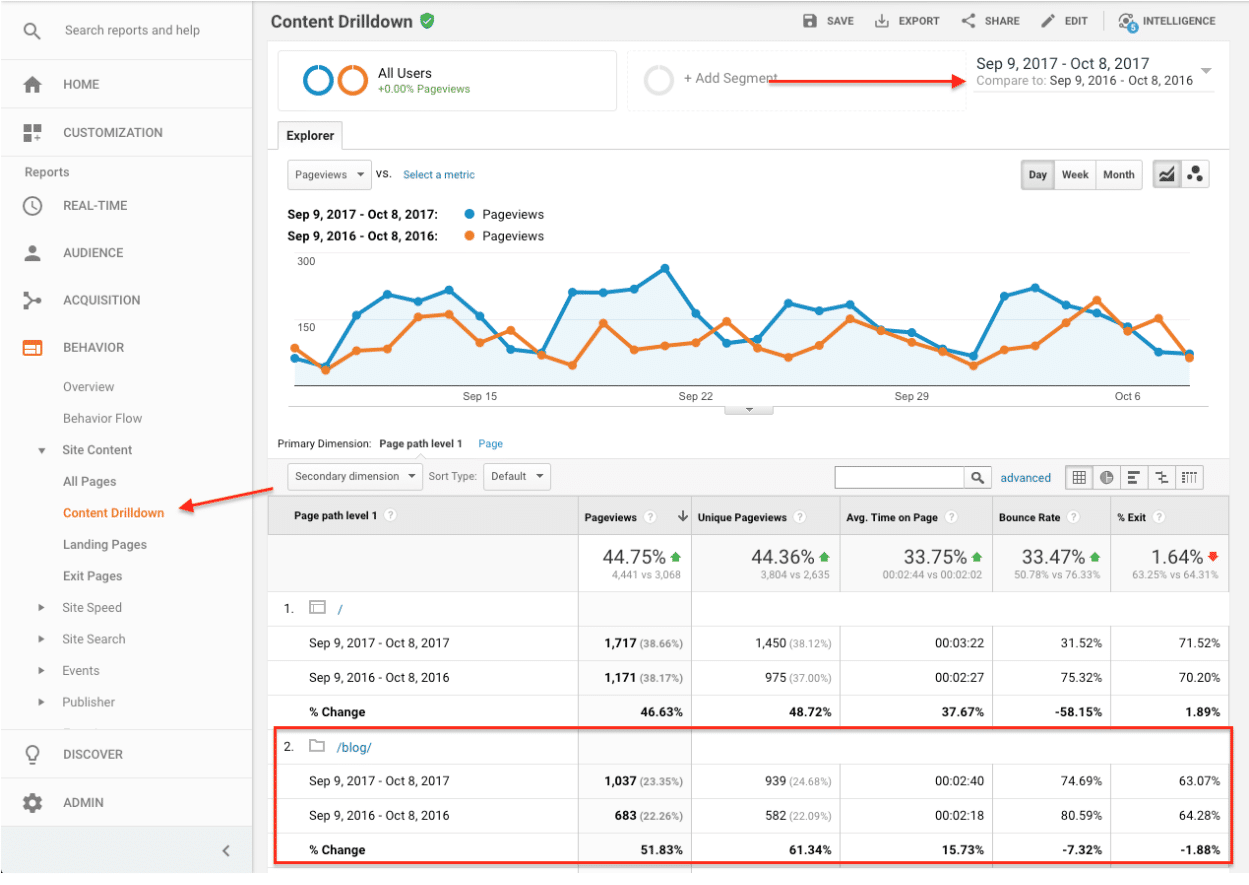 In this example, we are using the Google Analytics "Content Drilldown" report to show a comparison of a blog's traffic this year versus last year. To access the report, navigate to Behavior on the sidebar menu and click Content Drilldown.
2. Links, Domain Authority, and Other Engagement Metrics. To get a better sense of your blog's growth, keep track of important metrics like your social media followers, social media shares, social media traffic, and newsletter subscribers.
You should analyze your domain authority. Domain Authority is a score, based on a 100-point scale, that predicts how well a website will perform in search engines. Domain authority helps you compare sites, including your competitors, and track your own site's strength over time. Once you have been blogging for a while…
Your follower count and newsletter subscribers will increase. You can track this simply by tracking the number of users following your blog and the number of new subscribers to your email newsletter each week or month.
The engagement of your social followers will increase. Over time, you'll see the number of likes, shares, and comments on each post grow.
The open rate of your newsletter emails will improve as your followers anticipate the quality of the content you share with them.
The the number of shares of your blog posts will increase. Use Buzzsumo to track this.
Traffic from social media will increase.
Your domain authority will improve over time as your blog posts generate inbound links, social shares, mentions, and general awareness of your property. You can track your domain authority in Odysys or using a site like Moz Open Site Explorer or AHrefs.com.
Odysys tracks domain authority for our customer sites versus their competitors over time. Click here to learn more about tracking your competitors and SEO with Odysys.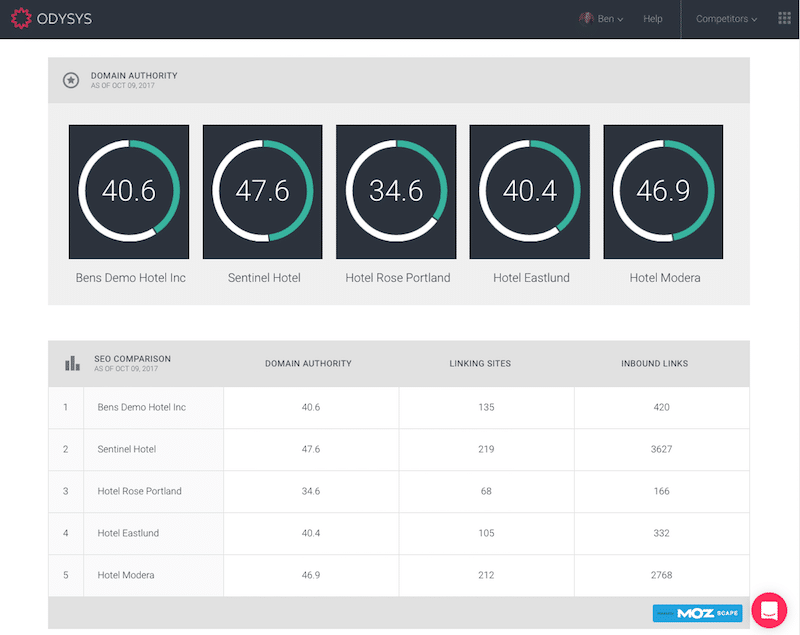 3. Make Continual Improvements. Good blogging takes practice. Like anything, the more you blog, the better you will get at it. Over time, you'll hone your craft and learn new skills and techniques you can implement into future posts. Here are some tips for focusing your efforts:
Headlines: The title of your post matters. Take a look at which headlines drew in readers and which ones were less successful.
Experiment with Length: Avoid making every post the same length. This isn't a high school essay with a word-count requirement. Write some shorter posts and other longer ones. See which ones get more traffic. Also be sure to vary the length based on the specific topic at hand.
Don't Forget About Old Posts: Old blog posts are valuable currency in your back pocket. You can still update and improve old blog posts if something relevant about the post changes, if you learn information that will enhance the post, or if you find an error while re-reading old posts. You can also re-post and re-share old blog posts if the topic becomes relevant again based on things like seasonality. Click here to learn more about giving old blog posts new life.
4. Learn from others. If your blog doesn't sky rocket to success straight away, do not get discouraged. In fact, this should give you even more motivation to keep it up. I'll leave you with the story of my dear friend Geraldine. Geraldine has a travel blog called The Everywhereist. Geraldine spent nearly two years regularly blogging but still struggled to gain a steady readership and see strong traffic to her posts. Now, her blog regularly reaches 100,000+ views each month. If you are ever feeling overwhelmed or discouraged, just think about Geraldine and her long road to building a successful blogging practice.
Thank you for sticking with us through the whole blogging series. We hope it has helped laid a solid foundation for your blogging efforts. Check in next week to download our full blogging guide so your blog can continue to grow and improve. Happy blogging!
Related Posts: Guide to Blogging
Part 1: Why Does My Hotel Need a Blog?
Part 2: 8 Tips for Starting a Successful Blog
Part 3: How to Pick Blog Post Topics That Stand Out
Part 4: Everything You Need to Know to Write Exceptional Blog Posts
Part 5: Marketing Your Blog Posts Part 1: Social Media Promotion
Part 6: Marketing Your Blog Posts Part 2: Advanced Promotion
Part 7: The Long Game: Measuring and Improving Your Blog Posts
---
Odysys offers a Blog Post Writing & Social Marketing service to our customers. Learn more here.