In a recent episode of the InnSpeak Podcast, I spoke with Bend-based Instagram influencer Kourtney Barish about practical tips and tricks for managing your property's Instagram account. Kourtney's account Taste of Bend, which documents the local food scene in Bend, Oregon, has over 1,000 followers. Kourtney is also a Customer Success Guide at Odysys and manages the Odysys Instagram account as well as the InnSpeak Podcast Instagram account. In the interview, we delved into the power of hashtags, discussed different ways to build your Instagram following, dissected the differences between stories and feeds, and so much more.
Listen to the interview below and read on for more Instagram marketing wisdom from our in-house Instagram expert. CLICK THE BIG PLAY BUTTON TO LISTEN
Don't Miss an Episode of the InnSpeak Podcast: Website, get notified by Email, follow on Facebook or Instagram, listen on iTunes or Google Play or even Spotify.
Why Use Instagram?
As we discussed in our previous blog post Does My Hotel or Bed & Breakfast Need An Instagram?, Instagram is a free and easy way to market your property and improve the visibility of your brand. A 2014 study from Forrester Research found that Instagram delivers 58 times more engagement per follower than Facebook, and 120 times more than Twitter. That means you can reach a wider audience and engage more closely with your followers, all by simply posting a photo from your phone. Instagram is incredibly popular with millenials, but regardless of age range, it is an effective way to reach a specific type of guest, such as foodies or outdoor enthusiasts. As we've said before, the key to digital marketing is understanding your ideal guest and creating quality content that will attract them to your property. Instagram is a great way to do exactly that.
How to Build Your Following
Hashtag Like Crazy
Hashtags are a powerful way to bring new followers to your account. As Kourtney says in our interview, hashtags help "organize the chaos of social media." They function to categorize conversations around a certain subject and help people locate the type of content they are searching for. For greater reach, use multiple hashtags on your posts.. Hashtags should include your property name, your location, and other tags related to whatever you are posting.



Writing out different hashtags every time you post can get time consuming, so Kourtney recommends keeping a list of basic hashtags on your phone (such as in "Notes") and copying & pasting them into the Instagram caption whenever you need them. Just make sure to add a few more hashtags that specifically relate to the photo, such as "waffles" or "brunch." This is a easy way to improve efficiency for those of us posting daily.
Stay Engaged
Instagram makes it easy to stay engaged with your followers and past guests. To attract more followers to your Instagram, it helps to follow other accounts in your location as well as similar businesses, such as restaurants, shops, tourist agencies, our outdoor rental shops. It is also a good idea to follow past guests, and monitor Instagram for posts that people are making from your property. Once you've followed these accounts, be sure to Like or Comment on their photos. If someone comments on your post, always respond, even if it's just a simple "Thank you!"
Monitor for Posts at or About Your Property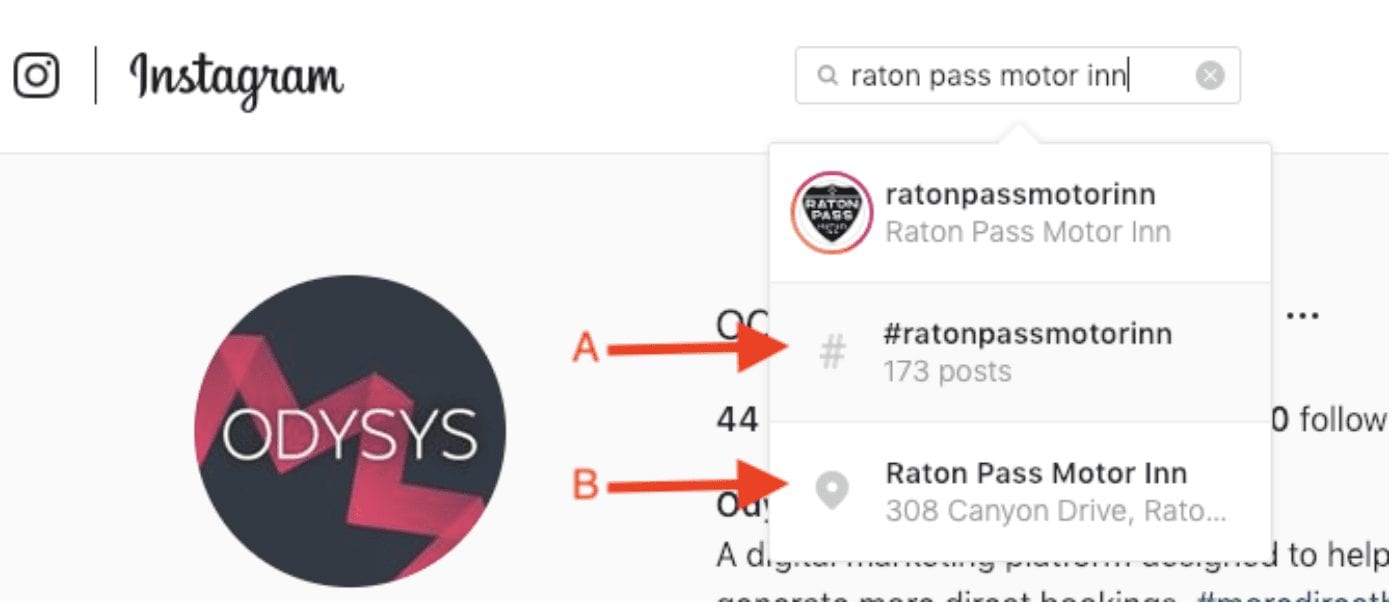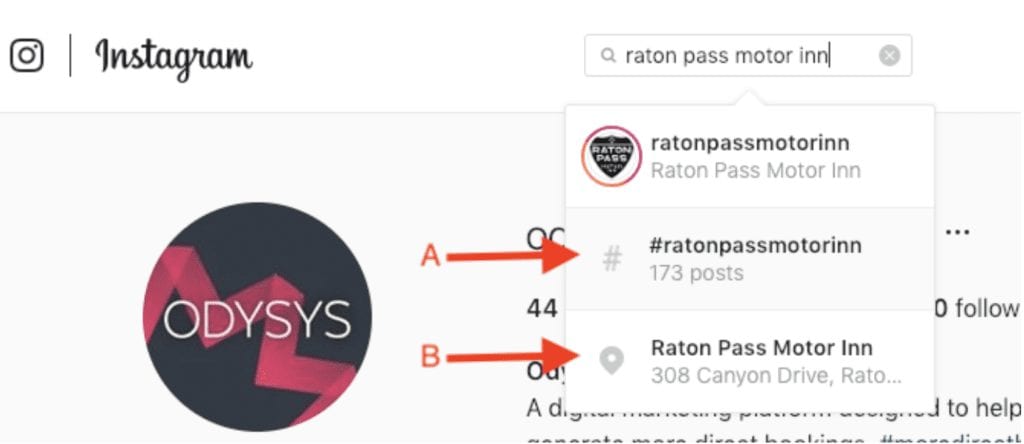 Always Include Your Location
Whenever you post, make sure to use the geotag function on Instagram so your location is included on the post. Once you have selected the photo you are going to post, you will see the option to "Add Location" before sharing. Select your location and it will appear o the post under your account name. Do not skip this step. Adding the geotag will help people interested in your location find you and maybe even make a booking at your property as a result.
Reshare Photos
Another great way to build your following is to reshare photos using an app like Repost App. Repost App allows you to re-share other people's posts to your Instagram feed. If your guests are sharing awesome photos of their time at your property, reshare them on your page too. It's free content and marketing, plus it keeps you engaged with past guests.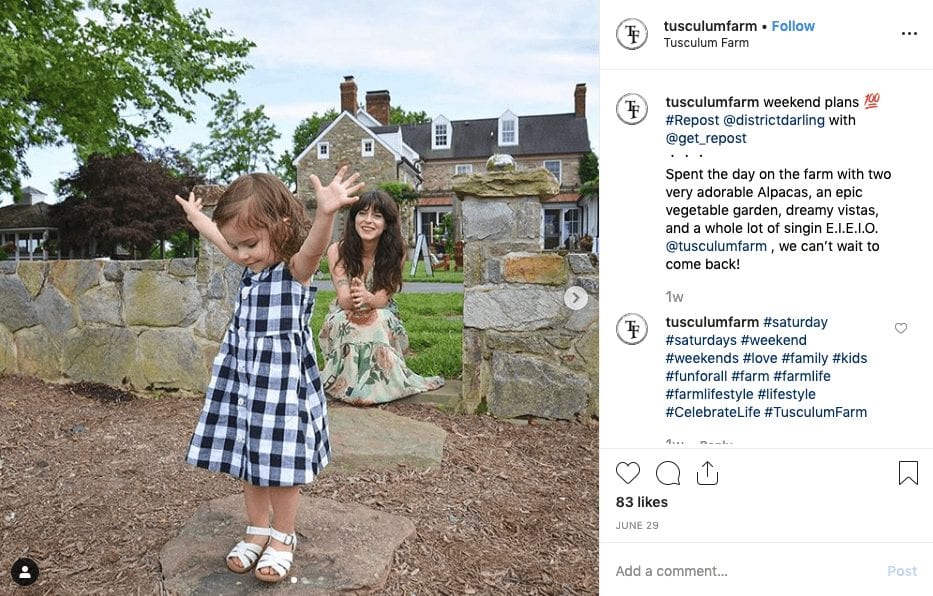 Post Regularly and Consistently
Don't start an Instagram account unless you have the time and know-how to post regularly and consistently. Though there are lots of theories floating around about how often and what time to post, there is no real recipe out there. The truth is simple: it depends. Once you get into the groove of Instagram, you will find the right balance that works for you. The goal is to avoid getting too "post happy" (which can result in a quick "unfollow") without posting so rarely that your followers forget about you. Whether you post every day or every week, make sure you stay consistent and provide high-quality, eye-grabbing, and relevant content whenever you do.
What to Post?
Of course, before you worry about hashtags, resharing, and geotagging, you will need to post the right photos to attract followers and keep them engaged. Innkeepers should focus on sharing the type of visual content that will appeal to their ideal guest and give them a sneak peak into the behind-the-scenes action of running a B&B or boutique hotel. Some ideas include:
Photos of you cooking in the kitchen or preparing for an event
The finished product of your time in the kitchen, like your delicious breakfast spread or freshly baked scones
Any updates or renovations you've made to your property, such as a new oven or freshly redesigned rooms
Photos that showcase the local area, including hikes, cute cafes, or bustling street scenes
Any furry friends that hang around your property.
Pictures of your guests enjoying your property (posted with their permission of course)
Snapshots of the nuts and bolts of running a B&B
Stories vs Feed
Instragram's story function allows you to post short, 30-second videos to your Instagram feed. These clips appear for 24 hours and then disappear (though you can archive them to your account if you wish.) It can be a little confusing to know what to post as a story and what to post straight to your feed. The basic idea is that stories should be temporal, meaning they relate to a specific day or event and do not need to be enshrined forever on your feed. Think of them as in-action snapshots or quick glimpses into a moment. If it just started snowing on your property, you might post a quick story rather than worrying about crafting a full post. Stories are also a great way to showcase the build up to an event, such as a wedding, and give your followers a sneak peak of the behind-the-scenes action. If you capture an image that you want to share with your guests but that might not be visually stunning, stories are also a great place to share it.
Instagram is a fast-growing social media tool that can help you reach a wider audience, stay engaged with guests, and maintain the visibility of your brand. It is quick, easy, free, and once you get the hang of it, pretty fun. Who knows, you might just become an Instagram Influencer yourself. For more in-depth information on Instagram Marketing, listen to the InnSpeak Podcast and check out the Odysys blog.