Odysys is proud to welcome Tyler Spragg to the team as our newest Customer Success Guide. Read on to learn about Tyler and his experiences in hospitality.
Name: Tyler Spragg
What You Do at Odysys: I am a Customer Success Guide. I support our customers to maximize their results using the Odysys toolbox.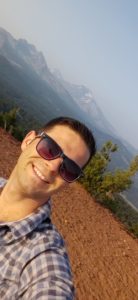 Your Hospitality Background: I have worked many different kinds of jobs in the hospitality industry from bussing and waiting tables at various restaurants, to supervising front desk at a 200-room hotel, to sales and marketing for a small boutique hotel. I recently graduated from Oregon State University studying Hospitality and Business.
Your Ideal Room: I'm easy – cleanliness and a comfy bed are most important to me.
Your Best Hotel Memory: I stayed in a really cool backpacker's hostel in Baños, Ecuador called Erupcion Backpackers. I will always remember the experience. The room was nothing out of the ordinary but the community of guests and knowledgeable staff were OUTSTANDING!
The Hotel you are Dying to Stay At: A newer Odysys customer Tiki Villas has an amazing property. They are located in Costa Rica, which is high on my travel list!
A Pro Tip: Everything sends a message. Be sensitive to the messages your rooms (layout, colors), prices (too cheap, too expensive) and online presence (website, marketing) communicate to your guests, all without sending yourself into a "paralysis by analysis."