We sat down and talked to Janice Hurley & Tim Wilson of bnbfinder about what they are doing to stay relevant in today's technological era and how they are helping properties get more direct bookings. You can listen to the podcast on Innspeak.com or simply click the play button below.
LISTEN TO THE INNSPEAK PODCAST
Janice described how options for innkeepers to drive direct bookings were limited.
We have been noticing that even Google search results allow less and less space to the actual website. Between the Google business profile, ads, and OTAs, a customer has a difficult time sorting through the results to book directly through the property's site. You can read about the rise of zero-click searches and the fall of traffic on our blog post Why Your Property's Website is Getting Less Traffic From Google.
How bnbfinder is filling the void in the industry.
Last year BedandBreakfast.com made some big decisions relating to their site and changed from a directory listing to an 'instant booking', commission-based model similar to an OTA. (You can read more about this change in our blog post Big Changes at BedandBreakfast.com Mean Big Changes to Your SEO) The industry needed something to fill the void of a directory and bnbfinder decided to be the one to provide it.
"When the business from BedandBreakfast.com dried up it was very apparent and it was interesting to see how much business people were getting from that site." -Tim Wilson, Director of Diamond Collection at bnbfinder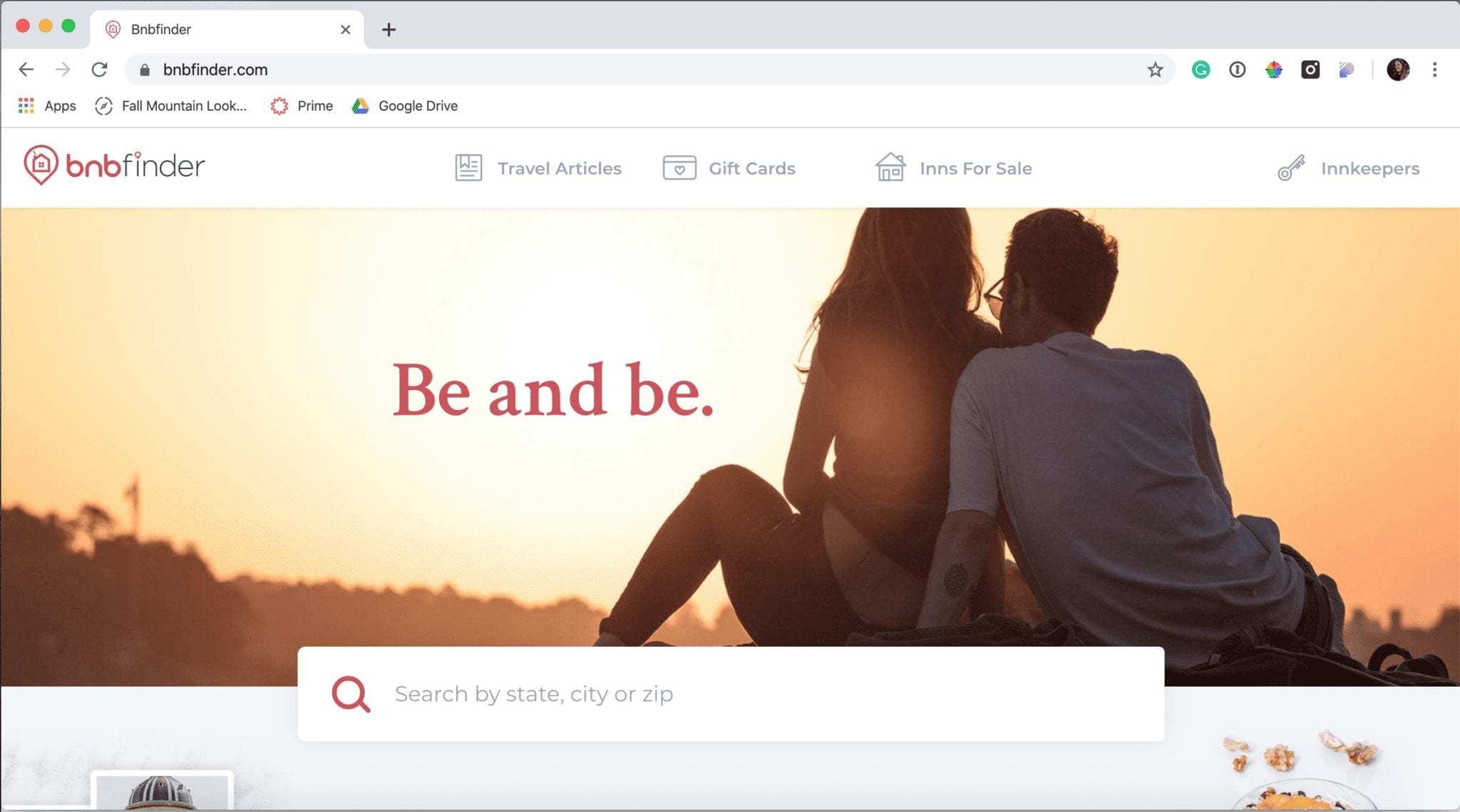 bnbfinder is a simple, yet effective directory site focusing on (you guessed it) B&Bs. The team is spearheaded by Janice Hurley and backed by a team of professional and passionate innkeepers that are committed to the success of bnbfinder.
"The opportunity to come in and create something based on all of that feedback [from BedandBreakfast.com] and to do something that is going to be great for the industry and work with folks that everyone is going to feel great about working together was what is most exciting to me." -Tim Wilson, Director of Diamond Collection at bnbfinder
Here is the idea: A user is looking for somewhere to stay. It's the beginning of their search and are looking at different destinations. They end up on bnbfinder because they want to (get this) find a B&B to stay at. After a location search, a visually stunning and easy to navigate directory comes up. One can simply click on an individual property, or enter map mode to compare the locations of the properties. You can see this in a screenshot of the results of a search for Lancaster, PA.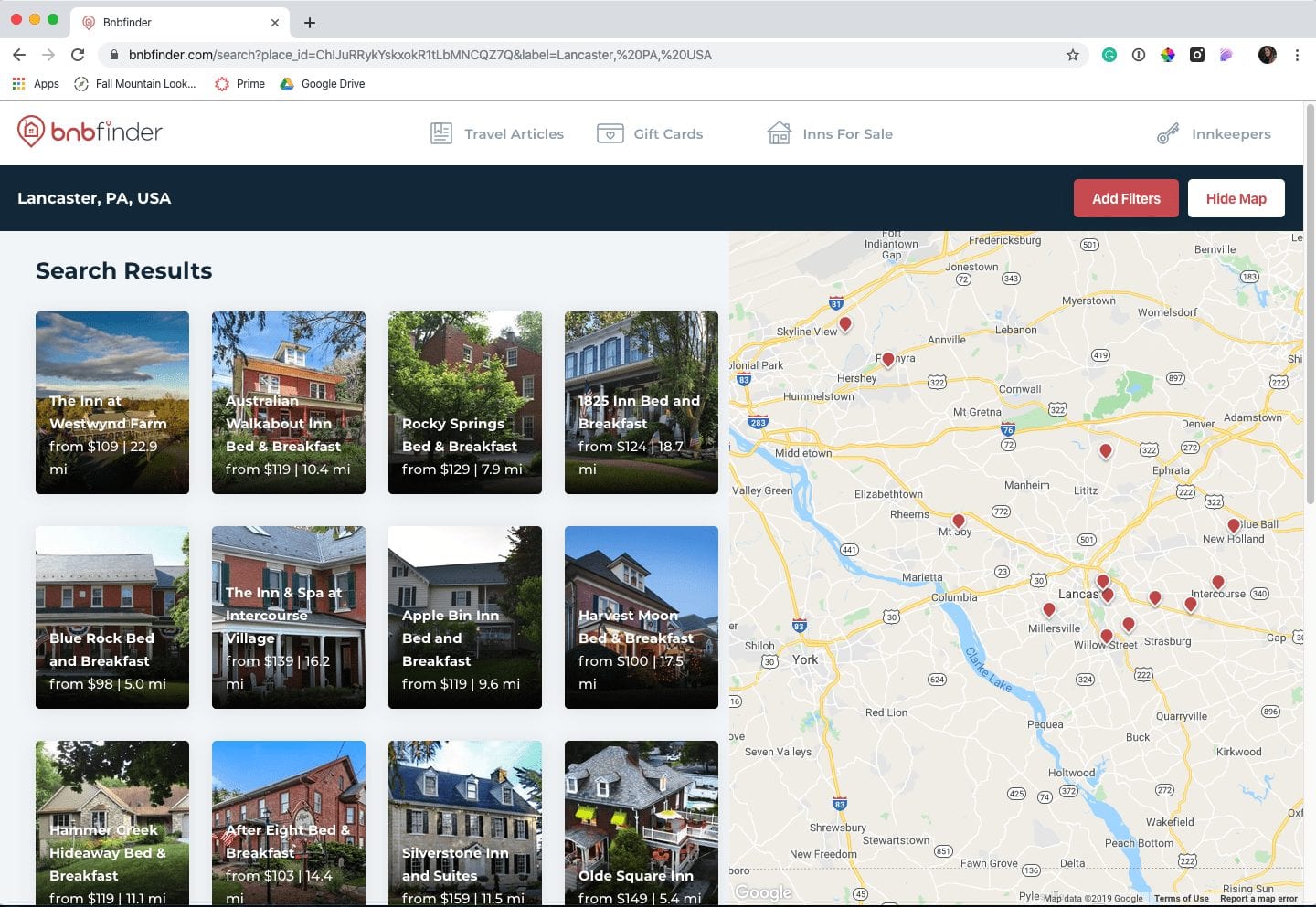 The user can then easily click in and out of the different listings to find a photo gallery, address, a list of popular amenities, a short & sweet description of the property, and a section to get to know the innkeepers. Everything you want to know about a property in one easy to read location.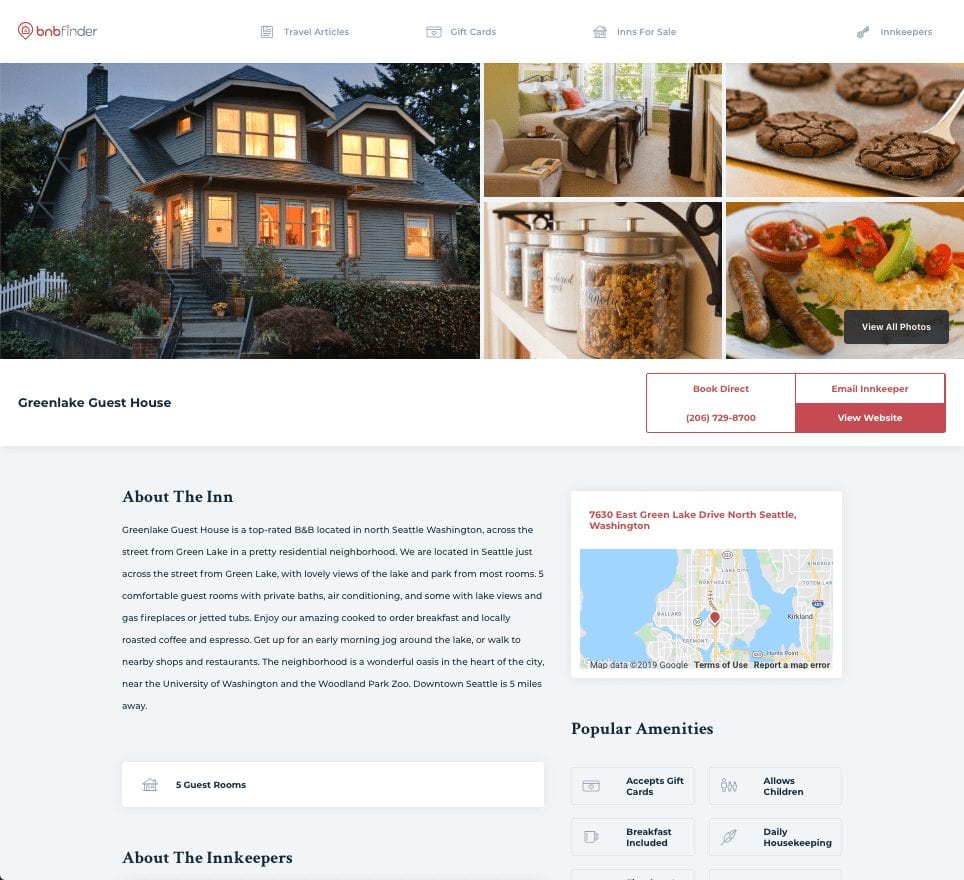 The user then has a couple of different options:
1. Click on book direct. Which drops them directly into the properties booking engine.
2. Email the Innkeeper. Which allows users to inquire more about the property.
3. Call the innkeeper. Which functions the same as the email function, allowing the user to book with you over the phone or ask any questions.
4. View the website. Which sends users to your homepage. They can browse your specials, read your blog posts, and pick out their rooms before booking direct.
All 4 options through bnbfinder have the same result: the user books DIRECTLY with you. Bnbfinder does not act as an OTA which takes your bookings for a percentage but instead strives to connect guests with the true B&B experience.
What bnbfinder is doing differently
bnbfinder is focusing on innkeepers and experiences
Airbnb went from a small property directory to a household name seemingly overnight, but why was it so successful? Airbnb focused on hosts and experiences more than anything and bnbfinder wanted to improve on this idea and put an emphasis on the hosts and the true B&B experience.
"The focus of the website is to focus on the experience of the inns and the innkeepers." -Julie Hurley, General Manager of bnbfinder
Through their travel articles, they take readers on a journey to the different inns and experiences across the world. Each month there are posts highlighting innkeepers from Carol David, who rescued Border Collies, to Kathleen Panek, who founded the B&Bs for Vets program. They also highlight different inns and write travel destination posts like 7 Seaside B&Bs in New England and seasonal items like 9 Haunted Bed & Breakfasts to Sleep with a Ghost. These posts promote the experience of staying at a bed and breakfast and the innkeepers that make it possible.
bnbfinder does not allow vacation rentals:
One of the hardest decisions for the bnbfinder team was the decision to not include vacation rentals on the site. The idea of the website is to allow users looking for the true B&B experience to be confident that they are indeed finding a B&B. From a marketing prospective, narrowing the criteria allows the site to focus on promoting themselves not only as 'lodging options' but smaller B&B experiences which brings in more qualified traffic to their member's properties.
bnbfinder promotes booking direct:
Instead of functioning as a directory or an OTA, bnbfinder works to draw potential guests into their site, match them with the B&B experience perfect for them and then guide them either to the property's website or drop them directly into the property's booking engine. In the picture below you will see the 4 options given to the user by bnbfinder. Book Direct, Email Innkeeper, a phone number for the property, or a link to the website. All four of these channels encourages the user to book directly with the property.

bnbfinder offers more benefits than just direct bookings:
The whole point of bnbfinder is to connect users with B&B properties and help independent inns get more direct bookings. While bnbfinder does complete that mission, there are numerous other benefits to having a listing on a site like this.
Linking Benefit: Having an established and reputable site like bnbfinder linking directly to your site helps your SEO immensely. Google recognizes bnbfinder as a reputable source for information and will trust your property more because bnbfinder links to you. To learn about the importance of linking, check out our blog post How to Level Up Your SEO With Links.
Keyword Search Benefit: bnbfinder is a hub for B&B properties and if you are virtually linked to their site, then it will help Google recognize your property type as a bed & breakfast as well as a reliable lodging option. This will help Google categorize you and help you rank for keywords like bed & breakfast.
Awareness and Consideration Benefit: Take a step into the potential guest's shoes. You search for bed & breakfasts to stay at, end up on bnbfinder.com, and look at a listing for the Greenlake Guest House in Seattle. You realize its too soon to commit to a reservation and pick up your research later that week or even a month later. When the time comes, you type in Greenlake Guest House into Google and find the website where you book directly. This activity is quite common but won't show up in your Google Analytics, even though bnbfinder did lead the user to your site.
bnbfinder is using unique marketing tactics to promote their inns:
Have you ever heard of Wheel of Fortune? The nightly game show that has been on the air since 1975 and attracts millions of viewers every night? bnbfinder has the budget and capability to partner with them to promote their site and ultimately their member properties. An individual property can't reach this sort of audience on it's own, but by teaming up with a group like bnbfinder can help everyone succeed.
Membership:
The membership model is one of the most revolutionary aspects of bnbfinder. With most listing sites, you have to sign up and pay for your subscription before you can build your profile and see what aspects are available for innkeepers. At bnbfinder, you can build your profile and test out the functionality of the site before committing to a listing. If you decide that bnbfinder would be a great addition to your marketing mix, then you can sign up with the promise of a 100% money-back guarantee. That is how confident bnbfinder is on their site. As a celebratory 'grand-opening' special bnbfinder is offering a 3-month introductory offer through October 31st 2019 for new members wishing to try out their listing. To test out your profile or sign up for bnbfinder, head to innkeepers.bnbfinder.com/landing.
It was very inspiring to sit down and talk with such passionate leaders who are working to help their members properties, not profit off of them. To be clear, this isn't an ad for bnbfinder and we are not getting paid for this post. The reason we decided to highlight bnbfinder is that they are doing everything right to stay relevant in this modern era of technology and helping properties work towards a commission-free future.