We're talking about content! Creating content, whether by blogging, creating YouTube videos, or podcasting, is one of the best things you can do for your property. The key is having a strategy, executing it, and sticking with the process.
Want to watch our latest webinar on demand? Click the picture below and let Ben take you deep into the world of content creation!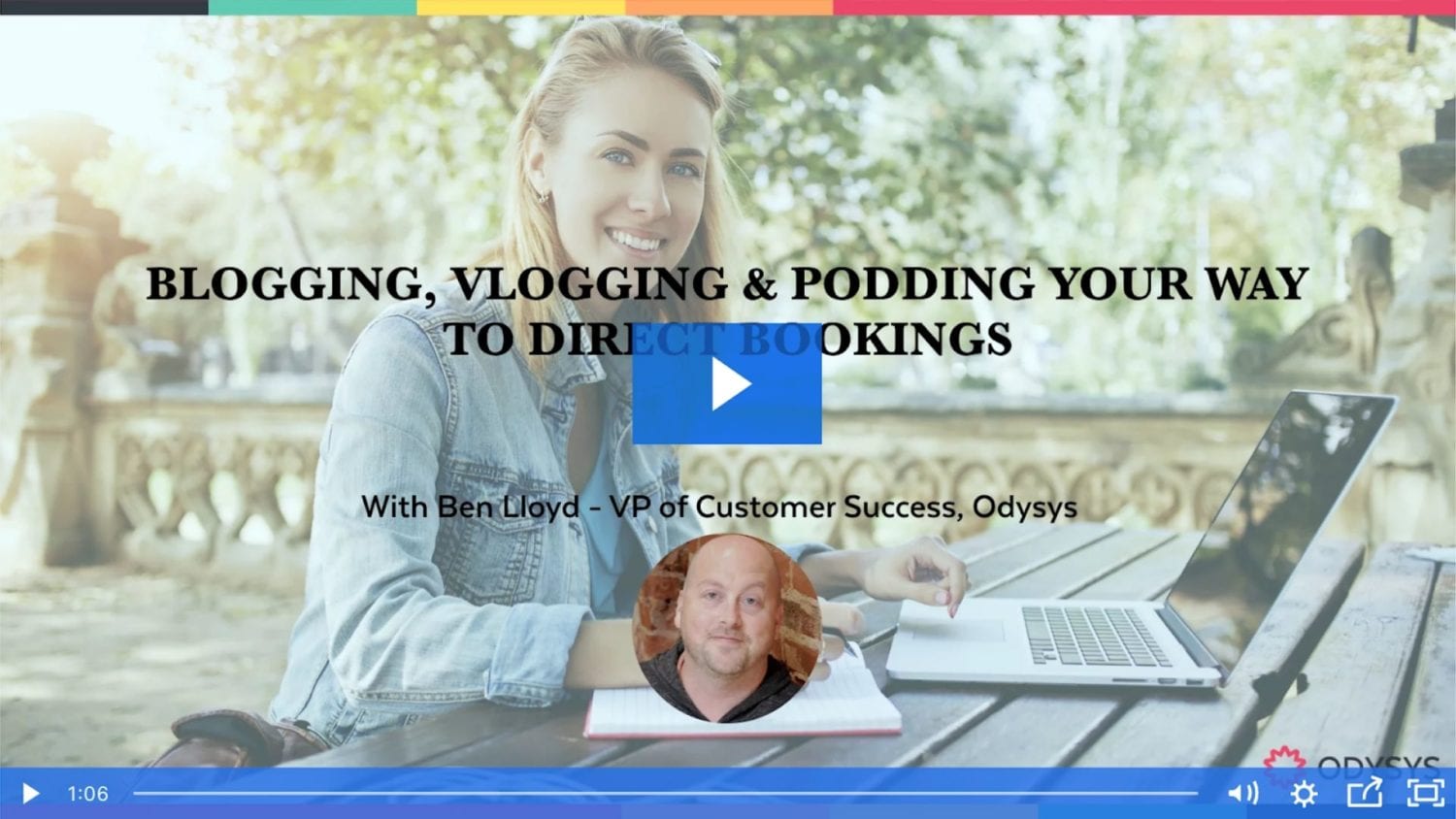 Blogging isn't for Everyone:
Yes, blogging is great for SEO. Yes, blogging can help with profit. But blogging takes time and effort to see results. Strategic blogging is an art, but once you understand the basics and what you are trying to achieve with blogging, you can use it to your advantage. Blogging is not your one-stop shop answer to all problems. It is not easy. You don't get $20 in your pocket once you hit 'publish'. But when you create a strategy and stick to it you can see results that will benefit your property for years to come.
Blogging Expectations:
False: Blogging is fast & easy.
True: Blogging takes time. It takes time not only to think of the topics and write them, but to stick with your blog until it starts to gain traction as a reliable content source. Once guests start to recognize your blog as a great source for travel knowledge, Google will pick up on your increased traffic and elongated sessions and recognize you as well, which will lead other users to your site. Once you start on the path, this positive feedback loop will continue to benefit your site.

False: Blogging will give me bookings.
True: Blogging isn't for last-click bookings. Think about the guest journey. They might see your blog post '10 Romantic Restaurants for Your Chicago Date Night' and plan out their vacation, but this won't be the last thing they look at before they make a reservation. They will most likely read your posts then navigate to your rooms page or specials page before making the transition to your booking engine. Your blog on shopping, dining, or hiking will not make someone lunge for that 'book now' button, but it will keep them on your site and assist with your direct booking.
False: Blogging is the answer to all of my troubles.
True: Blogging is an important stop in the roadmap to direct bookings. But before you embark on the journey of blogging and promoting your destination, make sure that the foundations of marketing are set up and working to your advantage. Optimizing your google business listing, building an audience either as email contacts or social media followers, and pinpointing your ideal guest needs to be done before you start creating content.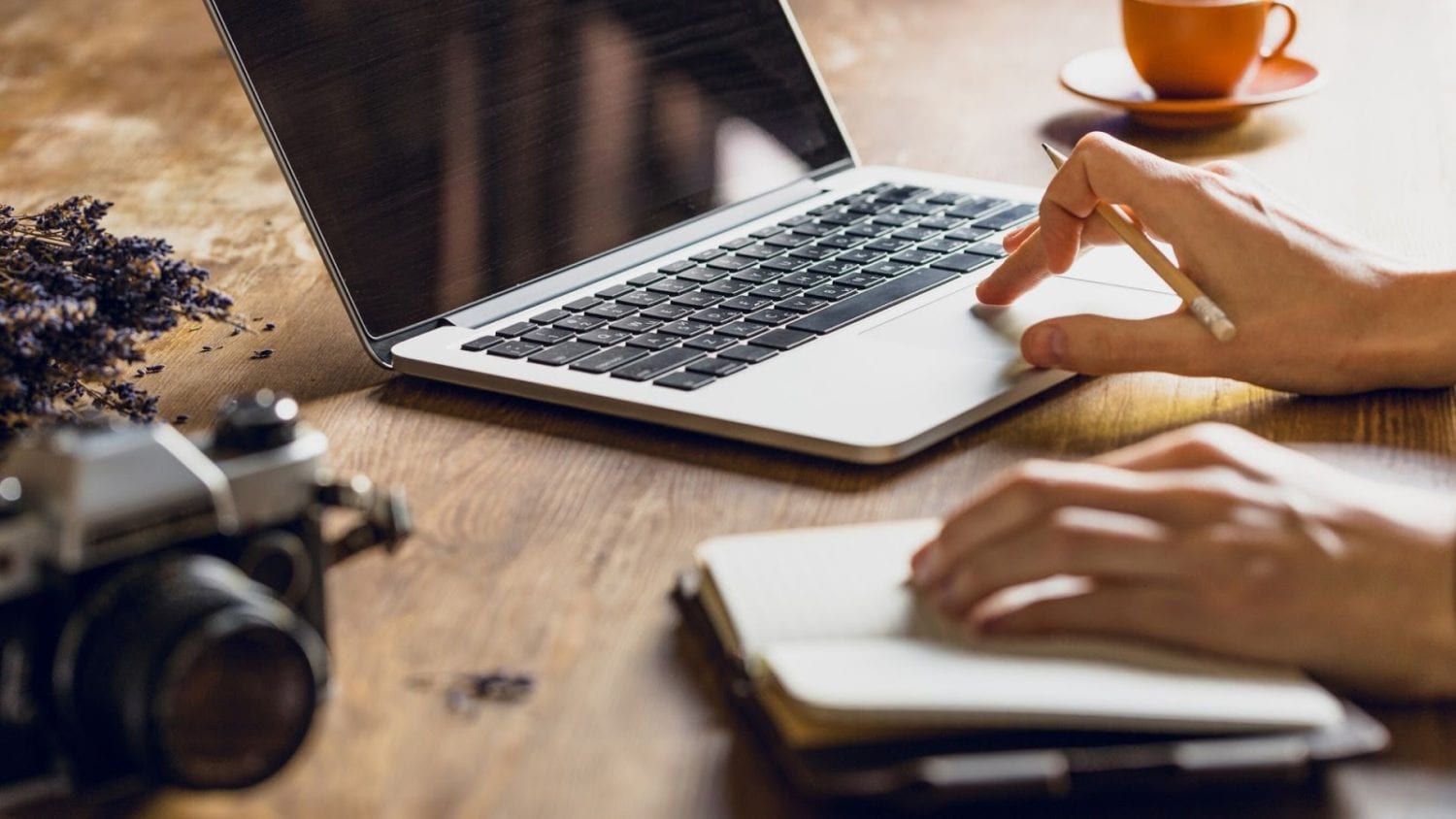 What Blogging Really Does For Your SEO:
Domain-Level Keyword Usage are keywords that are used across your entire site. Let's say you are a pet-friendly inn, but it is difficult to outrank your competition for searches for 'pet friendly hotels in Chicago' if you only have the words pet-friendly on your rooms and policies page. But when you create content and write blogs about pet friendly travel to your destination, it increases your domain-level keyword usage and helps you rank for those searches.
What Blogging Really Does for Direct Bookings:
You shouldn't be blogging for direct bookings. Direct bookings are a positive side effect of content creation. The content should be about the guest. By creating engaging content that is aimed towards helping your guests you will create opportunities for bookings along the paths to purchase.
Keys to Success
People hear the phrase 'Content is King' being thrown around and many interpret it as any content is good content or that simply throwing content into the abyss of the internet is the answer. But not all content is created equal. Useful content and multimedia content are the key to a successful blogging campaign.
Multimedia Content
Adding a high quality photo will not only help draw people to click on your content, but help users engage. The content that draws your attention isn't the text itself, but the pretty photograph or the instantly playing video on social media. No one likes reading a textbook, so don't make your post feel like one. Add photos or a video of what you are describing. Take this post right now, that you the innkeeper are reading. Notice the photos that break up the text and add in visuals or the giant video at the top of the post. It worked on you didn't it?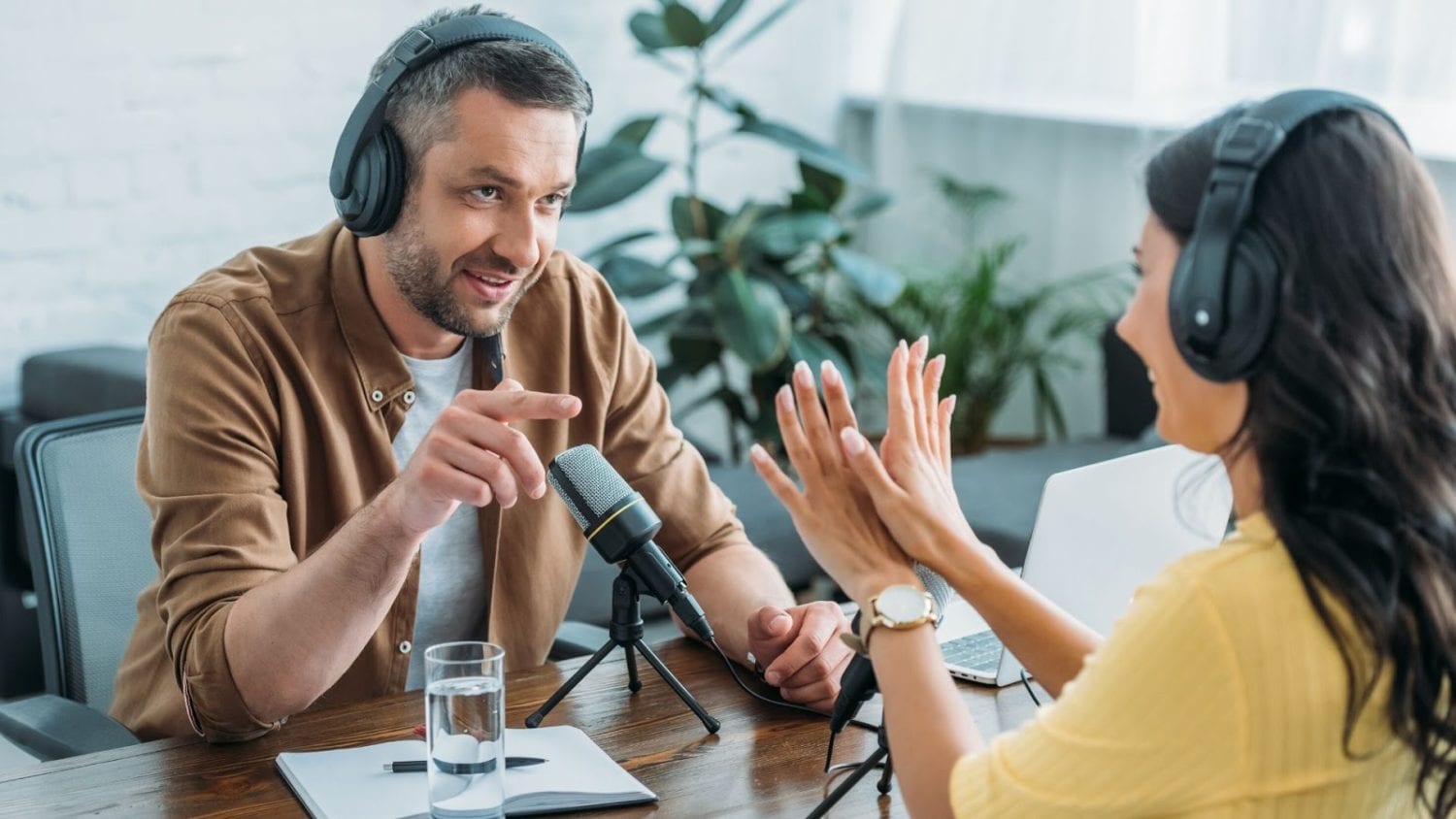 Target Your Ideal Audience
You are not trying to market to every guest. Your property isn't for everyone, so don't spend your time and energy trying to attract them. Use your resources to target your ideal guest. Do your guests spend their time touring museums and visiting the local theater? Are they foodies who are looking to take day trips to local wineries? Are they backpackers that are looking for the hottest nightlife in town? Narrow your target audience down to 2-3 specific audiences and start your targeted content there based on experiences they would want to have.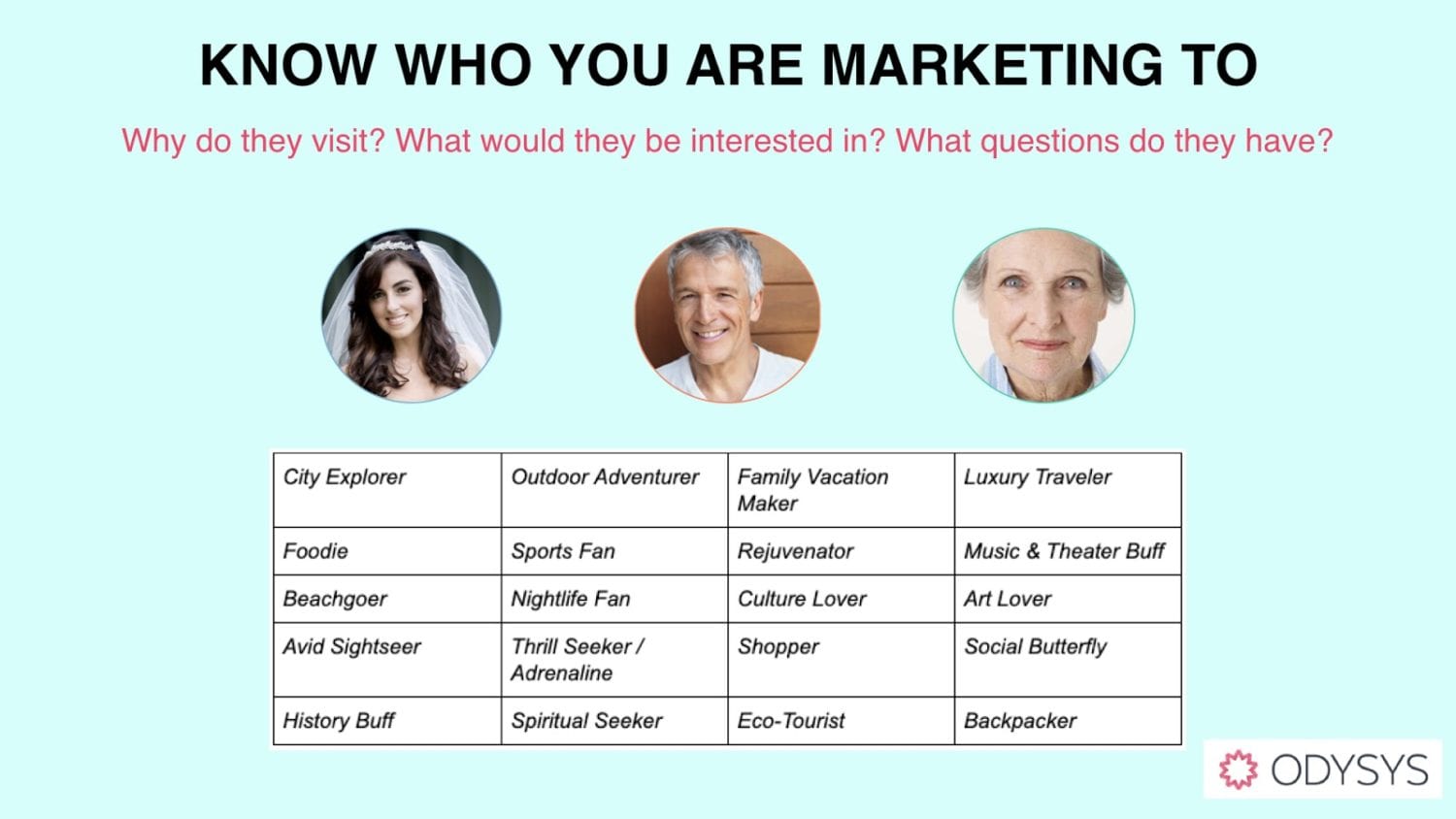 Be Present Throughout the Journey
There are three levels of the funnel that guests go through before committing to a reservation. The dreaming stage is a user who is ready for a vacation but hasn't decided where. They do casual searches for interesting places and eventually narrow it down to a town or region. During the planning stage, the user is looking at what they would do during their stay. Searching for restaurants, activities, and lodging. The booking stage of the funnel is where the user commits to their vacation and books flights, hotels rooms, and tours. You need to be there during each stage of the funnel. Promoting your destination allows for users to know your brand at all three levels of the marketing funnel.
Write Useful Content
Blogging is a flop for a lot of people because they do not create useful content. We see a lot of posts like Why You Should Stay at a B&B Over a Hotel or Our B&B is the BEST B&B Ever. Then the blogger gives up because writing this content is boring, tedious, and exhausting; plus it isn't engaging or fun to read for the consumer. Promoting your destination on the other hand is fun to write about and engaging for the user to read. Talk about your favorite restaurants, interesting new exhibits at the local museum, hikes or birding spots that you know like the back of your hand, or your local's guide to events and festivals.
Don't like writing? Make a podcast or a video series to upload to YouTube. Make a channel about exploring your destination through the eyes of a local innkeeper. For Portland Oregon there's travel podcasts, pizza podcasts, beer podcasts, social podcasts, and pretty much a podcast for anything you can and can't think of. (inn)Keeping up with Portland would be a great name for you to promote your destination.
Brainstorm Topics
Even if there are hundreds of things to do in your destination, you'll eventually come into a form of writer's block. One site that can not only help you come up with topics but provide you with your title spelled out for you is answerthepublic.com where you can type in a phrase like 'things to do in portland oregon' and be met with a wide variety of search suggestions cultivated by what keywords people are actually searching. You'll find search questions like things to do in Portland OR with dogs or things to do in Portland OR around Christmas. Try this for other ideas as well. A search for 'restaurants in portland oregon' leads to queries like restaurants in Portland OR with a view or restaurants in Portland OR for lunch. Bam. Your blog topic is just waiting for your insider knowledge to fill her out.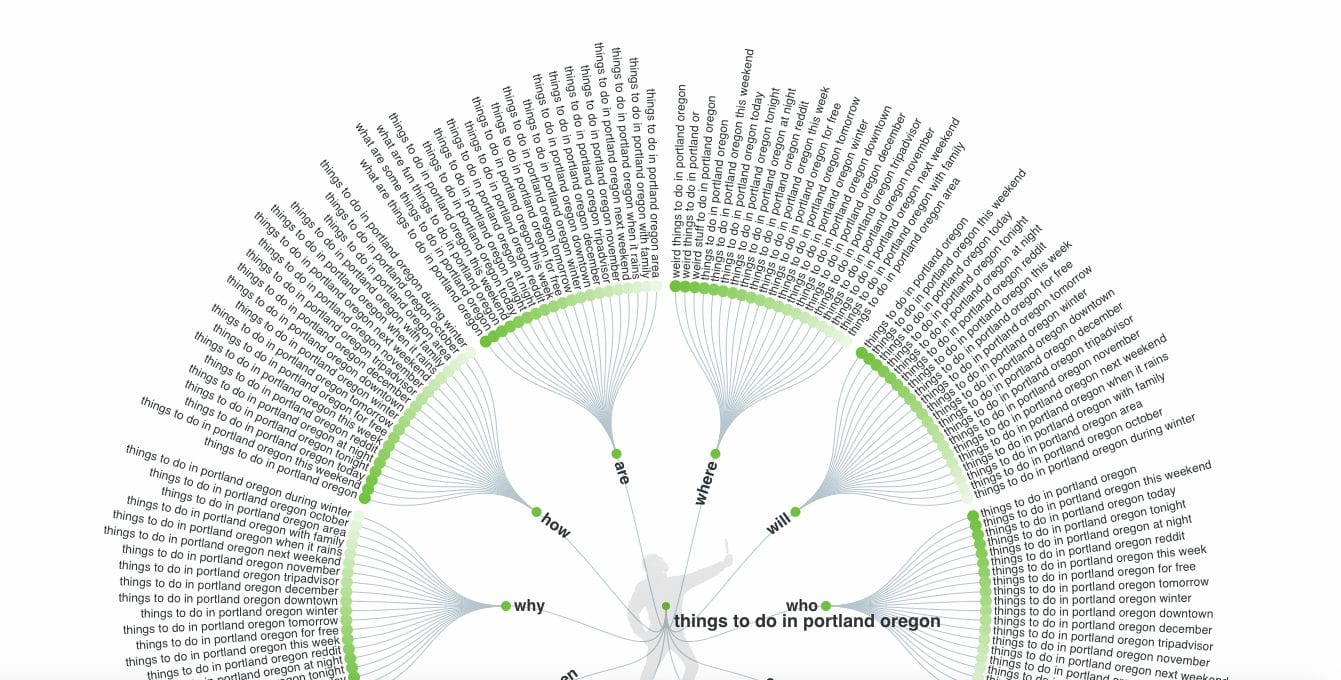 Do your own free Google keyword search. You don't need to pay a lot of money for a tool to tell you how people are searching. Use the google search results to your advantage. Ever notice at the bottom of the page there are related searches? These related searches show you exactly what Google users are searching for. You can also use the Google search bar to find the phrases and keywords that people are looking for. Type an underscore before your query like '_Things to do in Portland, OR' and it will give you suggestions of queries that other users commonly search.
Reuse Your Content
Maybe you had a great vlog where you talk about your favorite shops and boutiques in town. Make a blog with that same information and add in your video to the blog. Now people who can't watch a clip can read your blog and people who hate reading blogs can watch your video. You already created the content. Use it!
Is there a big event or holiday weekend that comes up every year with similar festivities? Did you write about it last year? Copy your content and give it a little refresh. Does your 4th of July festival have a parade at 4pm, fireworks at 10 pm, and an all day festival each year? That's great. Update your dates and any changes, add in some photos from last year, and publish. This goes for any harvest festivals, holiday tree-lightings, or unique events that pull guests to your destination year after year.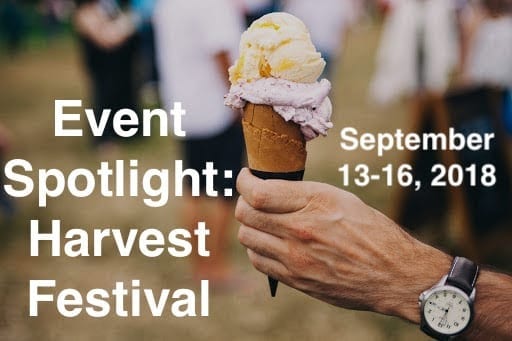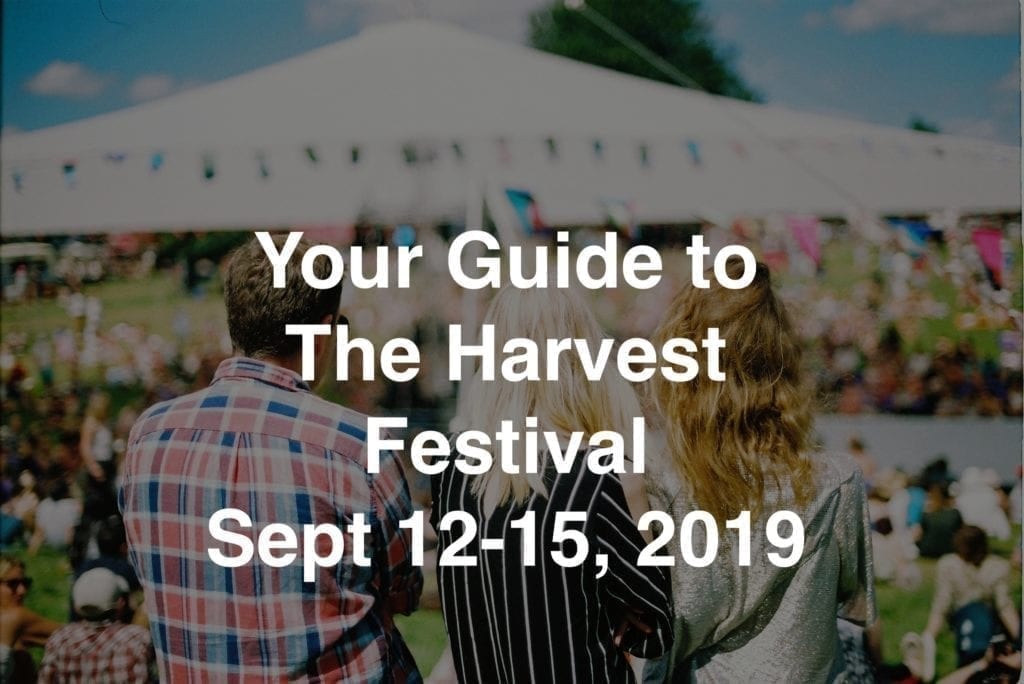 Market Your Content
So you have created your blog. Don't hide it all to yourself. Share it to your social media accounts and send it in your email newsletter. Your main source of traffic may not even be from Google. On your social accounts, make sure you tag relevant businesses and chambers in your post. Did you write about your favorite restaurants? Tag each restaurant's FaceBook page and they'll be more likely to share it with their followers. Is the local chamber throwing an event? Tag them and maybe they'll broadcast your post (and therefore your inn) to all of their followers.
Another secret that we like to do is post your blog on Facebook multiple times. If someone is off offline when you post, your blog may get buried. Share it on different days at different times of the day to reach different audiences. Rewrite the FaceBook text with each post. For the first post maybe 'Hey! Check out our latest blog post', but for the second post write, 'Here are 5 restaurants that we just can't get enough of. How many have you been to?' and for the third posting, 'Hungry? One of these Portland eateries can cure that in no time.'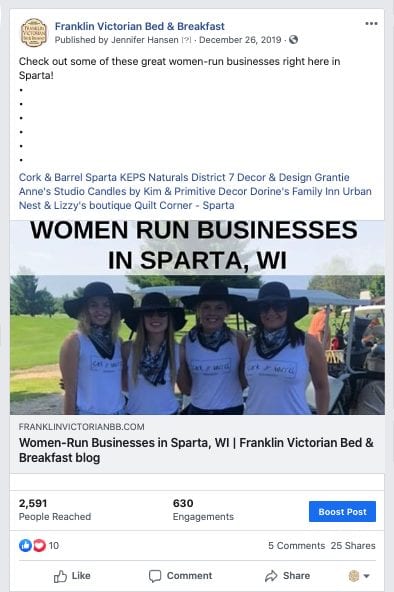 Measuring & Improving
By tracking how users navigate your site through Google Analytics we can see how blogging can influence bookings. Quite often you will see that a user searches for your property, visits your homepage, and clicks through to your booking engine. But how did they know who you were or that they wanted to make a booking with you? Probably because they were on your site before and returned later.
You can set up conversion goals and give them value to track how people use your blogs on the path to making a booking. Under Conversions, you can look at Assisted Conversions that shows what blog posts people looked at before making a booking. These blogs may not have been the last thing a guest looked at before committing to a reservation, but they assisted with the booking.
Blogging isn't a click-and-drag solution to your website or the one-stop-shop to saving your business, but it is a proven strategy to boost your SEO, promote direct bookings, and overcome the OTAs. Dedicate 1 hour a week to your content strategy and you will see results as long as you stick with it. Your efforts will continue to pay off for years to come.
Feel ready to start your own blog? Want a step-by-step guide before you dip your toes in the water? Download our free guide to blogging!