Since switching to Odysys', Sharon Robert's of the St. Bernard Lodge has seen significant improvements in her site's bounce rate, conversions, and direct bookings. Odysys provided Sharon with a cost-effective website redesign and made her site and booking engine fully mobile-friendly. Sharon has also taken advantage of Odysys' professional digital marketing services in order to expand the reach of her content and attract potential guests to her site.
Quick Overview:
Odysys provides new customers with a streamlined transition process and excellent customer support, all at a reasonable price
Since switching to Odysys, the St. Bernard Lodge has seen a 23% improvement in bounce rate, bringing her site well below the industry average of 30%
In addition, bookings completed on mobile devices have increased by 175% and mobile and tablet traffic from search engines has increased a whopping 243%!
A Unique Bed & Breakfast with a Marketing Dilemma
The St. Bernard Lodge is a charming and historic bed & breakfast located in the heart of Northern California. First opened in the 1920s, the property was originally named the Deer Creek Cafe and has functioned as a restaurant, bar, and lodging establishment before officially becoming a small, 7-room bed & breakfast in the late 1990s. The St. Bernard Lodge offers guests a comfortable and convenient gateway to the region's countless outdoor adventures, including hiking, biking, horseback riding, skiing, snowboarding and so much more. The Lodge mainly attracts guests looking to explore Lassen Volcanic National Park and Lake Almanor, the crown jewels of Chester, California. While popular and undeniably beautiful, with volcanoes, flower-filled meadows, mountain lakes, and steaming fumaroles, these two lesser known locations are often eclipsed by other giants of Southern Oregon and Northern California, including Crater Lake, the Redwood National Forest, and of course, Yosemite.
"We are definitely in the shadows of Lake Tahoe and Yosemite," remarks St. Bernard Lodge owner Sharon Roberts. Sharon has routinely encountered difficulties getting her brand name out there and attracting guests who might not otherwise have heard of Lassen Volcanic National Park and Lake Almanor.

"Our area is about 4 hours from the San Francisco Bay area but still relatively unknown. We currently do not have a regional marketing group to promote the area," says Sharon. "Tahoe and Yosemite have very well managed marketing campaigns and money to spend. Our region is spread out and does not have a funding source for branding or marketing, making it hard for individual businesses to get noticed."
She adds, "Each marketing dollar needs to bring in business and it is hard to determine where to best spend your money."
In the face of a marketing vacum and recurring issues with her current reservation system, Sharon went out searching for answers. She wanted a company that would provide her with a quality reservation system, reliable, round-the-clock customer support, reasonable prices, and help with her digital marketing dilemma. Sharon was inspired to sign up with Odysys after watching one of the demo videos on our website in 2016.
Solution: Cost-Effective Website Redesign
"Odysys was willing to convert my website to responsive and provide hosting and a booking engine at less that I was currently paying for booking engine alone," she says. "They did all the work of converting the site and training me on how to use the site and its booking engine."
The first goal of any site "redesign" should be to improve overall visitor engagement and convince new visitors to convert. Sharon's Odysys site showed a near immediate and long-lasting improvement in visitor engagement. The number one metric of visitor engagement is bounce rate. The bounce rate of Sharon's new Odysys site improved by nearly 23% vs the previous non-Odysys website. The bounce rate is now well below the industry accepted target of 30%. This shows how visitors stick around, view more pages, and stay on the website longer.
"All of Odysys' website templates are mobile responsive and tested and optimized for conversion. We consistently see improvements in bounce rate like this when converting customers over from dated website technology and designs to one of our customized websites." -Ben Lloyd, VP of Customer Success, Odysys
Solution: Mobile Optimized Booking Engine
Sharon was especially pleased with the smooth transition and transfer of booking systems, since her previous attempts had been what she calls "a nightmare."
"It took me several months to make the leap again because of the previous bad experience. Odysys staff very nicely checked in with me to see if I was ready to make a change. It was not hard-core sales or harassment that many other companies use."
Switching to the Odysys booking engine proved to be a shrewd move. Implementing Odysys' booking engine drove a 13% overall improvement in St Bernard Lodge's conversion rate, including an eye-popping 31.6% increase in conversion rate from organic search visitors. Sharon has also seen a 23% increase in direct online bookings..
Solution: Make the Website and Booking Engine Fully Mobile-Friendly
Odysys also helped to make Sharon's website fully mobile-friendly. Implementing our mobile-friendly website and booking engine technology has improved her business substantially.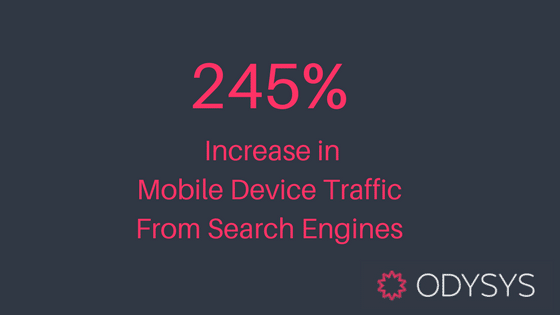 Since switching to Odsys, bookings completed on mobile devices have increased by 175% and mobile and tablet traffic from search engines has increased a whopping 243%! This is a message for everyone in the industry: your site and booking engine need to be mobile-friendly in order to compete in 2018.
Solution: Blog Posts & Marketing Services
Sharon has also taken advantage of the marketing services offered by Odysys. Before signing up, Sharon was fairly informed about SEO and Social Media. She primarily used Facebook and email but also a maintained a presence on Twitter and Pinterest. Sharon also kept a regular blog where she shared her vast knowledge of the region with readers. To further improve her blogging, Sharon signed up for Odysys' Blogging Professional Service. Odysys now writes monthly blog posts for Sharon's website, such as Our Favorite Ranger-Led Tours of Lassen Volcanic Park. Odysys also promotes these articles on St. Bernard Lodge's social media profiles.
"Over the years I sporadically posted blogs about things to do in the area. With the hectic nature of running a bed & breakfast, it was very hard to produce a consistent schedule of blog posts. Having Odysys write one blog post per month took the pressure off," Sharon says.
Overall, the switch to Odysys brought more traffic from organic searches due to improved site architecture, technical SEO, visitor satisfaction, on-page optimization, and a truly mobile friendly experience. Switching to Odysys has helped the St. Bernard Lodge expand its reach and attract new guests. Thanks to Sharon and Odysys, more people are visiting the region and exploring everything it has to offer. Sharon's story proves that innkeepers and bed & breakfasts need more than just a great location, first-rate hospitality, and a local's knowledge of the region. They need a mobile-friendly website, improved SEO, and an advanced marketing strategy.
Other Questions:
What's Sharon's favorite travel destination or memory?
Mexico
Hotels or travel destinations on Sharon's list?
Greece and Australia
Learn more about St. Bernard Lodge
Want results like Sharon's? Check out our Webinar on Demand about the online marketing trends that are affecting innkeepers & independent hoteliers and what you need to know to drive more performance and direct bookings.