This is the 3rd post in a series about blogging to improve your SEO. Click here to get the full guide.
The key to writing great blog posts starts with picking great topics that resonate with your potential guests as they are on their journey to making a booking. To do that, you need to research and generate a strong list of potential blogging topics. Consistently putting out fresh, useful, and unique content that is relevant and interesting to your target audience is essential to maintaining a successful blog. By adding original, useful and interesting content to your blog on a regular basis, you can drive traffic to your site. Adding depth and breadth of content about your area/destination increases your website's overall ability to rank well in search engines. To do that, you'll need to define your target audience, generate a solid list of blogging topics, and come up with a firm posting schedule. Here's how.
Define Your Target Audience
No one knows your guests better than you. That is why you are the perfect person to be writing the blog for your hotel or bed & breakfast. Take a moment to really think about exactly who your guests are and what it is they want. What are the demographics of your target audience. Define their general:
Age range
Location
Interests
Travel Needs
Articulating the demographics of your guests will help you write strong blog posts that they'll find interesting and relevant. Stating this clearly will help you better understand what type of blog posts to write, and will also help craft a distinctive writing style and tone (more on this later.)
Download our Guest Persona Template to help you get a firmer understanding of who your guests are and what they may want of their experience of your property in your location.
Brainstorm the Right Way
Brainstorming is a good method, but your brainstorming should be thoughtful and methodical. Don't just write about any old idea that pops into your head. Think about the people who are going to be reading posts and what they can get out of them These are the questions you should always be asking yourself:
What problems does my target audience have that your blog can help solve?
Why do people come to your hotel and what do they do when they are here?
How can I use my specific knowledge to improve pre-stay guest experience?
Think about your blog like a virtual concierge. Your blog can help people plan their trip before they arrive at your property and it will make you look like a helpful, informed, and considerate host before they've even met you!
Also ask yourself: What are the places that I really love in my town? If your favorite thing is the restaurants, start there. You will likely get several posts out of this. Use your local's knowledge to your advantage. You can write about "The Best Mexican Restaurants," "The Best Happy Hour Deals," "Most Romantic Restaurants for Couples," and so on. When you start with something you are already passionate and knowledgable about, you will write better and more frequent posts.
Free Tools You Can Use to Come Up With Topic Ideas for Your Blog
You likely won't need to do too much research since you are likely already an expert on your area. However, a little research never hurts. Look up other successful blogs in your area, whether they are food blogs, arts & culture blogs, or adventure sports blogs, and see what they are doing that works. (you can use BuzzSumo to research the most popular content on those sites as well) Which blog posts were particularly successful? Other blogs are a great source of inspiration and you can even reference them in your own posts if you think your guests will find them helpful.
Do research on upcoming local events, seasonal opportunities, bar and restaurant openings, and the hottest new shops. Staying up to date on the comings-and-goings of your location will help you consistently add fresh and authoritative content to your blog and will help you continually generate new, up-to-date post ideas.
Try BuzzSumo
BuzzSumo is an online tool to help you generate popular topic ideas for online content. BuzzSumo offers both free and paid versions of the app, but the free version should work just fine. After you have set up your BuzzSumo account, all you have to do is start typing keywords into their search bar. For example, "Asheville restaurants."

Then, the app will generate a list of articles based on what has been shared the most on social media. Take a look at the most popular articles for ideas on similar posts you can write for your blog.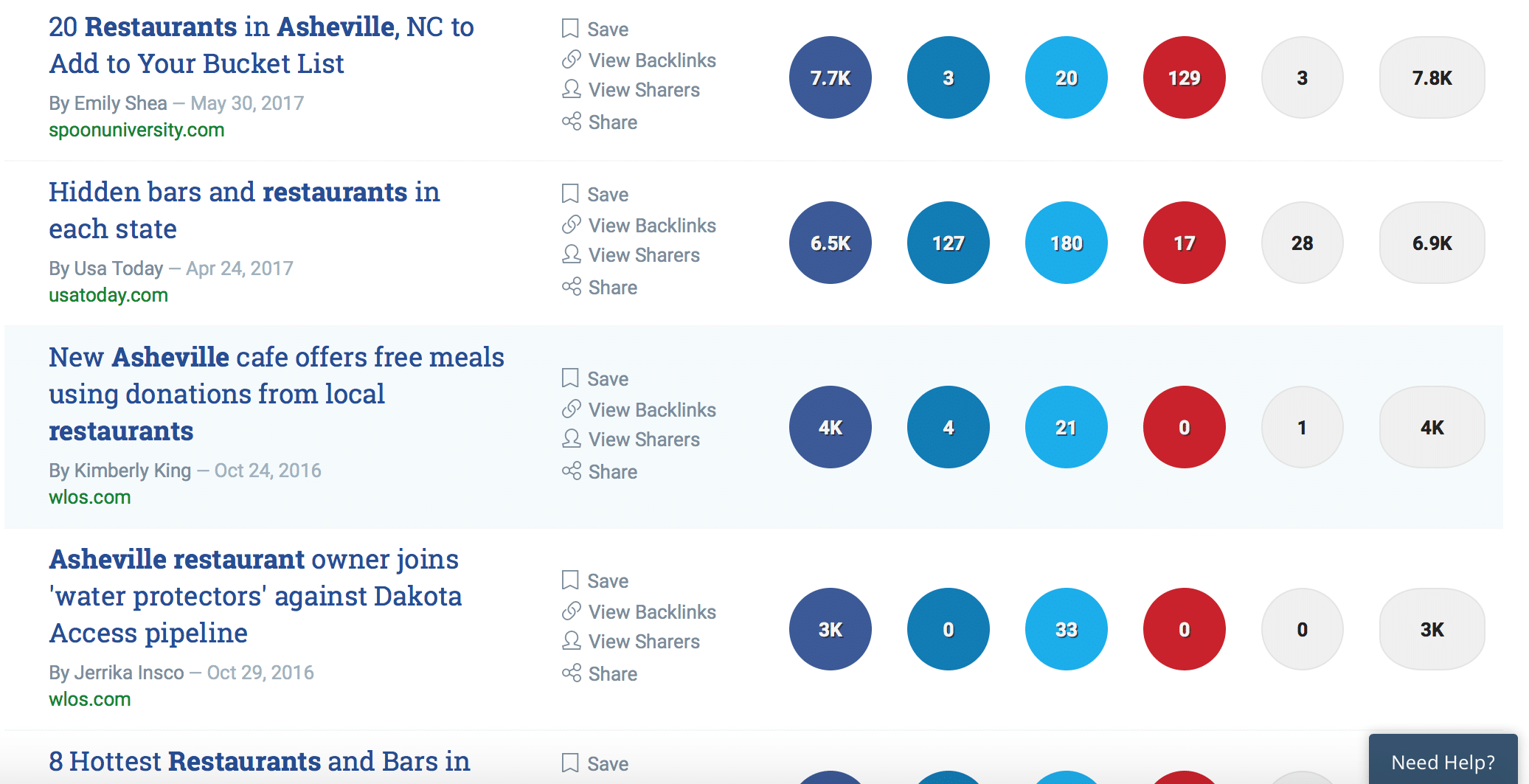 And Quora
Quora is another free online tool that will help you generate strong topic ideas. On Quora, you can search for any theme related to your industry and then it will show you the most popular questions that people are asking Google on that theme. Quora is actually a question and answer forum, but you can write fresh and relevant blog posts based on the questions you see people asking. For example, when you search "Bend, OR," you see a question about the best whitewater rafting operators. You could then write a blog post about this topic AND then come back and answer the question in Quora and link to your blog post for some extra promotion.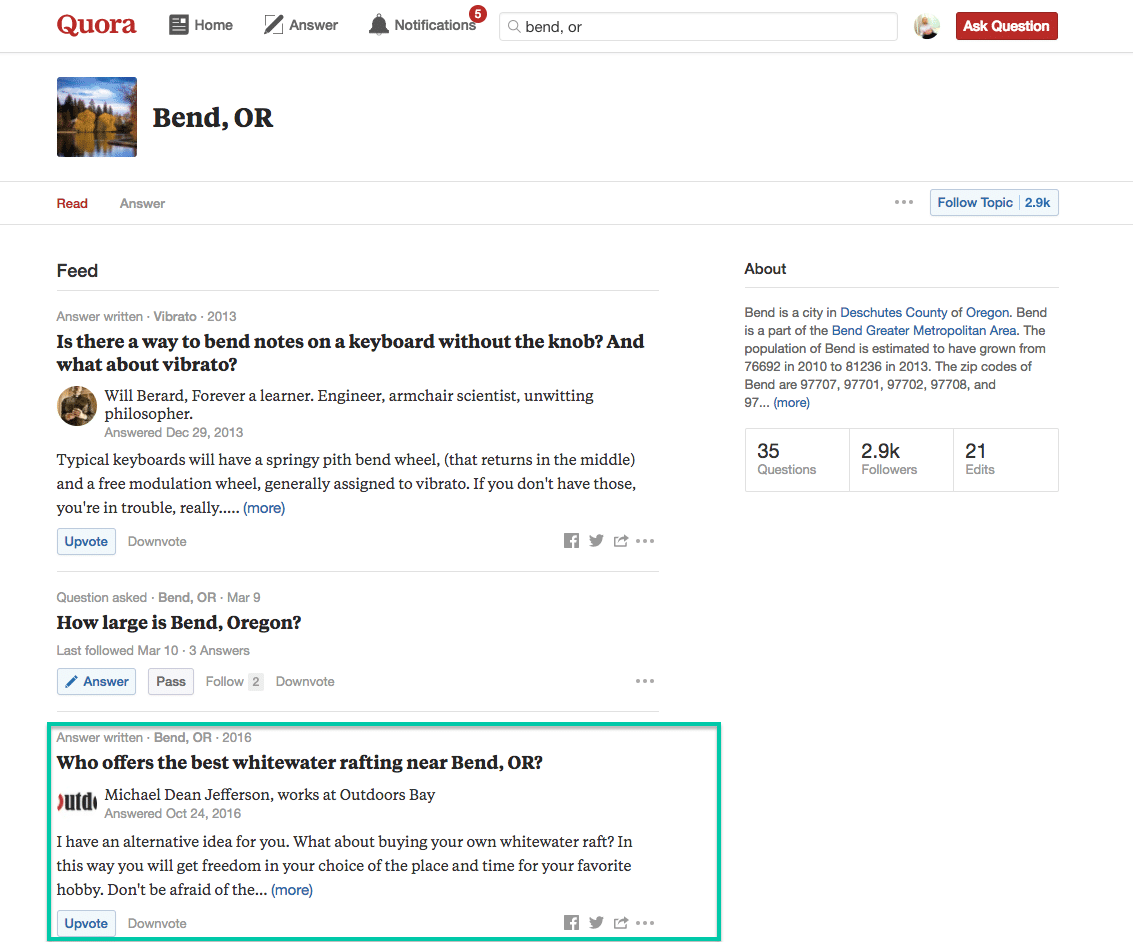 Use Google's Suggestions
Think about what people might be typing into a search engine to find particular information about your location. Use Google Suggest to see what people also search for based on certain keywords. If you google something like "wine tours ashland oregon," scroll down to the bottom of the search page. You will see that Google has generated a list of other popular search items related to these keywords. Keep clicking on the suggestions to find more ideas.

Answer the Public
Another great tool is Answer the Public. Answer the Public helps you generate content ideas by providing clear visual representations of search data. By typing in a keyword like "Ashland, Oregon," you will see a visualization of the different things searchers want to know about those keywords.
Type in your desired keywords in the Answer the Public search bar and it will generate a web of questions you can turn to for inspiration…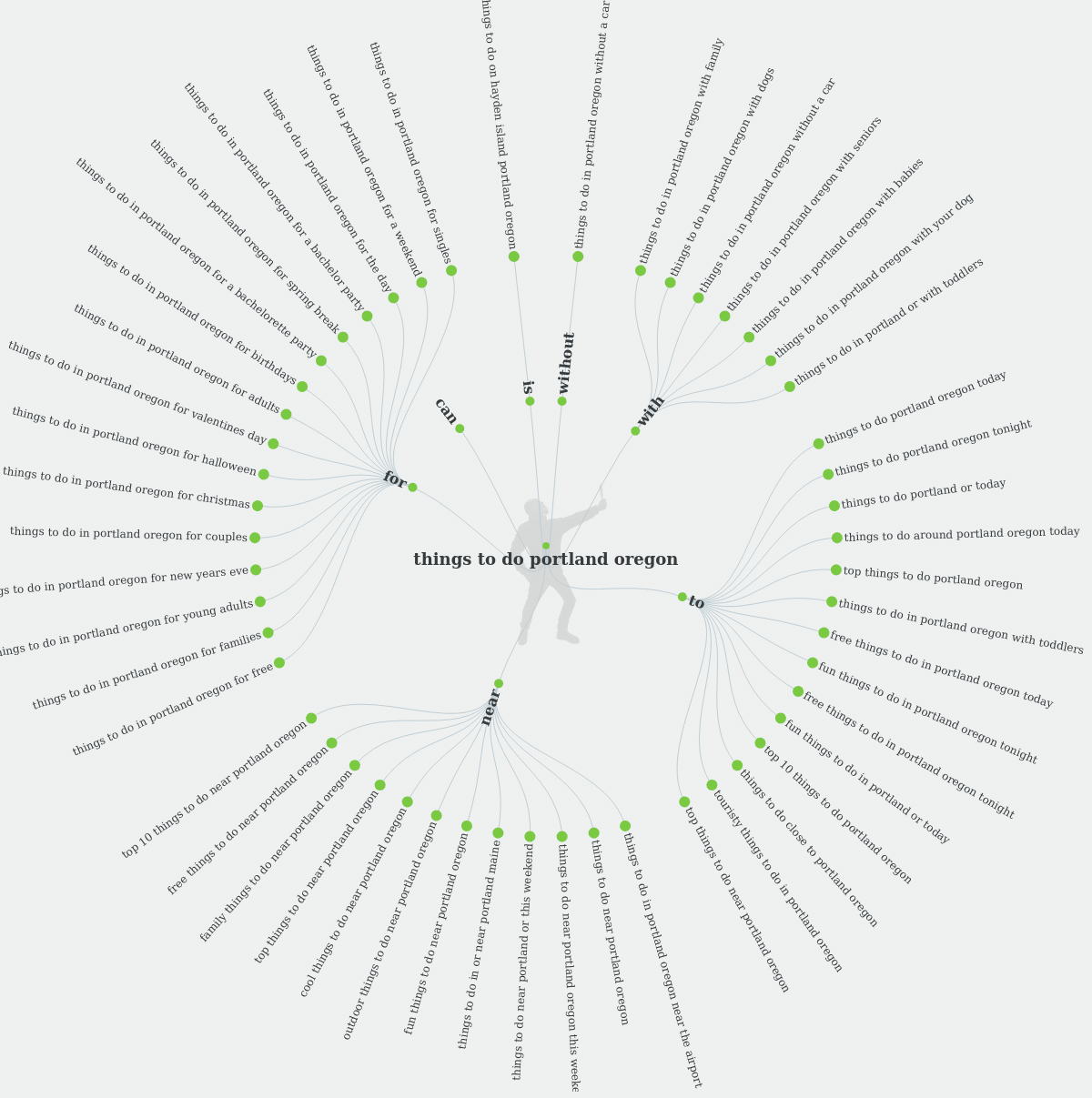 Odysys Content Idea Generator
If you're an Odysys customer, you already have a blog post topic idea generator at your finger tips. Plug in your location and an activity or event or season and BAM! You've got blog post topics.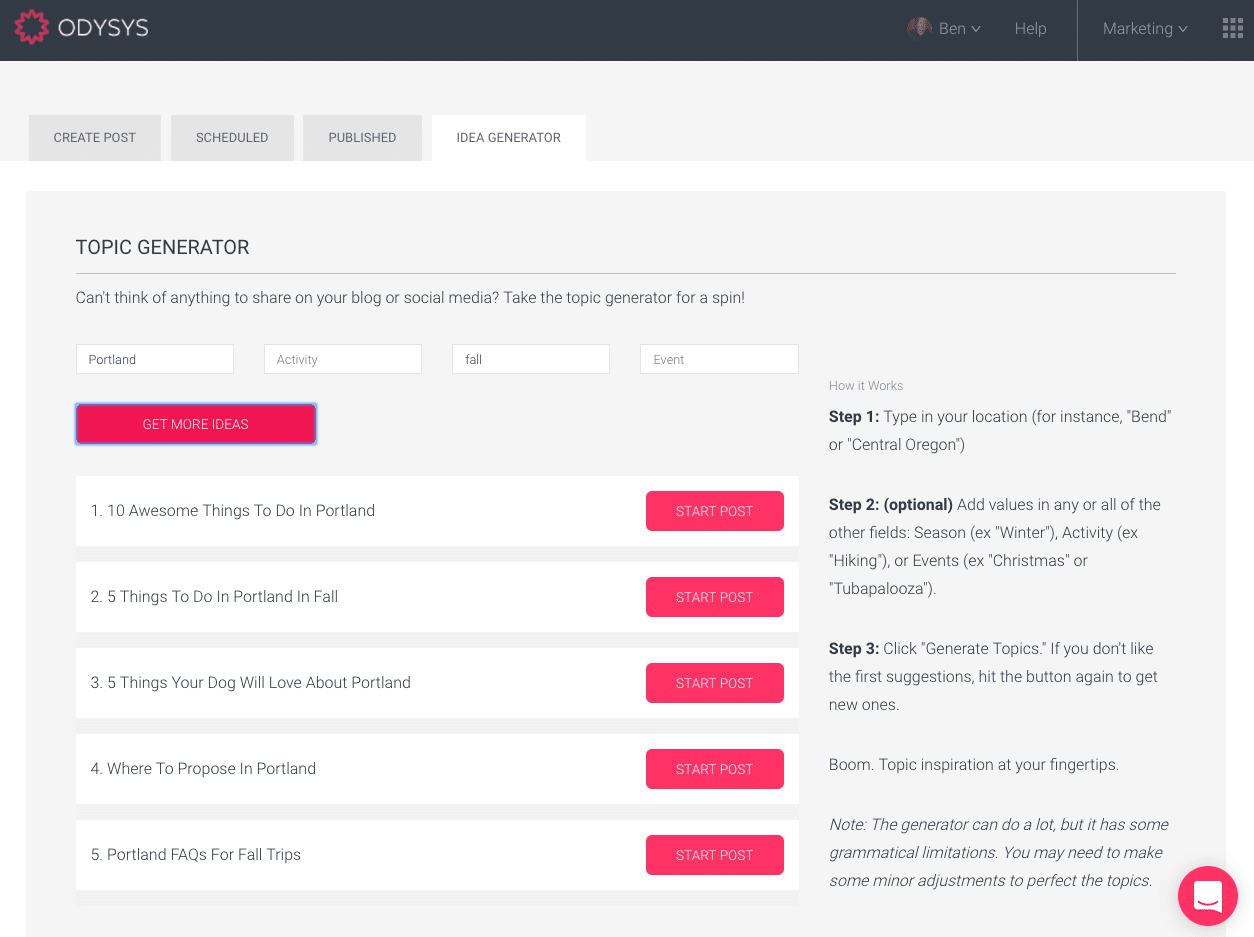 ADVICE: Get Specific With Your Blog Post Topics
One of the biggest mistakes beginning bloggers make is choosing topics that are too broad. Don't write blog posts on things like, "Why You Should Come to [Your Location]" or "The Best Things to Do in [Your Location.]" These topics are way too open-ended to be useful to your audience. When in doubt, go specific.
Don't be afraid to go as specific as possible. Think about the post categories we asked you to create in our previous post. Once you have these set up-things like Food, Events, Outdoor Activities, B&B News, ect-you will have a better idea of your keywords and will be able to craft clear and specific topic ideas.
Example
Odysys customer the Pine Ridge Inn wrote a very specific blog post titled "Where to Eat, Drink, and Play During the Bend Film Festival." This post works because it focuses on a specific event and then gives recommendations based on seasonality and target audience. They've even nailed a stellar header image.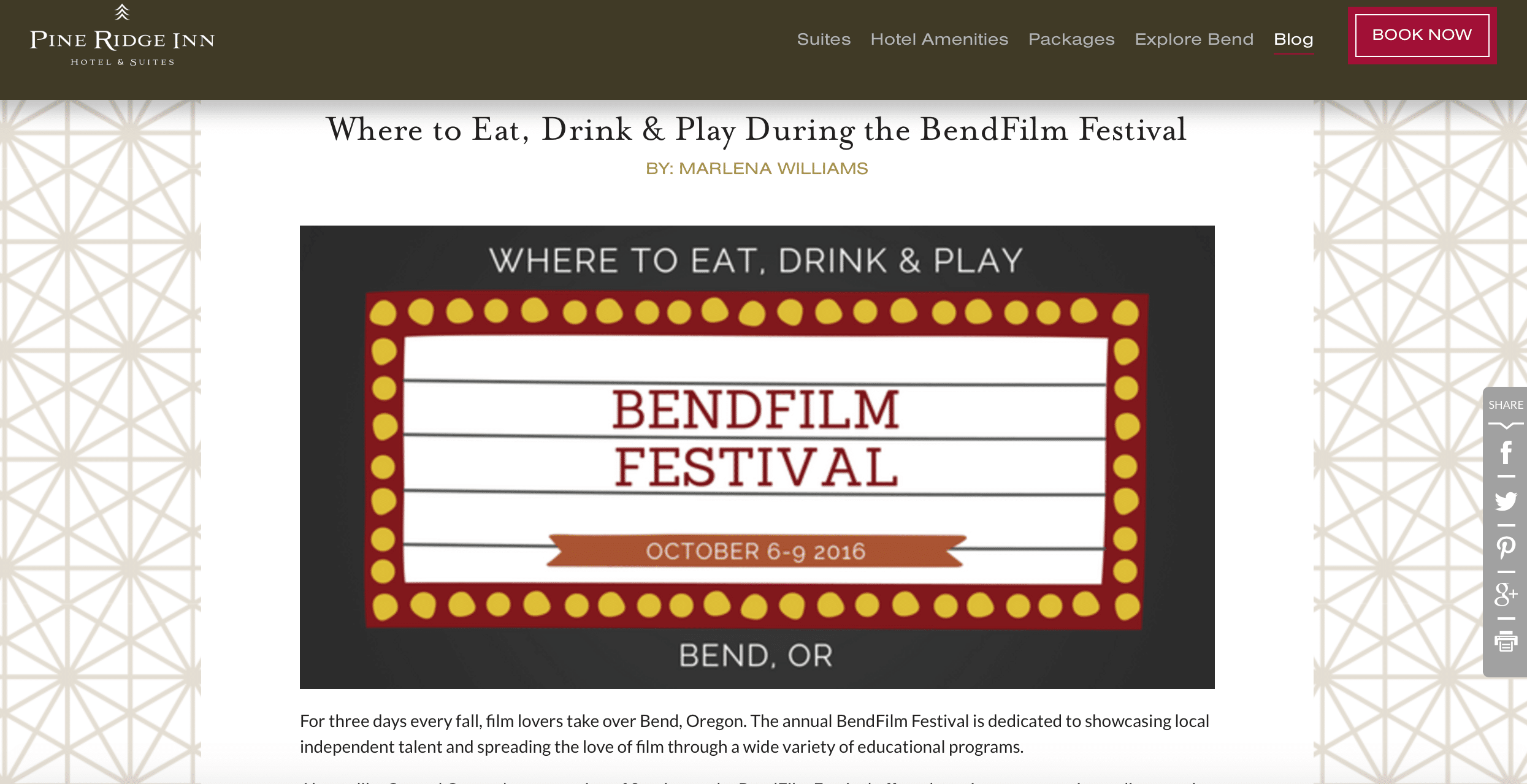 ADVICE: Is Blogging About Yourself Okay?
Kind of. Avoid writing blog posts like "Why You Should Come to [Your Property's Name]" or "Why Staying at a Bed & Breakfast is Better than a Luxury Hotel." While we understand that it might be tempting to list all the reasons why YOUR property is the best property in your location (or the entire world), that really isn't an effective strategy. Blog posts should not be outright sales pitches. They are a subtler form of marketing. They are a way for you to help out your potential guests, share your knowledge, make your site more authoritative in Google's eyes, and ultimately – create awareness for your brand.
However, it's not a bad idea to write blog posts that shine a light on your property or give readers an intimate look inside the daily comings-and-goings of being a B&B owner. Let's say that 1 out of every 5 posts can be self-promotional. For example, you can write a "Get to Know Your Hosts" blog posts, or like Odysys customer Red Tail Ranch, use your blog to announce new additions to your property that might attract guests.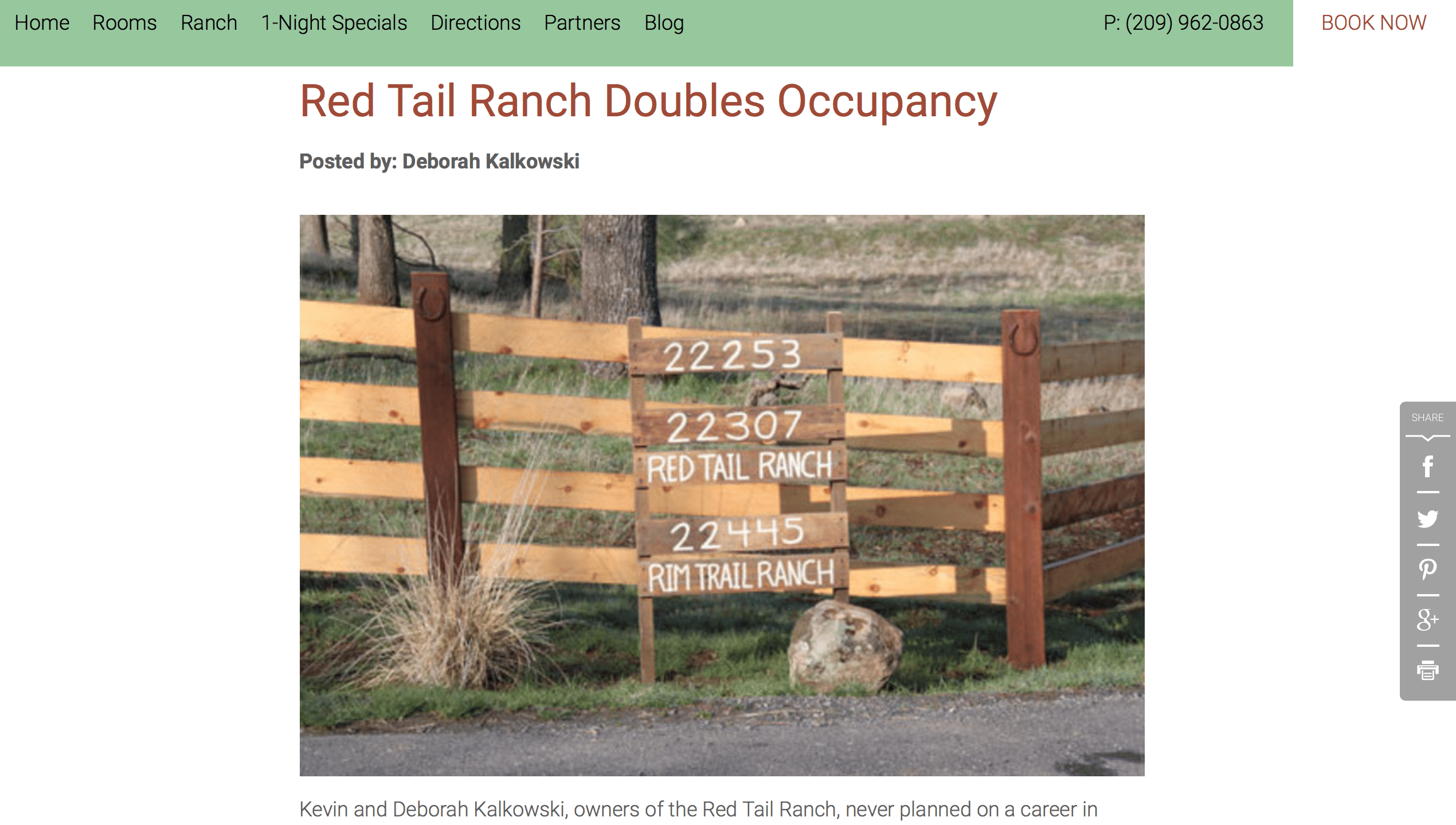 Research also shows that guests love knowing that their are staying in a place with a little history. If your property has a particularly interesting history or a unique story behind it, you can blog about that too.
Create a Schedule
Keep a list of all the topic ideas you have generated and then stick firm posting schedule. We'll have more on this later, but for now, just remember that you should focus more on the QUALITY of your posts than on the quantity of posts you are creating. If you can only produce one quality blog post a month, that is perfectly fine. Just stick with that schedule and make sure all your blog posts are thorough and well-written.
Once you've generated a firm list of blog topic ideas and laid out a schedule, you are finally ready to start writing your first blog post. We'll be back next week with a detailed guide to writing successful blog posts. In the meantime, download our epic 35 Bed & Breakfast Blog Post Ideas. We hope this will give you some inspiration and spark some unique ideas of your own. See you next week!
Related Posts: Guide to Blogging for Your Hotel
Part 1: Why Does My Hotel Need a Blog?
Part 2: 8 Tips for Starting a Successful Blog
Part 3: How to Pick Blog Post Topics That Stand Out
Part 4: Everything You Need to Know to Write Exceptional Blog Posts
Part 5: Marketing Your Blog Posts Part 1: Social Media Promotion
Part 6: Marketing Your Blog Posts Part 2: Advanced Promotion
Part 7: Measuring and Improving Your Blog Posts
---
Odysys offers a Blog Post Writing & Social Distribution service to our customers. Learn more here.