It is not enough to simply have a beautiful, well-designed, and mobile-friendly website. Your website is only part of the huge, ever-evolving SEO puzzle that affects your ability to book guests and keep your property at the top of the rankings. The fact of the matter is that SEO is way bigger than your website. Here's how to focus your SEO efforts beyond your website.
Get Discovered
When people are searching for places to stay on their vacation, they likely start with a Google search. When someone does a Google search for something like "Best Places to Stay…" there are a couple major things happening:
The Map: Your Google business listing needs to be optimized. Part of improving your map ranking is having citations and links for your website… which leads us to #2. The Lists: The organic results below the map primarily feature lists. If you examine the results for a search like the one done below for "best places to stay in bozeman montana," you'll find that there are typically very few individual properties listed in the organic results. Google shows lists because that's what they know potential guests are looking for at this stage in their journey to making a booking. Getting on these lists is a way to build citations and links for your website (see #1 above)… and like it or not, a lot of times it costs money.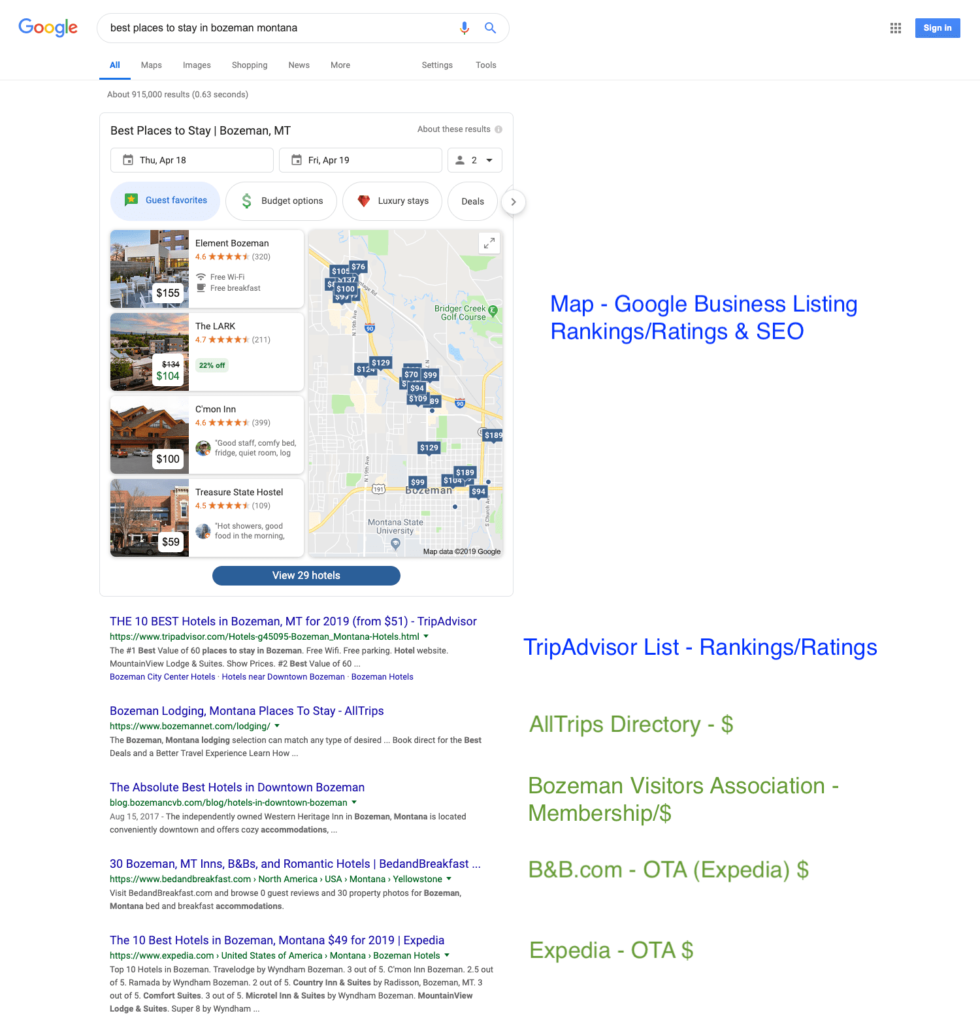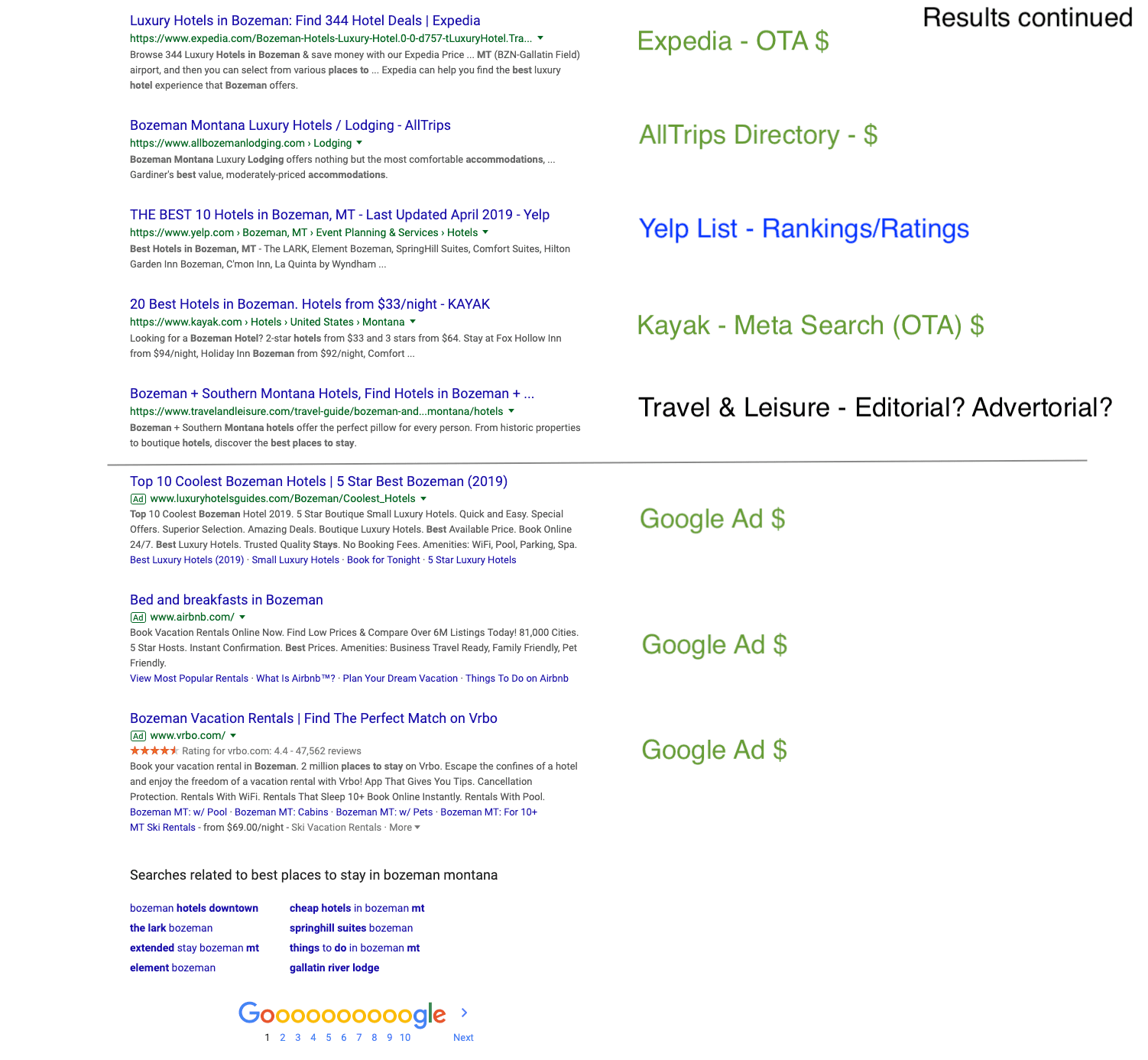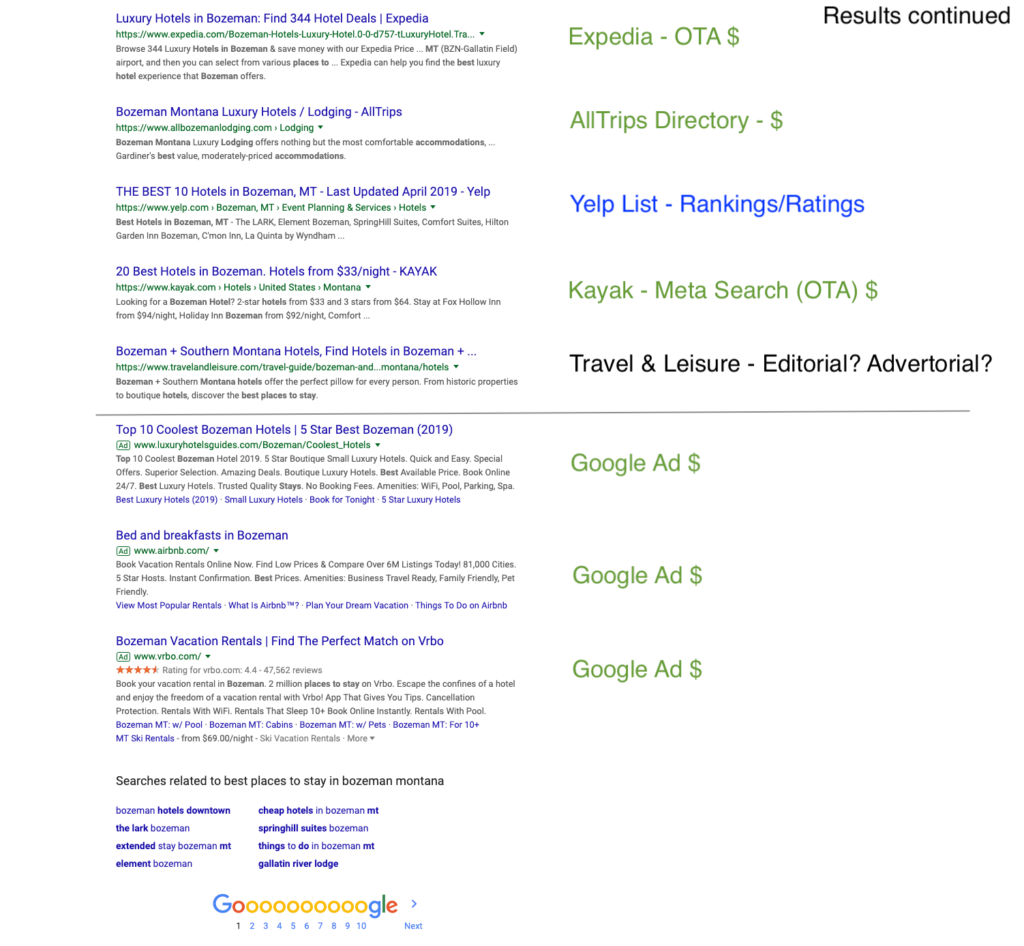 In this example, I've done a search for "best places to stay in bozeman montana" and labeled the results. You'll notice that there's not a single individual property listed in the results below the map.
To improve your property's chances of getting found, you want to have your property present on these lists. In our industry, typically the only way to get on these lists is to join the program. Getting placed on these lists is the best way to put yourself on the radar of potential guests who then start using search to refine and select the property that best suits them. If you think about it – isn't it obvious that Google would use these lists on 3rd party sites to help it with rankings? If you have your analytics set up right, many times the number of visits and bookings you recieve from these lists are trackable, meaning you can actively monitor how much your presence on these lists is helping you out.
The Travel Customer Journey
Your next guest doesn't book on your website simply because you rank well for a search like "hotel in portland oregon." In fact, the typical guest does several searches and visits several websites prior to making a booking.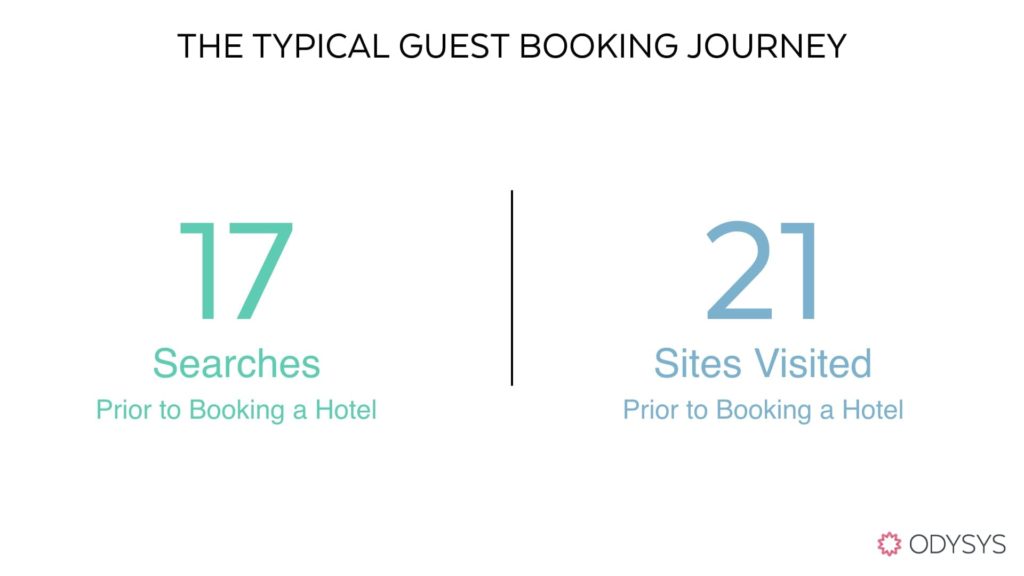 Understanding the travel customer journey will allow you to target potential guests at all stages on their journey to making a booking. As you can see below, your website mainly attracts people during the "Let's Book It Stage." But the "Dreaming" and "Planning" stages are crucial too, and they stretch well beyond your website. There is a lot you have to do SEO-wise before your potential guests feel ready to make a booking.
You can capture guests in the "Dreaming" or "I Want to Get Away" stage through a focused blogging and content strategy, social media, PR and media coverage, and marketing your destination, not just your property.
After the Dreaming stage, potential guests will move on to the Planning stage. Attract them by focusing on link building, keywords, retargeting ads, and your Google Business listing. This is also where you can improve your review, email, and OTA strategies.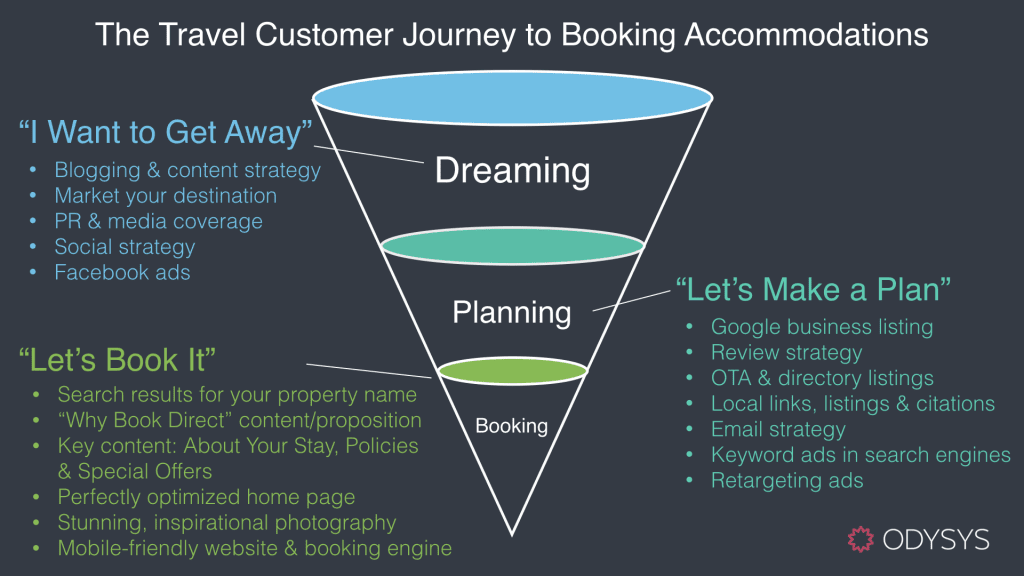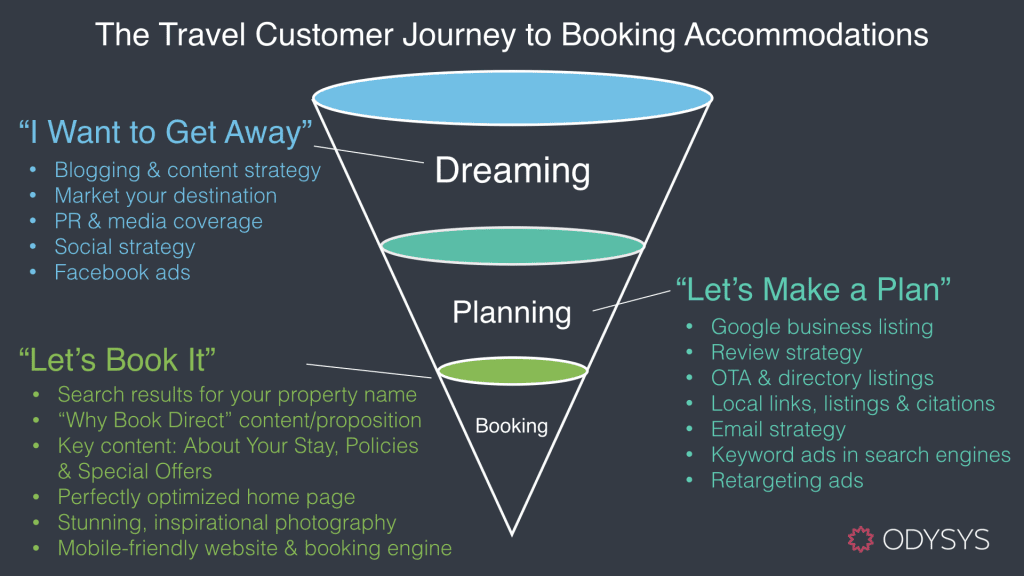 How to Stand Out
To truly stand out from your competition, you have to build a brand. Part of building a brand is having a unique value proposition and a story to tell. For more information on telling your property's story, check out the case study up on our blog.
"The internet is fast becoming a 'cesspool' where false information thrives. Brands are the solution… Brands are how you sort out the cesspool."
Eric Schmidt – Former Google CEO
In other words, Google trusts "brands".
This quote should convince you of one thing: in order to succeed in Google and truly stand out from the competition, you've got to create a stellar brand. Doing that requires a firm grasp on your ideal guest, your brand story, and your unique value proposition. Once you've nailed your story, it is important to consistently tell it across your website, social media accounts, and other marketing efforts.
You can use Google Trends to see if people are searching for your brand more than your competitors.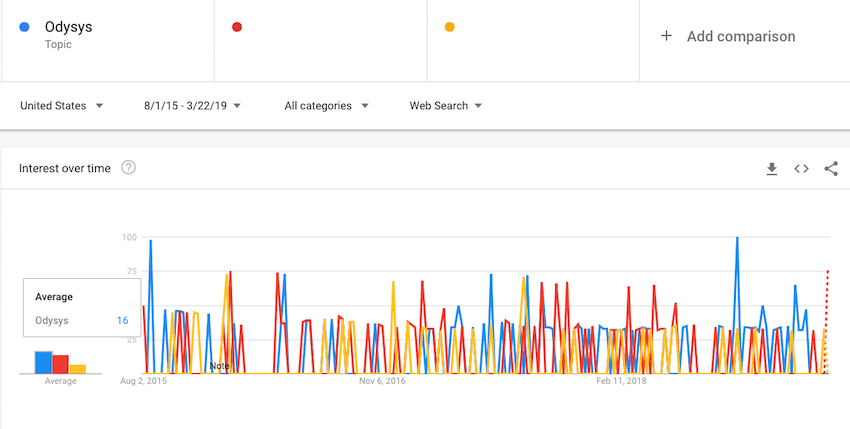 To make sure you are coming out on top, focus on:
Improving user experience: Your marketing efforts and search engine optimization will fall flat if your website isn't good

Google analytics metrics would include time on site, pages per visit, and conversion rate
Your website and booking engine need to be mobile-friendly
And your website and booking engine must be SSL / https secure

Ensuring you provide a great product and service to your guests: Focus on your review strategy and showcasing your property with high-quality professional photographs
Use a friendly content management system like Odysys so you can maintain your website and keep it up to date with fresh content and seasonal photography
Go Above and Beyond
Getting discovered is important, but for a truly comprehensive SEO strategy, you need to go above and beyond. To do that, make sure that:
Psst – want help with this stuff? We can help. Just chat with us and request a demo.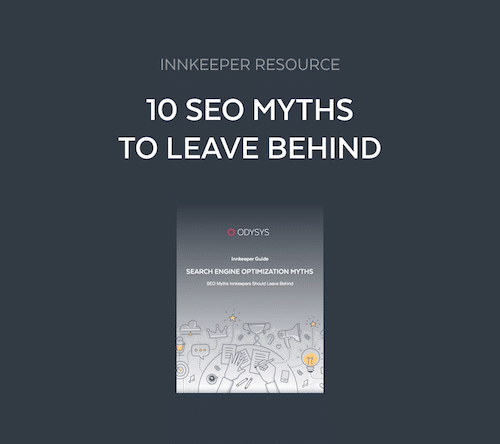 Demystify SEO with our myth-busting Innkeeper Guide.