In the summer of 2017, the Association of Independent Hospitality Professionals (AIHP) commissioned a comprehensive industry-wide study on the current state of bed & breakfasts. The resulting paper provides valuable insight into both B&B guests and B&B owners. In a recent episode of the InnSpeak Podcast, I spoke with Rob Fulton, the CEO of AIHP, about the key takeaways from the study and how you can put them into action for your property.
Don't Miss an Episode of the InnSpeak Podcast: Website, get notified by Email, follow on Facebook or Instagram, listen on iTunes or Google Play or even Spotify
.
The Focus of the Study
AIHP partnered commissioned the study in partnership with Bedandbreakfast.com. Phocuswright conducted the survey. They interviewed everywhere: innkeepers, travelers, traditional B&B guests, and people who haven't stayed in a B&B before. With the survey, AIHP hoped to better understand:
Who B&B guests are
What they are looking for in their stay
How B&Bs compares to other lodging options
The 38-page study leaves no stone unturned. It covers pretty much everything, from marketing and OTAs to amenities and ancillary services. Some of the results may surprise you.
Key Takeaways
The Industry is Growing
Despite the influx of new accommodation options and the rising popularity of short term vacation rentals, the B&B industry is actually growing. As the study states, "With 19,000 properties across the 50 states, the B&B market shows a positive outlook for the coming years." The B&B market "is on track to grow an average 4% over the next four years, adding $700 million in value. The online B&B market is projected to grow at an even faster pace with an average annual growth rate of 6%.
You Might Be Perceiving Your Competition Wrong
The truth is that most travelers don't have a specific accommodation in mind when they begin the search process. Instead, they are simply looking for a property that will fit their preferences and travel needs, whether that is a B&B, historic inn, short term vacation rental, or big box hotel.
"Despite the influx of new accommodation options and the rising popularity of short term vacation rentals, the B&B industry is actually growing"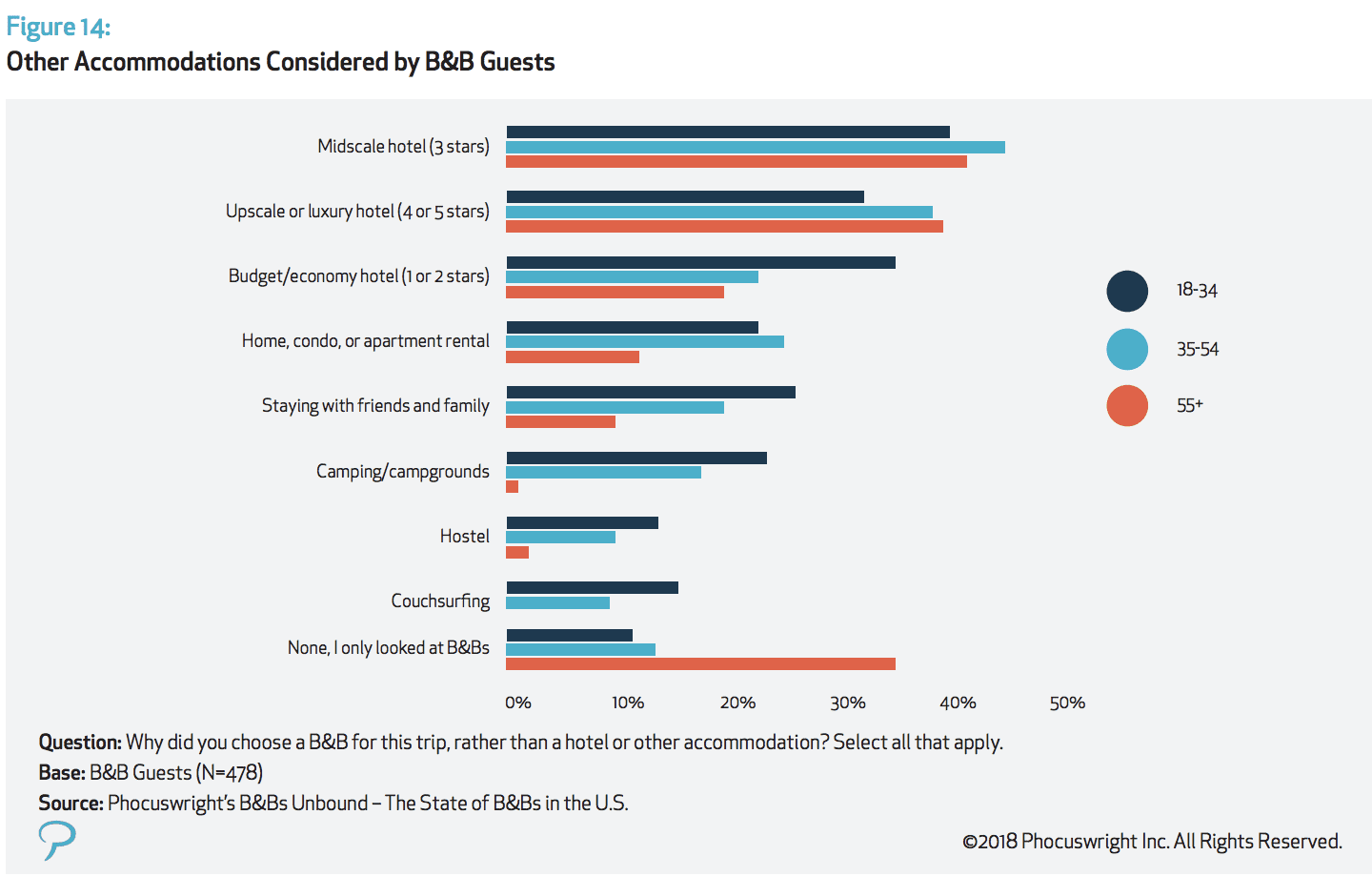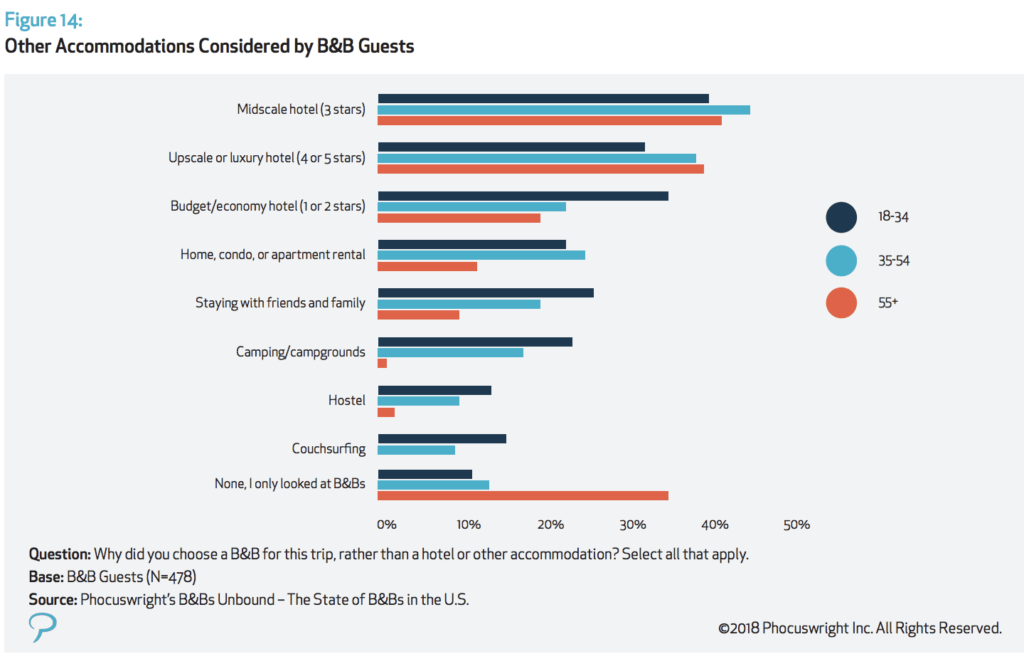 Create a "Local Experience"
It is no longer enough to simply provide the "base" amenities and services to your guests, ie: breakfast, toiletries, daily room cleaning, WiFi, ect. It is now essential that you provide a unique local experience to your guests. When people book a stay at a bed & breakfast, they want a personal, one-of-a-kind experience that they can't get anywhere else. As bed & breakfasts, you are uniquely situated to provide exactly that. Reach out and partner with local businesses such as tour operators, wineries, or restaurants to offer specific packages or extras that can enhance your guests' stay. You can also offer things like elopement or wedding packages, ski lift passes, or local snacks & beverages, anything that will give guests the personal, once-in-a-lifetime local experience they can't get if they stay at a large hotel or vacation rental.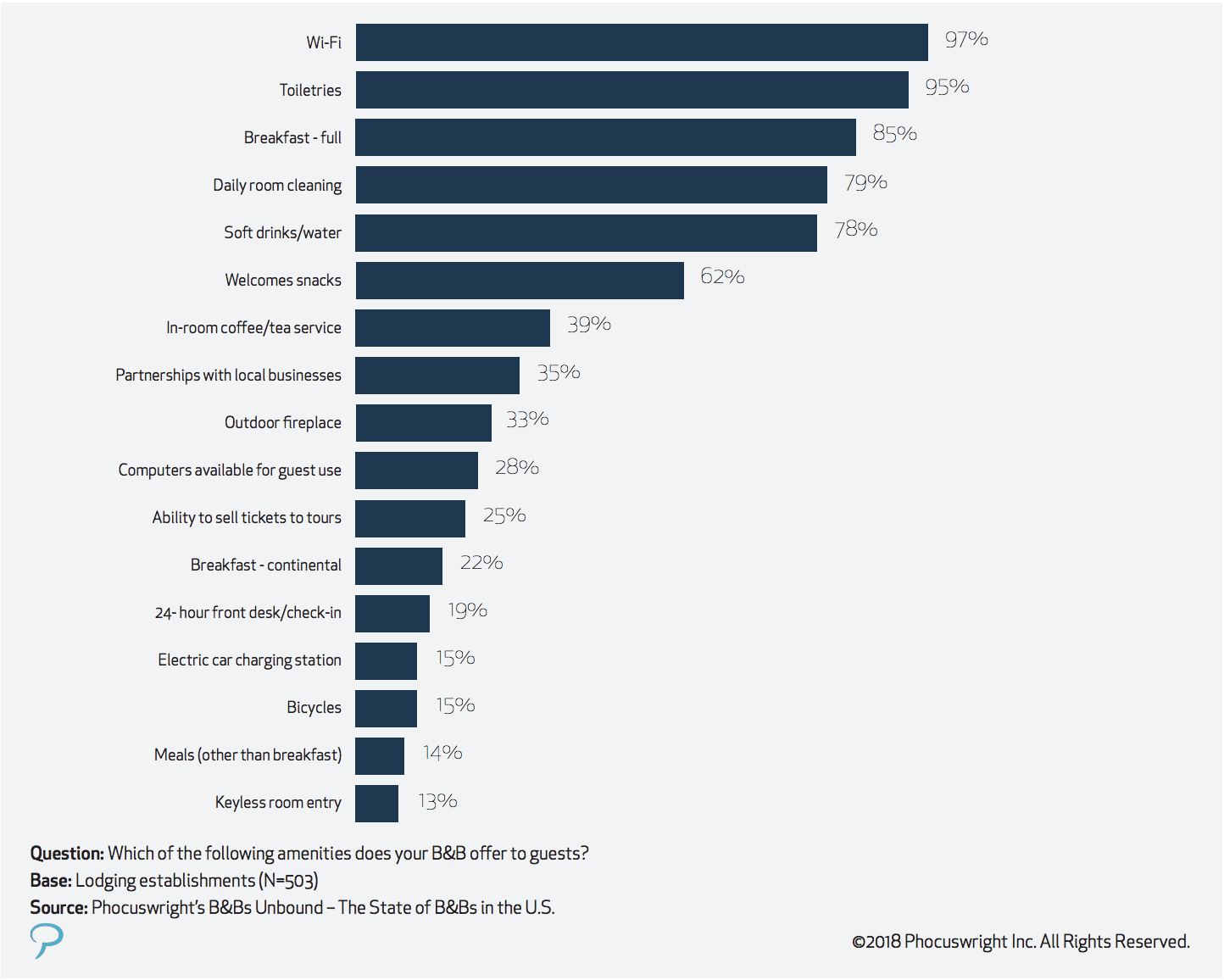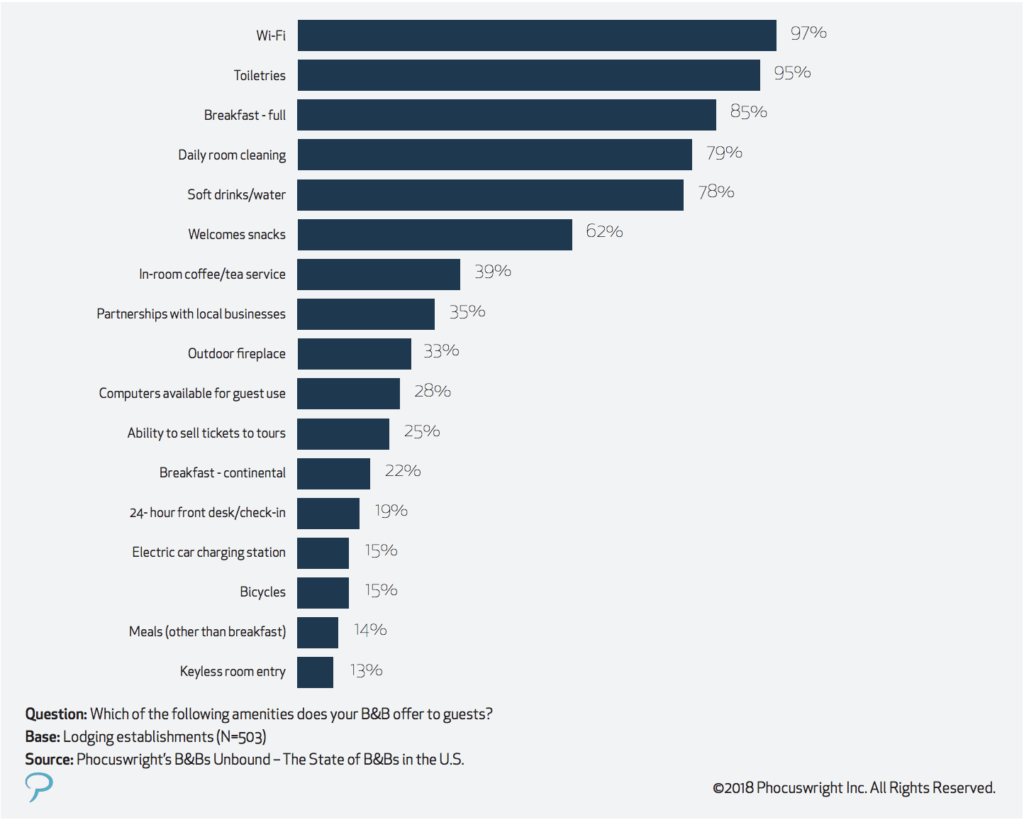 Guests of All Ages Stay at B&Bs
It is a common misconception that millennials don't stay at bed & breakfasts. As it turns out, guests of all ages stay at bed & breakfasts. There is something especially beautiful about seeing guests from different generations gathered at the breakfast table each morning. Again, this is something that only B&Bs can offer. If you still worry about appealing to younger generations, check out our blog post on attracting millennials to your property.
Play Up "Boutique"
More and more travelers are gravitating towards boutique properties. If this describes your property, be sure to play this up in your marketing and descriptions. The same goes for "historic" or "unique." Remember, travelers don't want a cookie-cutter travel experience. Do what you can to showcase yourself as a truly one-of-a-kind lodging option.
B&B Guests Crave Rest & Relaxation
B&B guests are a diverse bunch and it might be unwise to generalize. However, by and large, people come to bed & breakfasts to relax and unwind. By and large, people book stays at B&Bs for family vacations and personal rejuvenation.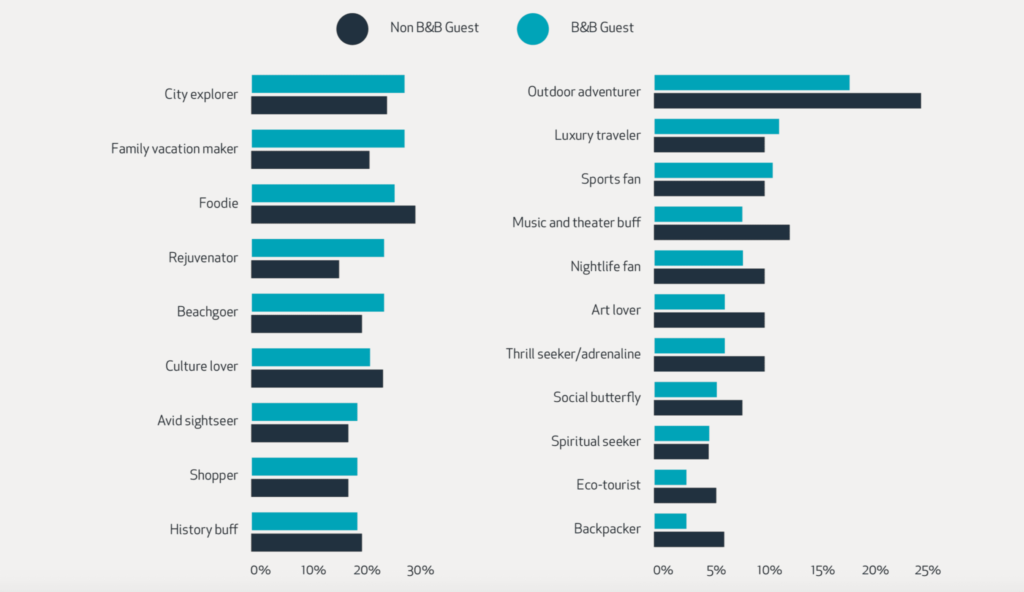 Find the Right Balance With Technology
Many travelers come to bed & breakfasts to step away from technology and escape the stresses of modern life. B&Bs are ideal places to connect with your friends, family, fellow guests, innkeepers, and even yourself. However, most guests expect basic cell service and WiFi, unless of course you offer yurts or rustic cabins where technology is not as present. Strike the right balance by helping your guests retreat from the demands of their daily life without having to disconnect completely.
Guest Reviews & Rankings Matter
Guest reviews and rankings determine whether or not a guest books a stay at your property. 88% of people trust online reviews as much as they trust in-person recommendations. It is essential that you are receiving a substantial amount of positive reviews and keeping your rankings up. For everything you need to know about receiving and responding to reviews, click here.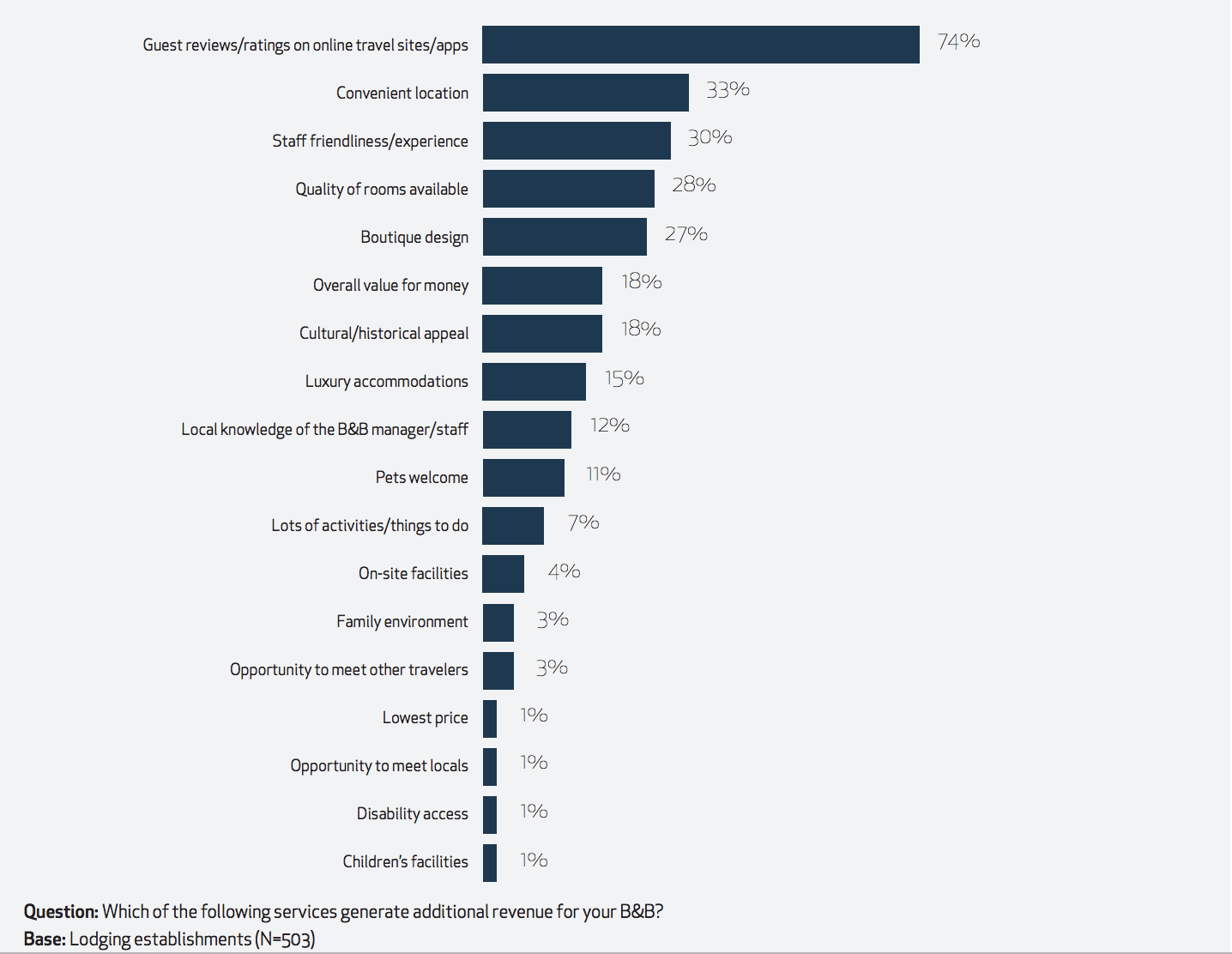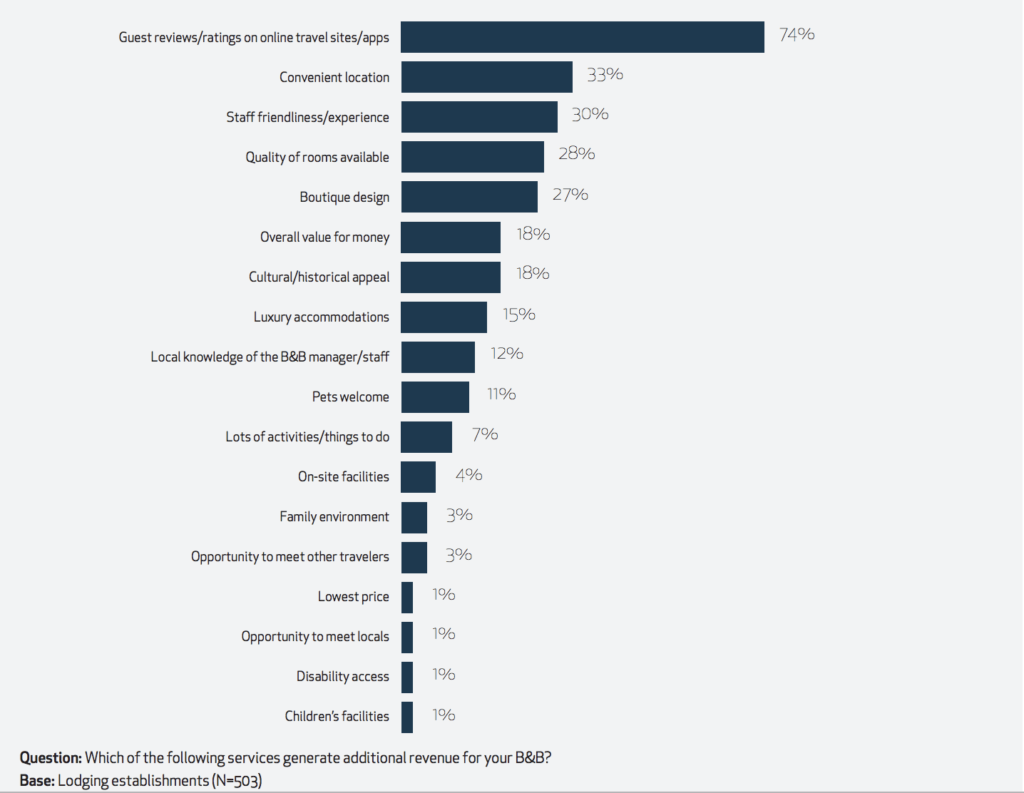 A Big Thanks to Industry Associations
At Odysys, we love our industry associations. Industry Associations are vital. They provide excellent education and resources, conduct important studies that paint a picture of what innkeepers should be focusing on now, and conduct advocacy that can help you and your property. Thank you to AIHP for conducting this survey and continuing to be an invaluable resource to the hospitality industry.