Special offers, packages, extras or add-ons are great ways to boost revenue and improve guest satisfaction. That's why we decided to focus our latest Odysys survey on the topic. We polled the hospitality industry on whether or not they offer them, what they offer if they do, and how they market them to their guests. Here are the results.
LISTEN TO A PODCAST ABOUT THE SURVEY
Why Extras Matter
The bottom line is that add ons, extras, or upsells make you more profitable. These special offers are basically imaginatively bundled amenities, activities, or discounts that can help guests have a more memorable experience at your property while also increasing your revenue and driving direct bookings during slow times. They are relatively inexpensive and stress-free ways for you to provide excellent hospitality and boost your profit. At Odysys, we think all properties should offer extras. One of our respondents offered these words of encouragement:
"You've got nothing to lose. Do it! Just make sure your prices are competitive. Check yout competition and other suppliers to make sure your prices are reasonable and watch your expenses on the packages."
-Anonymous Innkeeper, 1-5 Room US Bed & Breakfast
As it turns out, most properties are offering extras of some variety. 71.8% of the innkeepers we polled sell special offers & packages to their guests. Only 28.2% do not. For those of you who do not, the reasons run the gamut:
Some think it takes too much effort or time
Others think it comes off as too "salesy"
A whopping 16.7% admitted that they had never even thought about it!
An additional 25% said that they only offer packages or extras during special times.
100% of those who don't offer extras or specials year-round are leaving money on the table!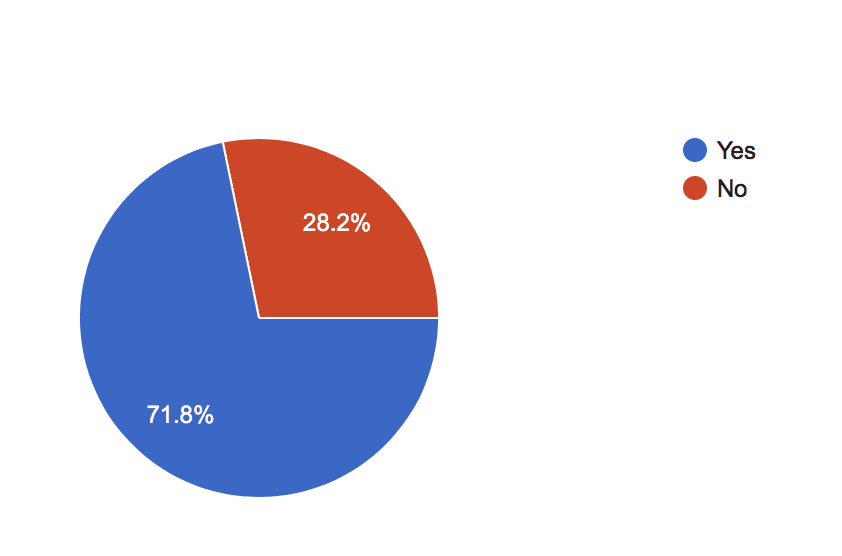 What to Offer Your Guests
When deciding what type of special offers or packages to sell at your property, we recommend taking some time to once again think about your ideal guest. Identify what your guests want and why they are traveling to your property and then curate special offers specifically for them. Ask yourself:
What types of guests book stays at my property?
Why do they come to my destination? Is it for romantic getaways? Wineries or breweries? Outdoor adventure? Local arts & culture?
What types of special amenities do we offer, such as spas or on-site dining?
Do I have a low season or mid-week slump?
Once you have answered these questions, you can identity what types of special offers & packages will benefit both you and your guests.
The poll results revealed that the most popular special offers or upsells are Romance Packages. About 75% of poll responders offer Romance Packages to their guests. Coming in behind Romance Packages are seasonal specials (50%), mid-week booking discounts (27.9%), and "Experience" packages. Smaller amounts of you offer restaurant discounts, tickets to local events, or business traveler deals.
Awesome Package Ideas
Our customers at Odysys offer some pretty incredible packages, upsells, extras, and add ons. To help inspire you, we've picked out some of our favorites.
Romance Packages
As we said, the most popular type of special offers are by and far Romance Packages. In a typical Romance Package, a property will offer their guests flowers, chocolate, and/or champagne in their room upon arrival. Another popular item was spa packages, such as a private couples massage.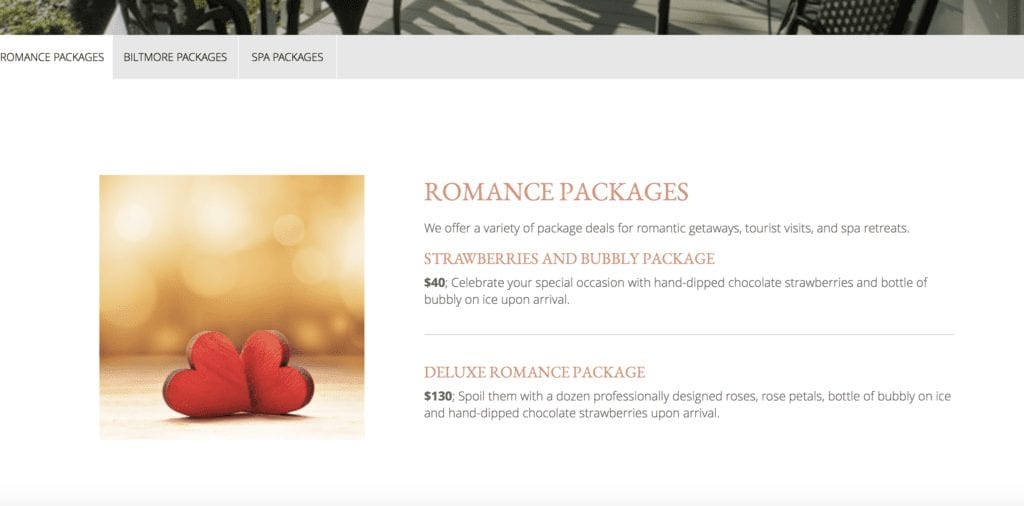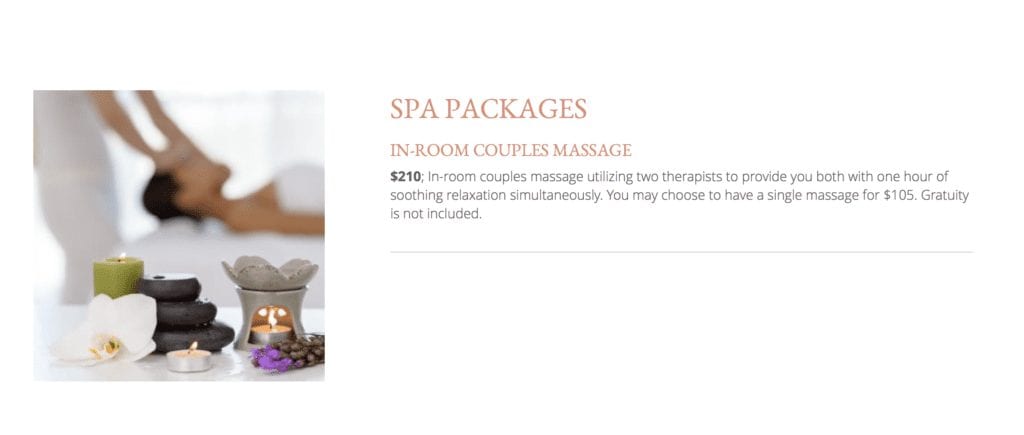 The Biltmore Village Inn in Asheville, North Carolina offers Romance Packages and Spa Packages designed exclusively for couples planning a romantic escape.
Mid-Week Bookings Discounts
If you suffer from a mid-week slump, try offering guests a midweek booking discount. Cheaper rates will incentivize guests to book a stay during the week instead of your likely busy weekends. At the Sutherland House Victorian Bed & Breakfast in Canandaigua, New York, they'll give guests their fourth night free when they book a room Monday-Thursday. As you can see, they are clear on their website about what the discount entails and any exclusions when the discount isn't offered, such as on major holidays.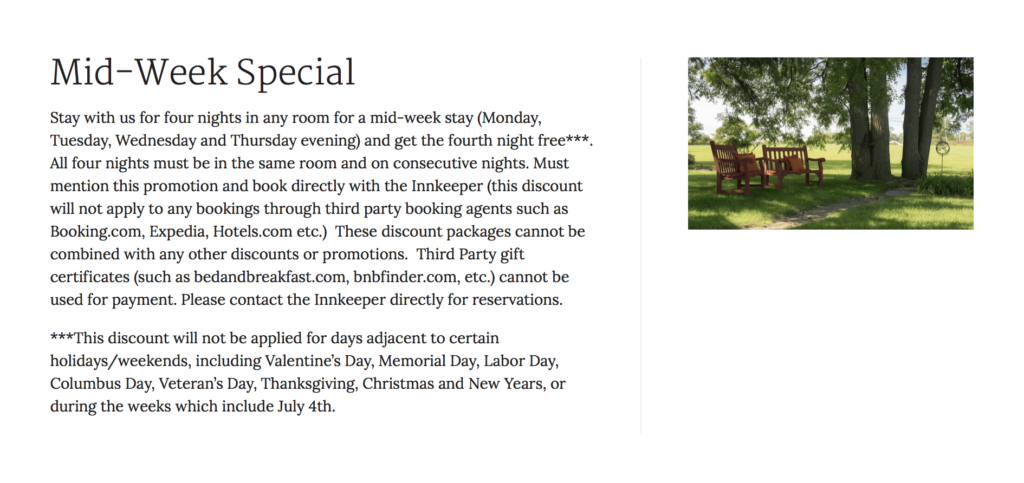 Loyalty Program
Packages can also be a great place to reward return customers and/or encourage repeat guests. The Maitland Manor Bed & Breakfast in Port Angeles, Washington offers returning guests a $15/night discount when they book direct. You can even spin this offer as an automatic enrollment in your loyalty program. All you have to do is create a simple promo code in your booking engine and then deliver it to guests in their post stay email. Don't forget to ask for a review on Google or TripAdvisor too!

Seasonal Specials
Another great package idea is a "seasonal special." These can help you book rooms during a slump or attract guests during your destination's off season. The Wicker Park Inn in Chicago offers guests 10% off through April 30th as part of their Spring Promo. In their description, they have briefly outlined why tourists should travel to Chicago in the spring and then clearly laid out the fine print of the offer.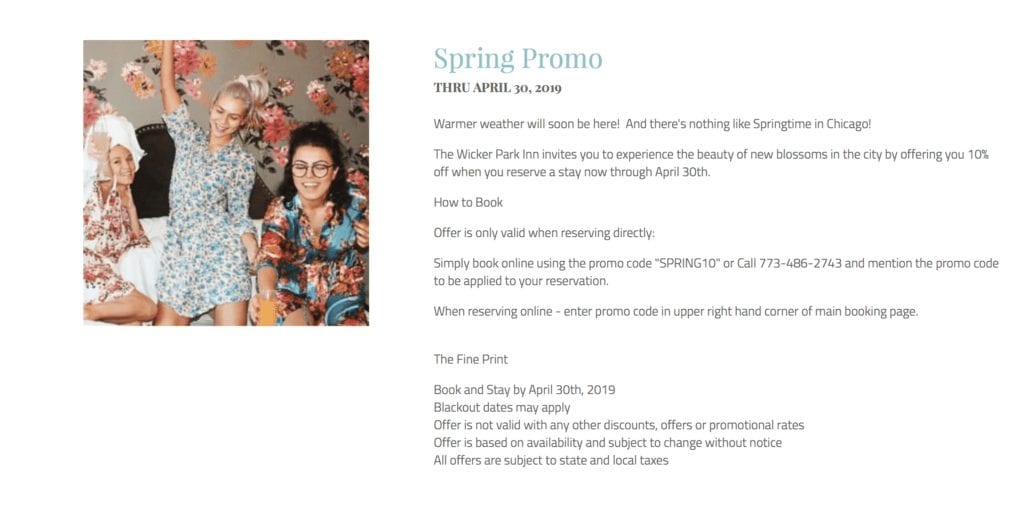 "Experience" Packages
Refer back to the questions you asked yourself earlier. What type of guest books stays at your property and why? Once you have determined this, you can design packages just for them. As one of our respondents said, "When guests are on a get-away they are willing to spend for the ease of booking the packages." For example, many people travel to the Sylvan Valley Lodge in Helen, Georgia to explore the region's incredible vineyards and wineries. Their "Winecation" Package specifically appeals to these guests. To design your package, you can reach out to local tour operators, rental shops, restaurants, wineries, and more to see if you can coordinate a special offer together.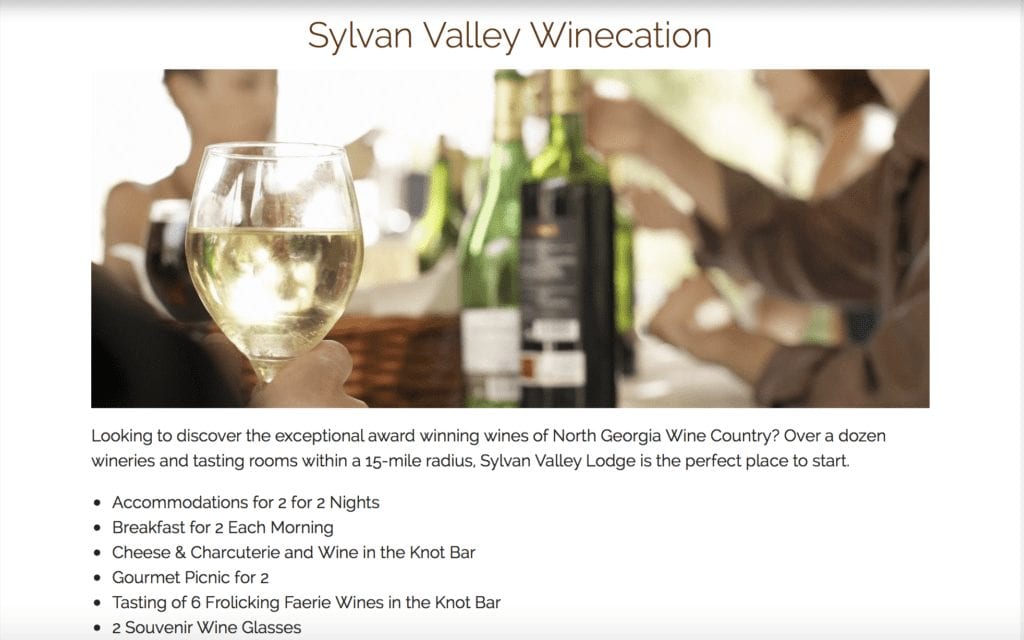 How to Market Your Specials
Now that you've got an awesome package in mind, you might be wondering how to tell your guests about it. There are many different ways to do this.
The most popular way to market special offers & packages to your guests is a special page on your website dedicated to them. About 77% of you use this as your primary method.
19.7% of you mention them in a confirmation email
27.9% do so in a pre-stay email.
Email newsletters and social media posts are also popular ways to get this information in front of guests.
A smaller extent of you rely on the old method of marketing packages to your guests in person when they check-in.
All of these methods can work, but the most important ways to market your packages & special offers are through your website, booking engine, and in your pre-stay email.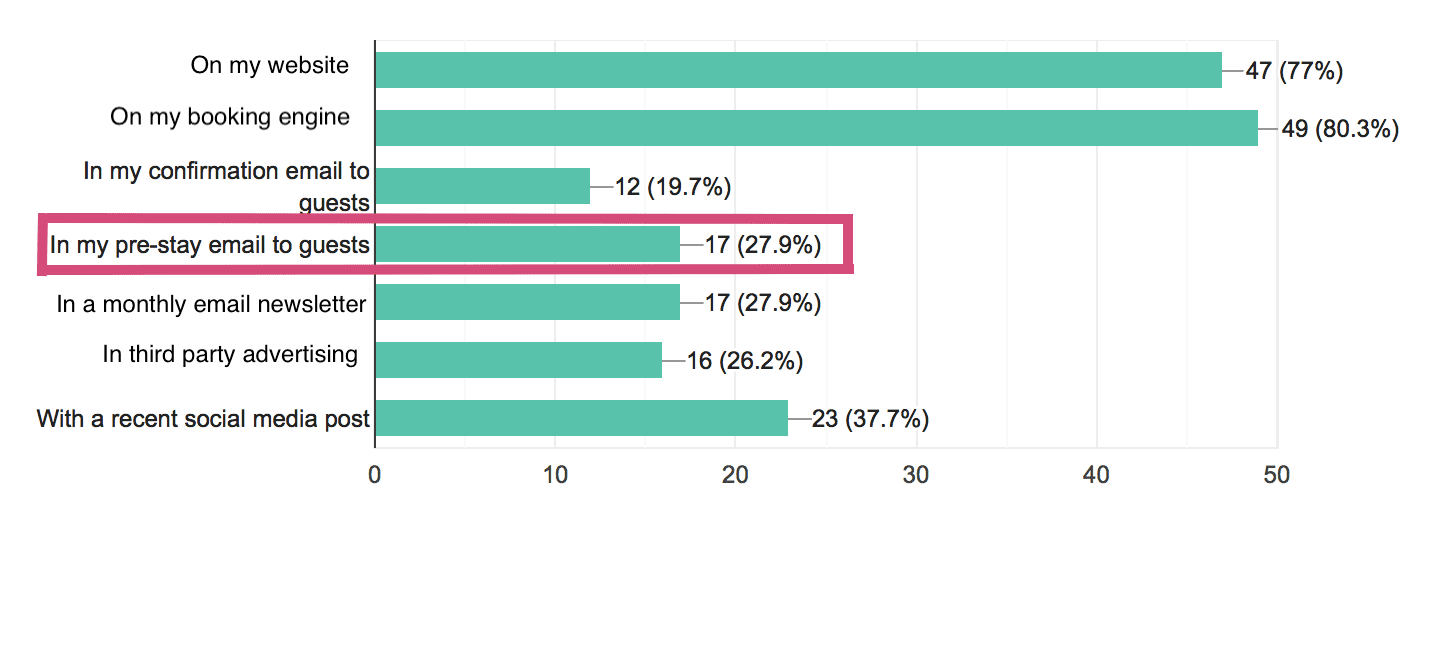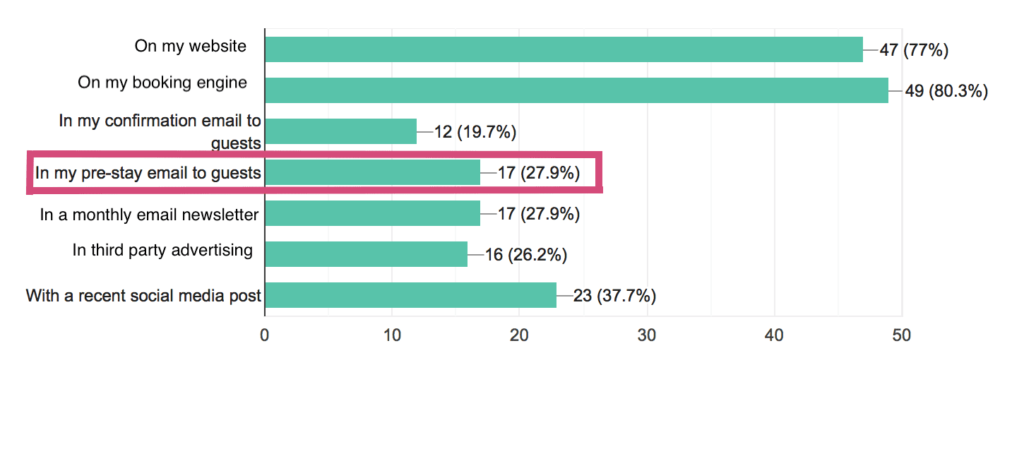 Use Your Pre-Stay Email to Upsell Your Guests
As you can see, only 28% of you are using pre-stay emails to upsell to your guests. We think this number should be 100%! Pre-stay emails are an easy and underutilized opportunity to encourage your guests to add a little something extra to their upcoming stay. Another bonus: pre-stay emails can go to your OTA customers as well. Unlike their booking commissions, this is revenue that goes to you directly.
To do this, use your PMS/Booking Engine to send a pre-stay email to your guests. In that email, feel free to talk about general policies and check-in/check-out times, but also use it as an opportunity upsell to your guests. For example, you might write something like this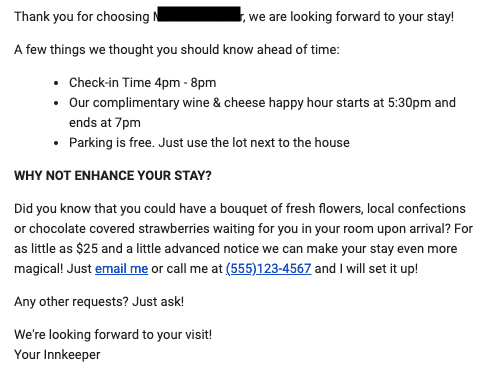 Other Tips From Your Fellow Innkeepers
At the end of our surveys, we always ask the respondents to share their tips and recommendations. Here are some of our favorite pieces of advice, straight from the mouths (well, keyboards) of your fellow innkeepers:
Keep the offers simple and easy for the guest to receive/redeem.
Good photographs sell the items for you!
Packages sell specially when offered in emails after purchase of room.
Guests are looking for experiences and deals. Package them and sell them.
A Little About the Respondents
We were excited to see that the respondents to this survey were a diverse bunch. We heard from properties of all sizes, from all across the country and the world.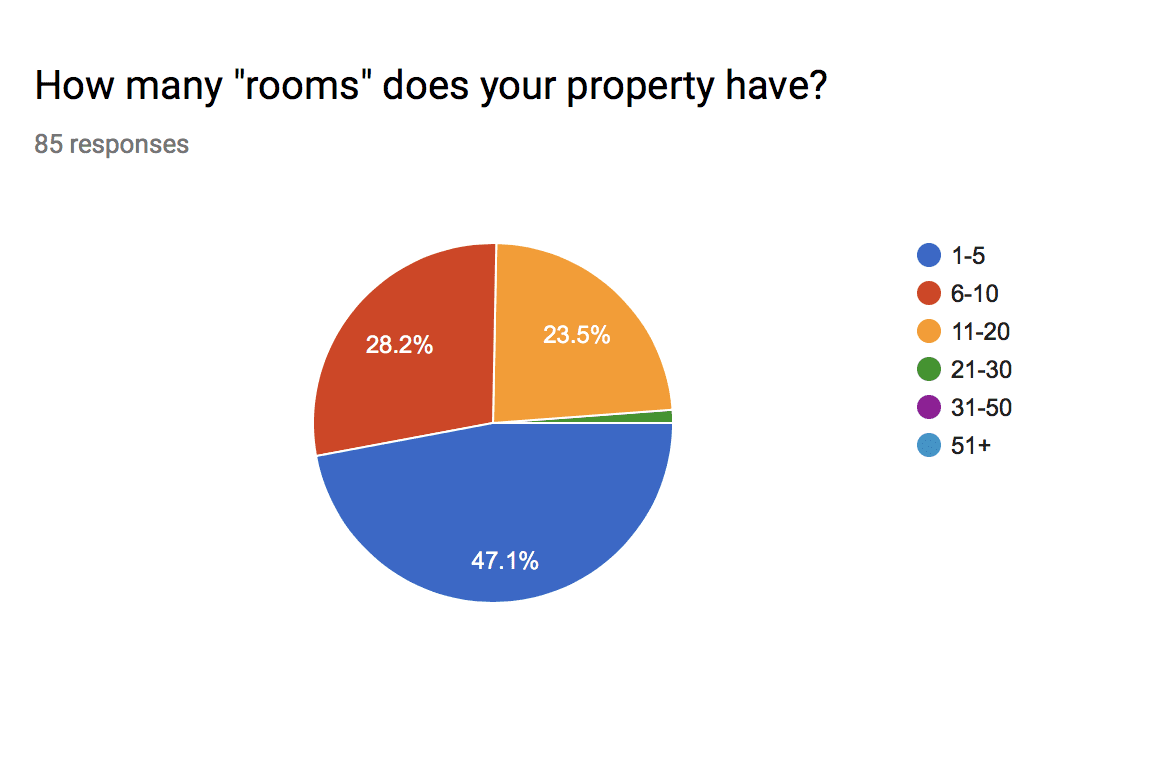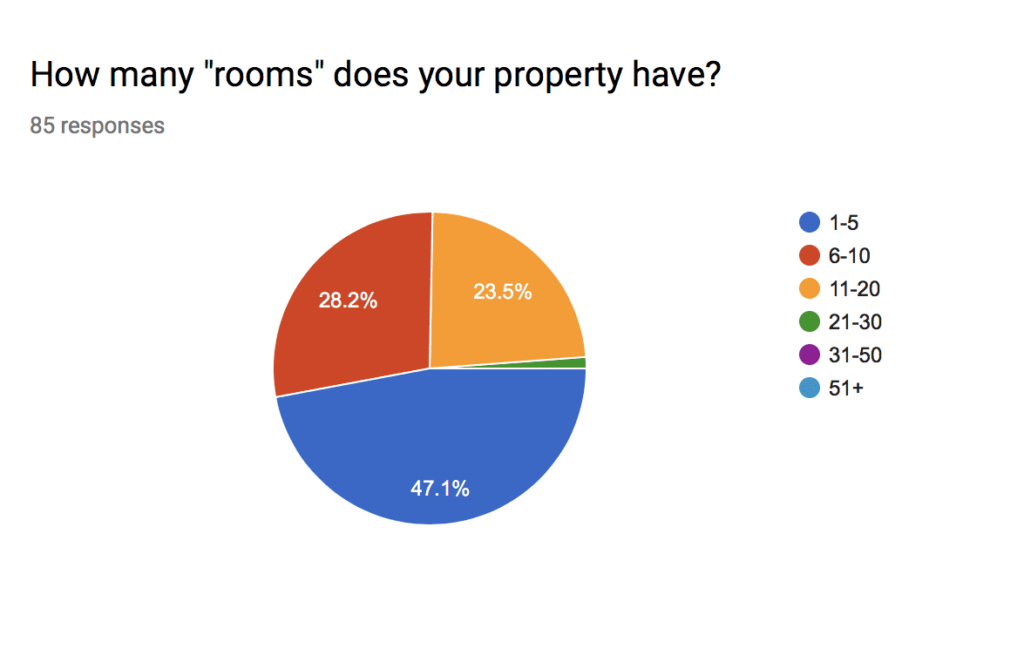 The majority of respondents own and manage small properties with 1-5 rooms. 28% own properties of 6-10 rooms with 23% owning 11-20 room properties. The smallest portion of respondents own 21-30 room properties, coming in at 1.2%.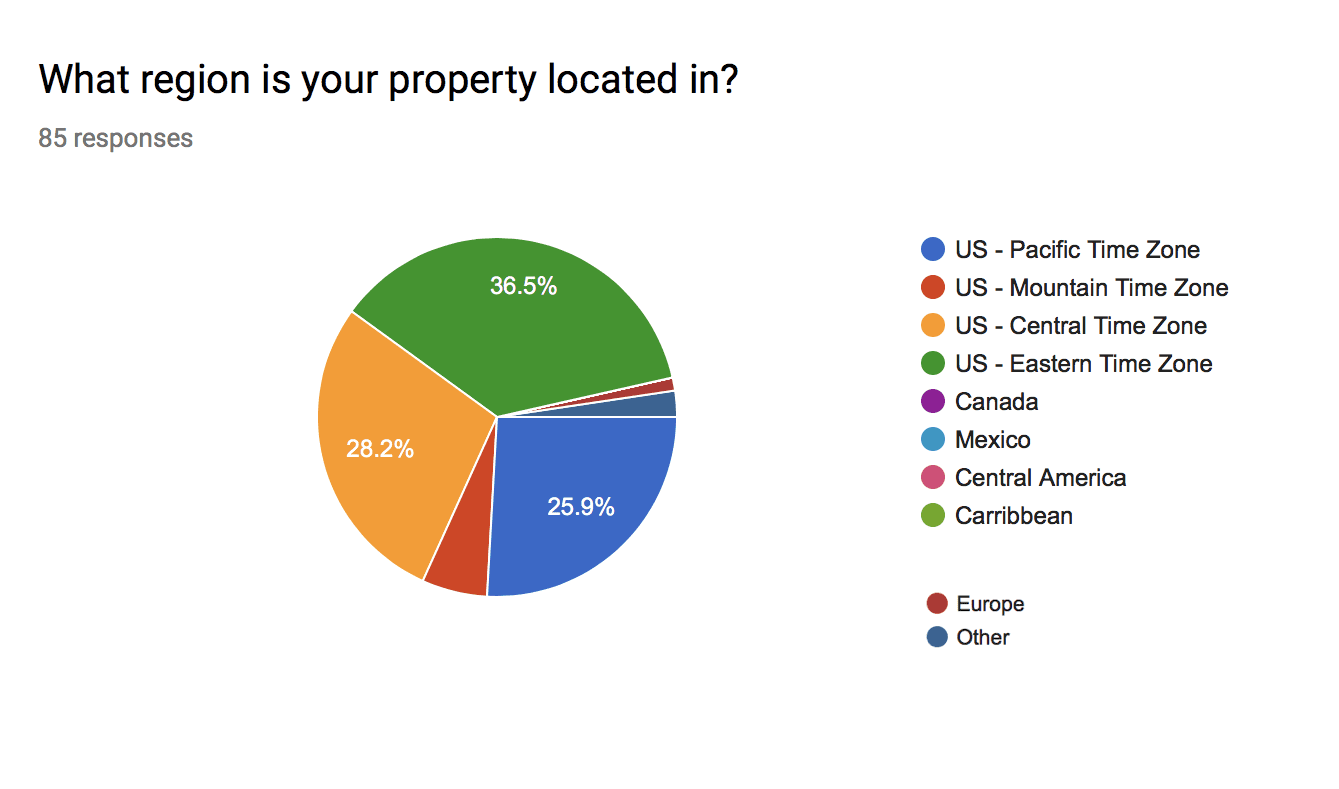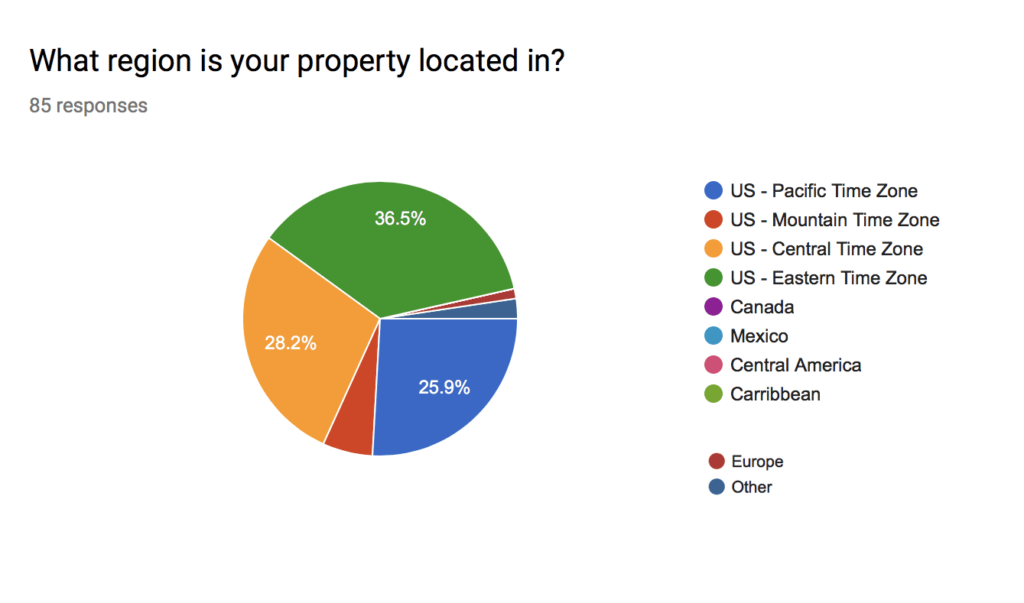 Respondents were distributed all across the globe. The majority, at 36.5%, are situated on the East Coast while 28.2% are are in the Midwest and 25.9% on the West Coast. The remainder of the respondents were sprinkled across Europe, the Rockies, and other parts of the world.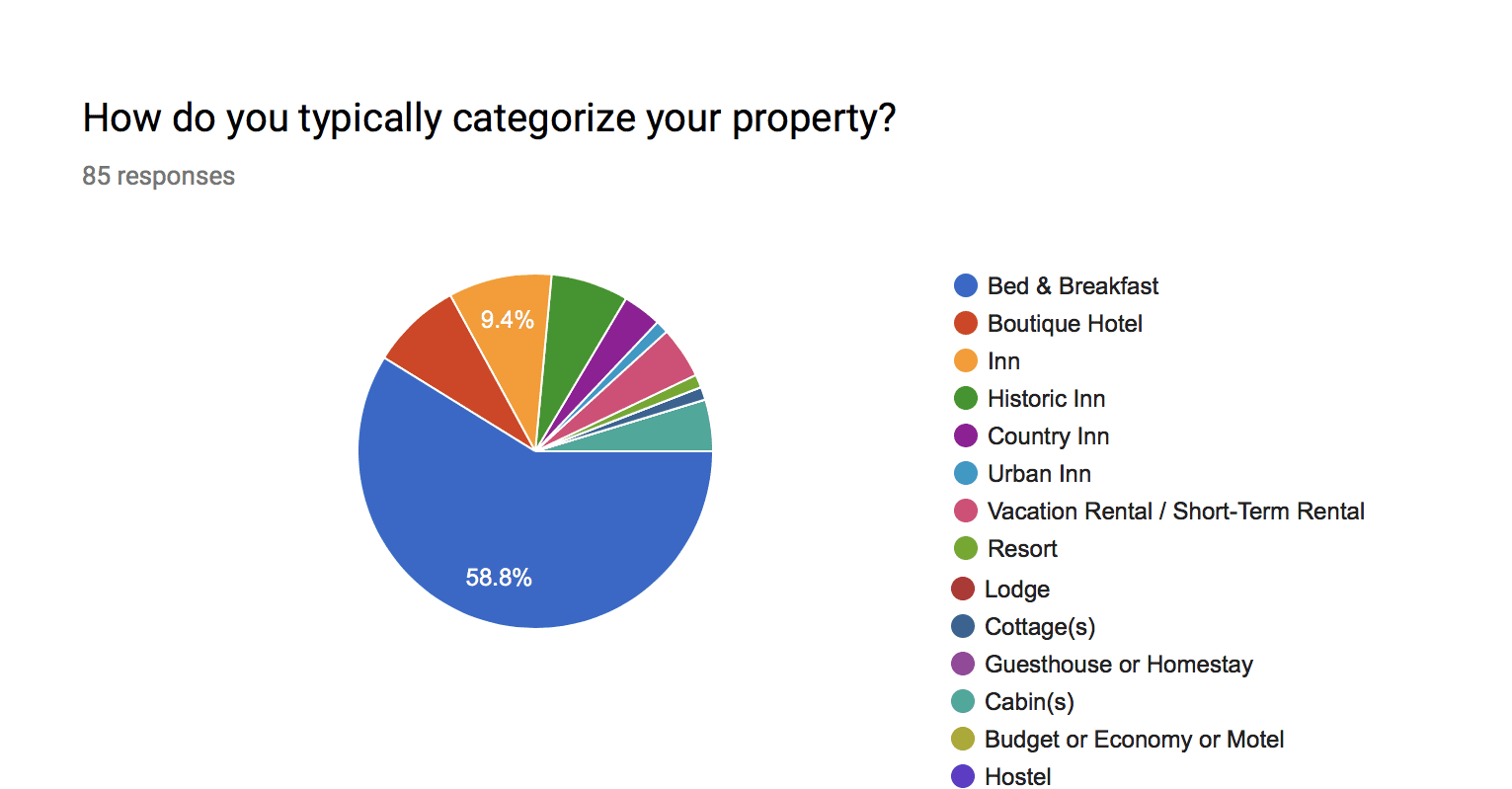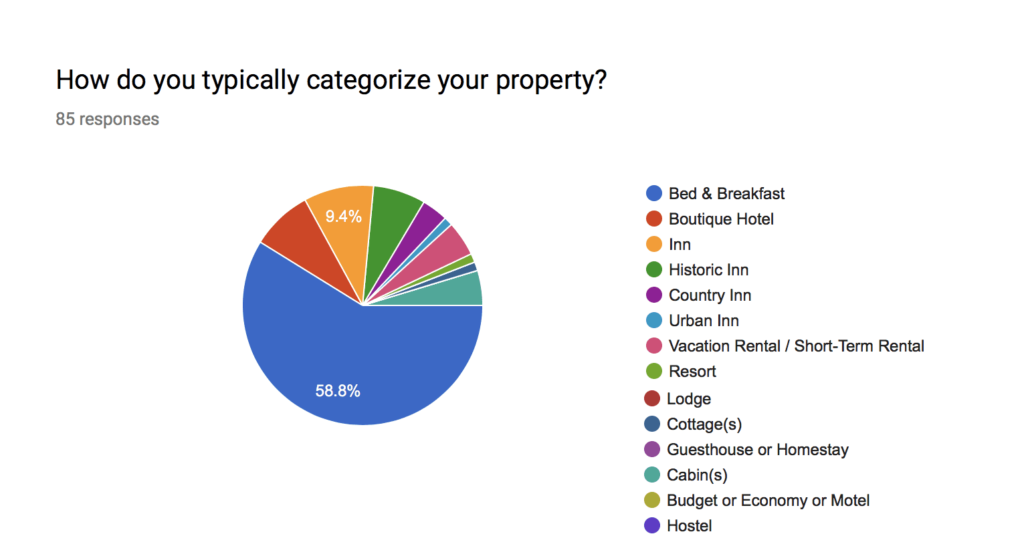 More than half of respondents represented bed & breakfasts. Coming in next were Inns (at 9.4%), Boutique Hotels (8.2%), and Historic Inns (7.1%). Smaller numbers represented short term vacation rentals, cabins or cottages, and resorts.
We hope this survey has emphasized the importance of special offers & packages. If you are already offering them to your guests, great! If you don't yet, consider adding this profitable and low-stress option to your guests. Don't forget to stay on the look out for our new Odysys survey!