The relationship between Hotels and Online Travel Agents (OTAs like Expedia and Booking.com) is… complicated, to say the least.
Hotels and innkeepers work hard to deliver a product and service that travelers will pay good money for. OTAs help the traveler and hotel find each other, and take their cut off the top. OTAs depend on you to make their money and stay in business. Considering this relationship, all hotels and innkeepers should develop a strategy to use OTAs to ultimately make their properties more profitable.
We recently surveyed 100 innkeepers & independent hoteliers to gain some further insights into how they are using OTA's. Here are some findings and advice based on the survey results:
1. No Presence With Online Travel Agencies
25% of innkeepers choose to not list their property on OTAs. Expedia, Booking.com and Bedandbreakfast.com have a remarkably strong online presence and drive a lot of traffic to hotels. To not market your property through OTAs is to lose out on a lot of visibility, and (believe it or not) direct booking revenue. Are you familiar with the The Billboard Effect?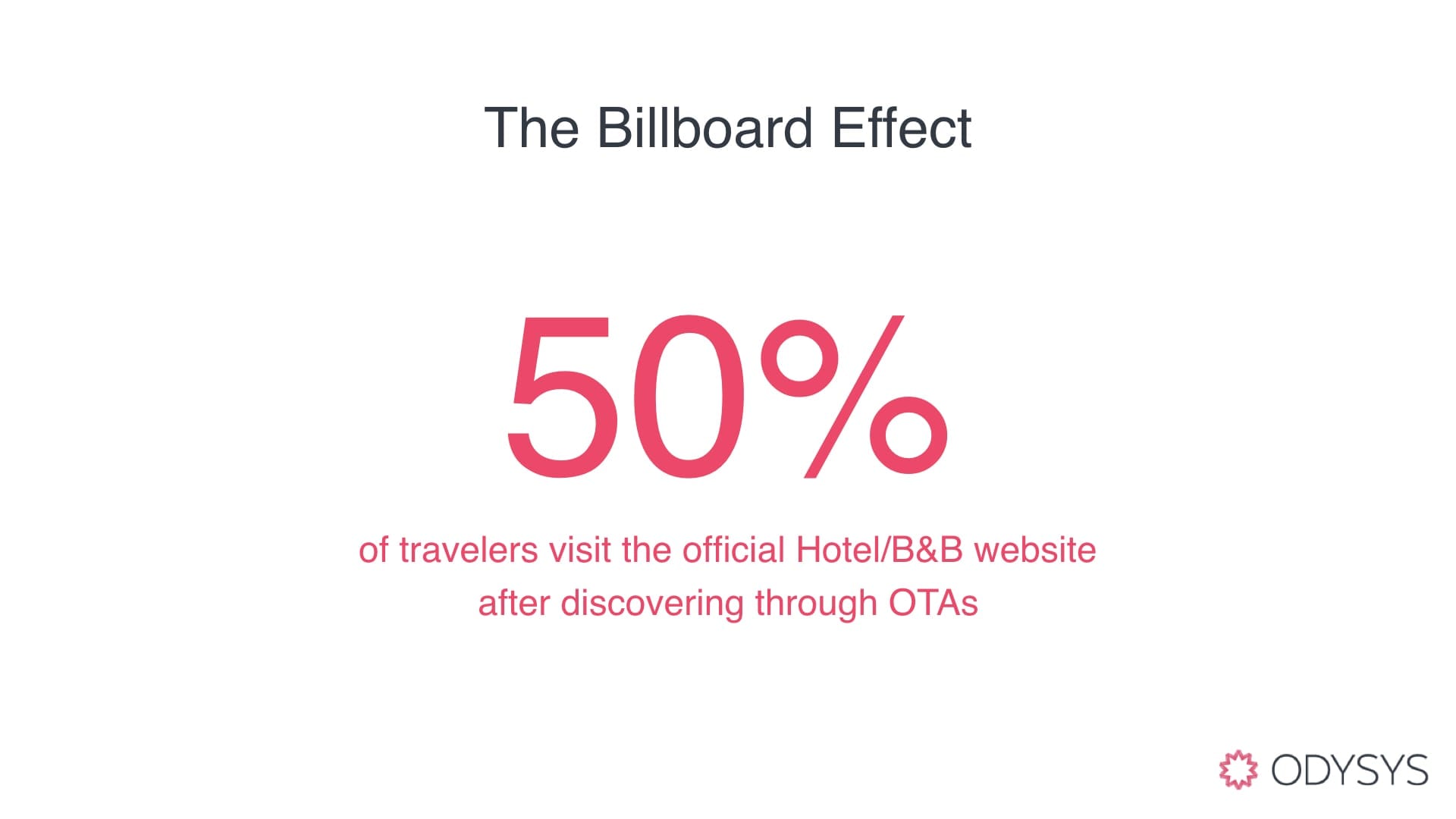 50% of travelers visit the official Hotel/B&B website after discovery through an OTA. So if you throw your hotel up on an OTA, you will have a chance at converting 50% of their traffic on your official website. It is a great way to market your property and increase your visibility.
2. Charging Higher Rates for Online Travel Agencies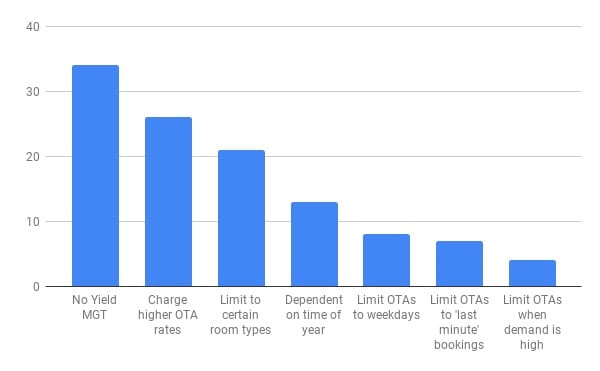 25% of innkeepers charge higher rates for OTA rooms, ultimately accounting for the commissionable rate that they charge. Sure this is one way to recoup those fees, but if your guests are willing to book at the higher OTA rates, why wouldn't they pay that much on your direct channels? Charging higher rates for OTAs is a mistake because it breaks the rate parity clause in your contract, and it misses an opportunity to collect more direct revenue. Use OTAs like a marketing channel instead. Limit availability to certain room types or days of the week to book rooms that you wouldn't otherwise book yourself. See the yield management tips below.
3. Set it and Forget it Yield Management Strategy
A third of innkeepers don't use any yield management strategies at all. This is a big mistake! Yield management tactics are a great way to get the most out of your OTA partnership. Employ a more proactive yield management strategy by limiting availability when demand is high and by providing incentive for direct bookings. Check out our recent blog post for more ways to master your OTA strategy.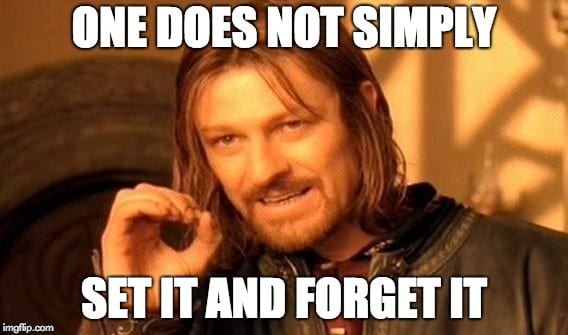 Tips & Takeaways for Your OTA Strategy
Listen to this InnSpeak Podcast episode for OTA management tips from a fellow innkeeper.
List With as Many OTAs as You Can
… but only if you have a yield management strategy in place. Listing your property on OTAs have proved to bring in more direct booking revenue. Of course there will be more OTA reservations as well but if those same rooms would go unrented anyway, what's the harm? Consider the Billboard Effect when putting together your OTA strategy.
Develop a Yield Management Strategy for OTAs
The "set it and forget it" strategy leaves money on the table for OTAs to pocket – they are booking rooms that you could have otherwise booked yourself. Use OTAs as a part of your strategy. Yield Management techniques with OTAs will help you bolster your revenue and direct bookings.
Maintain Rate Parity to Maximize Revenue
If guests are willing to pay increased rates for rooms through an OTA, they will be willing to pay those same rates through direct channels as well. Maximize your revenue by charging the same rate across all channels. Instead of competing on price, encourage and incentivize your guests to book direct.
Incentivize Guests to Book Direct with Value Add Promotions
Use OTAs to help market your product, but take advantage of The Billboard Effect and have incentives in place to encourage guests to book directly with you. What is your plan to book guests capture guests who view your official website? Here are some ways that your fellow innkeepers got creative with direct booking incentives:
Free WiFi
Free Parking
Afternoon Snacks
Best Rate Guaranteed
Return Guest Discounts
Free branded hotel swag
A complimentary bottle of wine
Cookbooks featuring BnB recipes
Gift certificates to local attractions
Complimentary airport shuttle pick-up
Complimentary or Upgraded Breakfast
Leveraging local partnerships and strengths about your property goes a long way to creating unique value to your guests. Incentives like these will convince a guest to book direct when they land on your site. If you aim for these value add promotions to price at 5% or even 10% of room revenue, that beats the 20% commission OTAs charge and will give your guests plenty of reason to book directly with you.
---
Related Resources