We're just about a year into COVID-19, and your property is likely able to accept guests now. Some destinations and properties are thriving, others are struggling, but every property has access to some tools to improve your chances of getting bookings right now.
If you've ever attended one of my presentations or any of my Webinars, or read one of our marketing guides for hotels and B&B's, I nearly always carve out space about optimizing your property's Google Business Listing. I regularly stress the importance of keeping it up to date, getting the notifications, replying to reviews, etc.
Your Business Listings are Just as Important as Your Home Page
Dear reader, it's time for some tough love. If you aren't regularly keeping your property's Google Business Listing up to date, then I don't even want to hear you complain about bookings. Don't come to me with it if I'm going to open your business listing and see recent reviews you haven't replied to and months-old updates to attributes or hours or categories that you haven't reviewed. Imagine my disappointment and frustration when I see that you haven't updated your property's Google Business Listing or TripAdvisor listing with your COVID-19 health & safety information.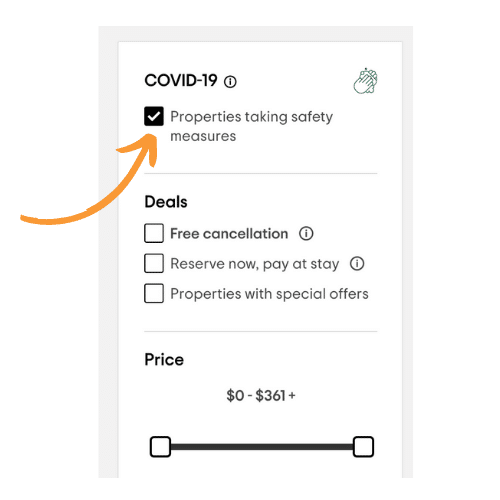 Every time I do a trial run on TripAdvisor and look for a B&B/Inn in a certain area and then I'll check the box and compare the results. More often than not, the number of properties available drops down to single digits.
How to Update Your Property's Health & Safety Information
Take 15 minutes out of your day to update your hotel or B&B's business listings with COVID-19 health & safety information. In the video below, I show you how to do this on Google, TripAdvisor and Facebook. Similar options exist on Yelp, Expedia, Booking.com, bnbfinder.com etc. If you've got a listing you're paying for or that's historically responsible for a lot of traffic or bookings – make sure it's up to date.
PSST! This video was a part of our launch of the "Stay Local. Support Small. Book Direct." campaign and includes a BONUS TIP for your Google Business Listing. There's another 'tab' to your property's attributes for "Room Details" which often goes unnoticed. Watch the video and I'll show you how to add your room details to your listing.
Helpful links to more information about updating your hotel's business listings:
Get Our Latest Guide
How to attract local travelers – your best source of bookings in the pandemic and beyond: