What B&B's and Hotels Need to Know About Google's Q&A Feature
Potential Guests Have Questions About Your Property — Are Your Answering Them?
Wouldn't it be great to convert more "Looky Lou's" into actual guests?
Sometimes the issue is that they have a specific question they can't easily find the answer to on your website or in other reviews. You can of course add a "FAQ" or "Frequently Asked Questions" page to your website. But Google gives you and your potential guests a way to answer questions about your property right in the search results.L
Google Business Listing Q&A Video Walk-Thru
Don't want to read? We don't blame you – here's a video!
The Opportunity for You in Google's "Q&A"
Here's why you should be seeding the Q&A with your own questions and answers
Reputation management. Asking & answering your own questions helps control the conversation/experience when your property gets found in google's map results or people are searching for your property name.
Relevance. Using keywords / key amenities & features in your questions and answers may help you match your property with the ideal guest. Example – people look for "bed & breakfast with…" "jacuzzi tubs", "fireplace" etc.
The Q&A of your business listing is a great opportunity to facilitate the customer journey from digital search to your door. Conversion is much more important than rank in this context so keep in mind that both your questions and answers need to help the potential guest make that decision to stay with you.
Google Q&A Example
In this example – potential guests are asking questions about the Sentinel Hotel. A bunch of Google users are answering the questions instead of the property. To find your Q&A – do a search for your own property name and see the info box on the right hand side of the page.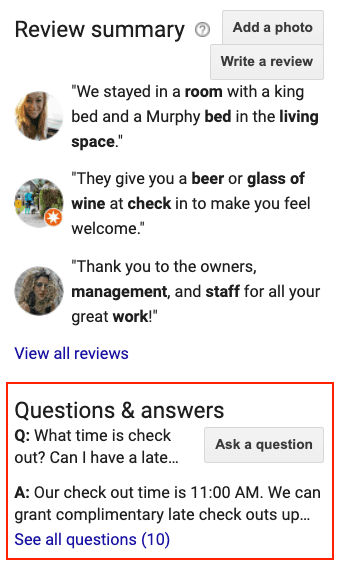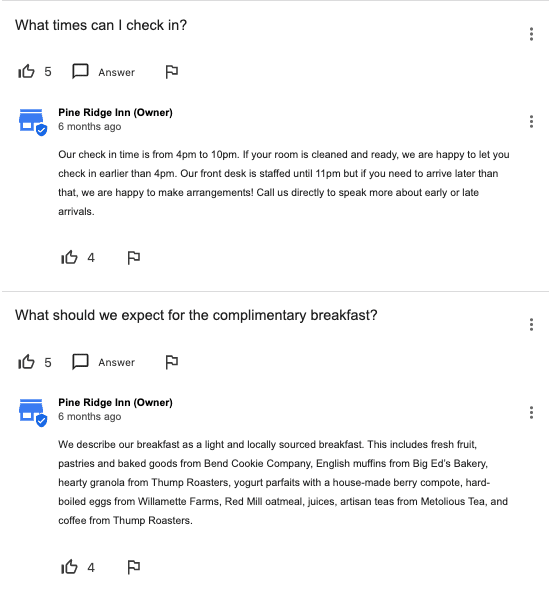 Our recommendation is to "seed" the Google Q&A for your property – ask and answer your own questions.
Getting Started – Do A Little Research
To make the most of your property's Google Q&A, you'll want to "seed" the Q&A with your own questions and answers. Here's how to be strategic about it.
What Questions do You Get All the Time From Guests?
Think about the questions you get on the phone when people are asking about making a booking. Not necessarily questions people have after they're on property.
Research Q&A With a Couple of Simple Searches
A few quick searches in Google will reveal a lot about what people want or have questions about. These searches reveal a few of the amenities that people are curious about and also common destinations people want access to.
Example. People frequently search for places with a jacuzzi or hot tub or in-room fireplace. If you have that amenity – put this in your Google Q&A.
Question: "Does this place have jacuzzi tubs in the rooms?"
Answer: "Yes, all of our suites have Jacuzzi tubs in the room. We also have a hot tub available to guests from 10am – 10pm."

And don't ignore what people look for in hotels – B&B guests also typically consider mid & upscale hotels for their stay.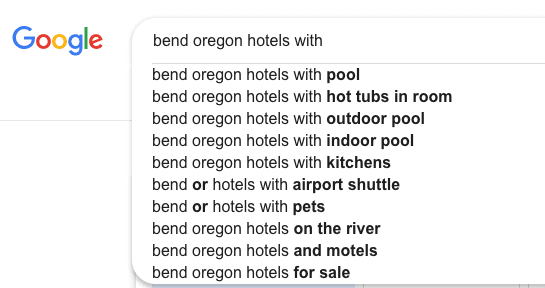 Your potential guests are coming to your area to experience attractions, nightlife, etc.
Google Q&A Starter List
Need more ideas? This is our starter list of questions for you.
PRO TIP: Limit your Q&A to 7-10 questions. So use those questions that really help your property.
CHECK IN, CHECK OUT & POLICIES
When is check in time? what if I need to arrive at a different time?
When is check out time? Does this place allow late checkout?
Does this place allow pets? what about service animals?
Does this place allow children?
Is smoking allowed anywhere on the property? how about vaping?
Does this place allow check ins without a credit card?
BREAKFAST & MEALS
Is breakfast included?
What time is breakfast?
Does this place accommodate dietary restrictions?
Are any other meals, beverages or food also included?
Does this place have an on-site restaurant?
Is this place near any other restaurants?
AMENITIES & ACCOMMODATIONS
Does this place have free wifi?
Does this place have parking on site?
Does this place have air conditioning?
Is this place wheelchair accessible? are there wheelchair accessible and/or first floor rooms?
How big are your rooms?
Do any rooms have a fireplace?
Do any rooms have ceiling fans?
Do any rooms have a whirlpool/jacuzzi tub?
Do any rooms have a hot tub?
Do any rooms have a nice view?
Do any rooms have a patio?
Do any rooms have 2 queen sized beds?
Do any rooms have a king sized bed?
Does the owner/innkeeper live on site?
Do I have to share a bathroom?
Does this place have a tv in my room?
Do the rooms have dvd players? Stream netflix (wouldn't include for PRI)
Will I have to interact with other guests?
Does this place have a pool?
Does this place have a hot tub?
LOCATION/THINGS TO DO
What kind of things to do are there nearby?
Is this place close to [attraction or destination]?
PRICES, PAYMENT & POLICIES
Does this place offer specials or discounts?
Does this place offer extras or add-ons?
I found a different rate through an OTA website, why?
Can I rent your place for an event/party/wedding?
What is your cancellation policy?
Can I buy gift certificates for this place?
What is the best way to make a reservation with this place?
MISC QUESTIONS
When was the hotel built?
How many rooms are in the hotel?
Who is the owner of the hotel?
Wrapping it Up: A Few Things to Keep in Mind
While the seed list above is helpful for getting started, your property is unique. All of the questions we've listed here probably don't apply. IE – I wouldn't put "does this place have a pool?" on your Q&A unless you A) have a pool or B) don't have a pool but get asked all the time because guests expect one.
So the best advice I can give is to think about your guests and what the common questions are that they have. Make sure those are answered here. Also, if you've got something unique about your property or amenities – here is the perfect place to point it out. So for example: if you have a lot of motorcycle types come through, then you probably want to mention something about parking the bikes. Or if you have stables make sure you have q&a about your accommodations for horses.
This is your opportunity to start a conversation with potential guests, weed out guests that aren't a good fit, and head off some of the common questions you get so the guest can get straight to booking.
There isn't a great way available to monitor your Google Q&A for new questions or answers. So for now, make it a regular part of your process to review your property's Q&A.