SEO is ever changing and we are always getting questions from our clients about the right and wrong way to strategize their SEO. It is pretty confusing and techniques that used to work really well 4-5 years ago are no longer benefiting your website. You didn't become an innkeeper to become a digital marketing expert. But like it or not, understanding the basics of SEO is an essential part of running a business in the year 2019. If you're confused about what practices to adopt and which to ditch, we've created this list of 5 no-no's for SEO.
#1: Do Not Pack Keywords Into Your Meta Descriptions
Lots of people think that the title tags and meta descriptions both affect SEO rankings and therefore they should put as many keywords in both to make their page rank higher in search engine results. This is not true. Google uses your title tags to search for search for relevant content and the keywords you utilize here will affect how your site ranks in search engine results. Meta descriptions, however, are not used in Google's algorithm for search engine results. So why even bother? Meta descriptions are an opportunity to write a little free "ad" for why someone should click through to your page.

Think about it this way:
Write title tags for Google. This is where you want to utilize keywords… but don't stuff keywords. Make sure you check off the basic checklist of (1) your property name, (2) your location or large attraction you're located near, (3) some sort of lodging, B&B, hotel, or inn keyword if it isn't already in the name of your property, (4) one or two main keywords that describe your inn and coincide with the search terms people are looking for, and (5) is short enough to display in Google results (currently 60 characters or less). Above all else – your title tag needs to be compelling enough to want to click on. If it is just a bunch of keyword-ese, it looks like junk. Check out our quick video on how to optimize page title tags and meta descriptions for SEO
Write meta descriptions for your guests. Google does not use these for rankings, but they will bold certain words in the meta description to draw the eye. With a clean title tag, you can interest the viewer, but a well written meta description appealing to your ideal guest is what will bring them in. Write in full sentences that highlight the aspects of your inn that make it stand out.
Our Bonus Tip: Add a short call to action at the end of your meta description. Something like "Book direct online!" or "Book direct for our best rates" isn't overly in-your-face but prompts the guests to bypass the OTAs and book with you.
#2: Do Not Overload Your Website With Links
Links are important, yes. But too many links takes visitors off your website. Focus on quality over quantity. Do not put any links to other websites on your home page or rooms pages – these are your website's "money" pages. Do, however, put links in your other "informational" pages. We suggest that you link out to two different types of sites:
Local Sites. Look specifically for sites that are located in your area or are specifically about your area. Township event pages for example are a great link to have on your website. Search for local travel guides to add to your 'Things To Do' page. The Pine Ridge Inn, shown below, has inserted a few links to local restaurant guides on their website instead of crowding their restaurant page with links to every restaurant in town. Your website isn't Yelp. Your links should be very carefully curated.
Owned listings & memberships. For example: badges & links to the association or chamber that you belong to, or to your listings on sites like TripAdvisor or your social media accounts. These are OK to have on every page of your site, but they should be more subtle like in the footer.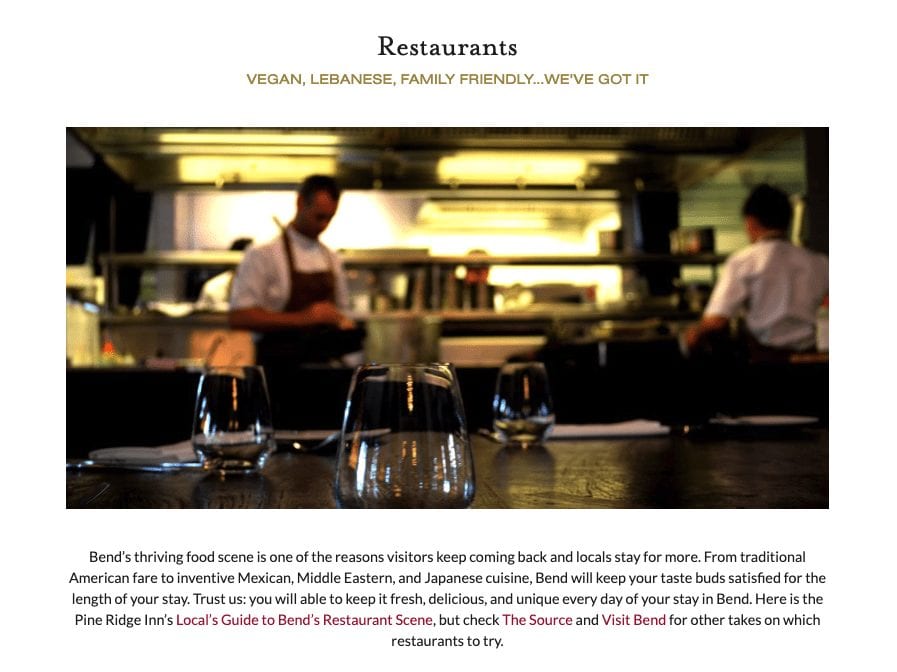 #3: Do Not Design Your Website Only for Desktop & Laptop Users
Just because you can access your website from a mobile device doesn't mean it is mobile friendly. You can test your website's mobile friendliness through Google's Mobile-Friendly Test.

Quick Test: If you have to pinch & zoom your website on your mobile phone in order to use it, it is not mobile friendly. Mobile-friendly design entails that users viewing your website through a mobile device like a phone or tablet can scroll up and down to see all of the content, which is intentionally formatted this way. A mobile-friendly website is required for optimal rankings in Google, and even if it weren't about Google, your website visitors require mobile-friendly websites.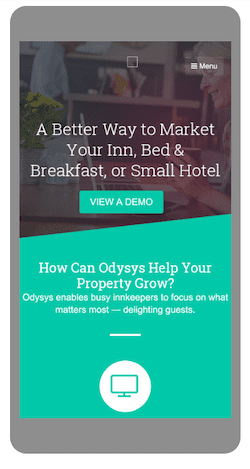 #4: Do Not Blog Only About Yourself
Many innkeepers that try blogging start by promoting their hotel with blog posts like "Why you Should Stay at Our Asheville B&B" or "This is Why Our B&B is the Best!" Even though these blog posts feature new content, utilize the right keywords, and promote your property, these topics don't interest readers and won't be seen. Spending a lot of time and effort writing these won't help your online marketing strategy at all. Blog posts should follow the 80/20 rule. 80% of your content should be educational, interesting content about your area. 20% can be more promotional.
Think about a blog post "Why Asheville, NC is the Perfect Summer Destination" that outlines the great restaurants & breweries, some of the must-see events of the summer, and the best activities in the area. Now you've sold the reader on the vacation destination. At the bottom link it back to your inn. Talk about your location, the great amenities you offer, and why staying at your inn helps the guest really immerse in the local culture (Tip: Keep the tone in 3rd person for this part too!). Now you've sold them on your property.
The best part of this method of blogging isn't the increased bookings, it is the improved SEO value. Blog posts like these will get more likes and shares on social media, and more click-throughs in your email newsletter. Google rewards this type of activity, as do social media sites.
Take Franklin Victorian Bed & Breakfast located in the charming mid-west town of Sparta, Wisconsin as an example. They have been blogging about their area since 2016 and their blog posts are featured in the results for any number of searches relating to their area. A Google Search like "Things to Do in Sparta, WI" or "Sparta WI Food" results with their guides, even outranking listing sites. Their titles are often "Things to Do in Sparta, WI | A Local's Insider Guide for Visitors" or "Recommended Restaurants & Dining in Sparta & La Crosse WI" . Neither one of these mention their brand. It is just good, interesting content that people want to read.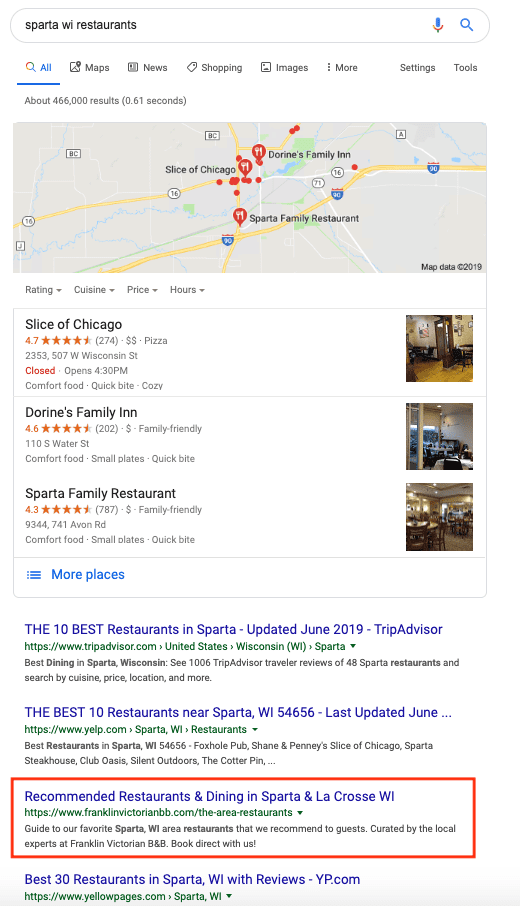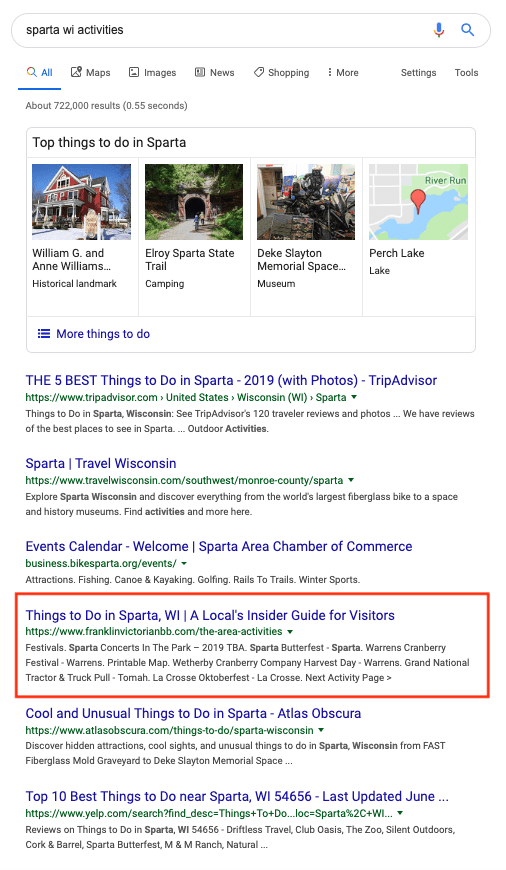 Their posts feature lots of great information on visiting the area, top 10 tourist attractions, restaurant recommendations, and event guides. At the bottom of each of their posts they feature a call to action.

#5: Do Not Focus Only On Your Website
The ultimate goal of search engine optimization isn't just to get your website to rank well, it is about potential guests finding your BUSINESS. Gaining a ranking in the map results for a search like "Santa Cruz Bed & Breakfast" can have a big impact on your success in organic search engines. The hotel finder "4-pack" search results are of the best ways to optimize the visibility of your business and attract more guests directly to your website. To rank in the map results, you first need to claim and optimize your Google MyBusiness page. Fill out your profile including categories, attributes, business hours, and photos. This gets you on the map. To climb up the map and get to the top of the list you need to optimize your profile AND your website, get great reviews, along with citations/listings for your business and links to your website. Download our free 5 Steps to Local Search guide to learn how to fully optimize your map rankings.
Want to know what else you can stop worrying about when it comes to SEO? Check out this free PDF.