Often times hotels, B&B's & inns have additional businesses or business departments at their location. Obvious examples of a co-located business might be restaurants or coffee shops or spas or possibly even event venues on the property that are open to the public and operate independently of the accommodations business.
Benefits of an Additional Google Business Listing
It's Easier to Promote a Business That is Co-Located On Your Property if it Has its Own Business Listing
Think of service departments at car dealerships, or different buildings on a university campus, or a Starbucks location within a Target store. These distinct departments or business types are different categories even if they occupy the same location and can have their own business listing with Google.
There are a number of features within Google Business that aren't available to business listings for accommodations. Having a separate listing for this other business type opens up a few opportunities & benefits.
Posts: Google My Business does not allow accommodations to use the "posts" feature, which can be an effective tactic for marketing a business on Google

Categories, amenities & services specific to your other business type. For example – your spa or restaurant won't have to be relegated to an 'additional category' within your property's business listing, it can be the primary category and more competitive for keyword searches

Link the business listing to the specific section or page of your website. This will likely help that page rank better in Google for the category keyword as well. (ie – if the spa information is located on a page or section of your website, you can link the business listing directly to that page)

Separate hours, Q&A, description, etc.

Separate reviews between the different listings, so you don't have reviews of your coffee shop or restaurant mucking up reviews of your hotel.

Connect to booking services – restaurants can connect their restaurant business listing to services like opentable or resy. Spas can connect their listing to booking services like mindbody, etc.

When your additional business is co-located at the same address/location, it can be "nested" within the listing for your property but still show up as an independent listing for searches specific to the business type. (ie – the spa listing would show up for spa searches, instead of the hotel listing)
See this example of The Borland Inn & Brunch House. These are two different businesses at the same location. The listing is trying to bridge the gap between a restaurant that's open to the public and the Inn itself. Reviews for the restaurant are intermingled with reviews of the Inn, there's no restaurant features like restaurant reservations, and the hours are undoubtedly for the brunch restaurant and not the Inn. Creating a separate listing for the restaurant would improve the performance and accuracy of each individual listing.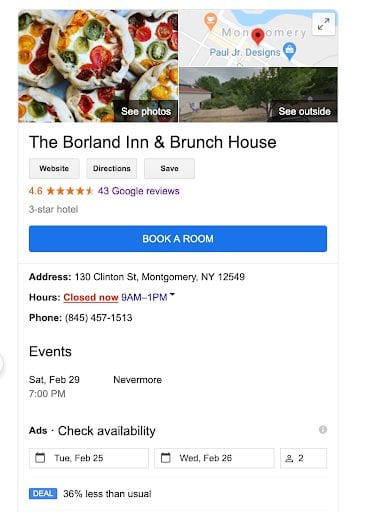 What are the Requirements for Creating an Additional Business Listing
It may be tempting to try to list your B&B as a breakfast restaurant as well, but unless that breakfast is open to the public, it won't meet the criteria and you shouldn't do that. Your additional business listing must meet these criteria:
Have a unique location at the business. For example: In-room massages does not qualify as a spa. The spa would have to be a separate space within the property and be open to non-guests.
Its own entrance. The entrance can be inside/co-located within the primary business. Think of a bigger hotel where maybe the spa is inside the main entrance but has its own entrance on the 2nd floor or in the lobby.
The additional business must have its own signage.
Separate phone number & name. Adding a suite number or something like "2nd floor" to the second address line in the listing is great for human directions – but Google ignores this.
The additional business must have its own distinct category that's different from your primary business.
Still not sure if you qualify for an additional business listing? Need more detail? Here's the specific criteria from Google. See "Departments within other businesses, universities, or institutions" here: https://support.google.com/business/answer/3038177?hl=en
How to Set Up an Additional Business Listing
Create a Google Business Listing for the additional business:

https://business.google.com/

The business name and phone number MUST be unique, otherwise you will run into many problems

When adding a link to the business listing, link to the most relevant page/section of your website for the additional business. Ie – the "spa" page/section of your site.

Make the categories of your listings exclusive and independent. So if your hotel also has "spa" and "restaurant" as categories, remove them from your hotel listing when you add them to your new business listing. Making the categories mutually exclusive will improve your results.

As always, completely fill out and optimize this new listing with all the features, amenities etc. It will have different options than the listing for your accommodation.

After you create your listing, decide whether to "nest" it or not. If your listing it is co-located at the same address (even with a different suite number), it can be "nested" within the listing for your property. Basically it's a department listing that lives within the main listing, but still shows up as an independent listing for searches specific to the business type. For example, the spa listing would show up for spa searches, instead of the hotel listing.

To create the nested listing: Once your listing is live in Google, use Google to search for the new business and then click "suggest an edit"

Click "located in" and then just type the business name of the primary business.

Note how this nested business listing now indicates that the restaurant is located in The Nines hotel, but it also has restaurant-specific features like reserving a table through opentable, restaurant reviews from 3rd parties, etc.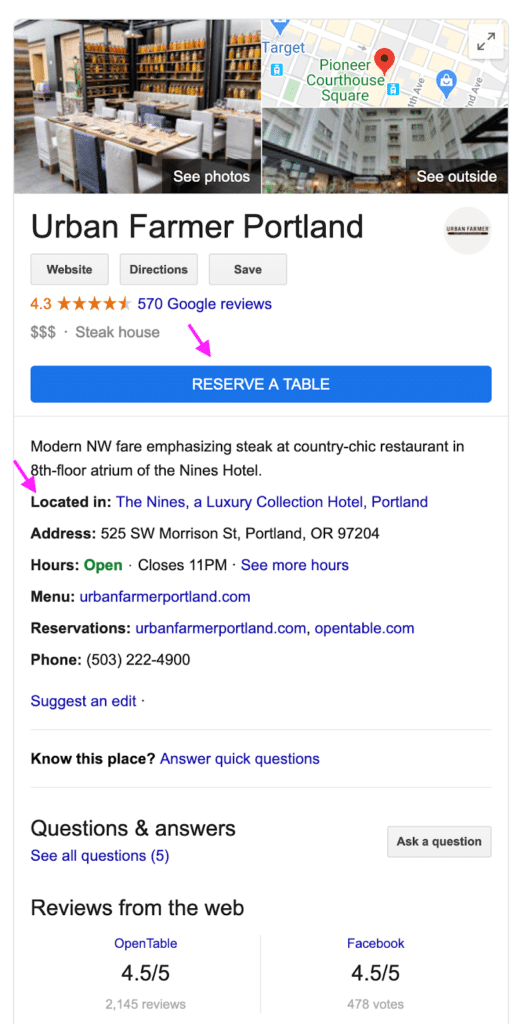 Next Steps
The following is true for your additional business, just like it is for your primary business listing:

Have at least a page dedicated to the additional business on your property website
Link to this page from your new listing
Get Links, Listings & Citations for the Business
Line up listings, links & citations just for that additional business. When you go and create a yelp listing or facebook page or opentable listing etc, that name & phone number & website link need to match so Google understands that it's for the separate listing. It is very important because the address will be the same in most cases.
Consider using a listing service that submits and monitors both your listings across business data aggregators which ensures accuracy of your business information on many 3rd party sites. See: Odysys' "Local Search Marketing " service.
Get Reviews on Google
The success of any business listing on Google is dependent on Google reviews, along with reviews on the most important 3rd party sites to your business type. This varies by category – for accommodations, TripAdvisor comes to mind.
For more tips on how to help your business listing succeed, download our recently up updated guide: 5 Simple Steps to Success with Google Hotel Search
And attend our webinar! https://odysys.com/webinars/
Special shoutout and many thanks to Greg Gifford and BrightLocal's Local Search Clinic for answering my questions about this topic on their recent webinar.