Digital marketing is a field that is always changing, adapting, updating and sometimes it seems like you can never get ahead of the curve. Yet, one of the most powerful marketing tools is the age-old email. Dollar for dollar, email marketing has held the top spot for one of the most cost-effective ways to connect with your guests, promote direct bookings, upsell packages, and increase reviews.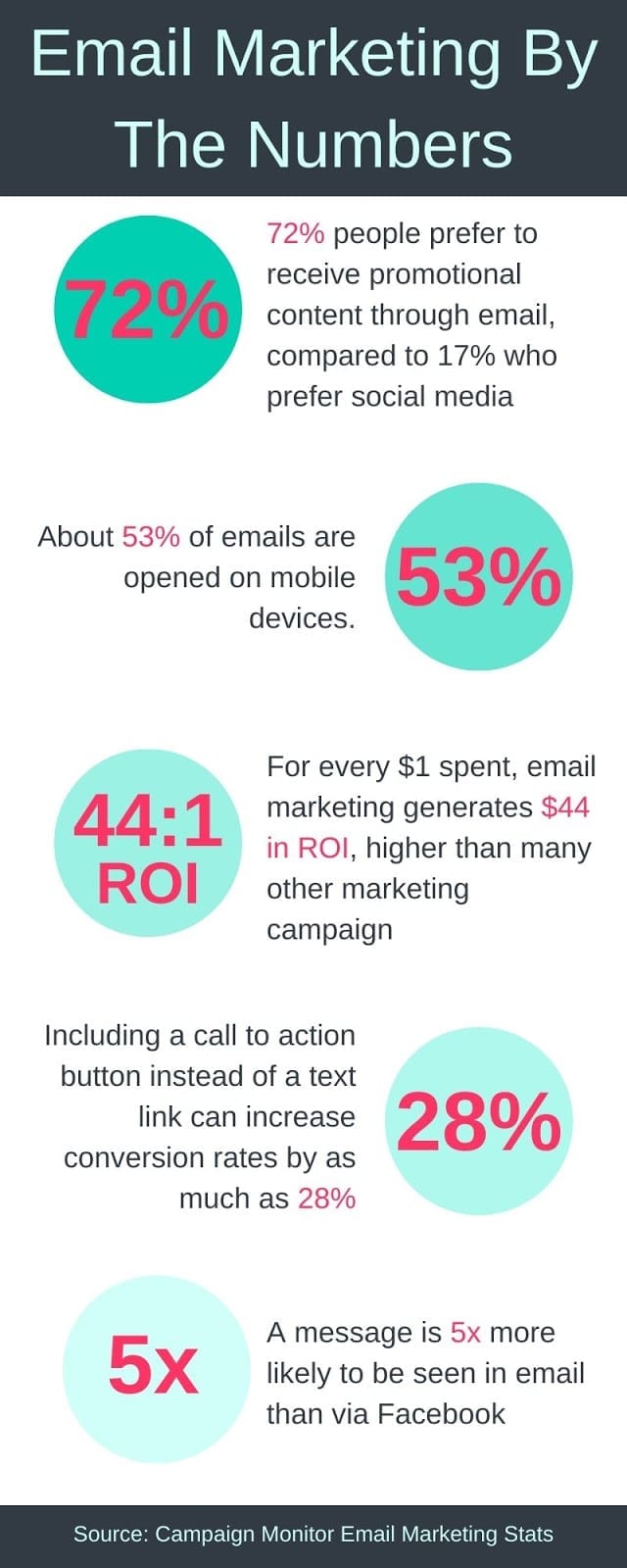 In general, there are two categories of emails that innkeepers should know and use to communicate with their guests. Marketing emails are used to foster a relationship subscribers and keep them engaged. The most common and basic example of a marketing email is the tried-and-true email newsletter. Transactional emails are the auto generated emails that are sent to your guests to confirm their stay, deliver pre-stay information, or thank guests after their stay. Use both types of emails for maximum benefit.
Marketing Emails:
Email is often overlooked by small businesses because it is not a new, shiny over-hyped tactic. Email is a workhorse that is simple enough to effectively build a relationship with your audience and generate bookings. Marketing emails include monthly email newsletters, e-blasts with promotional deals, and birthday or anniversary emails. Ultimately, marketing emails help you to stay relevant in your guest's minds by promoting your destination and property. When you not only utilize, but optimize your email campaigns, you will see a rise in repeat guests, direct bookings, and customer satisfaction.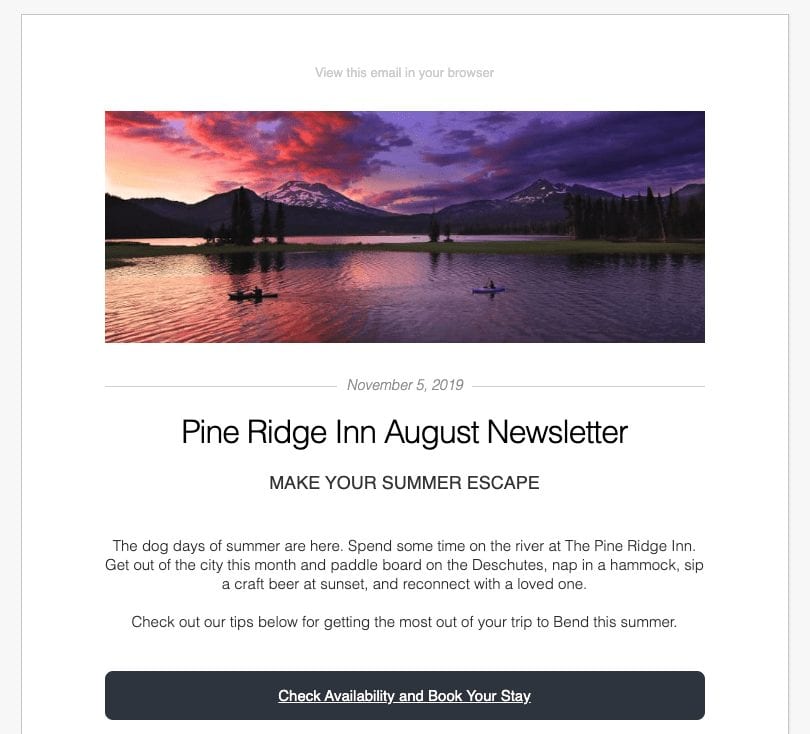 Steps to Optimizing your Email Newsletters
Grow Your Audience.

The more people who receive your emails, the higher your ROI. So how do you get more emails? Get sign-ups on your website by having a convenient, but unintrusive signup form on your website. You can also opt-in your guests and add a signup page to your Facebook for interested and prospective guests!




Odysys customer Wild Horse Inn has an email slide-in on their homepage making it easy for potential guests to subscribe for emails, or exit the slide-in for a non-intrusive experience.

Create Your Content.

The key to a successful email is promoting content that people want to read. People love to read about your destination and featuring guides, tips, and resources for exploring your area is one of the best ways to have guests engage with your email. Follow the 90/10 rule of 90% educational, travel-related content and 10% of promotional content about your property.

Have a Call To Action. People are reading your email, checking out upcoming events, and reminiscing about their time at your property but you need to help them convert to a reservation by adding in a call to action. Emails with a call to action instead of a text link convert up to 28% more than emails that don't. Pull your readers into your booking engine with a straightforward call to action button.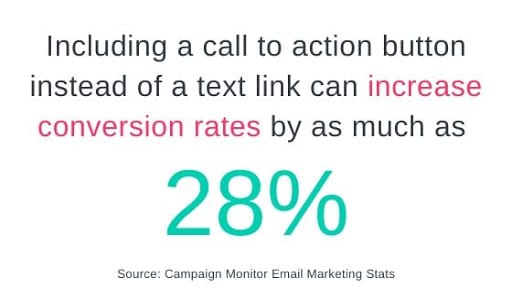 Email newsletters are one of the most effective marketing channels for generating direct bookings, encouraging repeat guests and guest loyalty. Yet, a large portion of innkeepers (ie – your competition) don't regularly send email newsletters because it takes too much time, the technology is too difficult, and because of concerns about 'spamming' customers.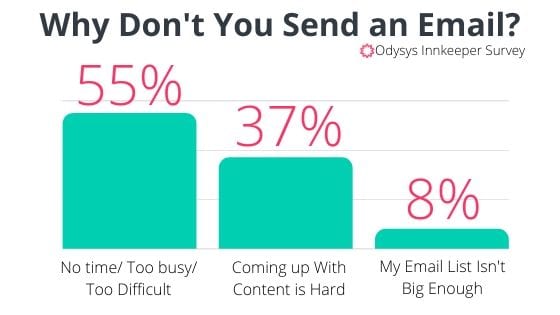 These excuses shouldn't deter you from using this method to reach your guests. Given how many of your competitors aren't utilizing marketing emails, simply sending out a monthly email newsletter can be a competitive advantage for your property. Pro Tip: If you need help with your email marketing, Odysys can manage, create, and send your monthly email campaigns. To learn more, Click Here.
Transactional Emails:
You most likely have at least one transactional email already set up via your online booking engine. Examples of transactional emails include your confirmation, pre-stay, and post-stay emails. While the main goal of these emails is to deliver necessary information to your guests, you can utilize these emails to promote packages, specials, and add-ons, to encourage repeat direct bookings and to remind guests to leave reviews.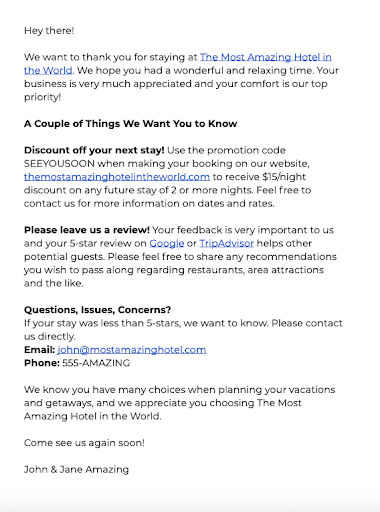 Tips to Optimizing Your Transactional Emails:
Clear & Concise Formatting

. Your emails need to be easy to navigate and skimmable. Use headlines to draw the eyes to your different sections and bullet points to break up the information. In your emails, white space is your friend!

Content.

Think about the content that you already have that could be helpful to travelers wanting to explore your destination. Add that to your pre-stay or confirmation email and enhance your guest's experience. Do you have a mid-week special that you run year-round? Add that into the post-stay email as a reminder to visit you again. What kind of packages or add-ons do you have? By adding those promotions to your pre-stay email, you'll see sales increase. If you don't have any packages but would like to create some, check out our blog post

Make Extra Money By Selling Experience Packages

.

Links.

Make it easy for your guests to move from your email to your website. By adding embedded links to your emails, your guests are more likely to follow through with leaving a review or making a repeat booking. For example, when offering a repeat guest discount, link directly to your booking engine or when asking for a review, link to the "write a review page" on Google and TripAdvisor for your property.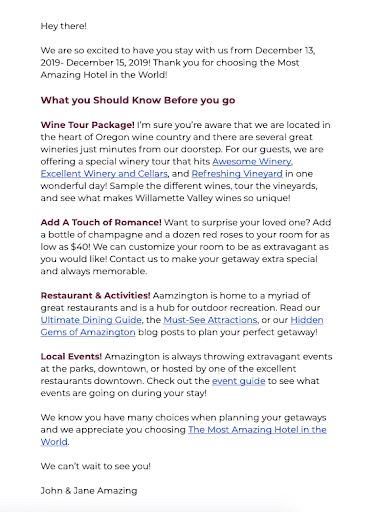 With all of the current digital marketing tactics that innkeepers should use to market their property, the classic email marketing reigns as an ROI gold mine. For minimal cost and effort, your returns can be incredibly impressive. Follow our steps to optimizing your emails and you will not only improve your guests' satisfaction, but encourage repeat guests, direct bookings, reviews, and sell more packages and add-ons.