As we transition out of a pandemic and back into a busy season like we've never seen, it's crucial to stay on top of the data. Understanding traveler trends and a few important stats is a key aspect to feeling confident and in control of your business. Let's focus on the data points that are essential to understanding what tomorrow may hold.
Domestic Leisure Travel Recovery
Back in November, TripAdvisor and PhocusWright identified five phases of recovery. Since then, it has been playing out pretty much as predicted. Domestic travel is picking up and is set to explode in the summer and fall months. International travel is increasing more slowly, but is expected to pick up even more after the fall.
Lodging Bookings are Near Pre-Pandemic Levels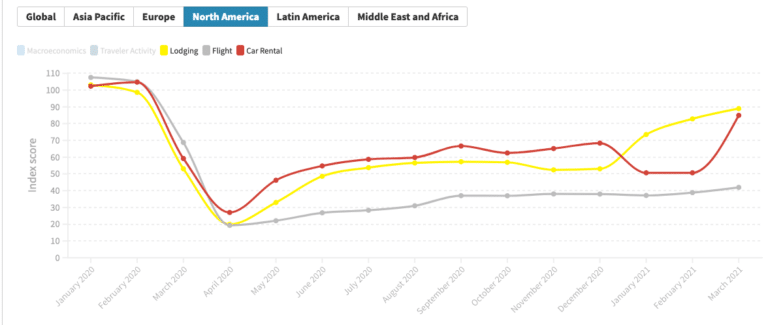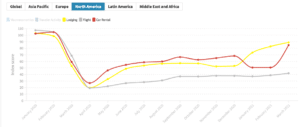 The Skift Recovery Index shows how lodging and car rentals are outpacing flights in terms of recovery. Business travel and international travel are still a ways off and probably contributing to the fact that flights are lagging. However, local, driving distance travel is helping domestic leisure travel approach pre-pandemic levels.
Interested in securing more bookings from travelers within 300 miles of your property? Our Guide: How to Attract Local Travelers has everything you need to know!
Get the Guide // Watch the Webinar on Demand
This Just In: Hot Stats for Summer 2021 Travel
The data supports the recovery roadmap's predictions for a travel-fueled "shot girl summer" (just ask your kids). In fact, studies from TripAdvisor show that over two-thirds of Americans are planning to travel between June 1 and August 31. Compared to January 2021, hotel searches are up 65%, and searches for experiences are up 78%. Over half (53%) of Americans plan to spend more on trips this year. This is great news for property owners looking to recoup profits lost in 2020.
What's Working for Today's Travelers?
Confidence in travel is on the rise, but it is still fragile. Increased vaccinations, relaxed restrictions and declining COVID case numbers will continue to influence travelers. 60.6% of Americans are open to travel inspiration, and searches for "Things to Do" are on the rise. Now is the time to write in your blog and newsletter about things to do in your area.
Moreover, nearly half of all travelers are seeking relaxation on their next trip. Americans are researching trips within driving distance where they have access to the outdoors and can support local businesses. Additionally, searches are exploding for amenities such as clean hotels, free cancellations, and hotels with restaurants. Summer vacationers are ready to visit their family and friends, so whole house bookings are trending as well.
Action Items for Innkeepers and Hotel Marketers
Highlight relaxing & rejuvenating experiences on your home page, in your packages and special offers, and across your blog, email and social channels.
Target guests within a 3-hour drive of your property with content, advertising and packages.
Make your COVID health, cleaning & safety information obvious and persistent across your entire website. Make your cancellation & modification policies as clear and flexible as possible.
If your property features whole house bookings and/or family-friendly accommodations, be sure to let your website visitors, email subscribers and social followers know.
Download the free Guide: 5 Hotel Marketing Strategies to Thrive in This Post-COVID Busy Season.
Are you positioned to take advantage of increased traveler activity in this post-pandemic busy season and beyond? Grab your copy of our guide!