Last-minute bookings have always been a welcome surprise but in this pandemic, many places have seen last minute bookings overwhelmingly take over their reservation calendar.
Recent travel trends suggest that last minute bookings are here to stay (at least for the near future) so here is what you need to know about booking trends and how to create & promote your last minute deal.
Prefer podcasts?
Listen to a conversation about this blog post.

Booking Windows Have Shrunk
Some guests love to plan out their vacation months in advance but others love the spontaneity of embarking on a last-minute getaway. After the introduction of COVID, the hospitality and travel industry has seen a rapid decline in booking windows.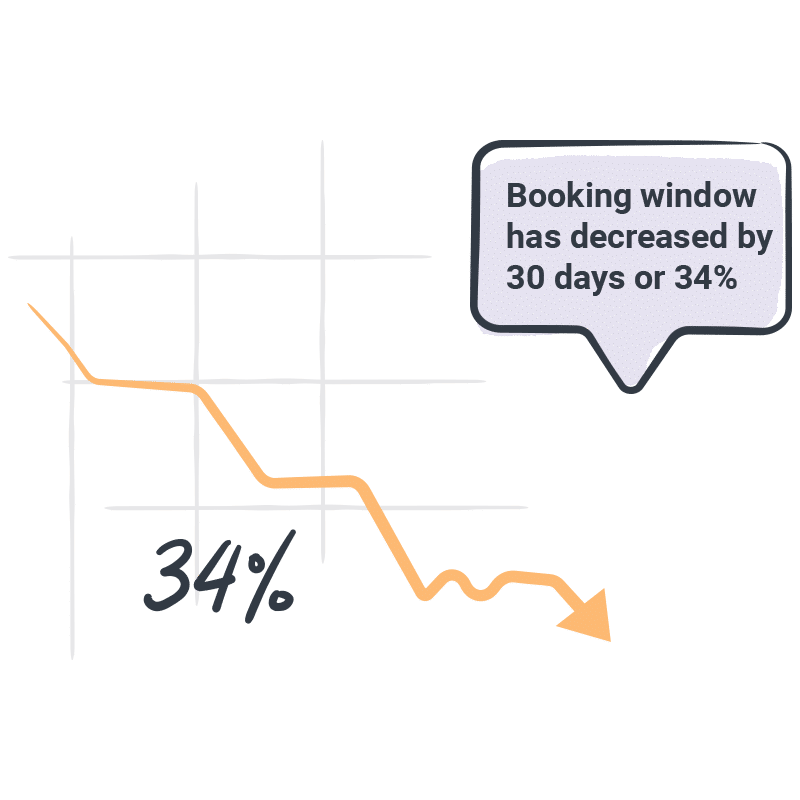 Our findings of COVID's impact have led to a couple very unique trends, the shortening of booking windows being one of the most consistent. Airbnb has reported that an astounding 29% of reservations were being made within a week of check-in. Similarly, Odysys' partner Simpleview has shown that the average booking window is down 34% (30 days) year over year. This shift in behavior represents a problem for cash flow and the nerves, but it also represents an opportunity to cater to last-minute reservations and to up the appeal for making it easier for people to show up at your property.
What do People Want?
Per TripAdvisor's fall index insights report (through Nov 30):
65% of travelers are planning domestic fall getaway
55% of travelers are booking 2-5 night stays
Often booking less than a week in advance
Guests are prioritizing a "relax & rejuvenate" type experience vs a "hustle & bustle" experience
Pet friendly travel & access to hiking and other outdoor activities being the top sought-after property attributes
B&B's and "Quaint, romantic and charming hotel properties" are outperforming other types of accommodations
Keep the above points in mind as you craft and create messaging for your deal. Realize that most properties report that the traveler radius has shrunk as well, so your guests will more than likely be driving to your property and destination. This information may prove useful in your deal's positioning and marketing.
So we're going to give you an example of a fictional last minute getaway deal, but your deal might just be a more straightforward 'staycation' or 'relax and rejuvenate' type of special offer. The process and principles we lay out below still apply.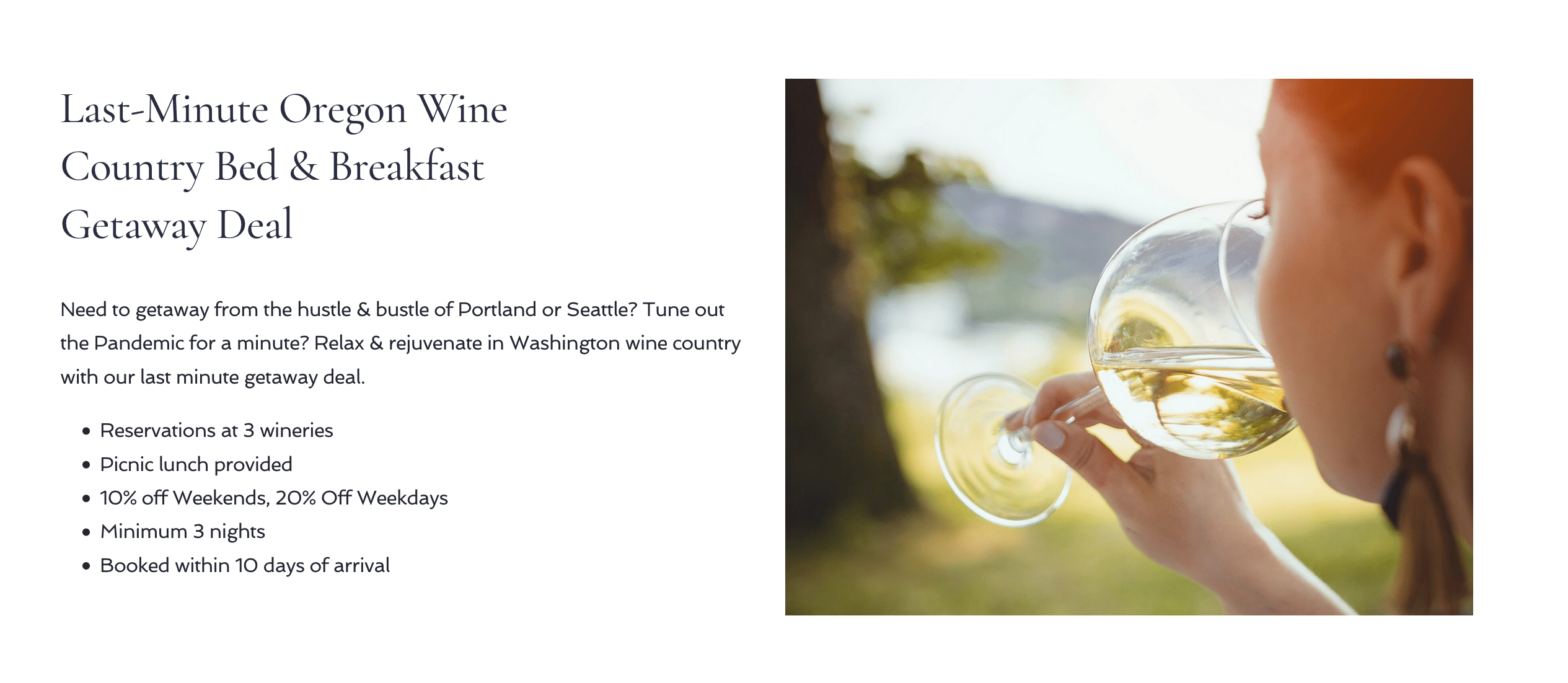 Optimize Your Getaway Deal
Offering discounts may seem like the last thing you want to offer right now, especially with revenue being so volatile, but a getaway deal may be your key to more bookings.
Searches for 'Last-Minute Getaway Deal' were increasing before COVID, but over the last couple months, this trend has absolutely exploded. As people are searching for week-of and day-of reservations, a special deal might be just the thing to rope in your future guests. You can put together a discount package, something like 10% off your stay, or add in a gift like a bottle of wine. You can also pair your deal with a last-minute travel itinerary.
Create a blog post outlining things you would do on a last-minute trip. Include restaurants that don't need reservations, some bigger attractions, and activities that guests can do on a whim. Wrap up your blog with your juicy getaway deal and now you have a package ripe for promotion.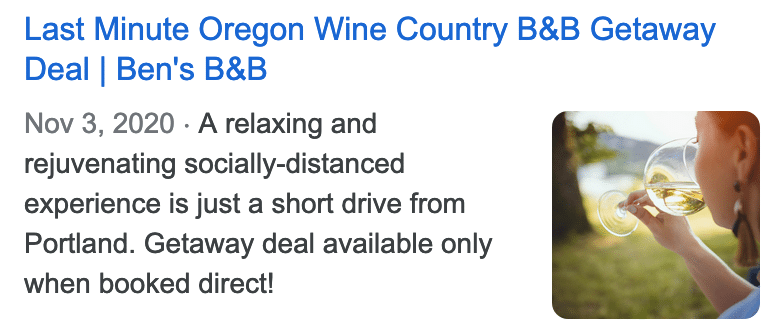 Make sure that your Title Tag and Meta Description are focused on the important keywords. Include the words last minute, getaway deal, your destination, and your property name. In the meta description, mention something about how the deal is only available on your website or when you book direct.
Promoting Your Getaway Deal
Social Media
Share your deal multiple times on every platform that you are active on. You can even rebrand your deal on social media to be holiday-centered, valentine centered, or whatever season is coming up.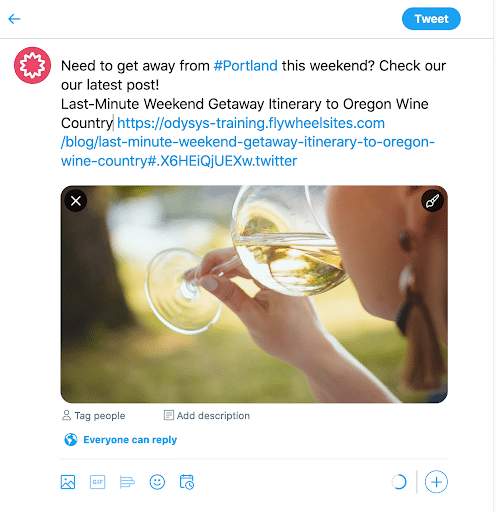 Make the most out of your social media post with hashtags and mentions. Did you mention any local restaurants or attractions in your itinerary? Mention them in the post. They may share your post and increase your viewing range. This may also be a good use of Facebook's Post Boost where you can select a target audience who will see your deal. Our research shows that drive-in destinations, meaning destinations that guests can drive to in under 3 hours are performing the best. Choose an urban center within a couple hours of your destination to advertise to.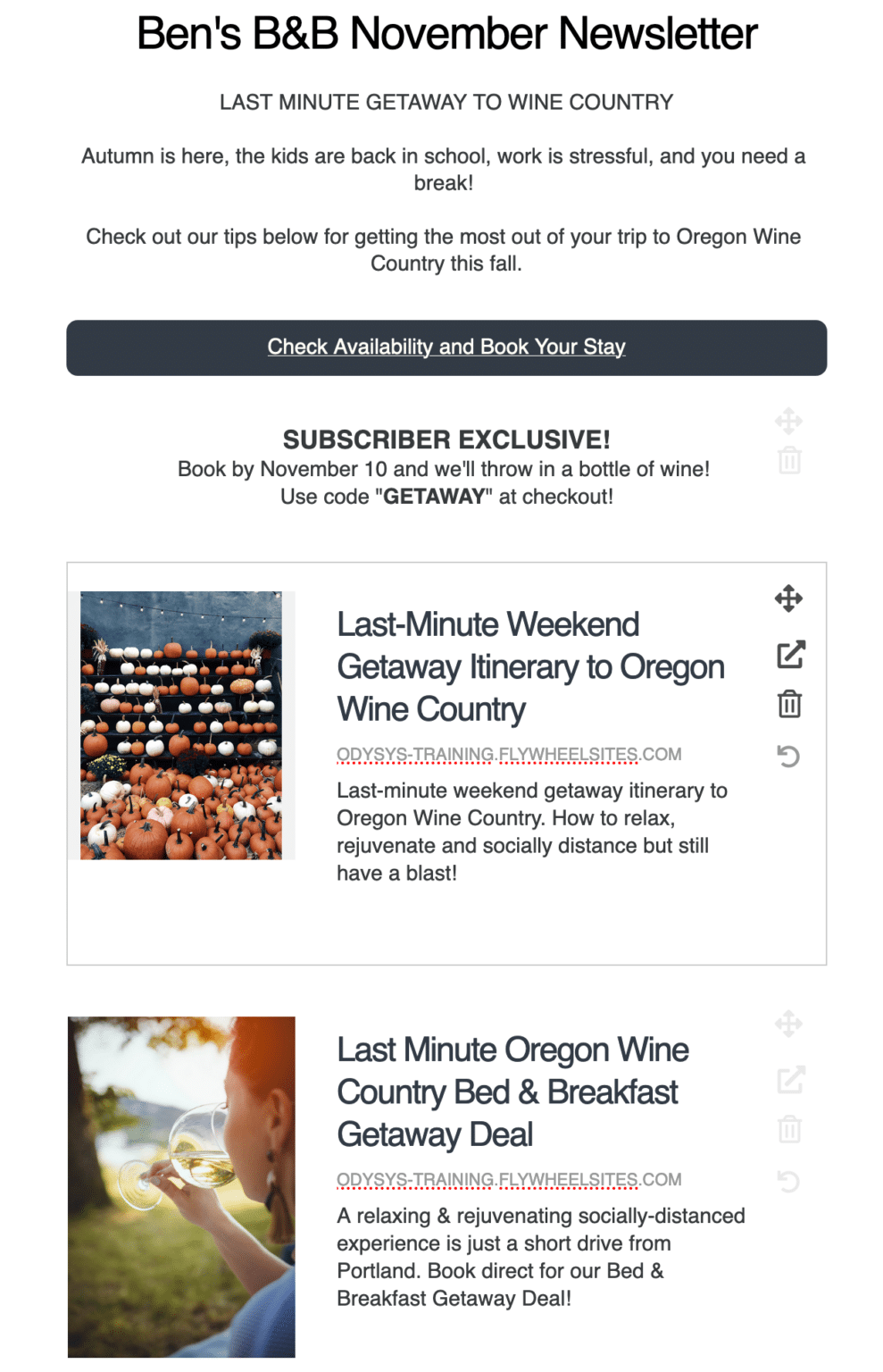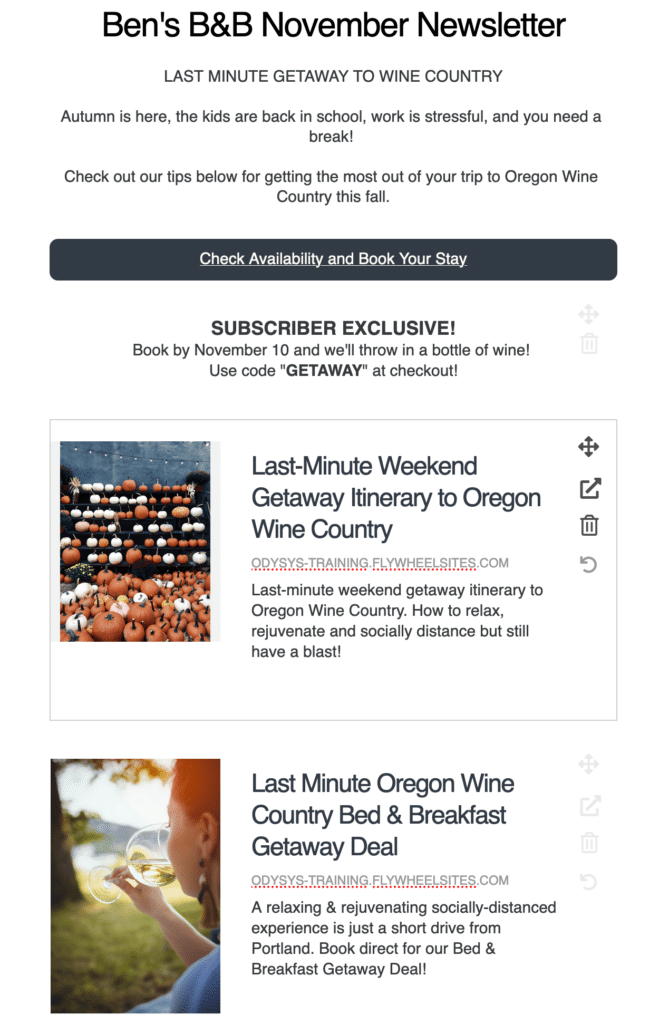 Email
Email is your key to direct bookings. Share your deal with your subscribers by including it in your newsletter. Just like with social media, make sure to share your deal more than once. Add it to your monthly newsletter every month or create a special promotional email showcasing your new deal. Lay out the specifics of your deal in one section and your itinerary in another to entice your audience.
Associations & DMOs
Work with your local destination marketing organization or association to promote your deal. They might be willing to share your deal on social media, include it in their newsletter, or help you build an even better package.
Shortened booking windows are just one of the major challenges brough on by COVID. Follow our blog to get the latest updates and advice for marketing your inn, spa, or restaurant in these difficult times and download our latest guide Covid Reality Check: 3 Challenges Your Hotel Website Must Overcome.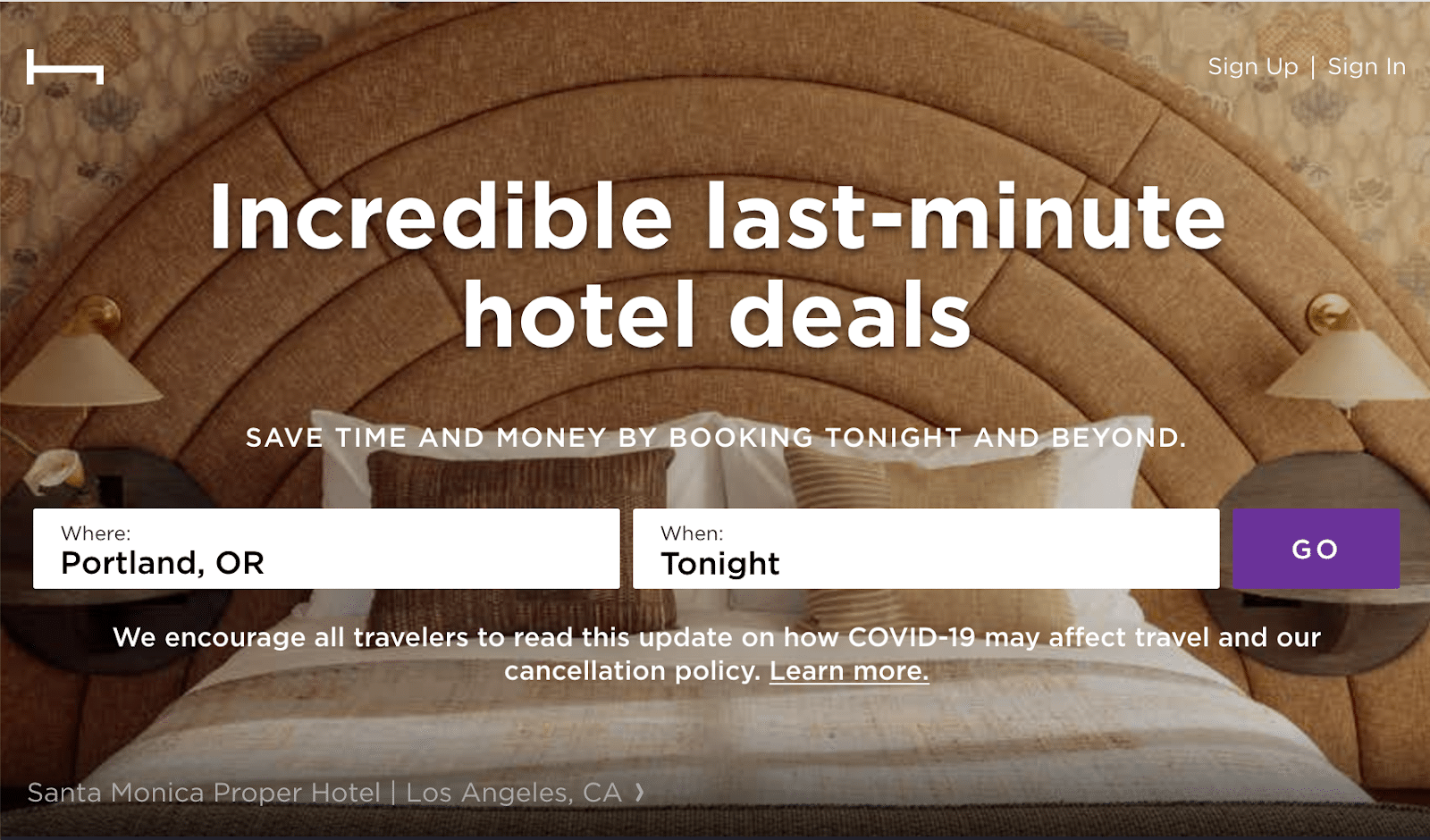 Add Your Property to HotelTonight
There's an entire website dedicated to last minute bookings – hoteltonight. We have heard anecdotally through several customers and from partners that they've had quite a bit of success with hoteltonight. They're uniquely positioned to connect guests with last-minute getaway deals. This is one more channel to help you market your property and gain bookings through their website and via the billboard effect to drive direct bookings on your own website.
You may prefer direct bookings but if your property is struggling, the best source of reach and bookings to fill your availability may be OTAs and programs like hoteltonight. Adding your property and rooms is a fairly straightforward process but can be a little bit hands-on and labor intensive. See "hotel partners" on the hoteltonight website for more information and availability in your area.